Tuesday, April 25, 2017 at 2:31 PM
Strikingly articulate and exceedingly experimental, artist Gabriel Dawe is breaking down barriers of a traditional male Mexican artist as he constructs geometric and fantastical illusions through the use of textile and thread. KAC had the pleasure to meet with Dawe in Dallas during his residency at Fairmont Hotel. Located in the bustling art district of downtown Dallas, Dawe innovatively transformed his temporary studio space into a colorful and dynamic solo exhibition.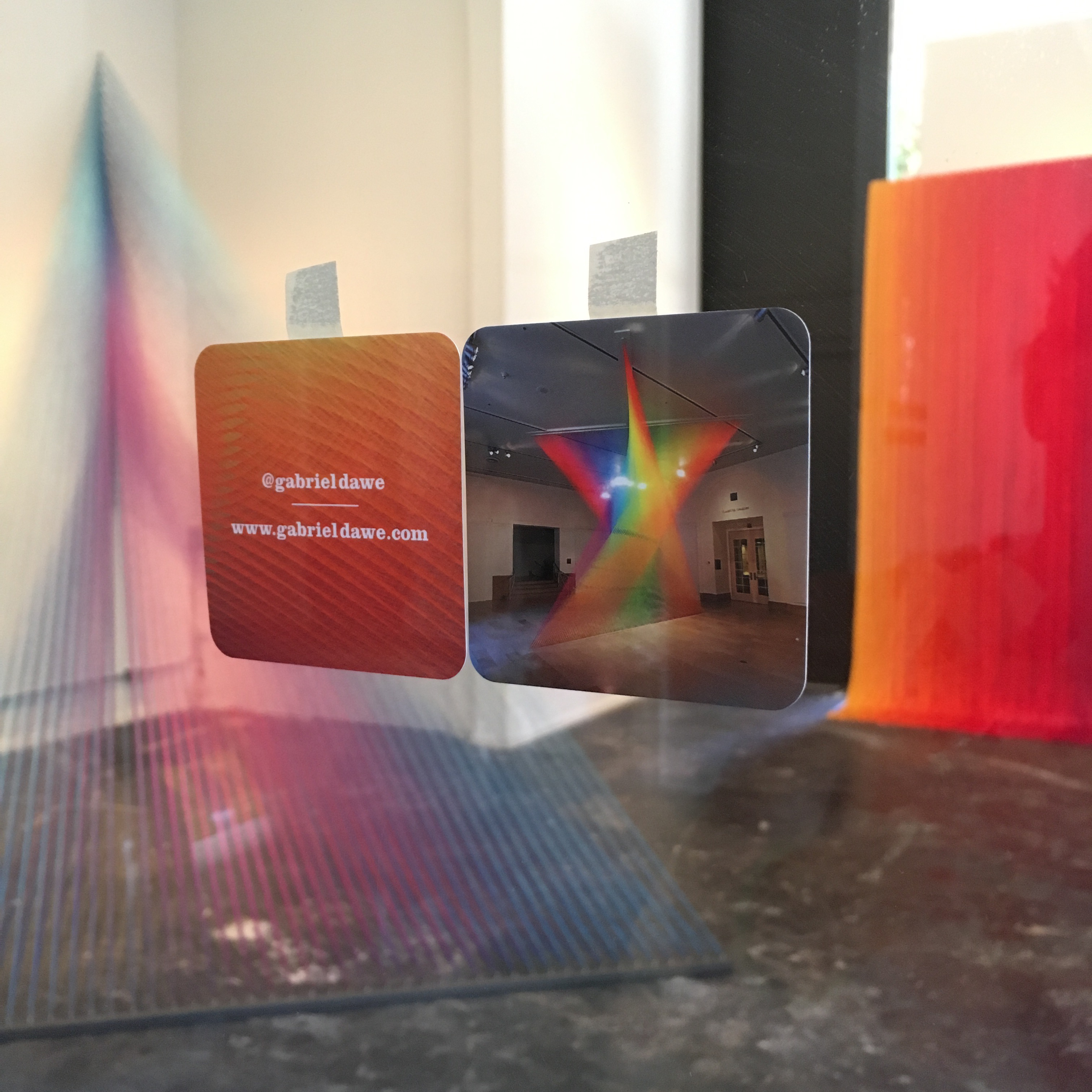 Dawe's studio at Fairmont Hotel in Dallas, Texas
Responding to the architecture and environment, Dawe's installations become an open dialogue between art and space. While this process creates unique, site-specific works of art, there is a found unity throughout his collection. Every installation is developed from the full color spectrum, resembling light rays. Only experimented once before, the installation presented in Dallas, explores the cooler side of the spectrum, staying exclusively with blues, violets, and shades of pink. Here Dawe begins to omit part of the color spectrum, a preliminary investigation into the absence of color. This new departure is one he addresses further in his current exhibition "Plexus 37" at Conduit Gallery.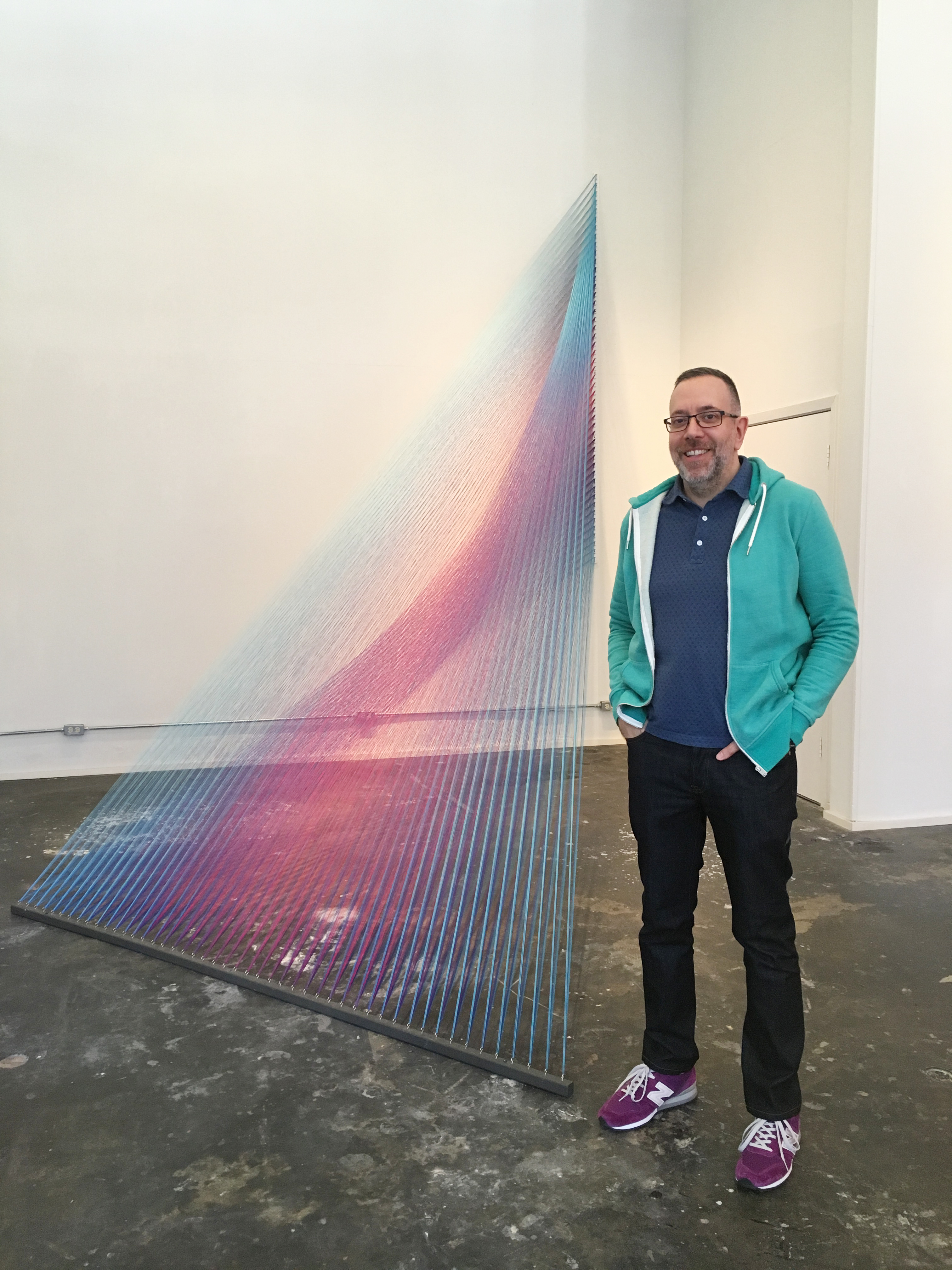 Dawe in front of his site-specific installation
Living and working in Dallas, locals have come to familiarize themselves with Dawe's brightly colored thread installations. Therefore he decidedly turned a 180 in his recent endeavor by masterfully abandoning color through the use of gray, silver, and black threads. The viewer is forced to see beyond the spectrum, cerebrating this omission to be not an act of defiance against that traditionally associated with color, but perhaps as a "silver lining" on what is next for the renowned artist and his forthcoming work.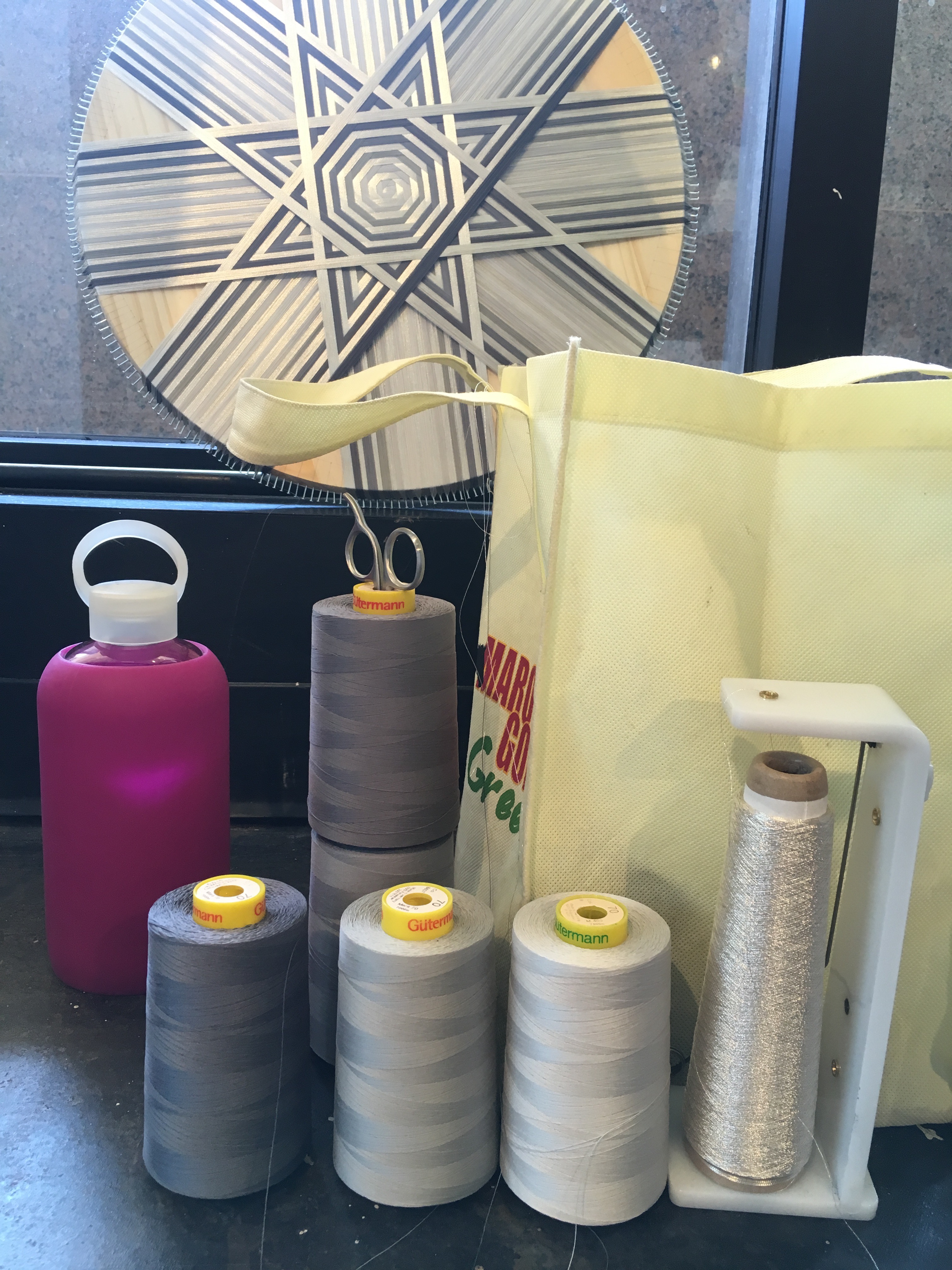 Spools of silver thread in front of a work in progress
Gabriel Dawe is represented in Dallas, Texas by Conduit Gallery. Dawe is on view now with Conduit Gallery through May 13, 2017.
Thursday, April 14, 2016 at 2:40 PM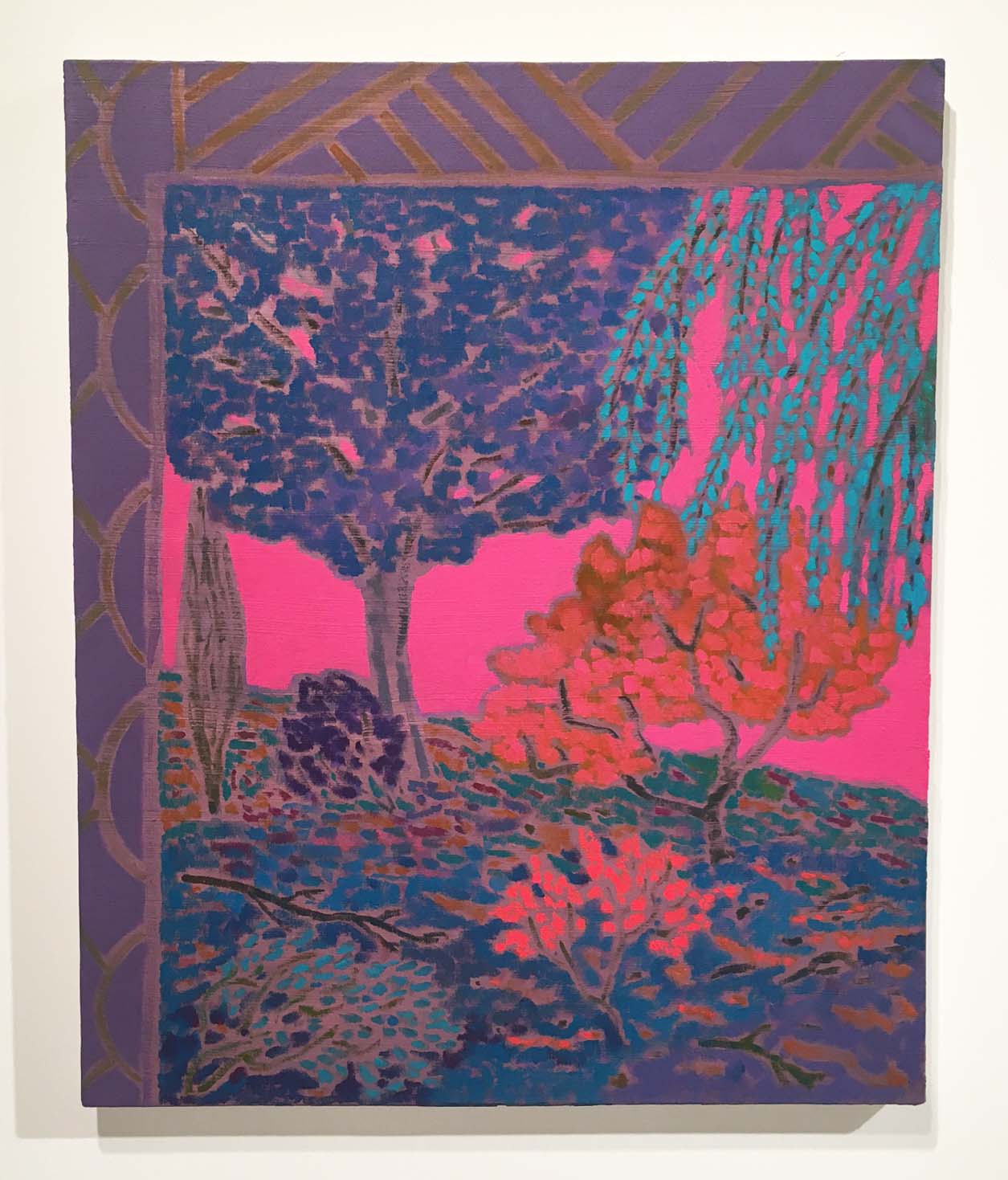 John McAllister at Carl Freedman Gallery in London, England
KAC is on the road to the Dallas Art Fair. We hit the ground running Thursday morning to be among the first to preview the fair. We are excited that the fair is getting stronger with the addition of new dealers, such as Carl Freedman, London, and Taymour Grahne Gallery, New York. We have also connected with our old friends: Wendi Norris, San Francisco, Lisa Cooley, New York, Bitforms, New York, and Tally Dunn, Dallas.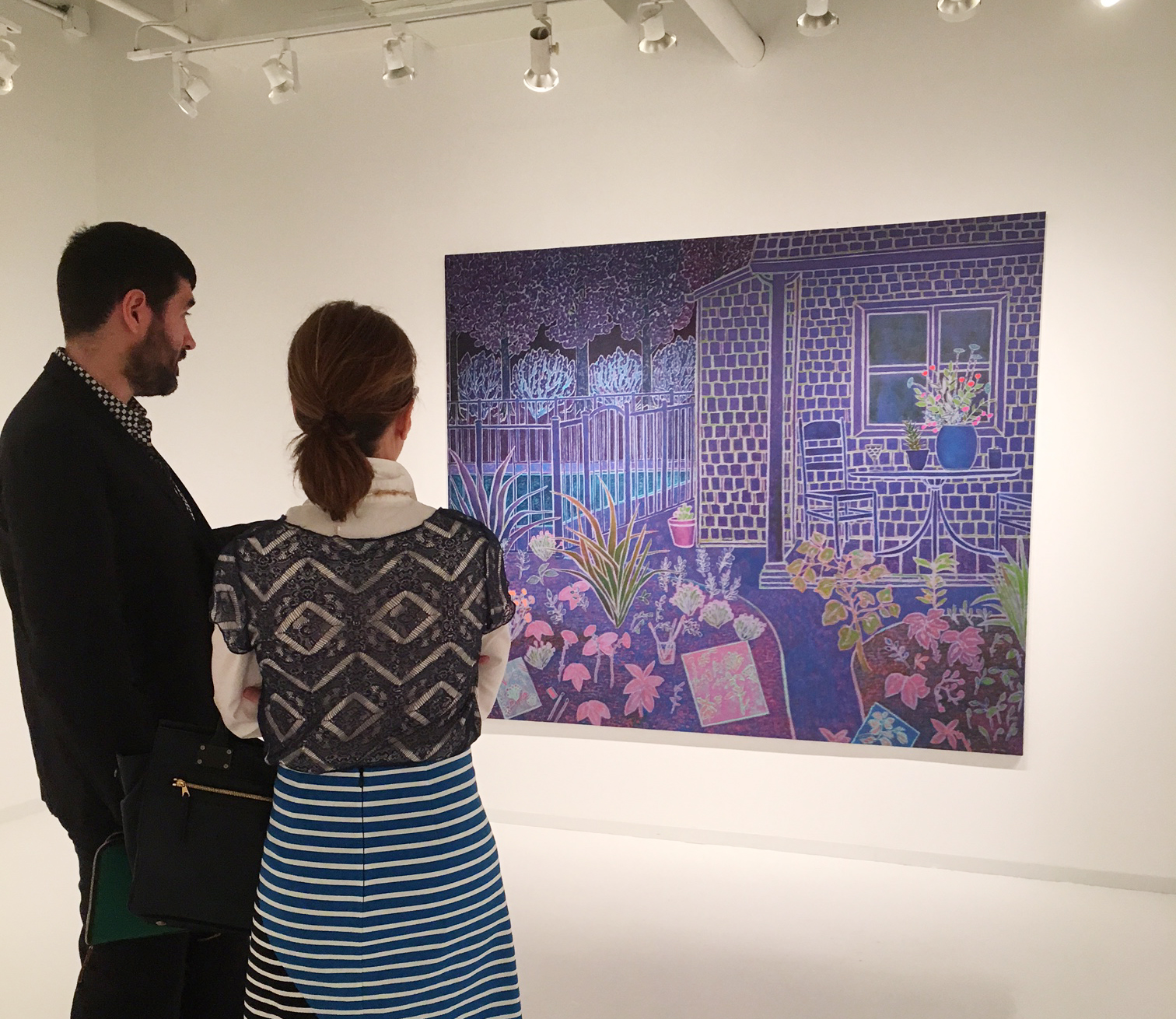 Julie Kinzelman & Robert Diamond, Director of Carl Freedman Gallery, discussing John McAllister's celestial sometimes, 2014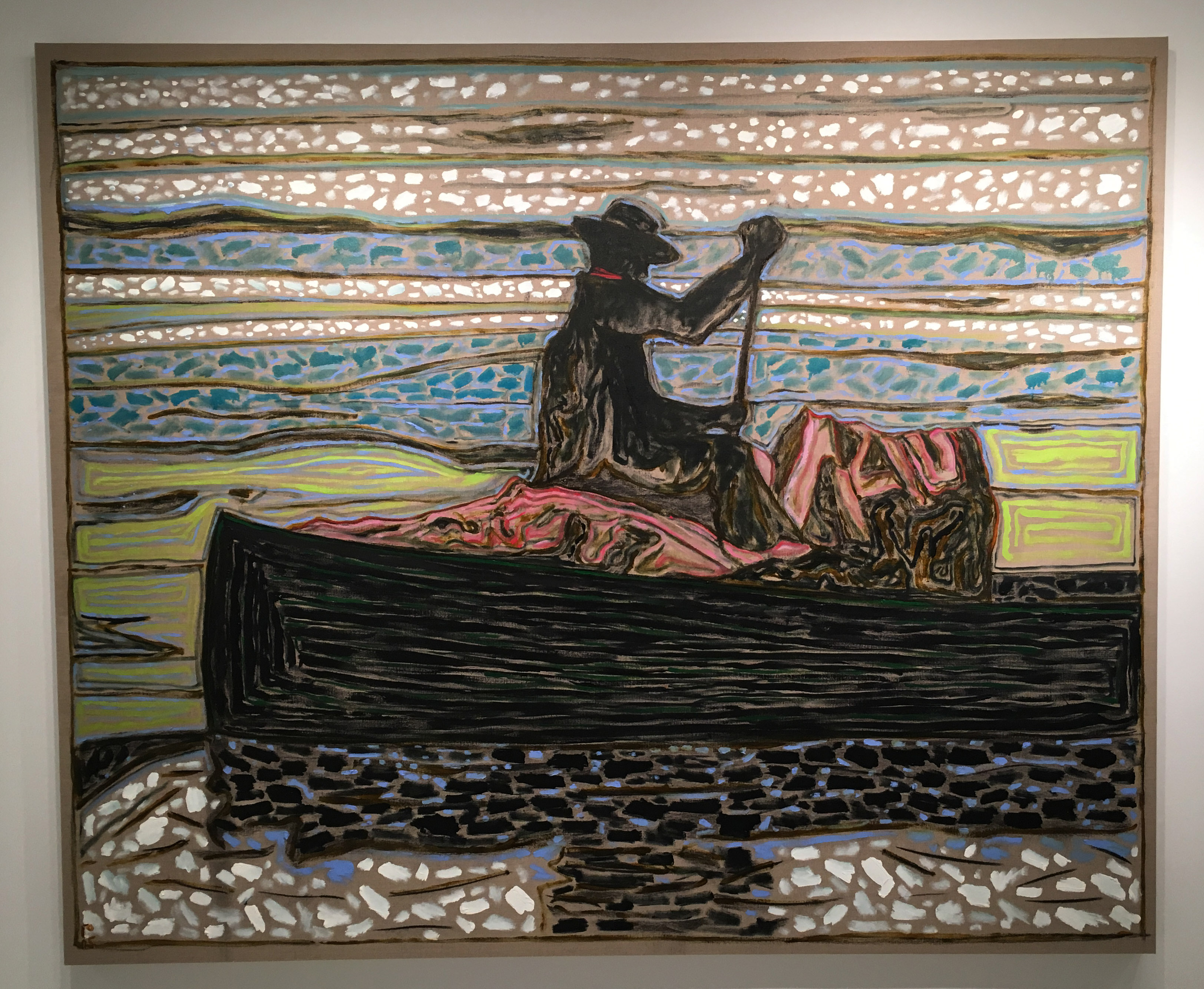 Billy Childish, alaska fur packer, 2015 at Carl Freedman Gallery in London, England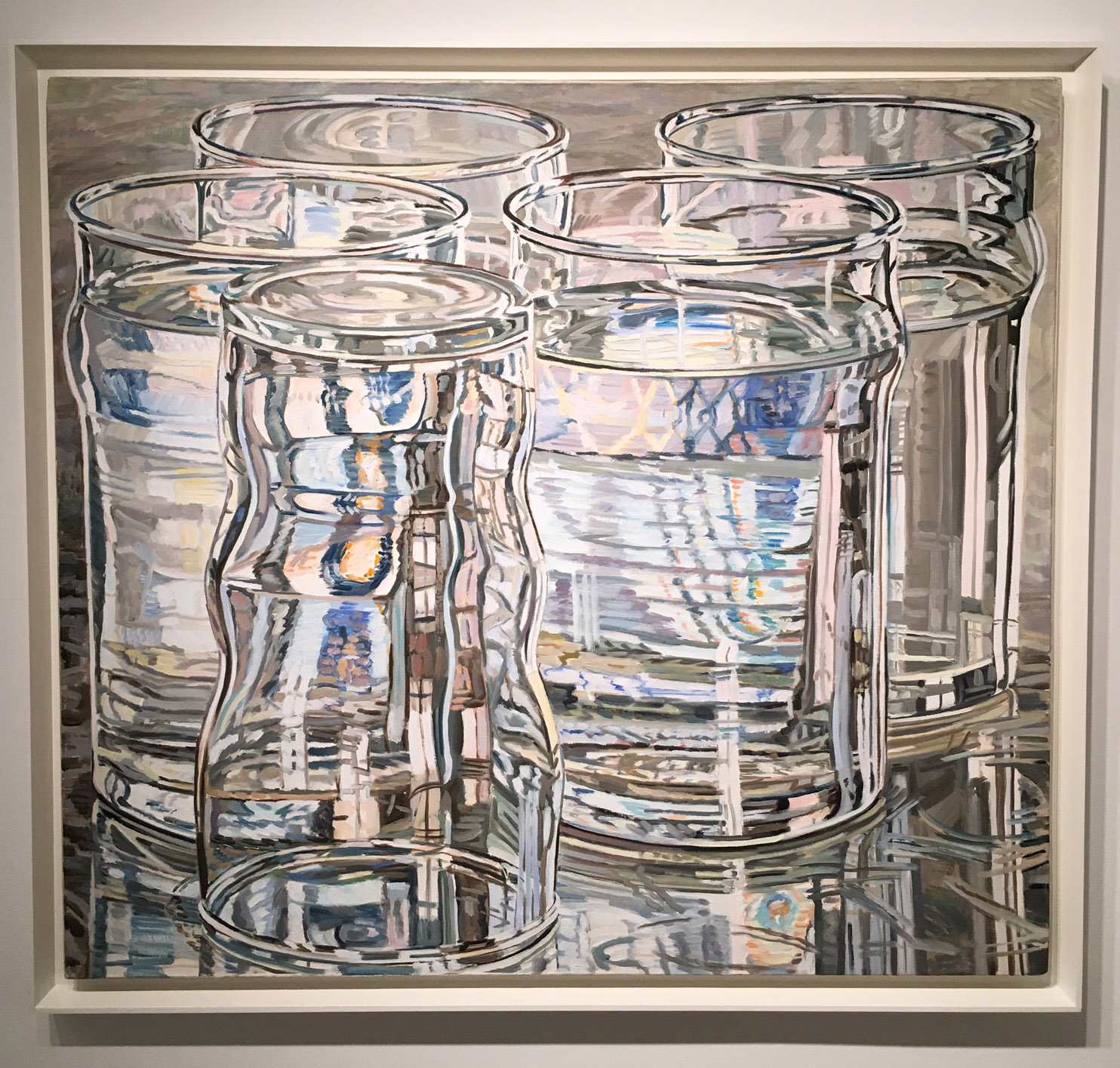 Janet Fish, Five Tall Glasses, One Dawn Morning, 1975 at DC Moore Gallery in New York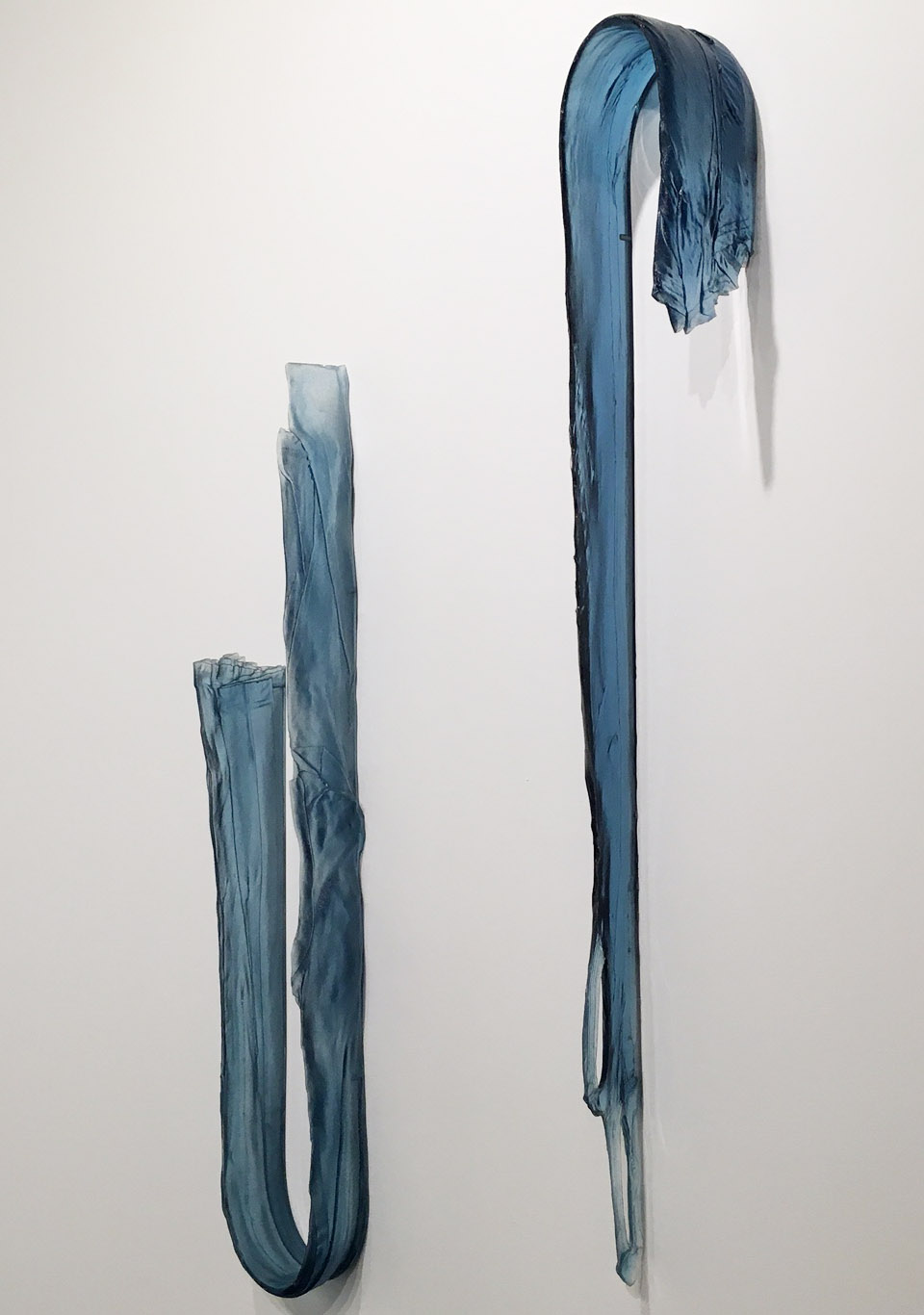 Alice Channer, Soft Shell Series, 2013 at Lisa Cooley Gallery in New York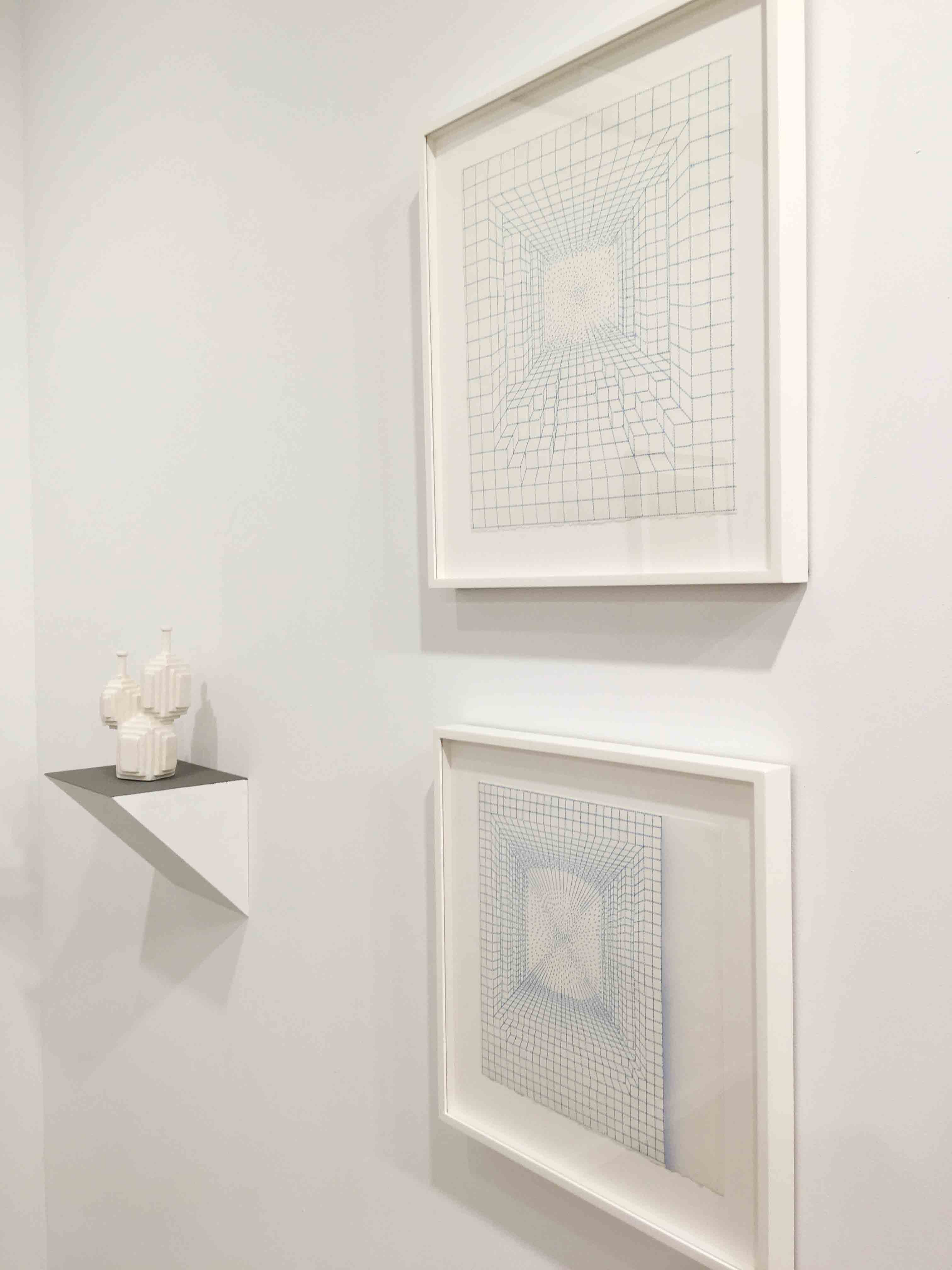 Will Yackulic, Until the End, My Dear and Module 2.2 (Sculpture), 2014-16 at Gregory Lind Gallery in San Francisco, California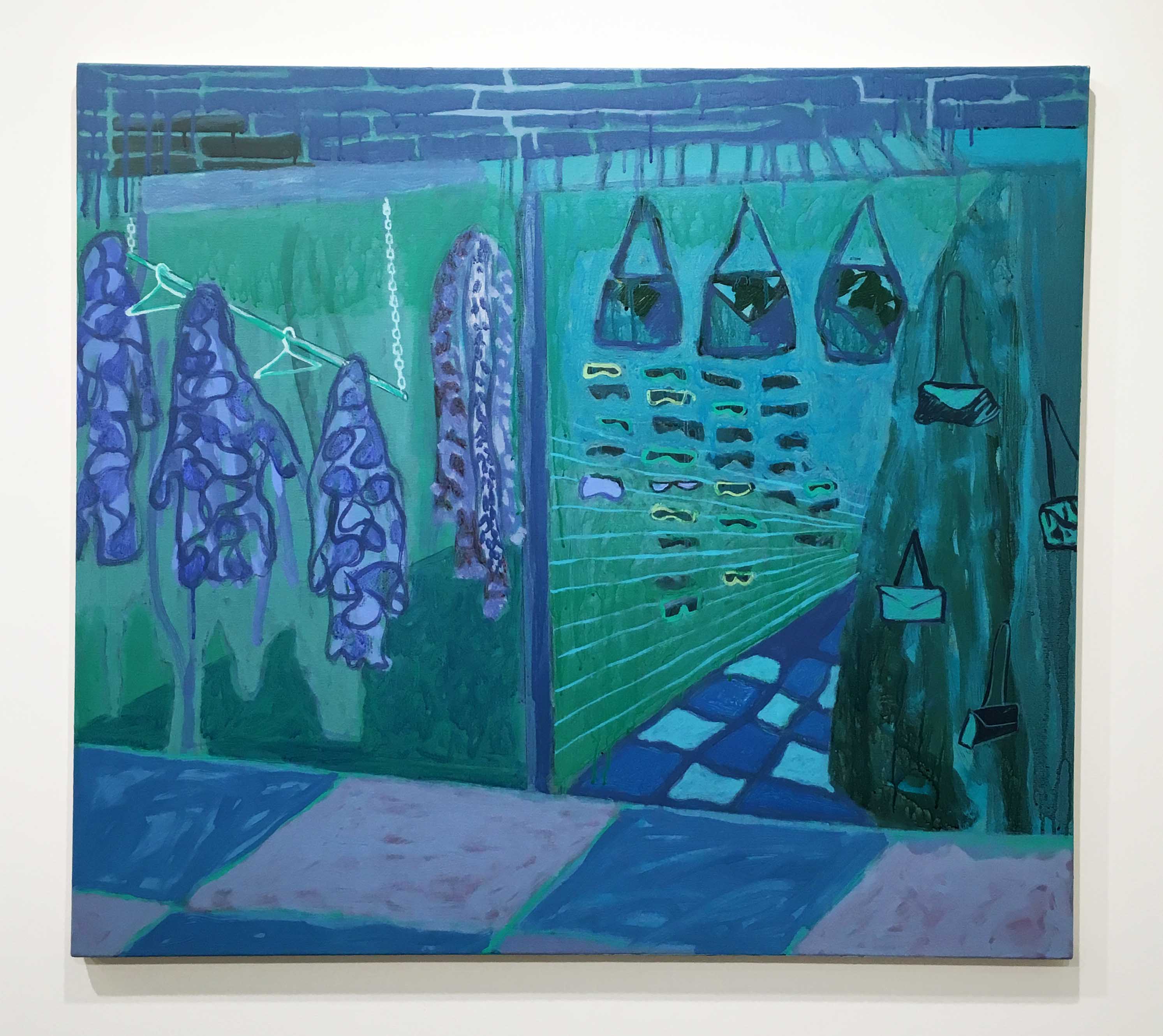 Tyson Reeder, Blue Store, 2015 featured in the booth for CANADA, New York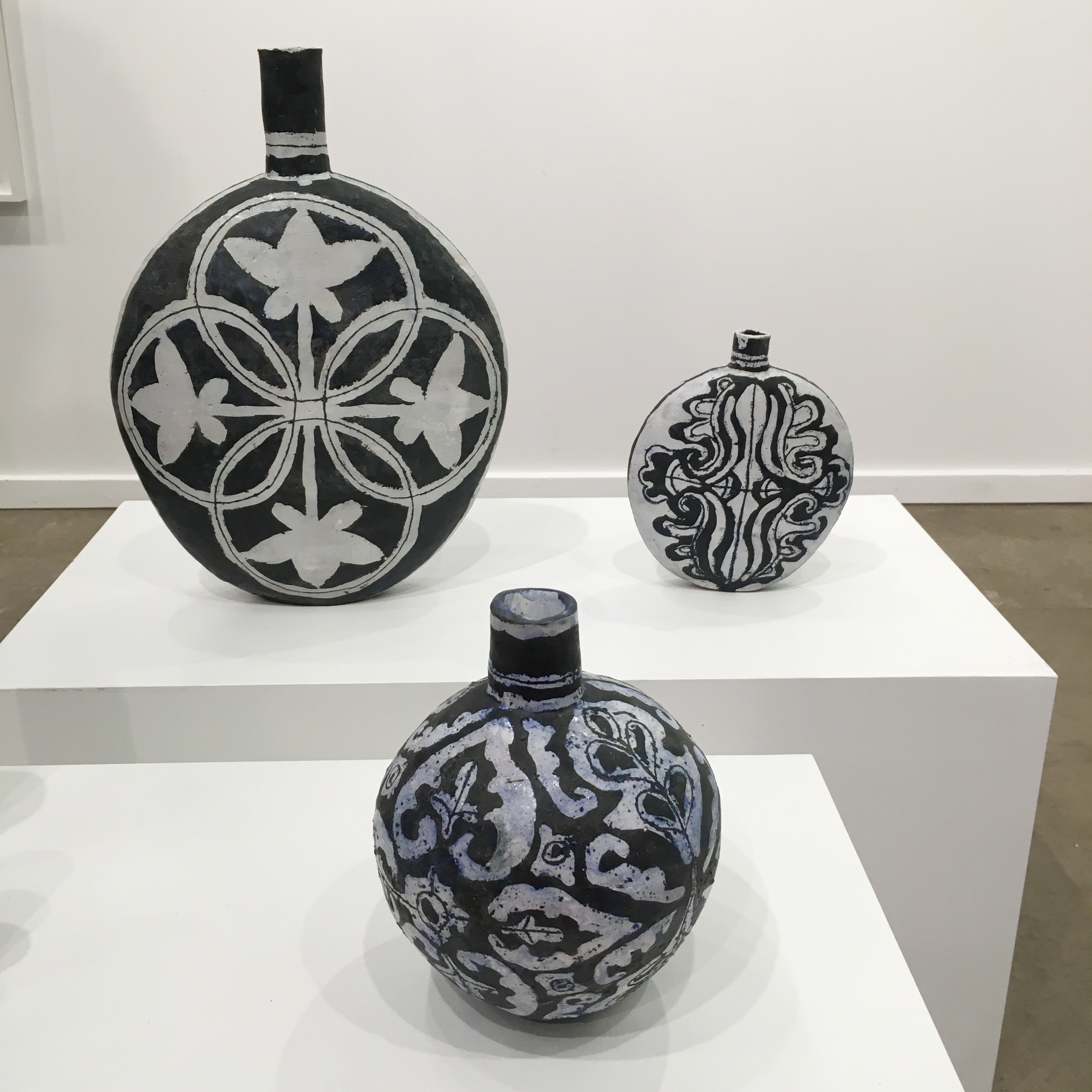 Elisabeth Kley featured in the booth for CANADA in New York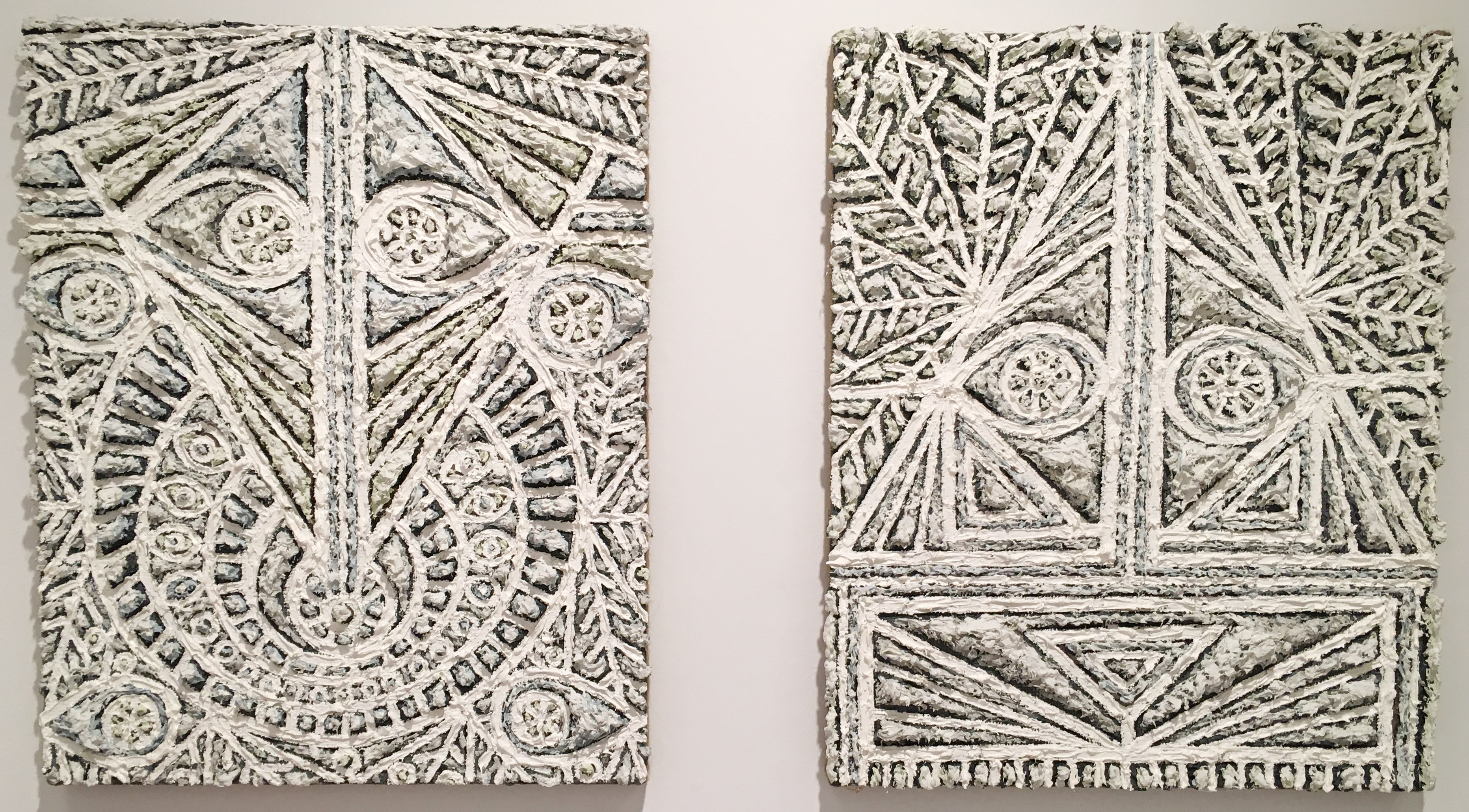 Helen Rebekah Garber, Crowley Heads, 2015 at Gallery Wendi Norris in San Francisco, California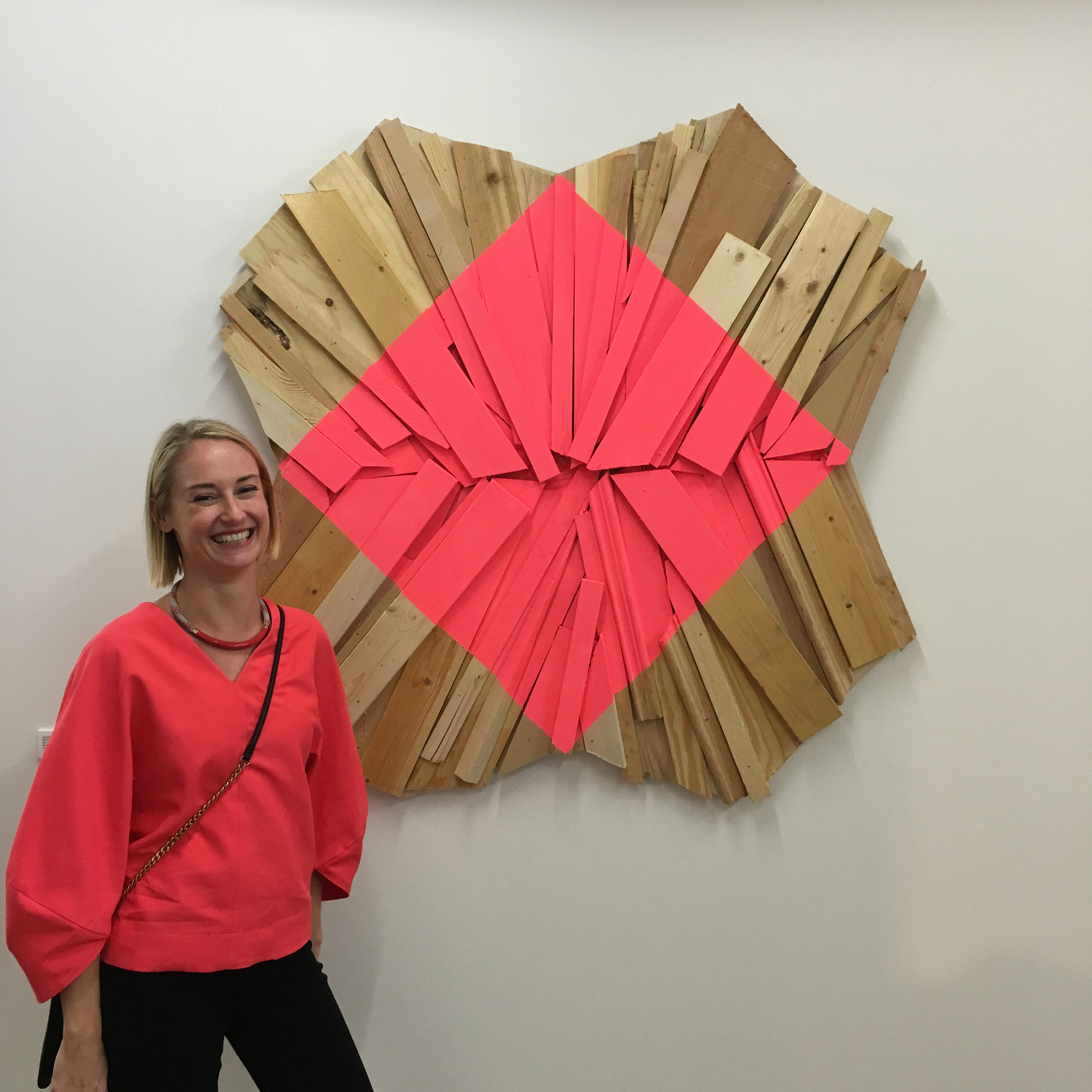 Adrienne cleverly matching with Jay Shinn's Flat Prism, 2016 at Louise Alexander Gallery in Sardinia, Italy
Monday, March 14, 2016 at 8 AM
We first discovered artist, Yamini Nayer, at a presigious art fair last year. Brooklyn based, Nayar, has been on our radar since, and we recently had the pleasure of doing an interview with her! Check it out now on our Let's Talk Art Interview below to see what her art process is all about.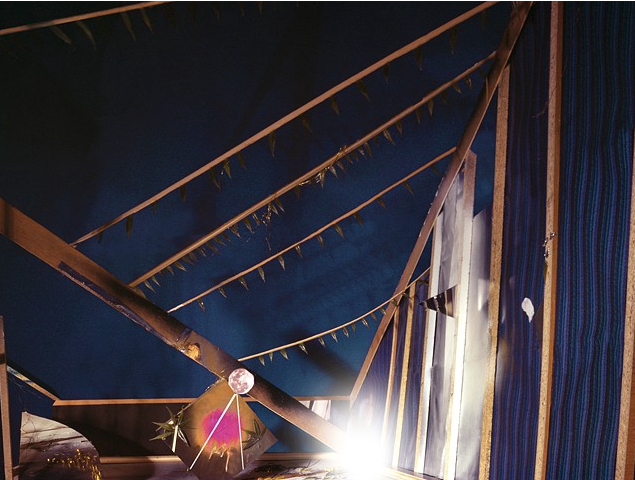 Yamini Nayar, Strange Event, 2015, photograph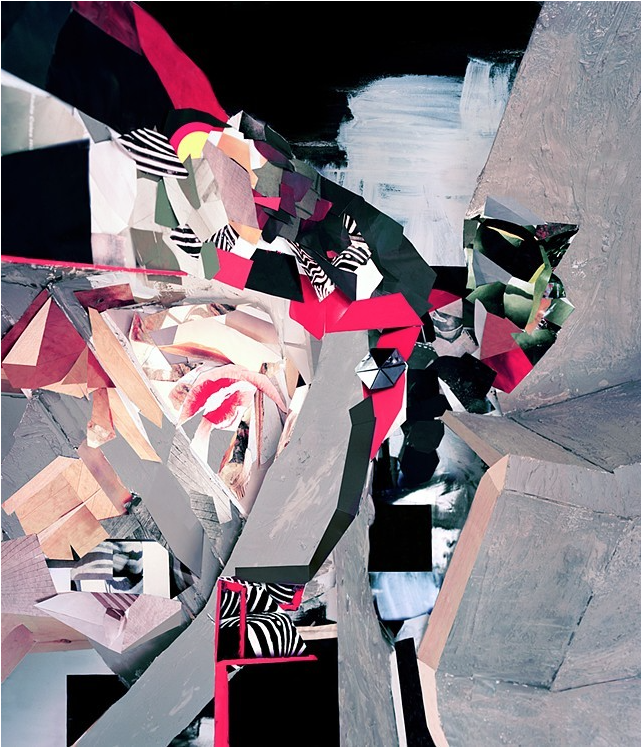 Yamini Nayar, Garden for Laborers, 2015, photograph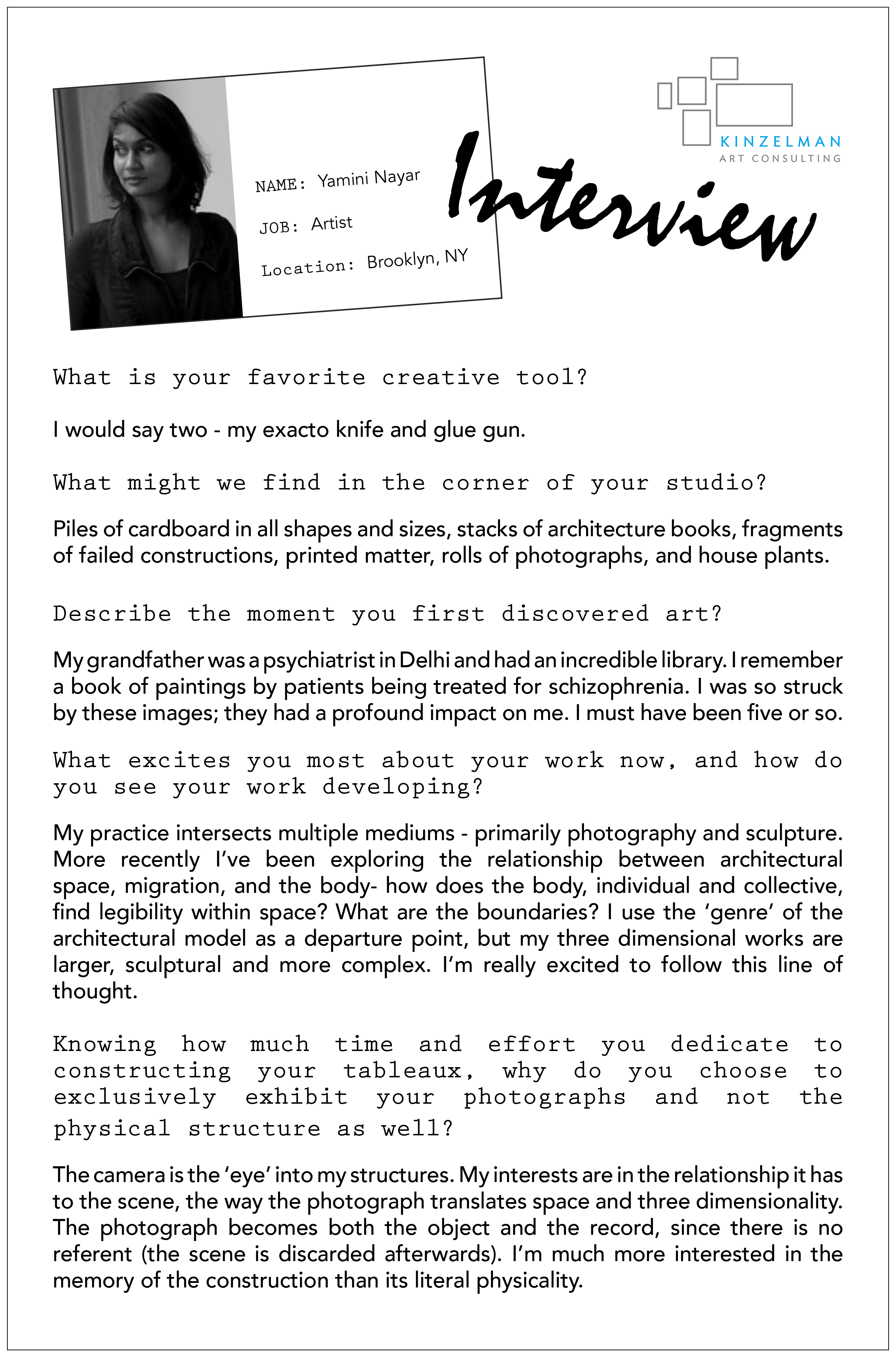 Thursday, February 25, 2016 at 4 AM
While we were in Mexico City, we had the pleasure of doing a studio visit with Tomás Díaz Cedeño. We were initally introducted to Cedeño at the Texas Contemporary Art Fair in 2015 at Yautepec Gallery, so we were eager to meet him and learn more about his intruguing process. Take a look at our Let's Talk Art Interview with Cedeño for more on his inspiration and reflections on being an artist in Mexico City.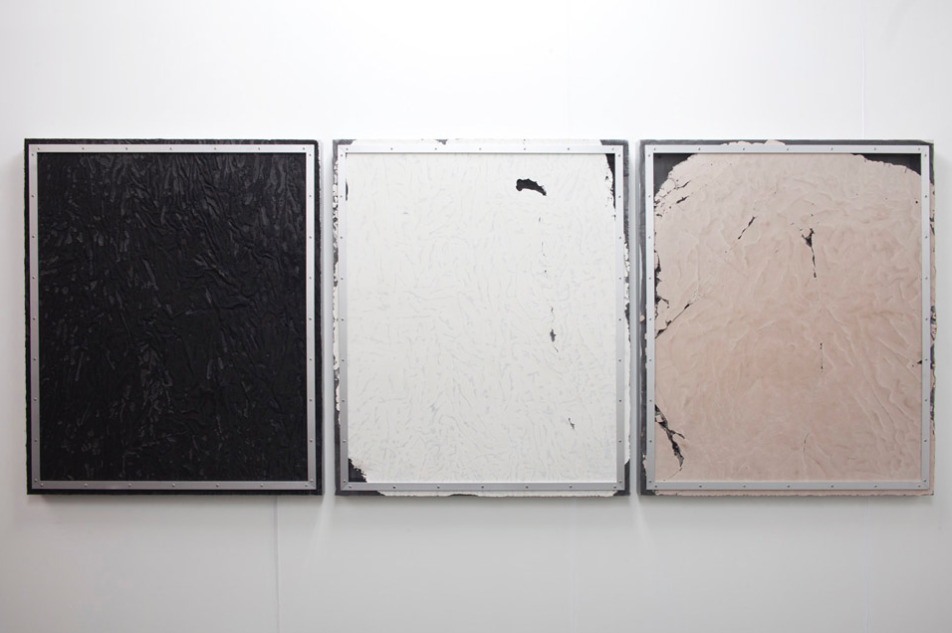 Tomás Díaz Cedeño, Untitled (Black, White, Flesh), 2015, Vel-mix, pigment, plastic mesh, aluminum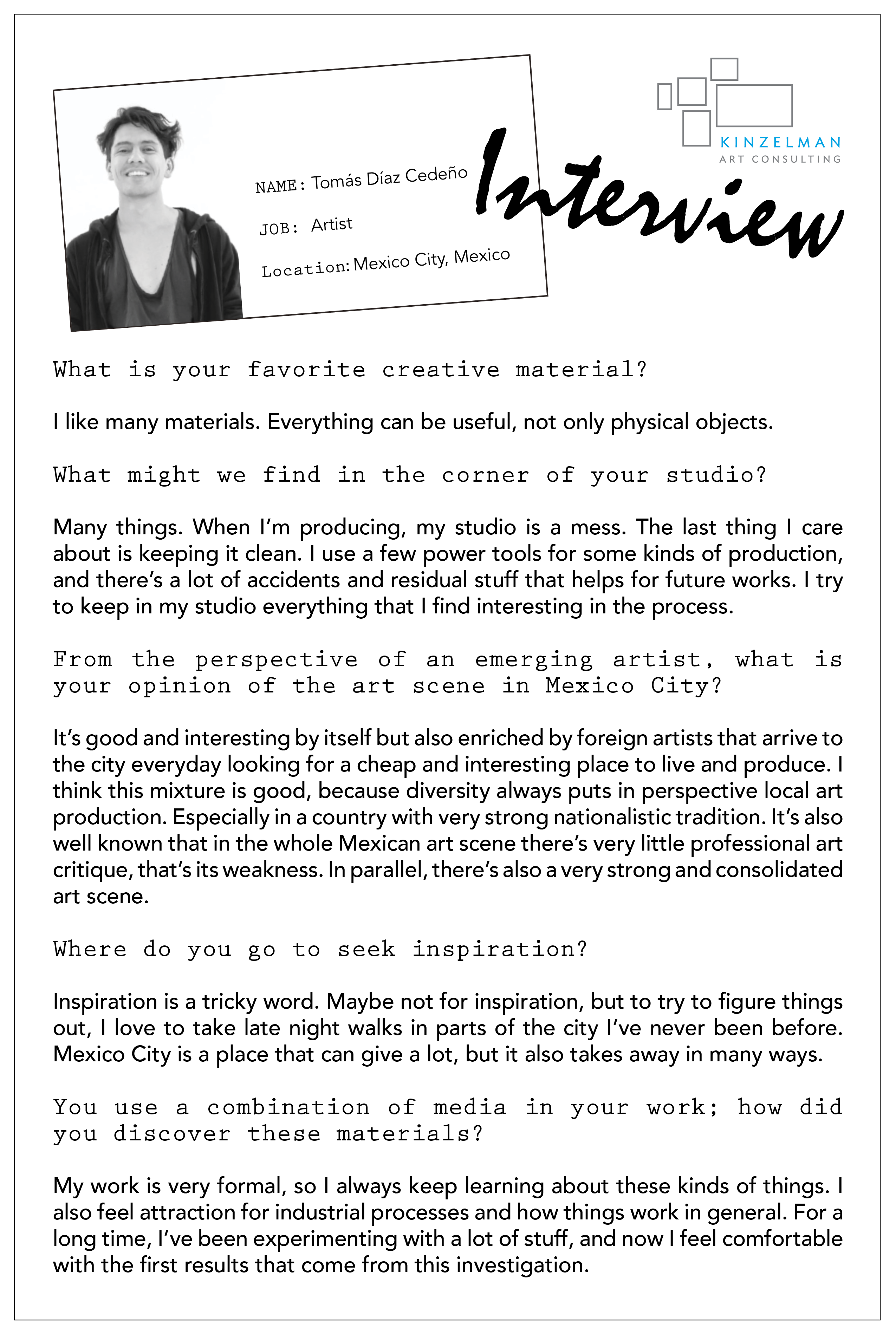 Tuesday, February 23, 2016 at 10:20 AM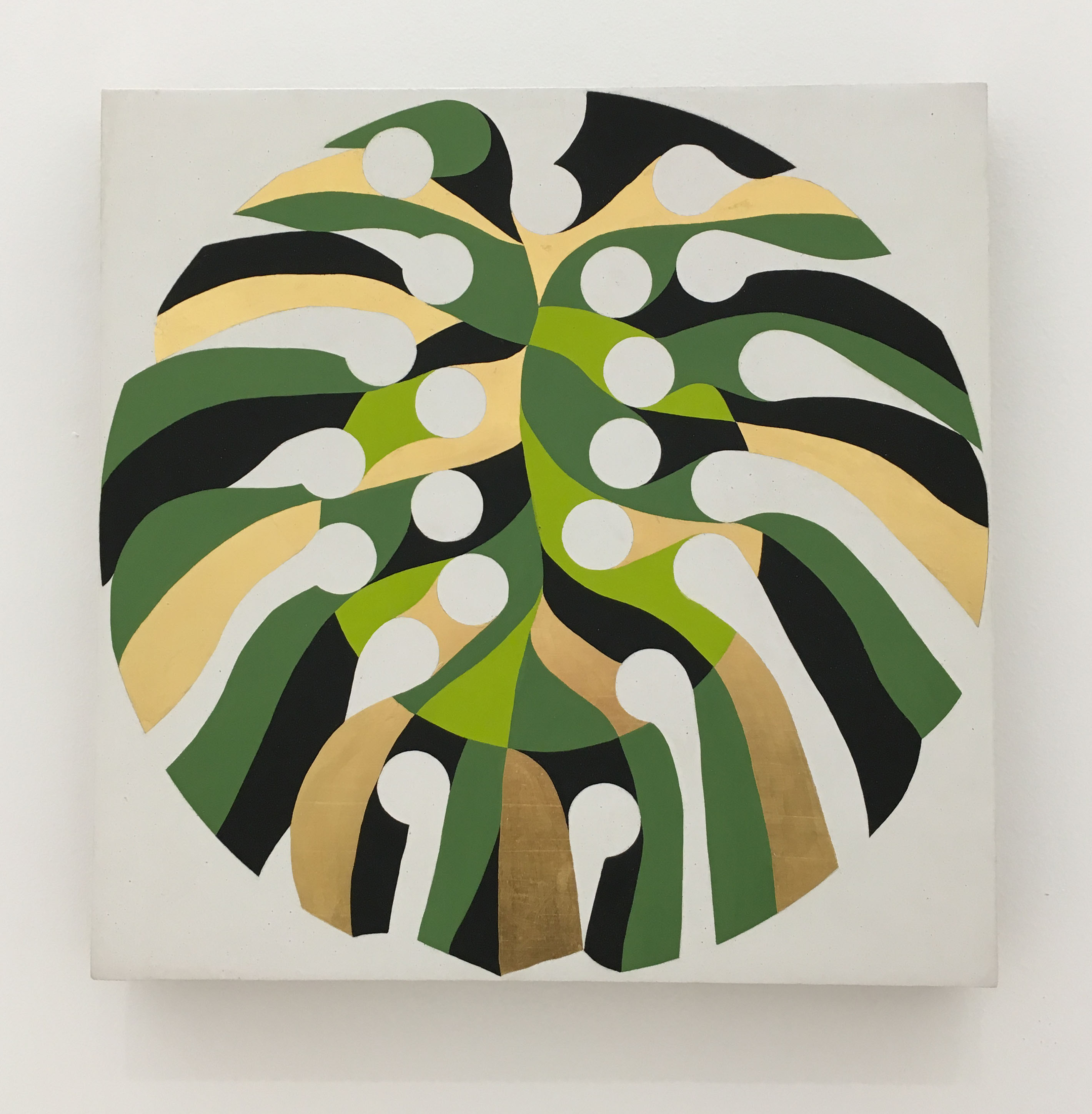 Garbriel Orozco at the Jumex Collection
After our recent visit to Mexico City, it is clear that the city's burgeoning art scene lives up to its hype. After being introduced to several impressive Mexico City galleries at the Texas Contemporary Art Fair, we were excited to explore what else the city had to offer. During our stay, we managed to visit multiple museums and galleries, an artist's studio, and two art fairs, Zona Maco and Material. Every experience left us continually impressed by the fresh perspective within this growing arts community. Below are a few of our favorite works from the weekend.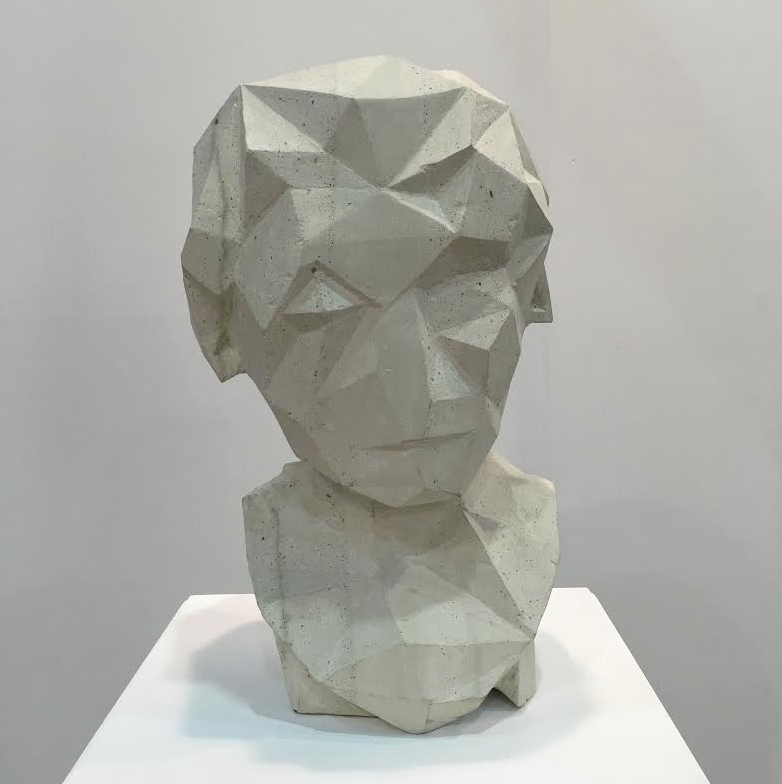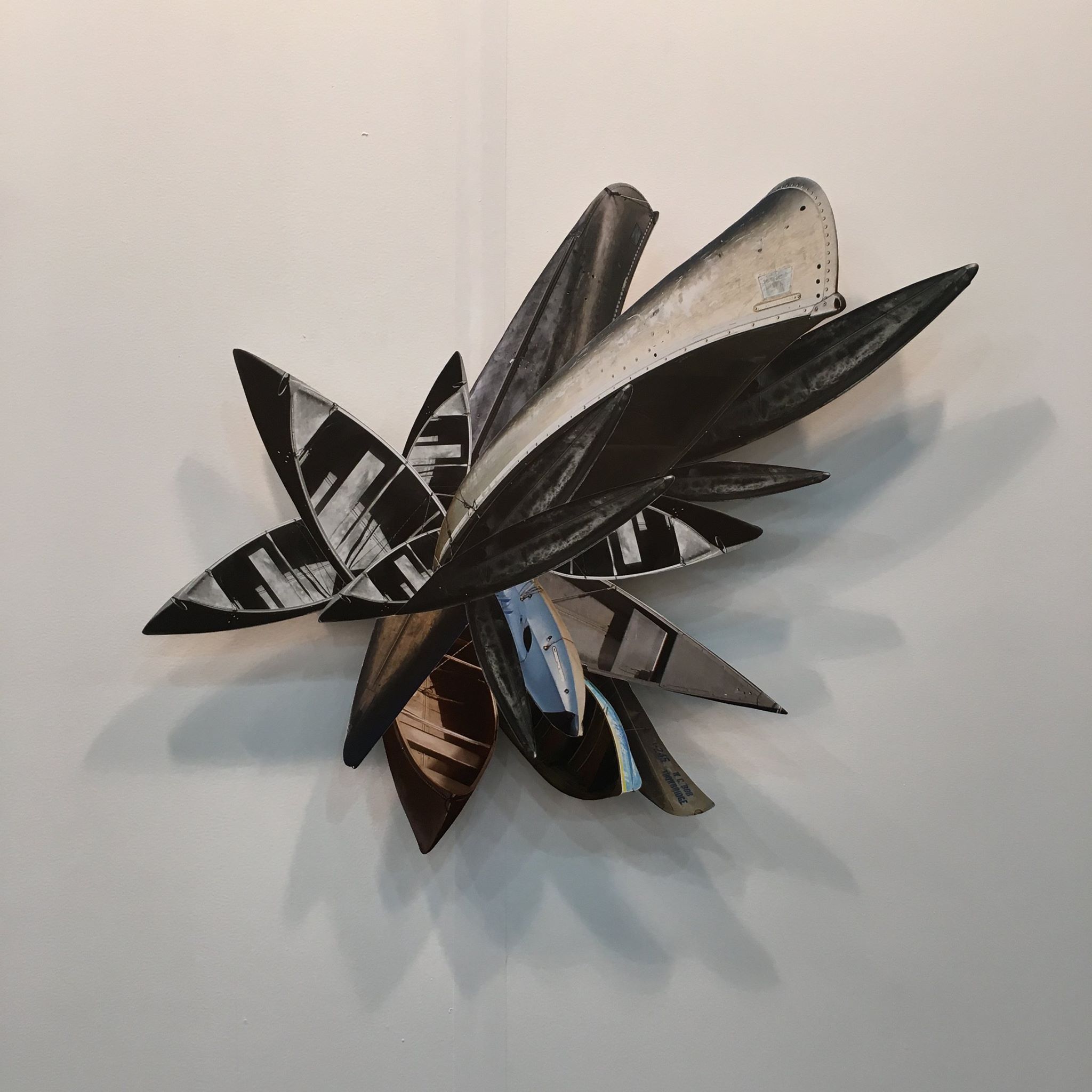 Julieta Aranda at the OMR Gallery Nancy Rubins at Gagosian Gallery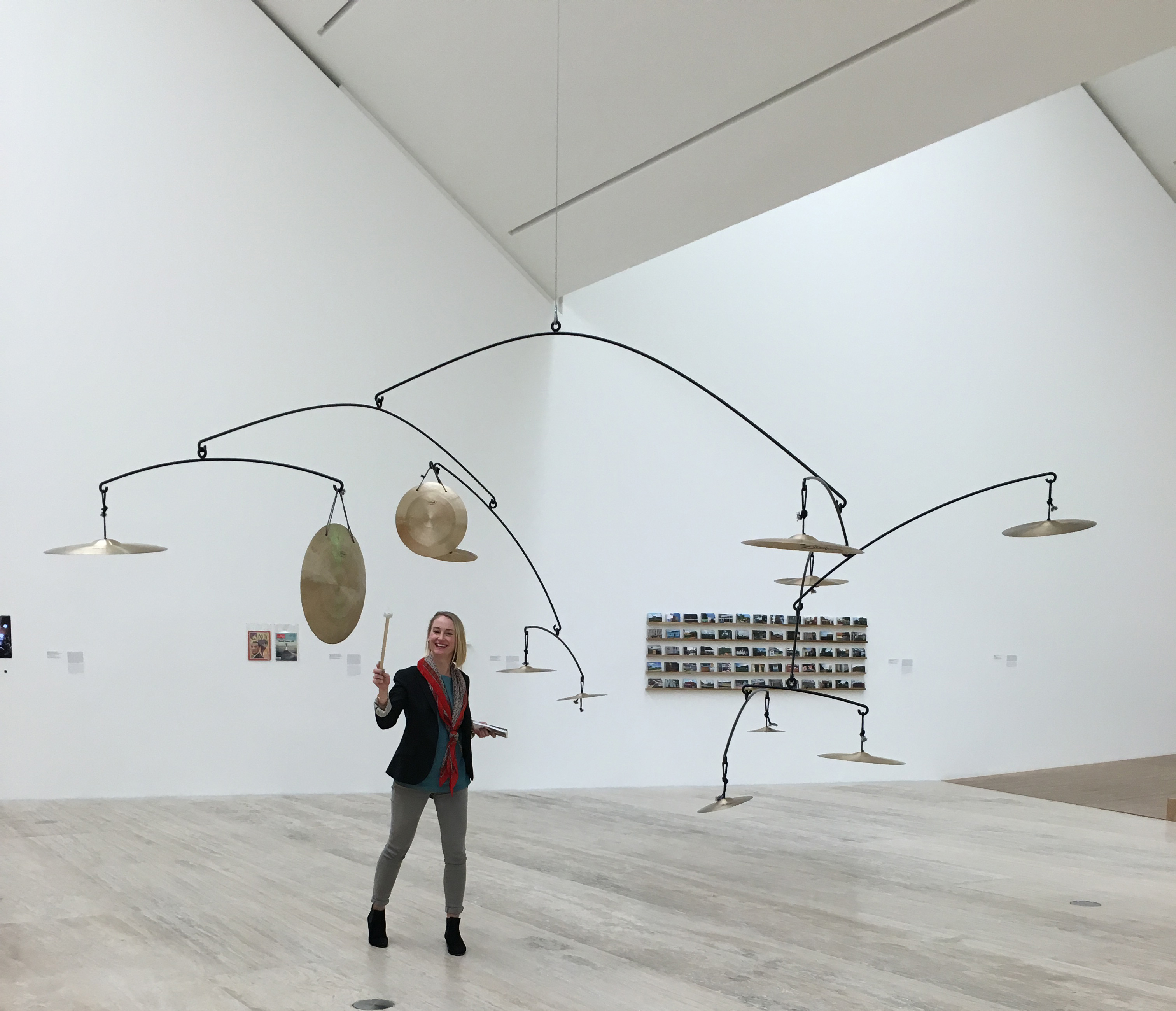 KAC's Adrienne Johnson at Under the Same Sun: Art from Latin America Today at the Jumex Collection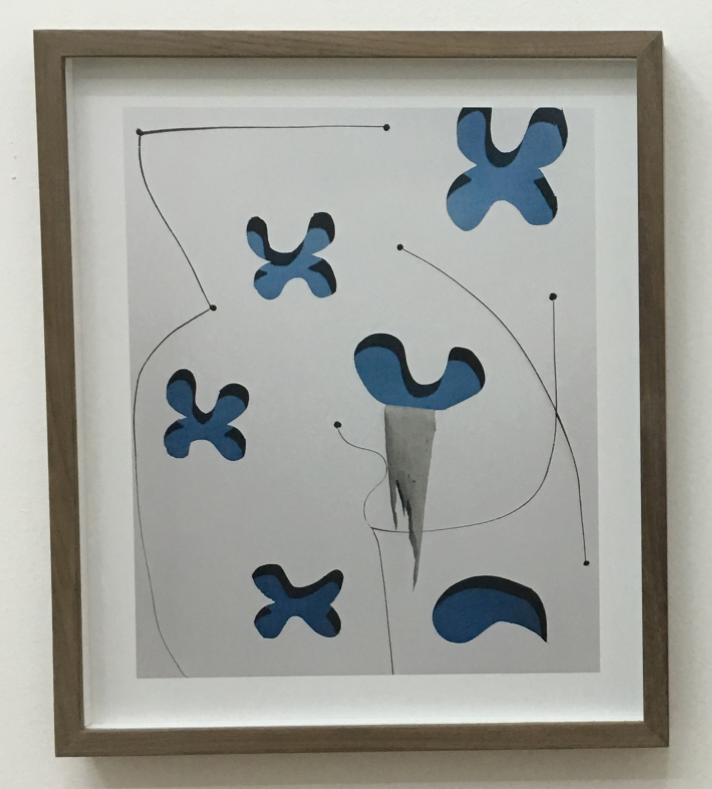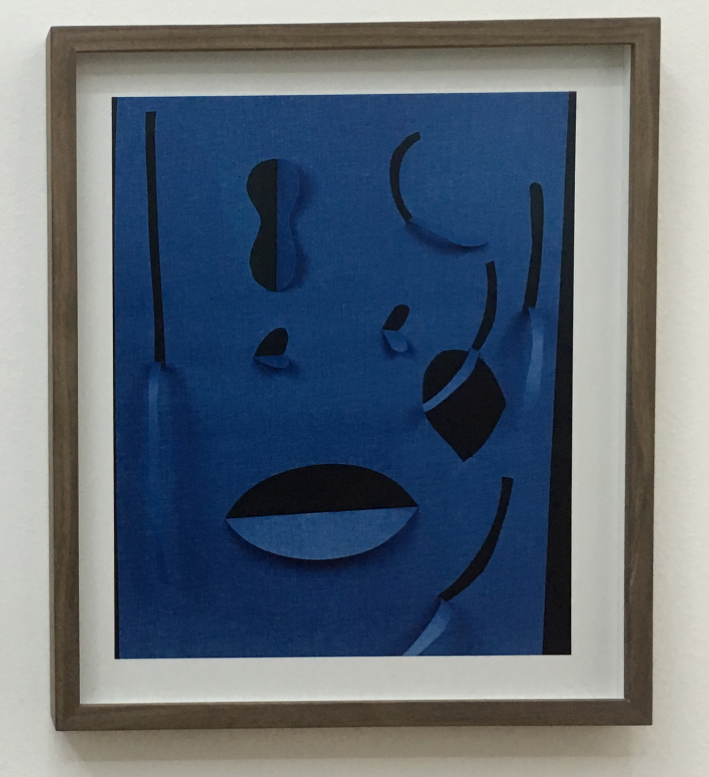 Elizabeth Atterbury at Document Space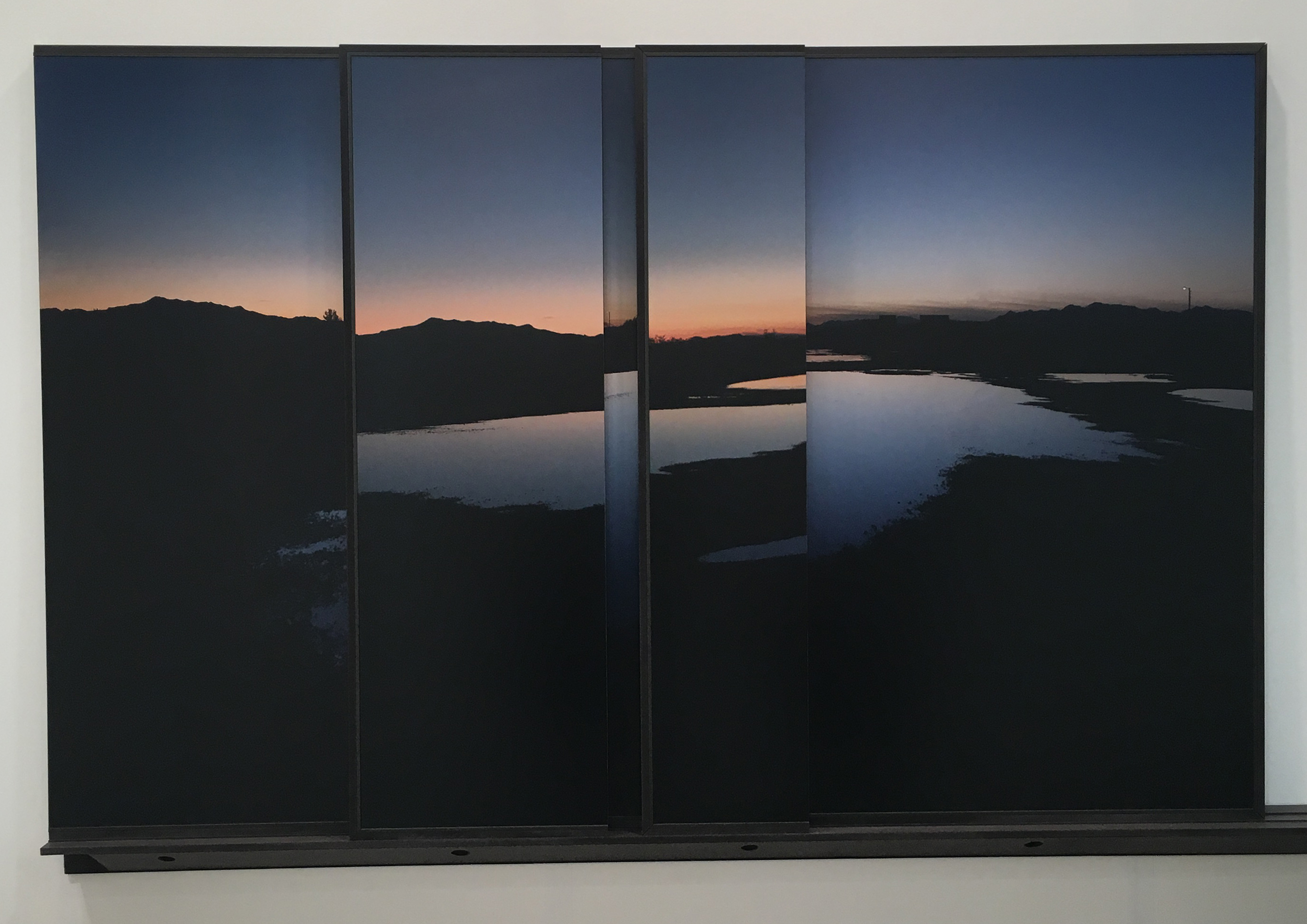 Carlos Irijalba at Galería Moisés Pérez de Albéniz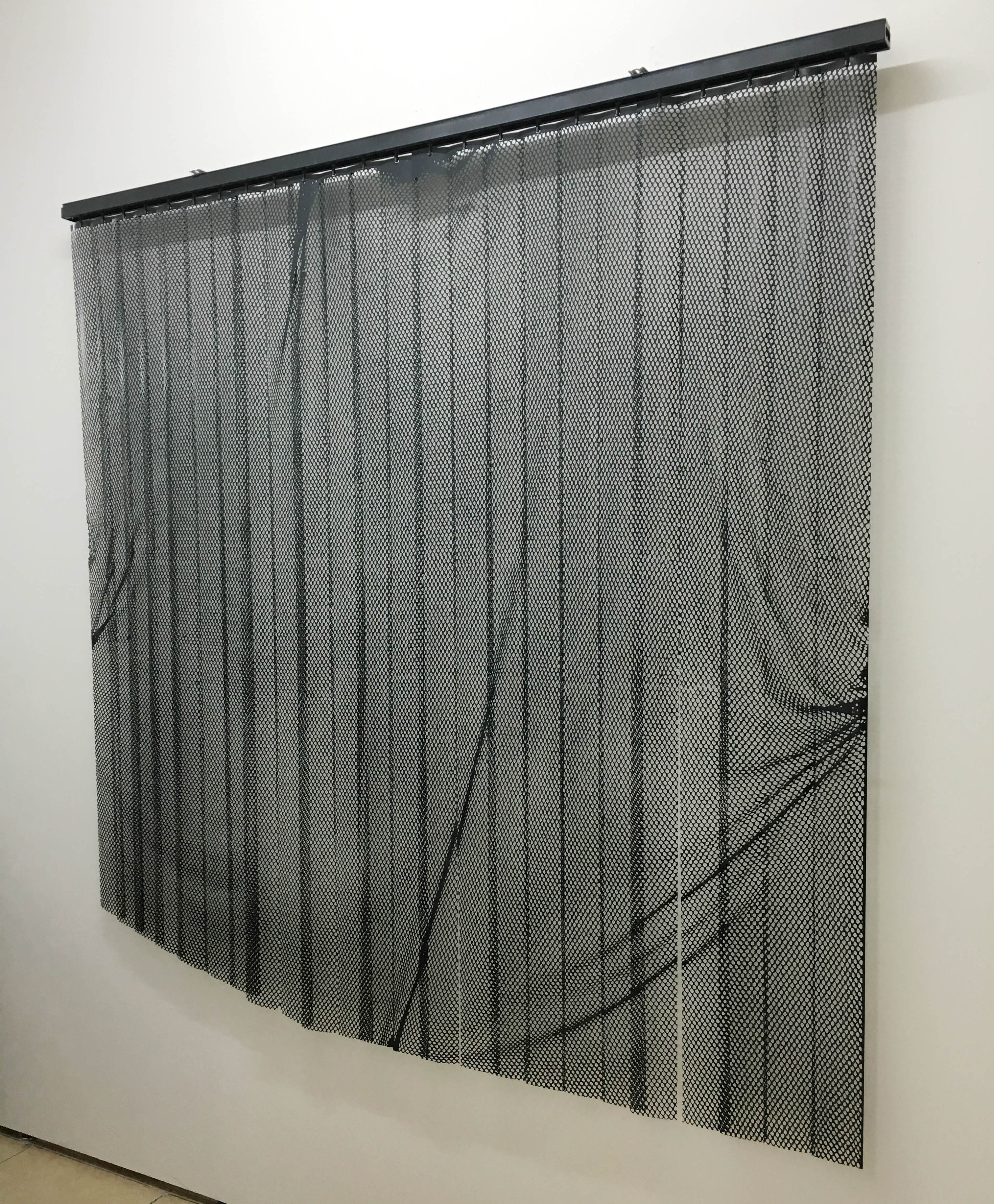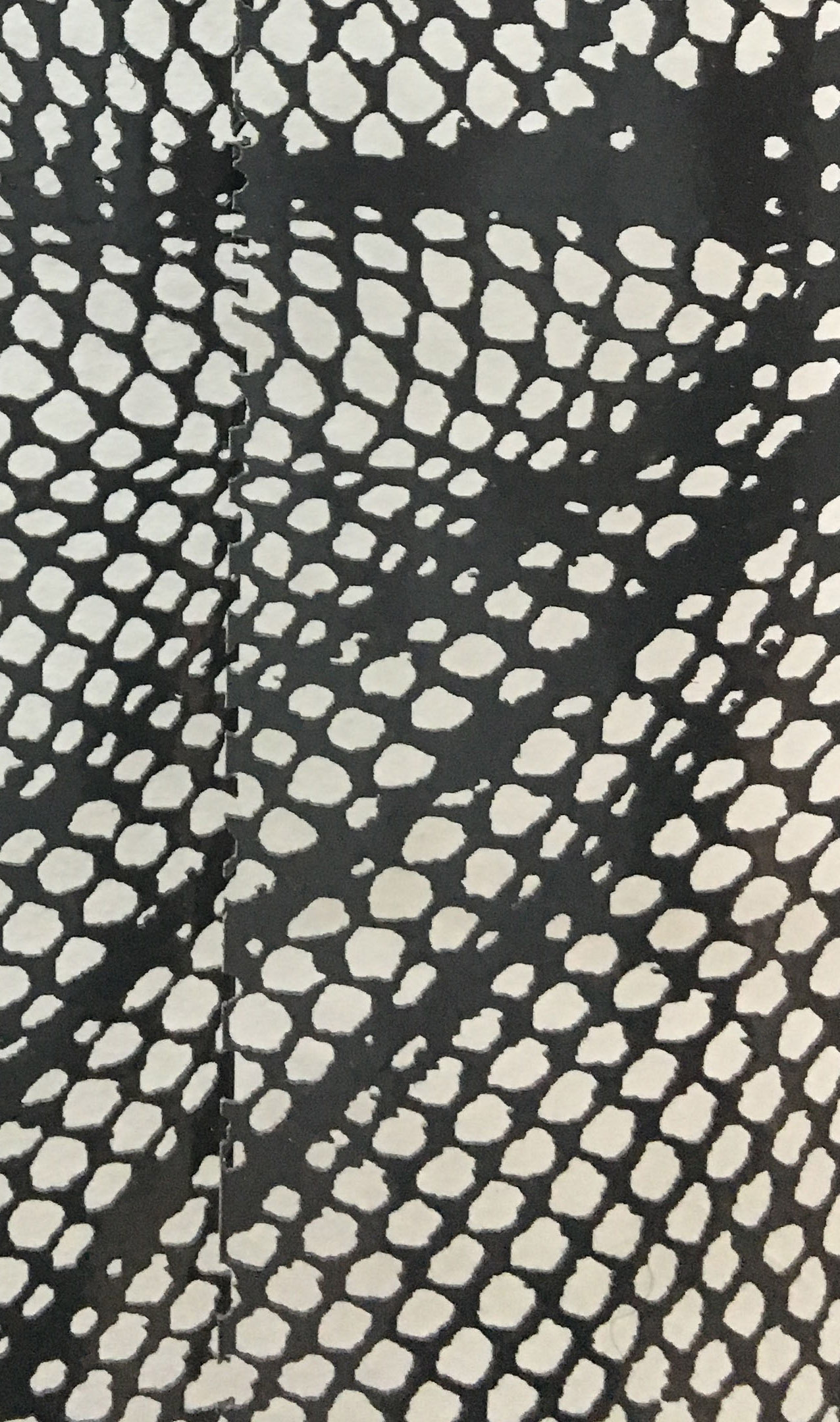 Kim Ye at JAUS Kim Ye (detail) at JAUS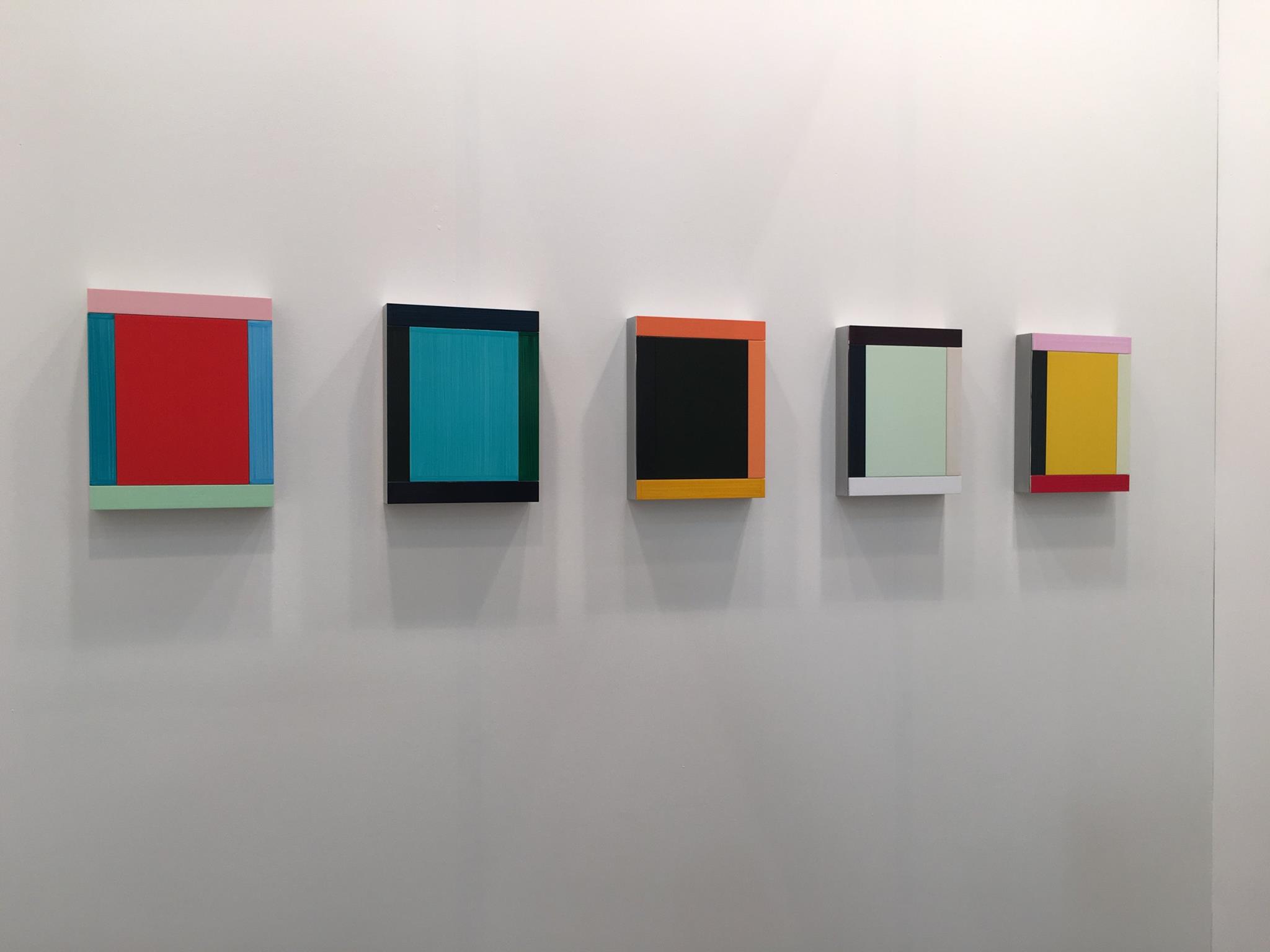 Imi Knoebel at Von Bartha Gallery
Friday, December 4, 2015 at 12 PM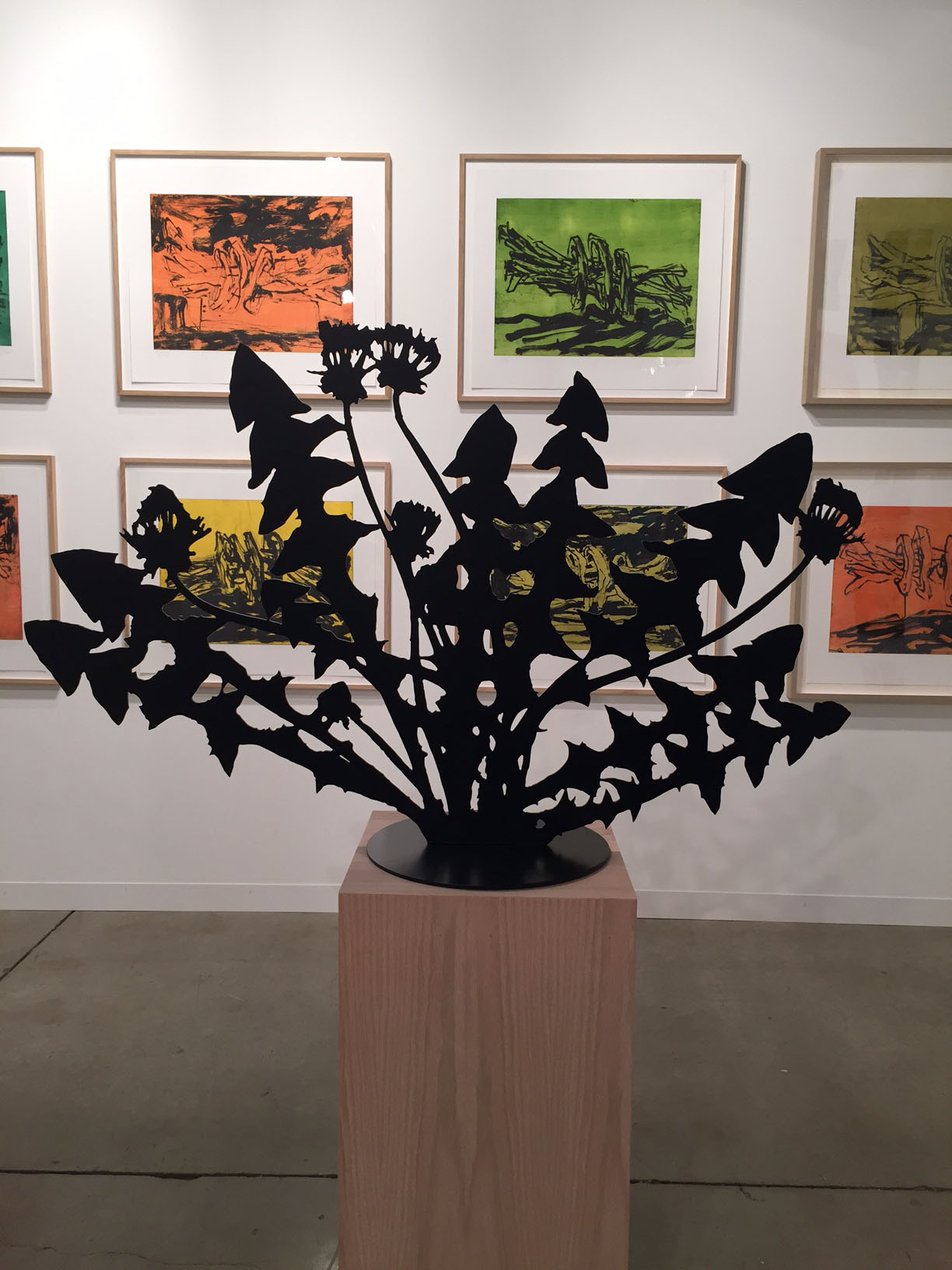 A clever installation of works by Paul Morrison at Galerie Sabine Knust's booth at Art Basel. Sculpture: Dandelion, powder coated steel. Prints: Hesperidium, 2007, woodcuts, Edition of 15.
After 4 days, 8 art fairs, and nearly 700 gallery booths, we are eager to report a selection of the many impressive artworks on view in Miami this week. Reflecting back, we picked up on a recurring theme that we see as a sign of the times: many artists are creating work that evidences the ubiquitous presence of technology in society, while others are returning to handmade traditional craft media such as ceramic and textile. Here is selection of our favorite finds from Art Basel, Untitled, Pulse, NADA, and Miami Project.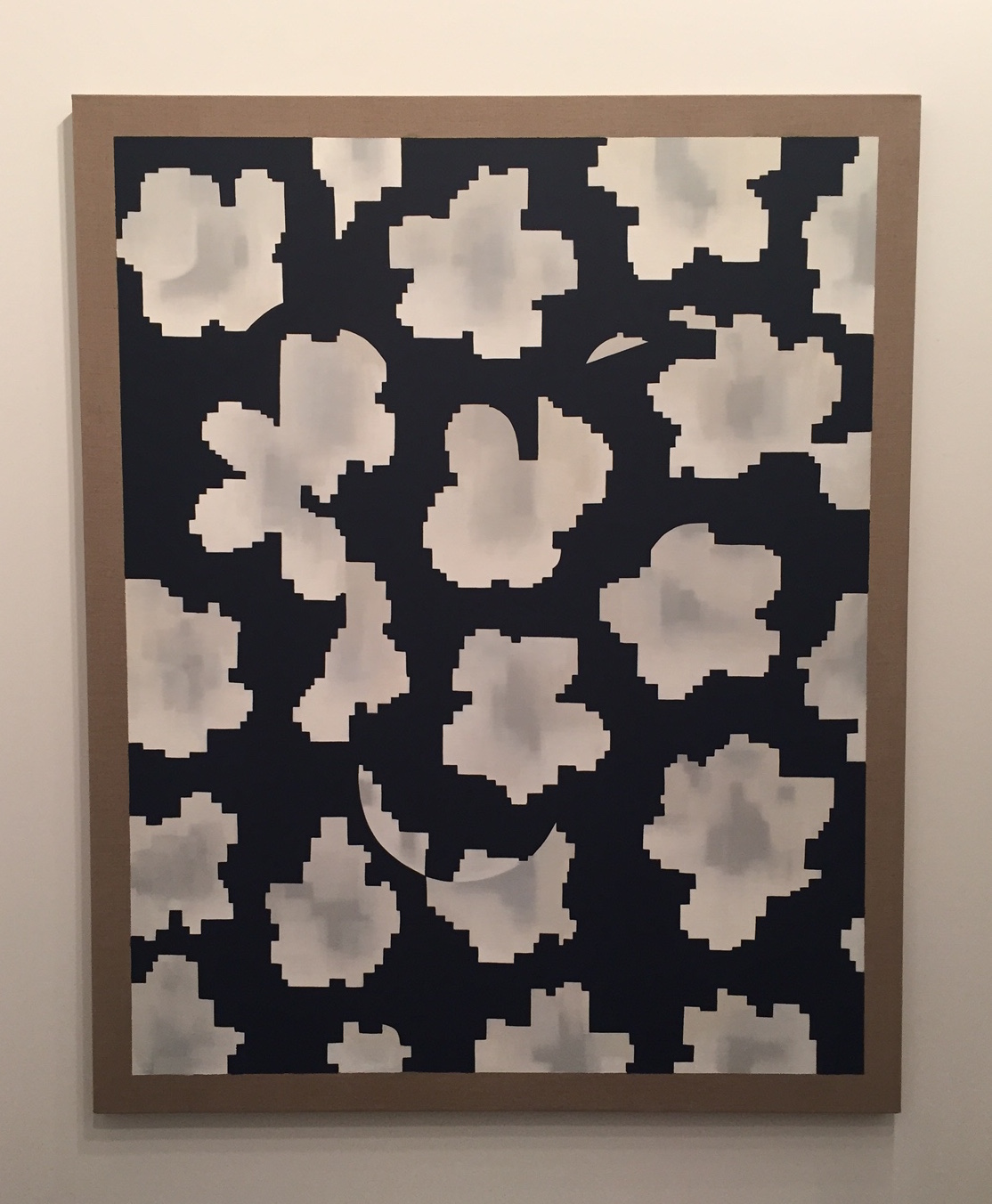 Digitally inspired work by Laeh Glenn on view in Altman Siegel's booth at NADA. Flowers, 2015, acrylic on linen.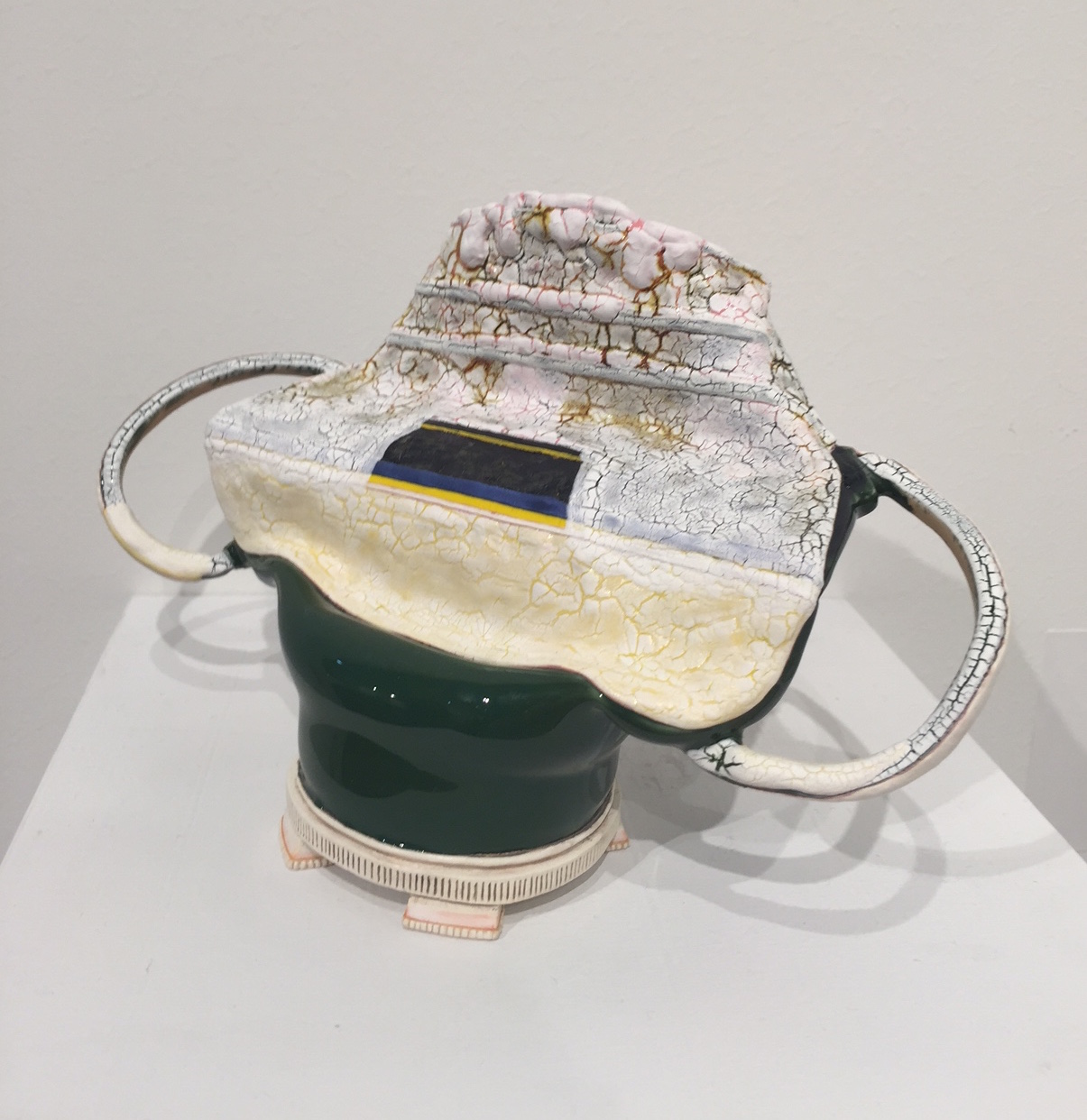 Kathy Butterly, Tangsome, 2015, clay, glaze. Exhibited at Tibor de Nagy Gallery at Pulse.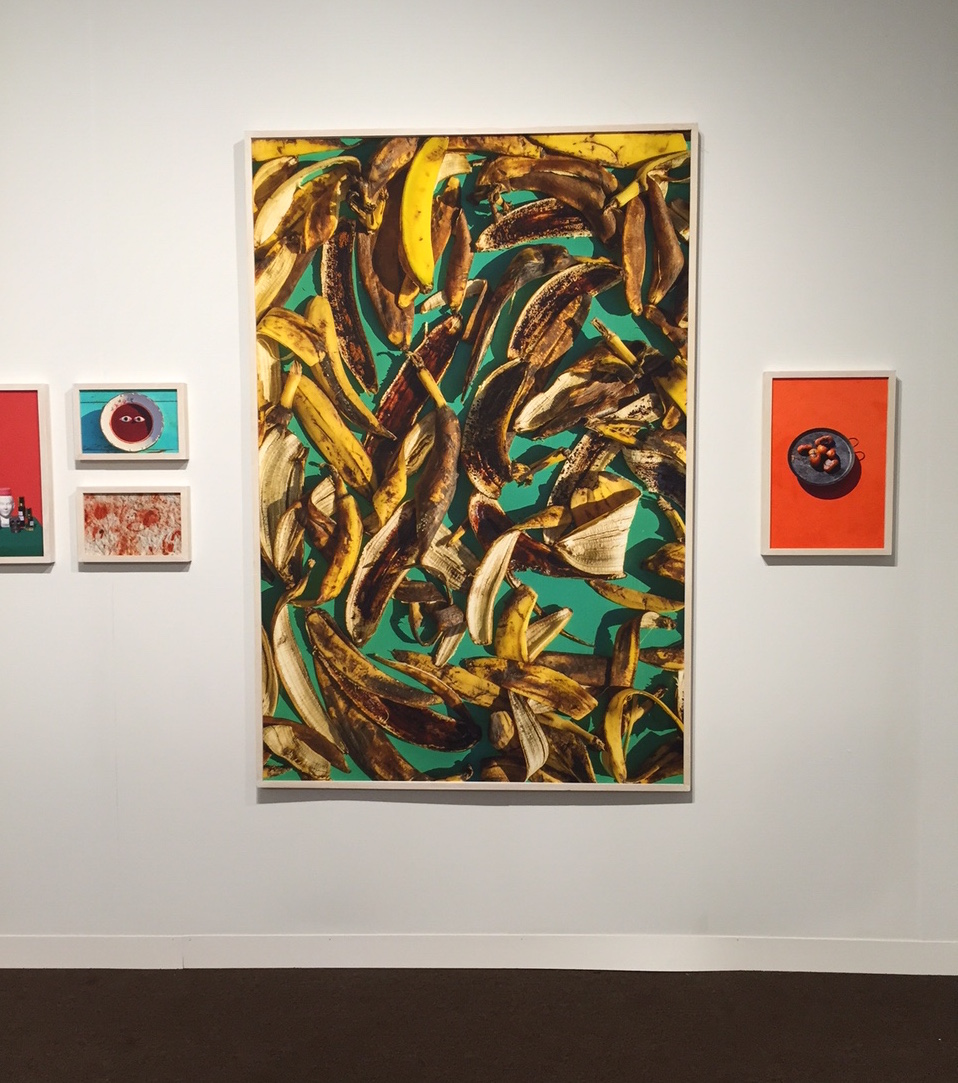 Quirky and mesmerizing photos by Joaquin Trujillo at De Soto Gallery on view at Pulse. Center: Platanos y Café (Mexico), 2015 archival pigment print.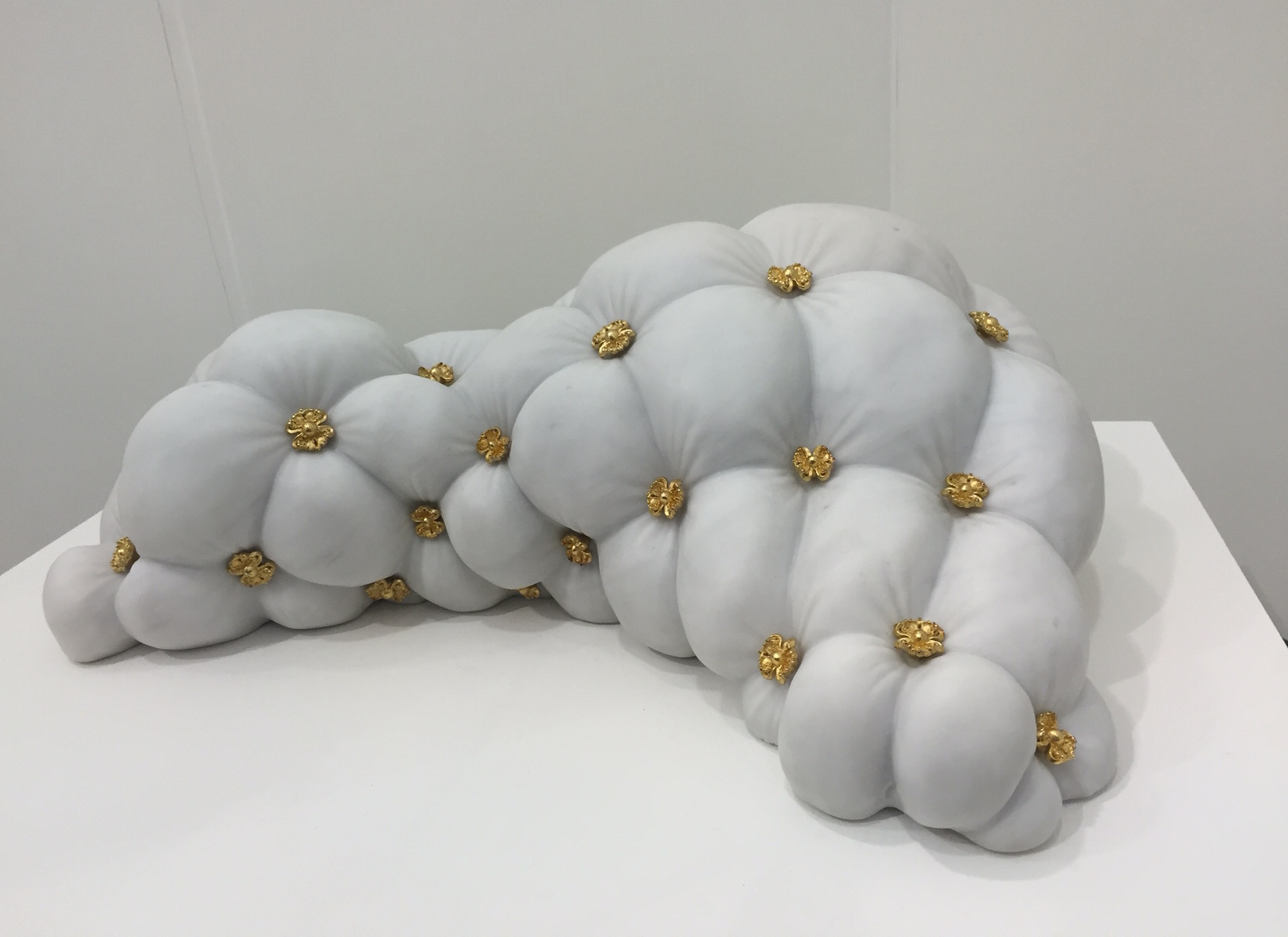 Jonathan Monaghan, Agnus Dei (After Zurbarán), 2015, Carrara marble and 3D printed steel. Bitforms Gallery at Untitled.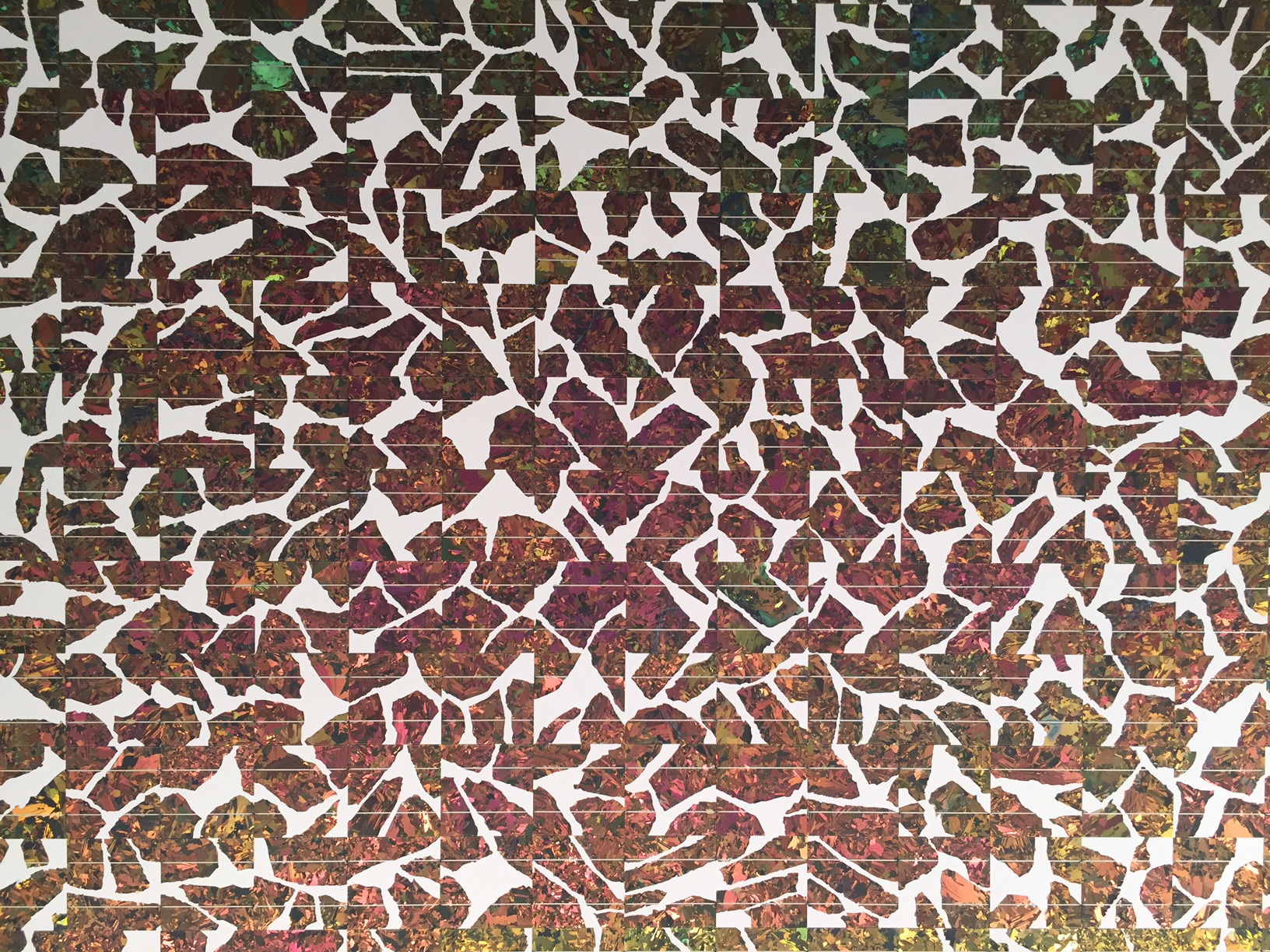 Technology inspired, mixed media work by Allora & Calzadilla in Lisson Gallery's booth at Art Basel. Solar Catastrophe, 2015, broken solar cells on canvas.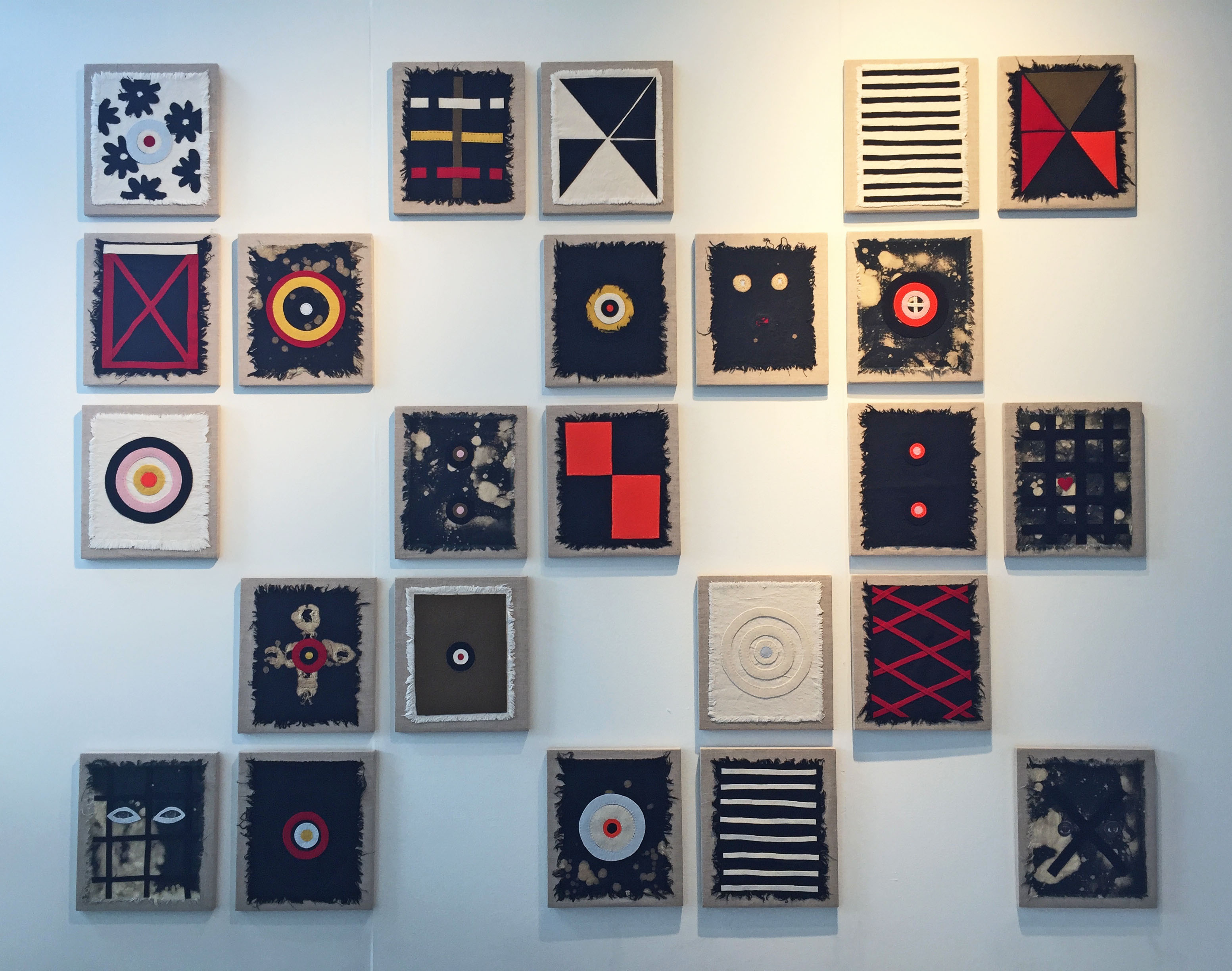 Assorted textile collages by Diana Guerrero-Maciá at Traywick on view at Miami Project. Siblings of the Sun, 2015, wool, cotton, thread on Belgian linen.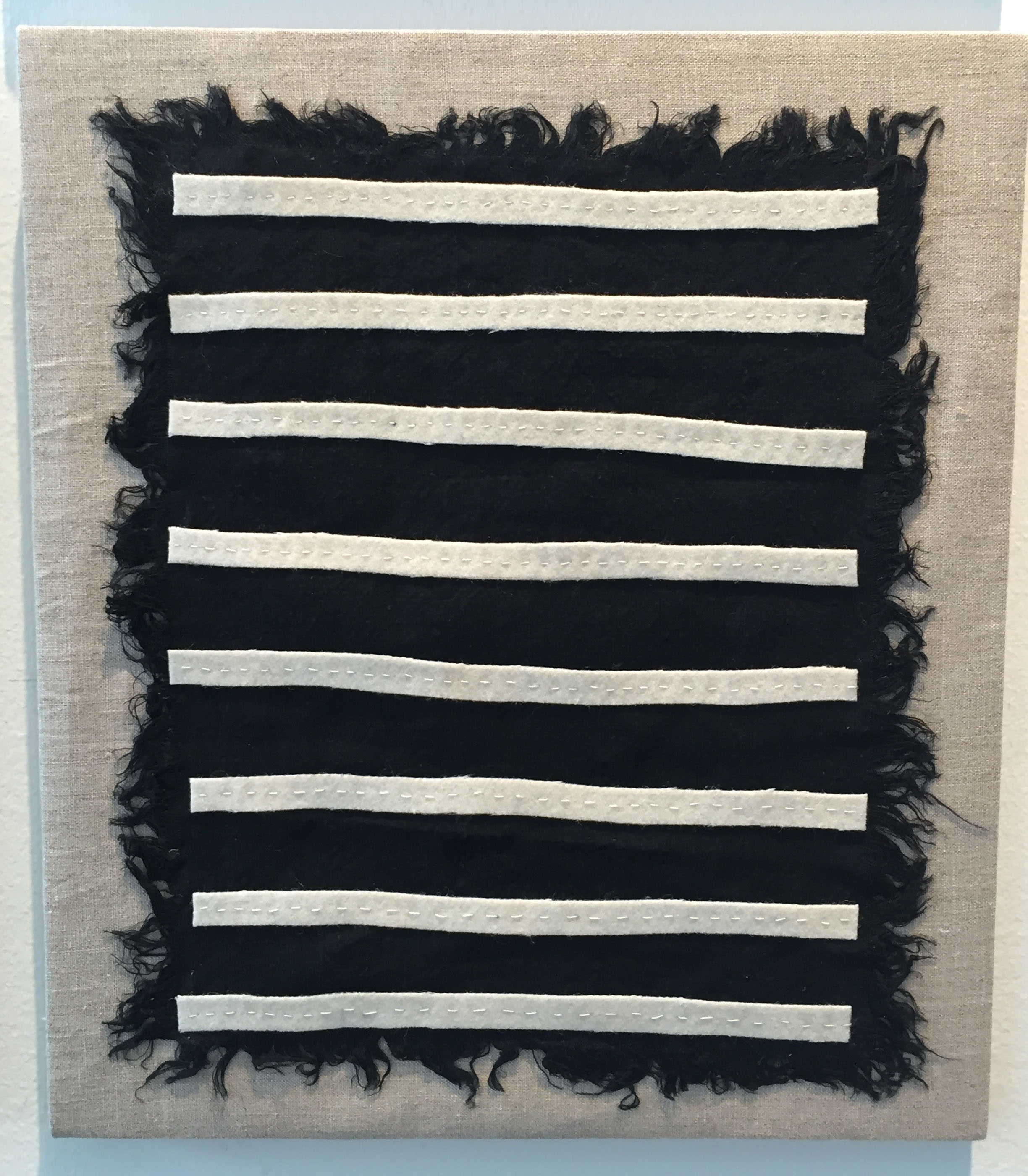 Detail: Diana Guerrero-Maciá, Siblings of the Sun, 2015, wool, cotton, thread on Belgian linen.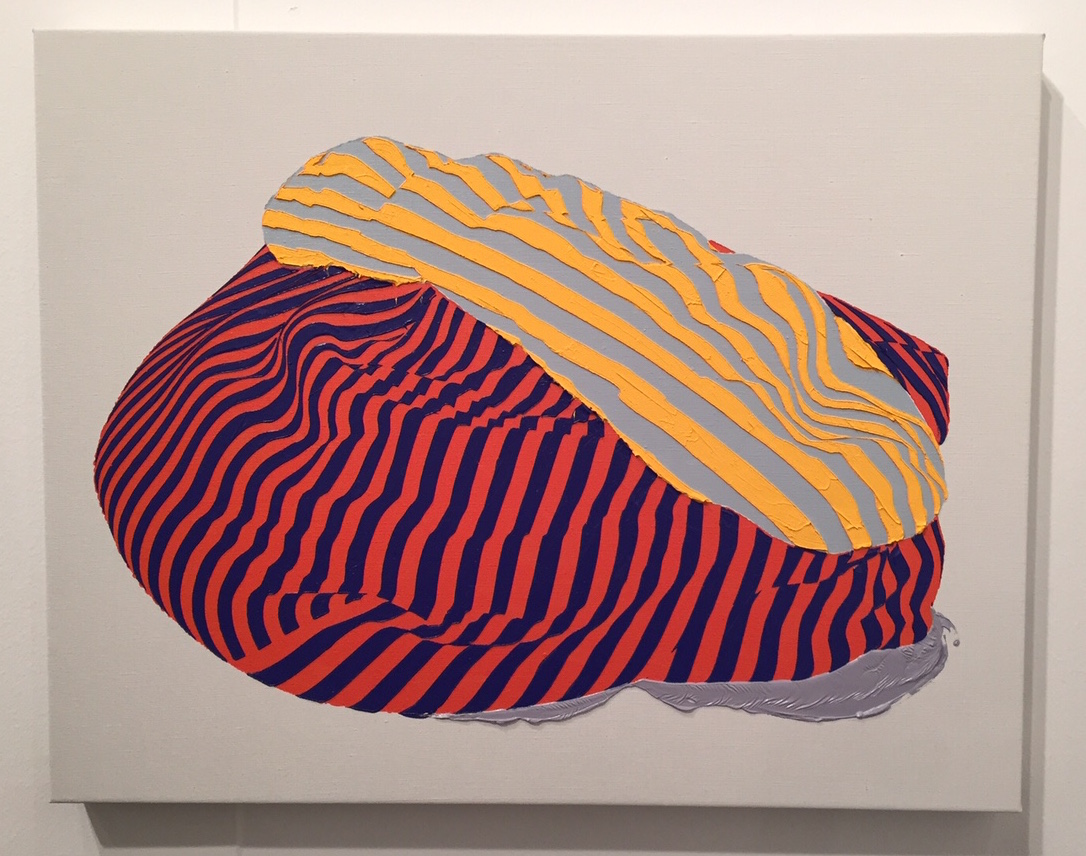 Alex Dodge uses computer generated patterns to create his paintings. Belfast, 2015, oil on canvas. On view at Klaus von Nichtssagend Gallery at NADA.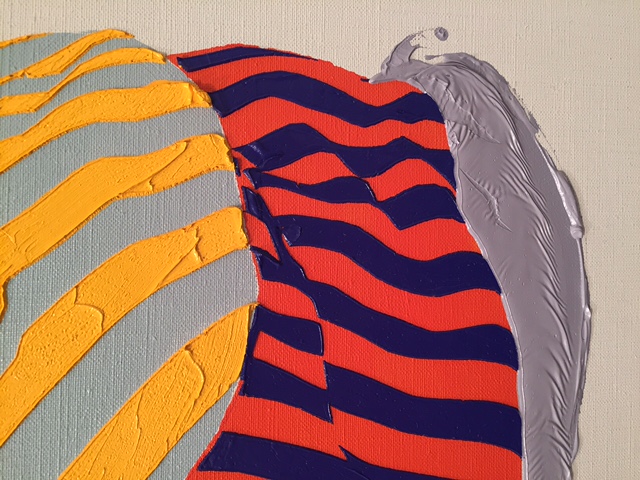 Detail: Alex Dodge, Belfast, 2015, oil on canvas.
Thursday, October 1, 2015 at 5 PM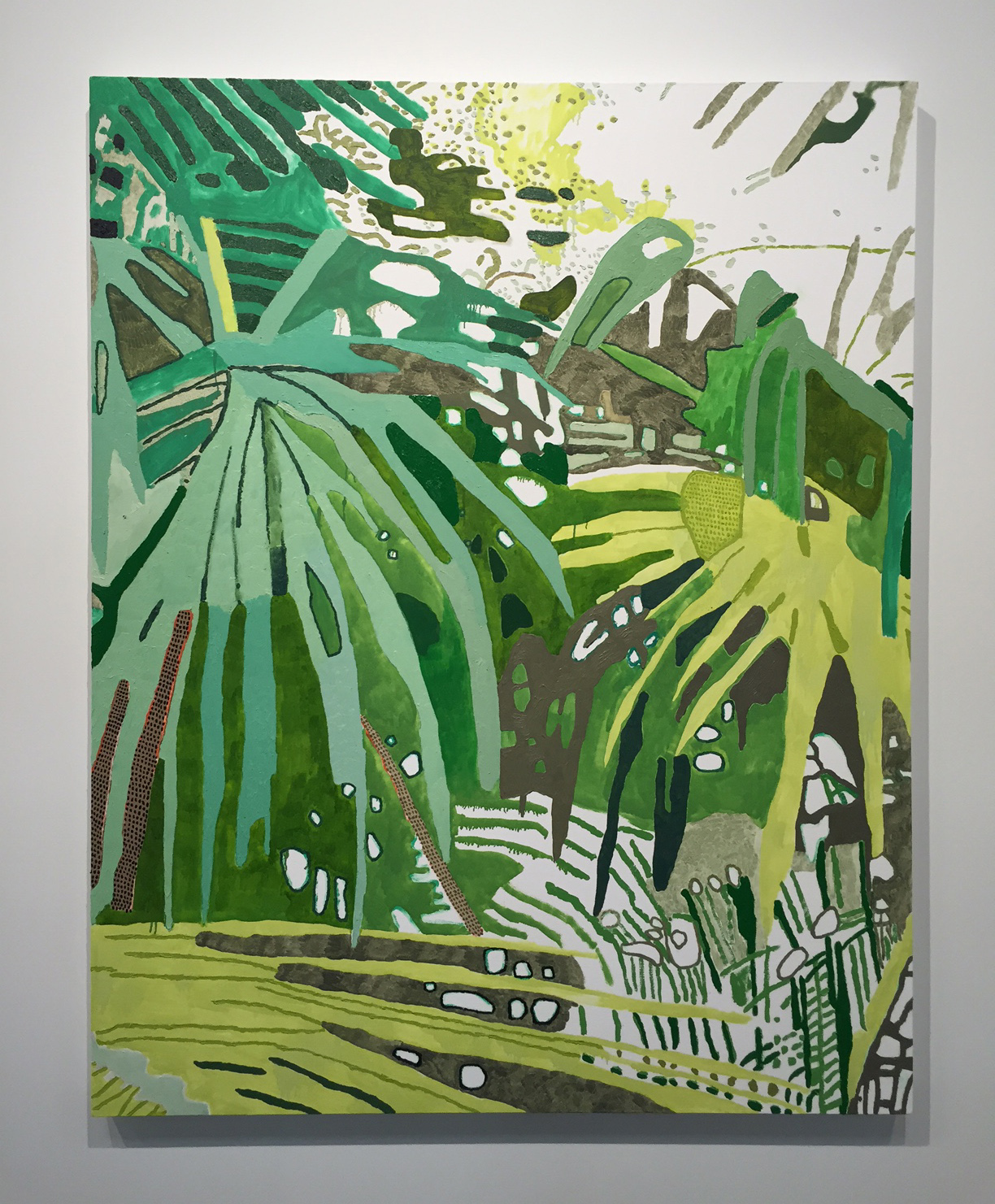 Bradley Kerl at Art Palace Gallery
We previewed the fifth edition of the Texas Contemporary Art Fair, and wanted to share some of our first impressions and stand-out works. We encourage everyone to attend the fair and post your faves with #LetsTalkArt. Stay tuned for more highlights throughout the weekend from Kinzelman Art via Instagram, Twitter, and Facebook. If you would like more information on these works feel free to contact us.

Tomás Díaz Cedeño at Yautepec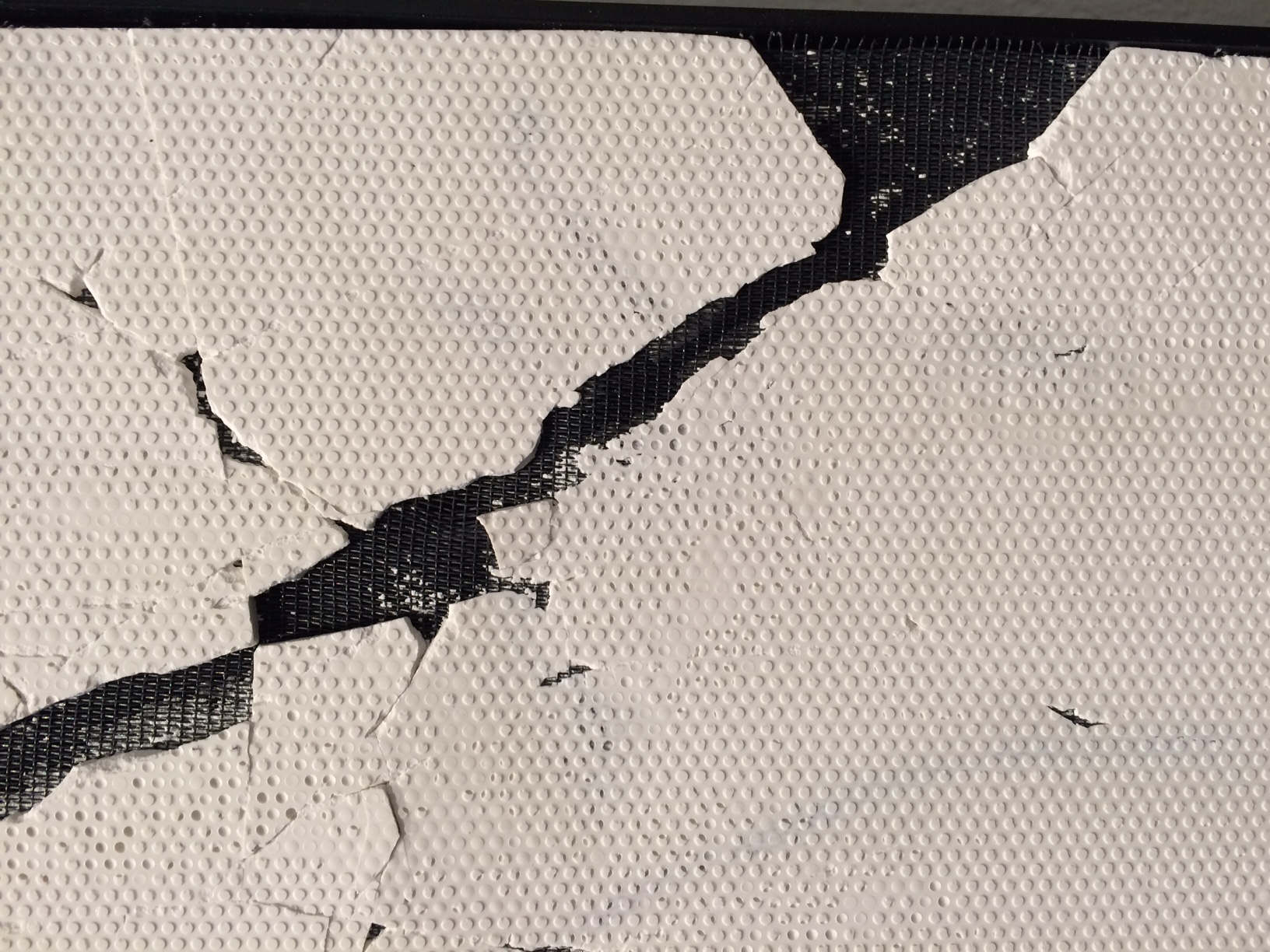 Detail of Tomás Díaz Cedeño at Yautepec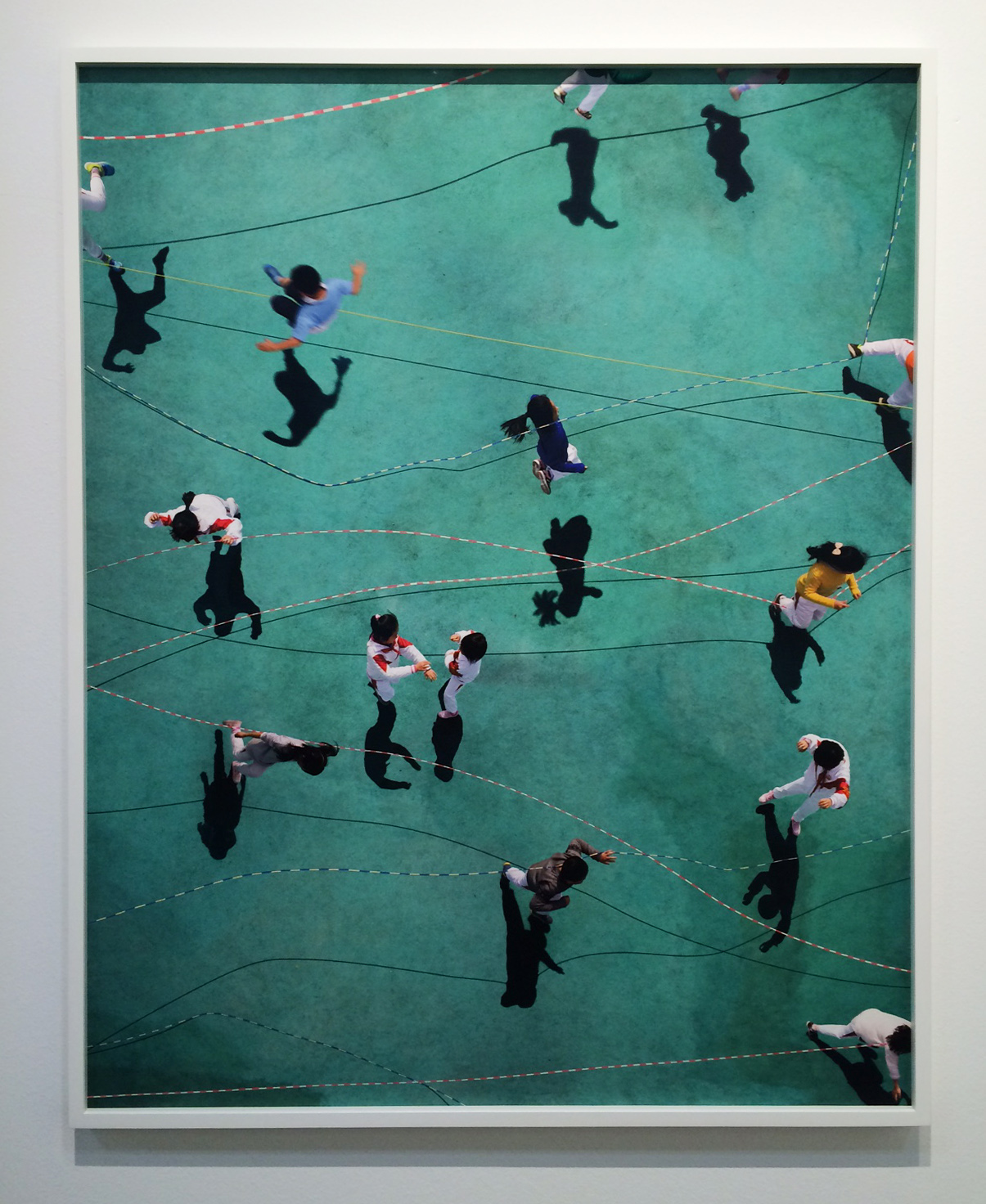 Katrin Korfmann at Kopeikin Gallery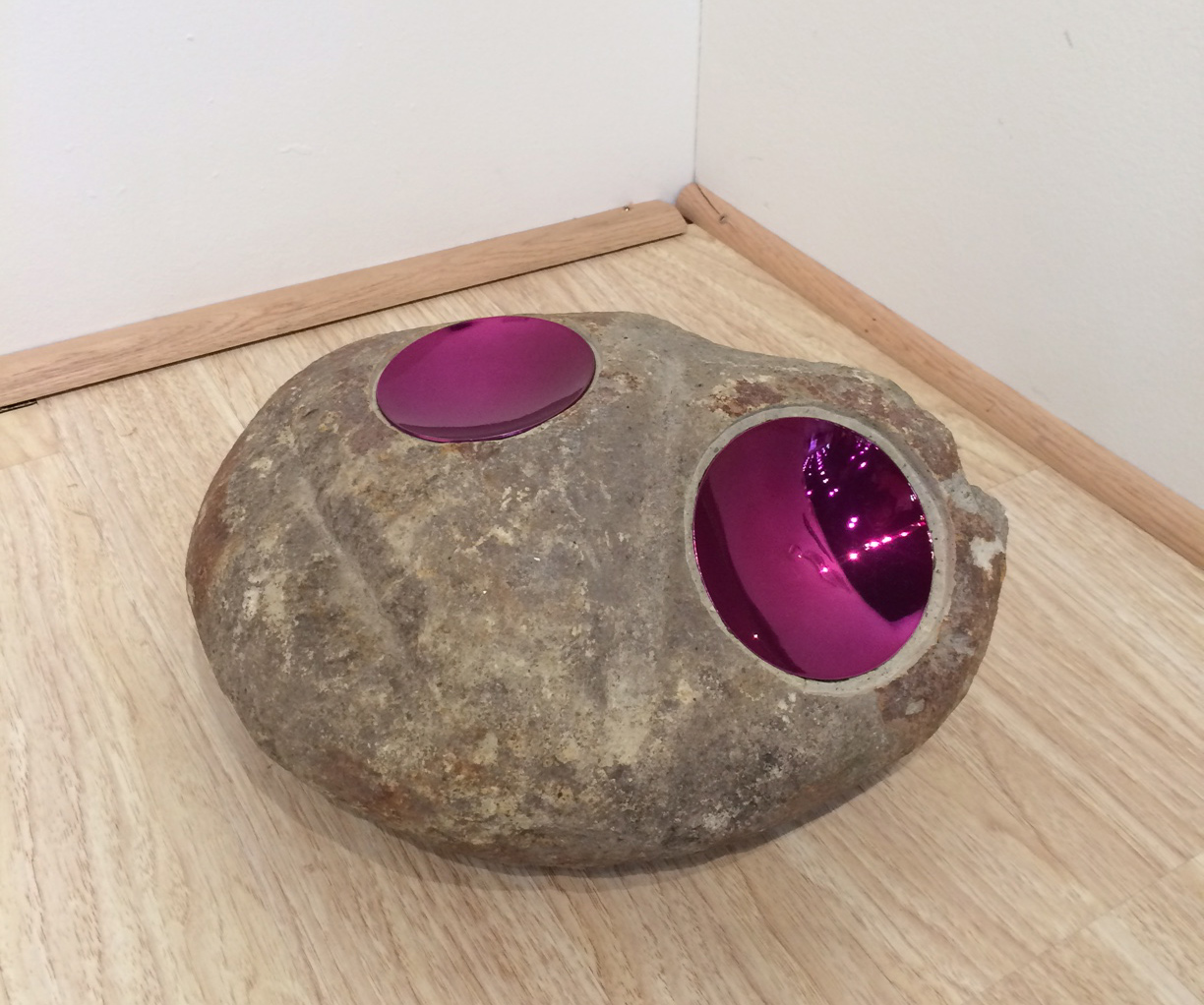 Héctor Falcón at Galeria Enrique Guerrero
Thursday, September 24, 2015 at 4 PM
With 60 galleries including a special presentation of galleries from Mexico City hand-selected by curators Leslie Moody Castro and Bill Arning of CAM Houston, we expect this year to be the best Texas Contemporary Art Fair yet!
Here are the events we think are not to be missed this TCAF:

TX CONTEMPORARY HAPPY HOUR AND KICK-OFF AT THE MENIL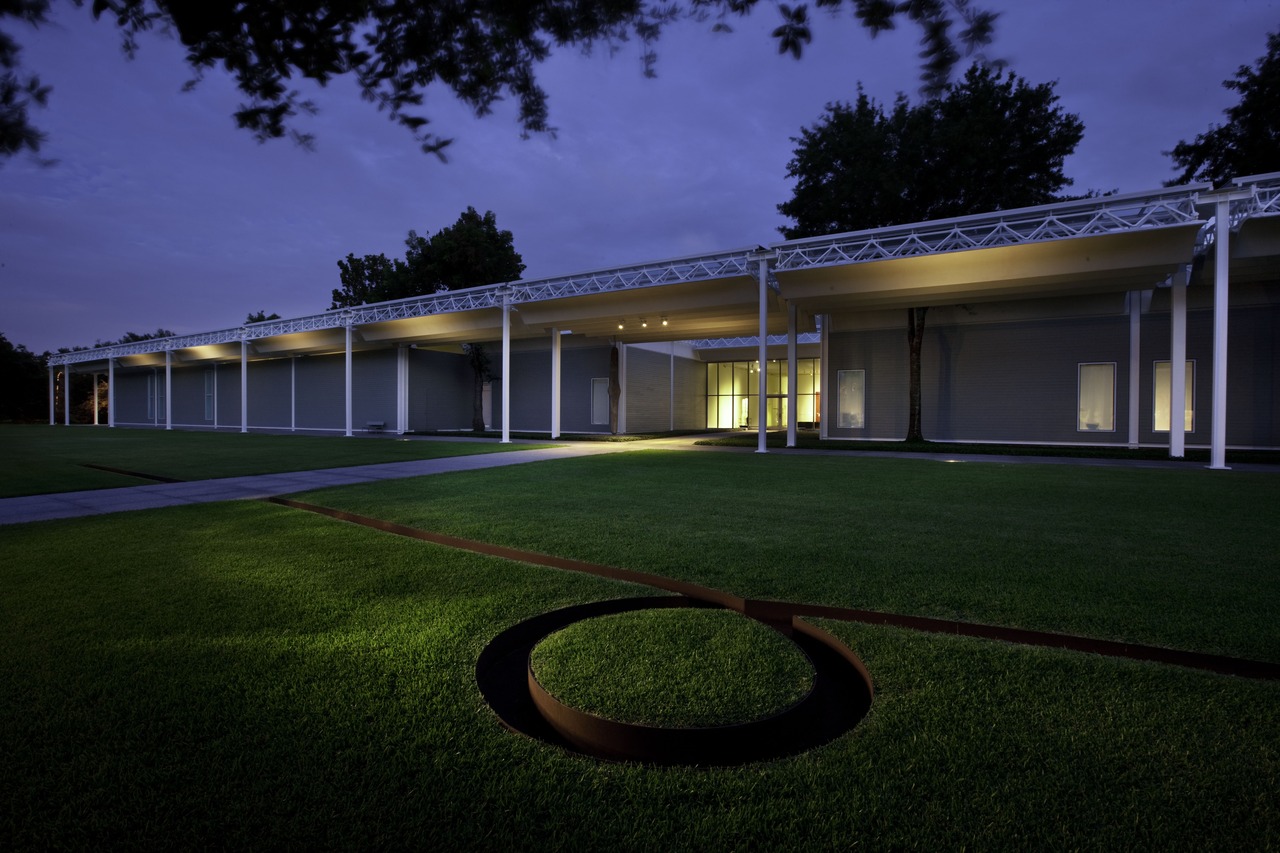 Photo credit: Proud Pony International
WHEN: September 28, 2015, 6-8pm
WHERE: The Menil Collection
ACCESS: RSVP only
The Menil Contemporaries and the Texas Contemporary Art Fair will kick off the 2015 fair week with refreshing beverages from Deep Eddy Vodka and Leprechaun Cider and light bites from Canopy.

Claire Elliott, Assistant Curator, will lead tours of the new exhibition, Apparitions: Frottages and Rubbings from 1860 to Now, and attendees will have the opportunity to sign up for an exclusive tour of the Texas Contemporary Art Fair on October 3rd and 4PM.
Attendance is limited but if you RSVP, you can get your free tickets here.
---

VIP PREVIEW OF THE TX CONTEMPORARY ART FAIR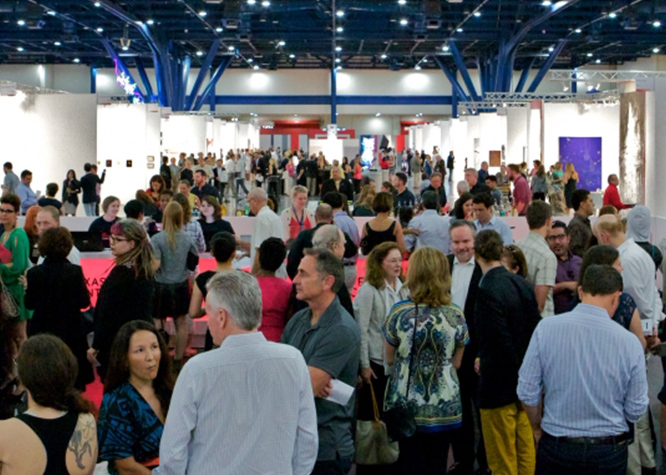 Photo credit: Texas Contemporary Art Fair
WHEN: October 1st
6-8PM Early Access for Patron Pass Holders
8-10PM VIP Preview Party
WHERE: George R. Brown Convention Center
Get a first look at the art fair before it opens to the public while partying with fellow fair VIPs. On behalf of Kinzelman Art Consulting, you can request a complimentary pass to the VIP preview beginning at 8PM here.
If you choose to upgrade to the Patron Pass, your proceeds benefit the Contemporary Arts Museum Houston and you get even earlier access to the fair from 6-8pm to enjoy complimentary light bites and bubbles.
INSIDER TIP: Skip the valet line and take an Uber using the code TX Contemporary. If you're a first time rider, your ride is free up to $20!
---

CONVERSATION: THE HAAS BROTHERS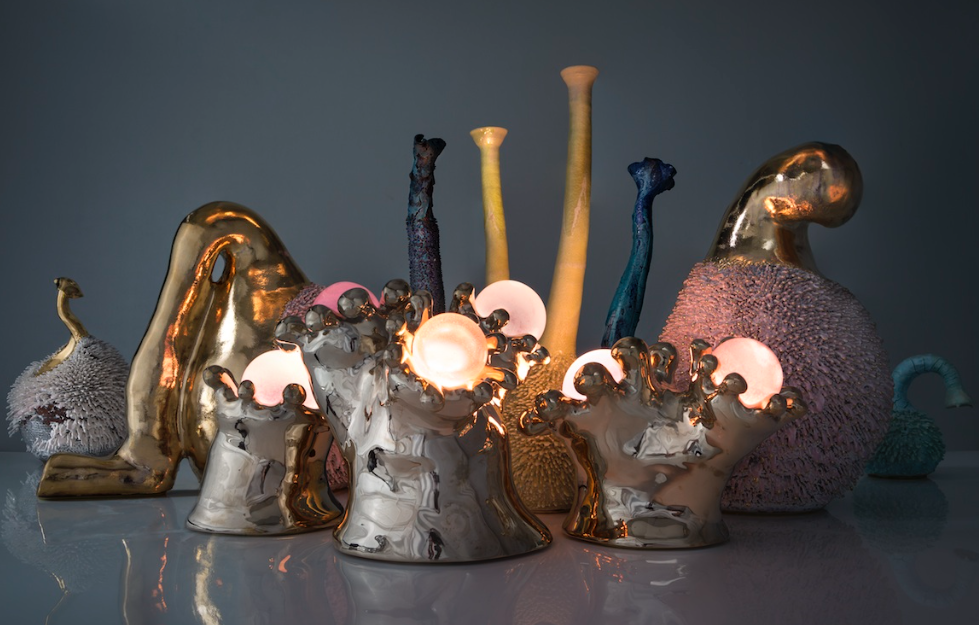 Accretion Vases and Zoidberg Lamp Series, 2014, Accretion Vases: Ceramic. Zoidberg Lamp Series: Cast Bronze, Blown Glass.
WHEN: Saturday, October 3rd, 1:30-3:00PM
WHERE: Texas Contemporary Art Fair Theater, George R. Brown Convention Center
ACCESS: Open to all fair pass holders
Join the Haas Brothers, twins Nikolai and Simon as they discuss their practice of blurring the lines between art and design.

The brothers had a creative upbringing in Austin, Texas received attention right away for their nimble craftsmanship and clever use of materials, and the few years since have seen them evolve from fabricators and collaborators to studio art innovators.

In their current works, The Haas Brothers explore aesthetic and formal themes related to nature, science fiction, sexuality, psychedelia and color theory. Their mastery and unique use of materials ranging from brass, bronze, porcelain and fur to highly technical resins and polyurethane, matched with their insatiable curiosity and remarkable visual intelligence, sets them apart as artists. Born in Austin, TX, the Haas Brothers currently live and work in L.A.
---

CHERRYHURST HOUSE FALL 2015 OPENING BRUNCH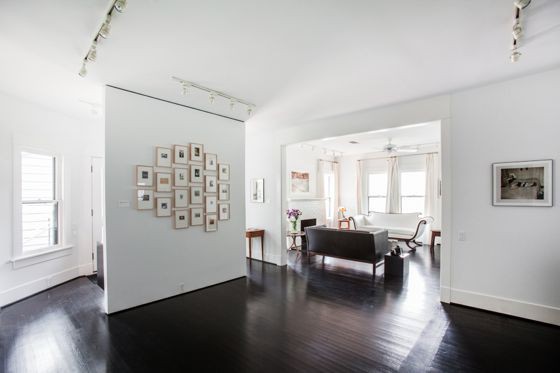 Photo credit: Houston Press
WHEN: Sunday, October 4th, 11:30AM- 4PM
WHERE: Cherryhurst House
ACCESS: RSVP only
Come meet Cherryhurst House Founder and Director, Dallas McNamera, and the Fall 2015 artists-in-residence as they celebrate the opening of Strangely Familiar: Works of Visual Fiction by Barbara Levine and Daniela Edburg.
This private home, typically available by appointment only, opens its doors and invites you to come by for mimosas, crepes, and tunes by DJ Clint Brussard!
To join the party and for directions, RSVP here.
---

CONVERSATION: "THE OTHER MEXICO"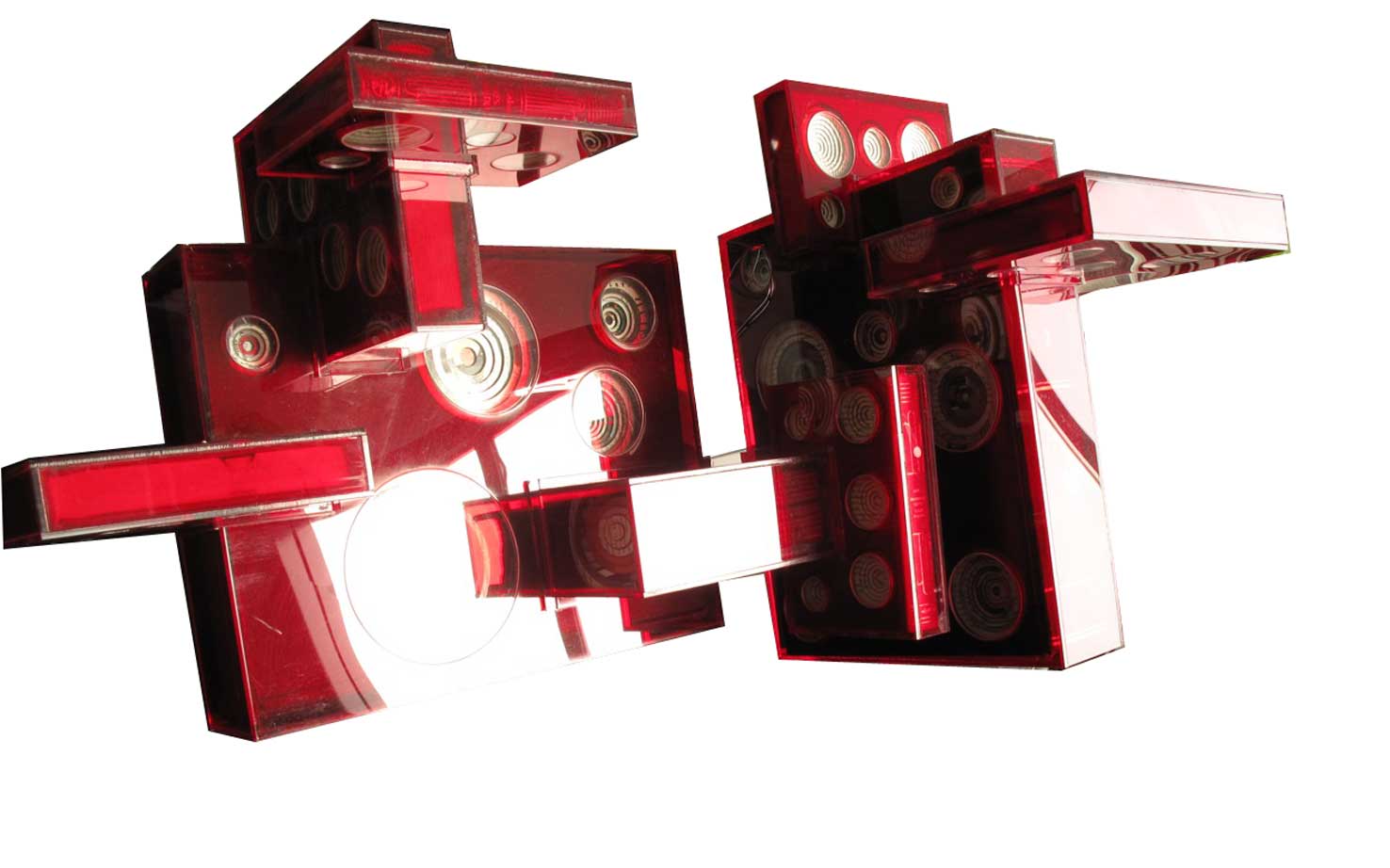 Hector Falcon, Hipervinculo, 2011, Books in Arcylic.
WHEN: October 4th, 1:30- 4:00PM
WHERE: The Texas Contemporary Art Fair Theater, George R. Brown Convention Center
ACCESS: Open to all fair pass holders
The fifth edition of Texas Contemporary marks the launch of the fair's dynamic partnership with the Department of Cultural Affairs at The Mexican Consulate in Houston. Curated by Leslie Moody Castro, independent curator based in Mexico City, The Other Mexico intends to make a tangible connection between the cities of Houston and Mexico City.
This panel discussion with Moody Castro and Andrea Paasch, Exhibition and Special Projects Manager of the Museo Rufino Tamayo, will focus on the ever shifting arts ecosystem of Mexico City, and the role of the participating galleries.
The panel will explore the heterogenous nature of the city itself, and look at the contemporary arts as a micro-cosmic community within the city, while illustrating the importance of interconnectivity with other city centers.
Friday, September 18, 2015 at 5 PM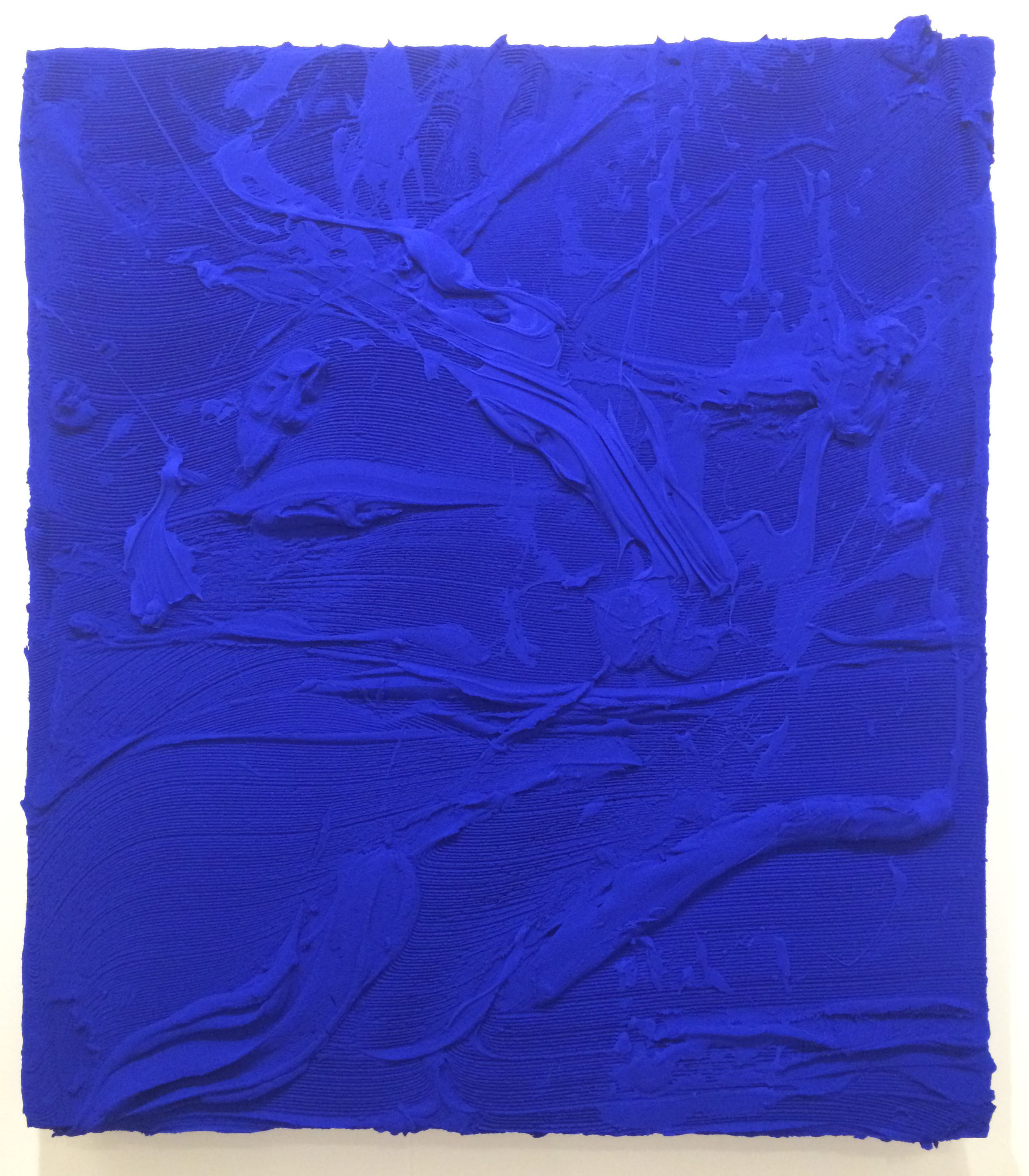 Jason Martin, 2015, mixed media on aluminum (ultramarine blue) at Galerie Forsblom
With an impressive roster of 140 galleries from around the world, EXPO Chicago has delivered a vast selection of world class contemporary art. We are spending the weekend in the windy city to explore the many high-caliber art works and art programs on view. After our first day at the fair, a number of works have already caught our eye.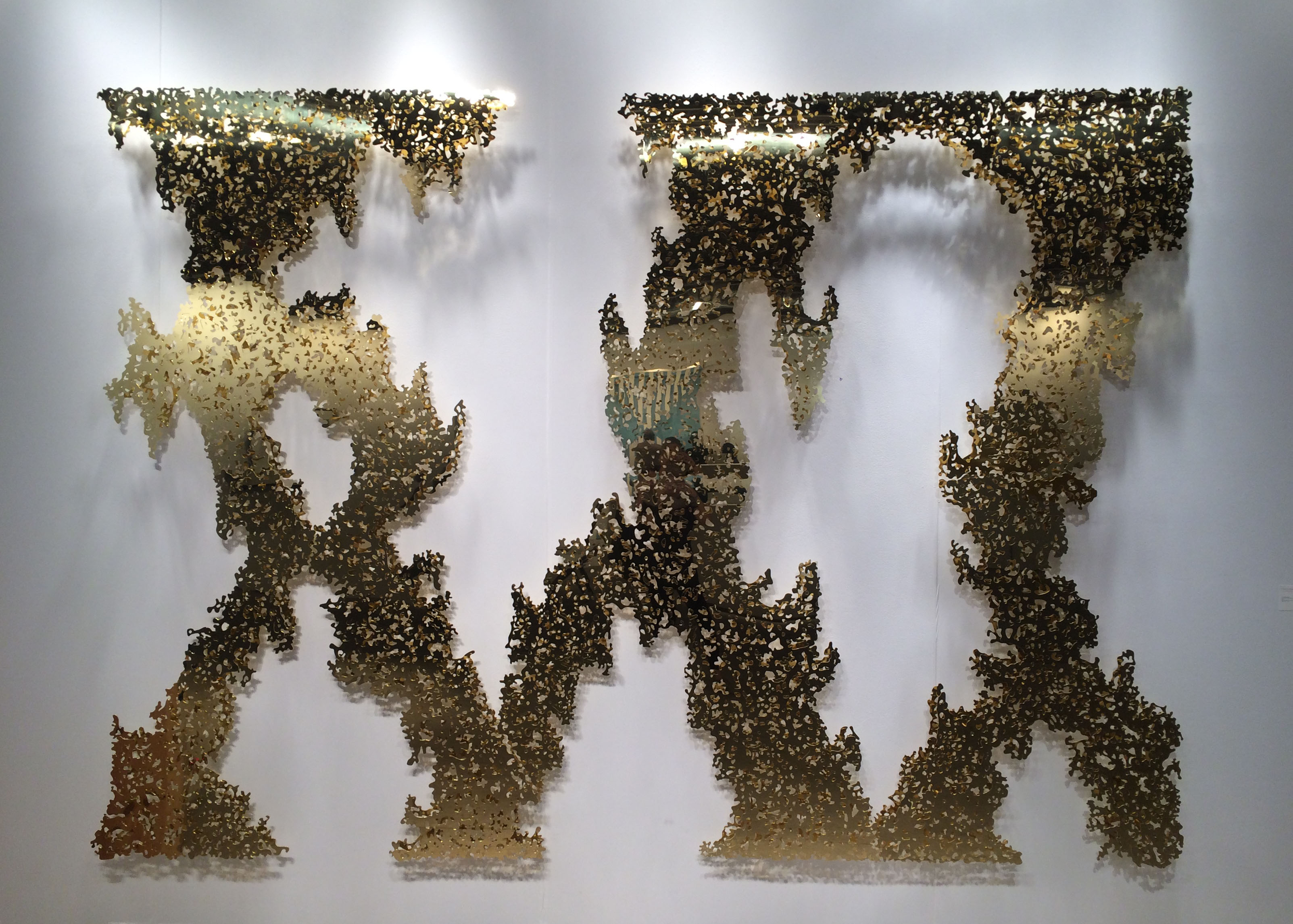 Wall installation by Teresita Fernández, Ghost Vines (Yellow Gold), 2015, brass at Anthony Meier Fine Arts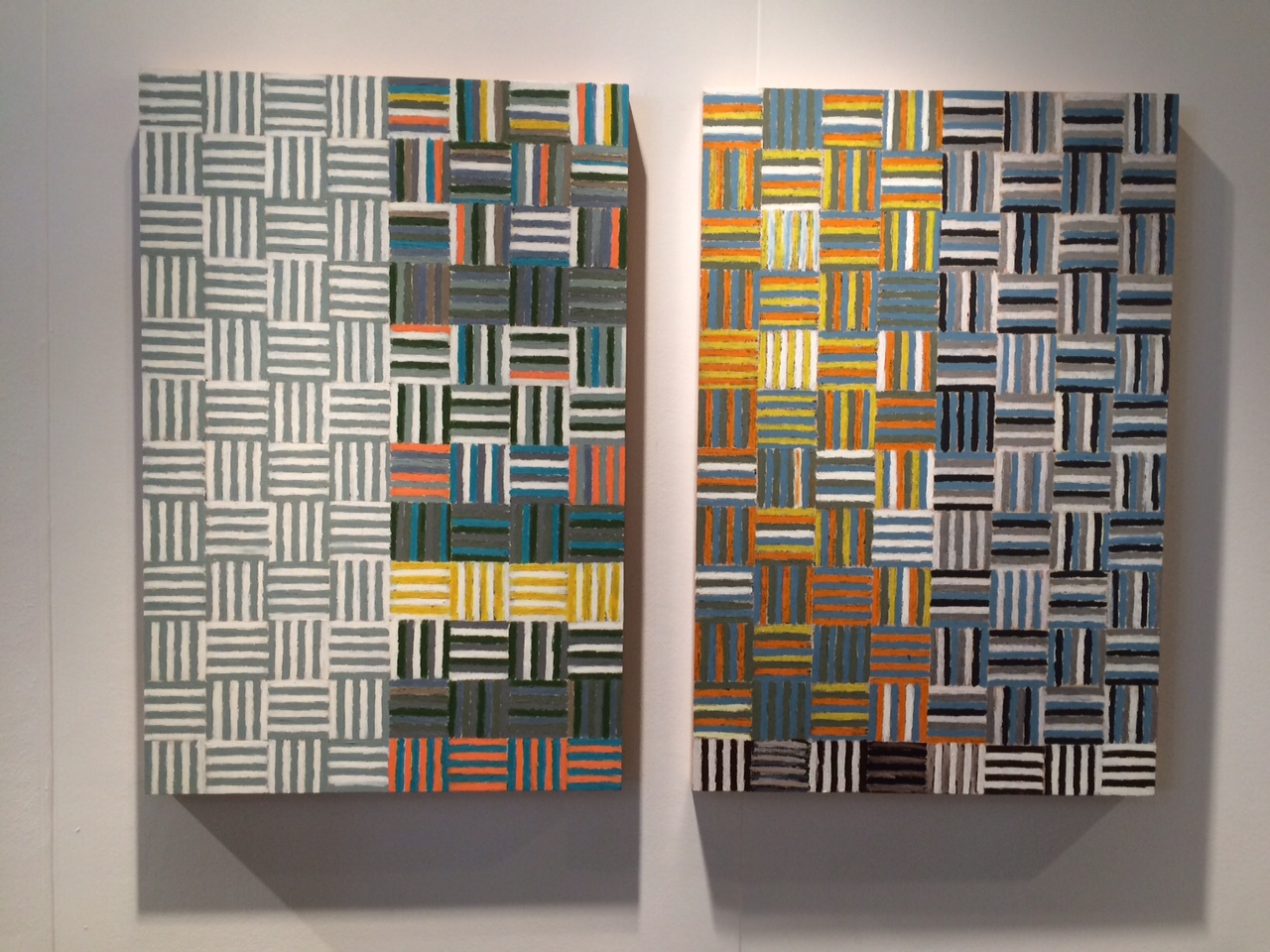 Impressive biographical works by McArthur Binion, Sketch VII and VIII (Looking for Grey): For: Three Movements of Sunlight, 2013, laser print collage, oil paint stick, and Staonal crayon on panel, at Kavi Gupta Gallery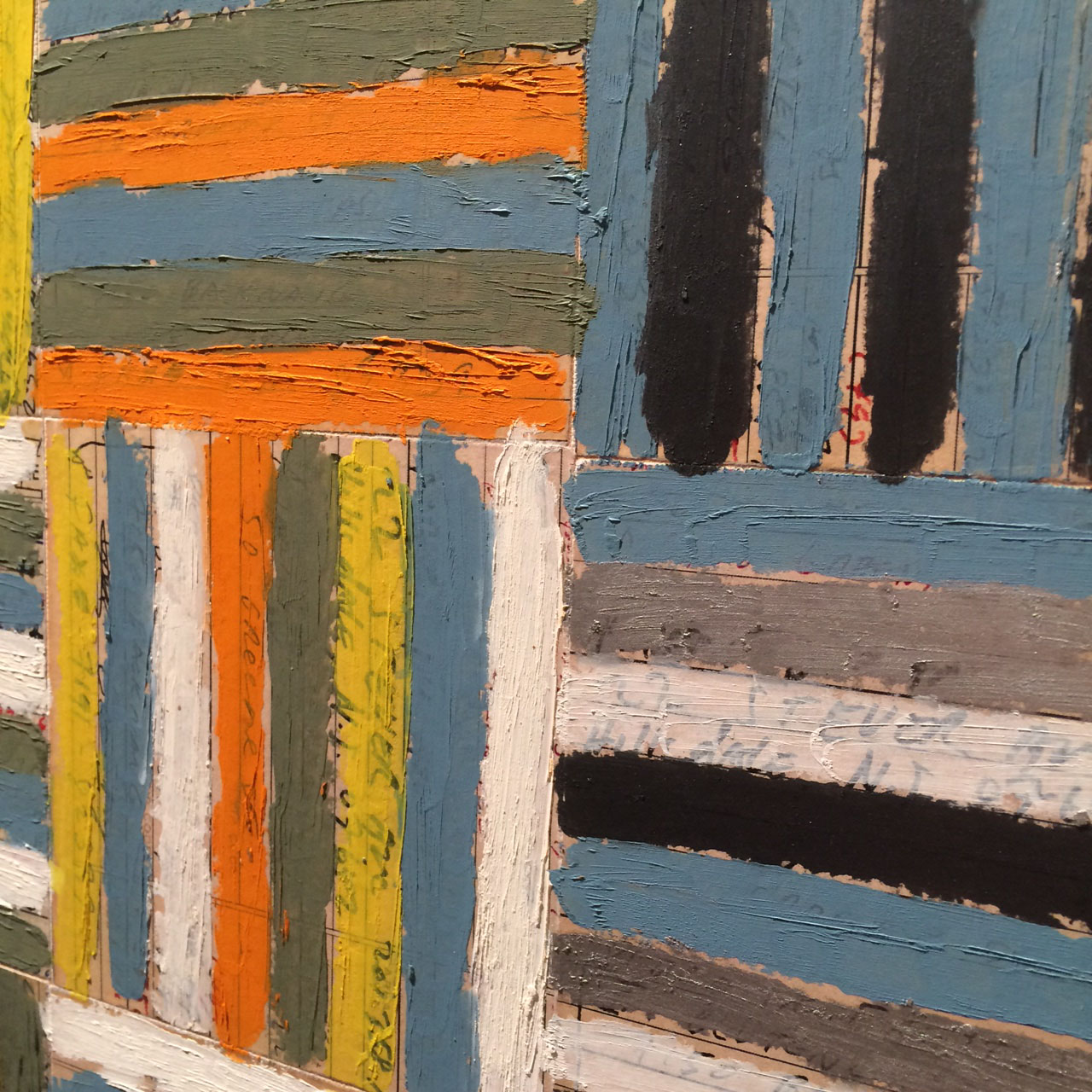 Detail: McArthur Binion, Sketch VIII (Looking for Grey): For: Three Movements of Sunlight, 2013, laser print collage, oil paint stick, and Staonal crayon on panel, at Kavi Gupta Gallery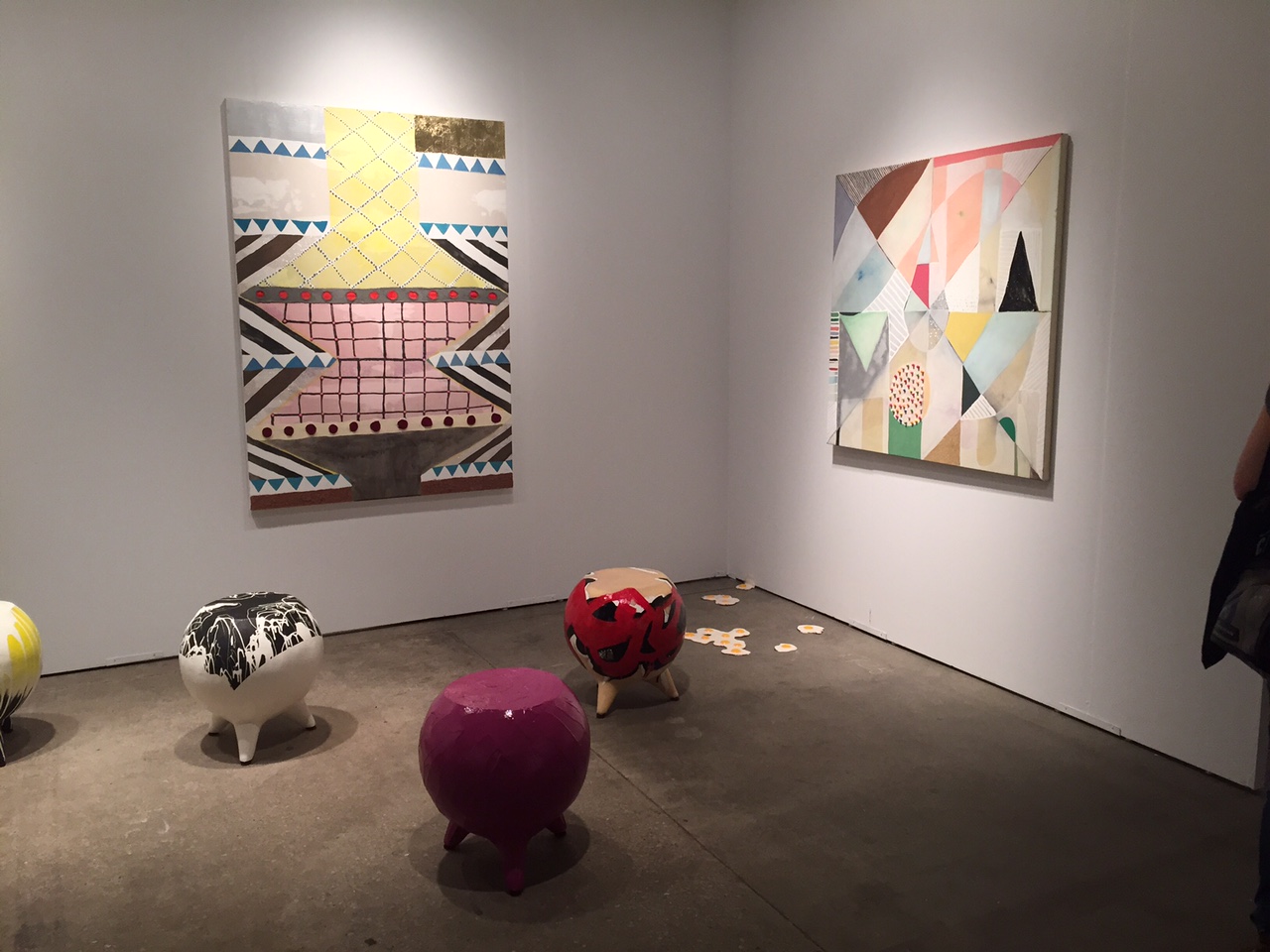 Laurel Sparks (works on canvas) and Christopher Chiappa (stools and eggs) at Kate Werble Gallery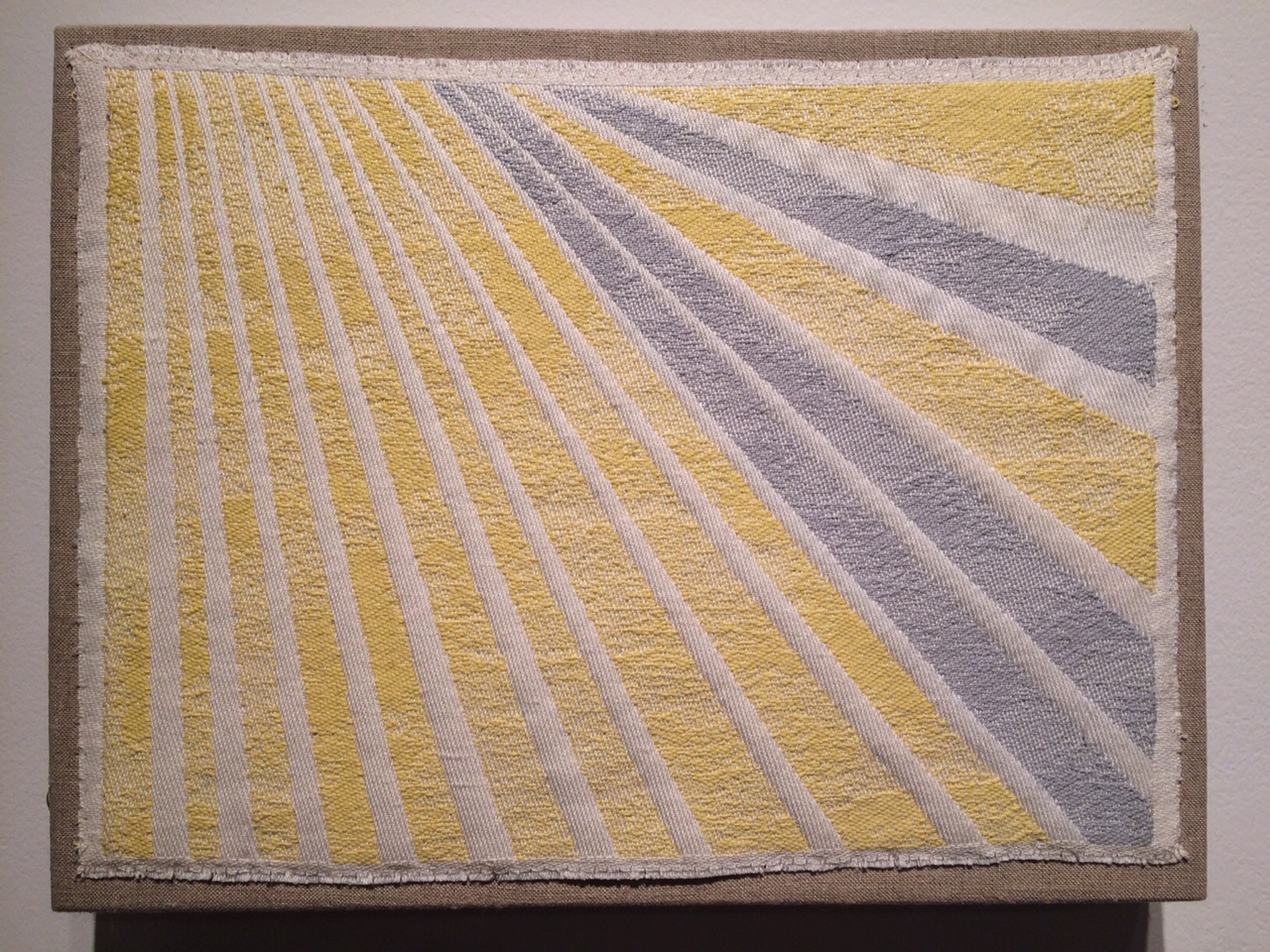 Christy Matson, Rays in Tan/Yellow, 2013, cotton, linen, tencil at Volume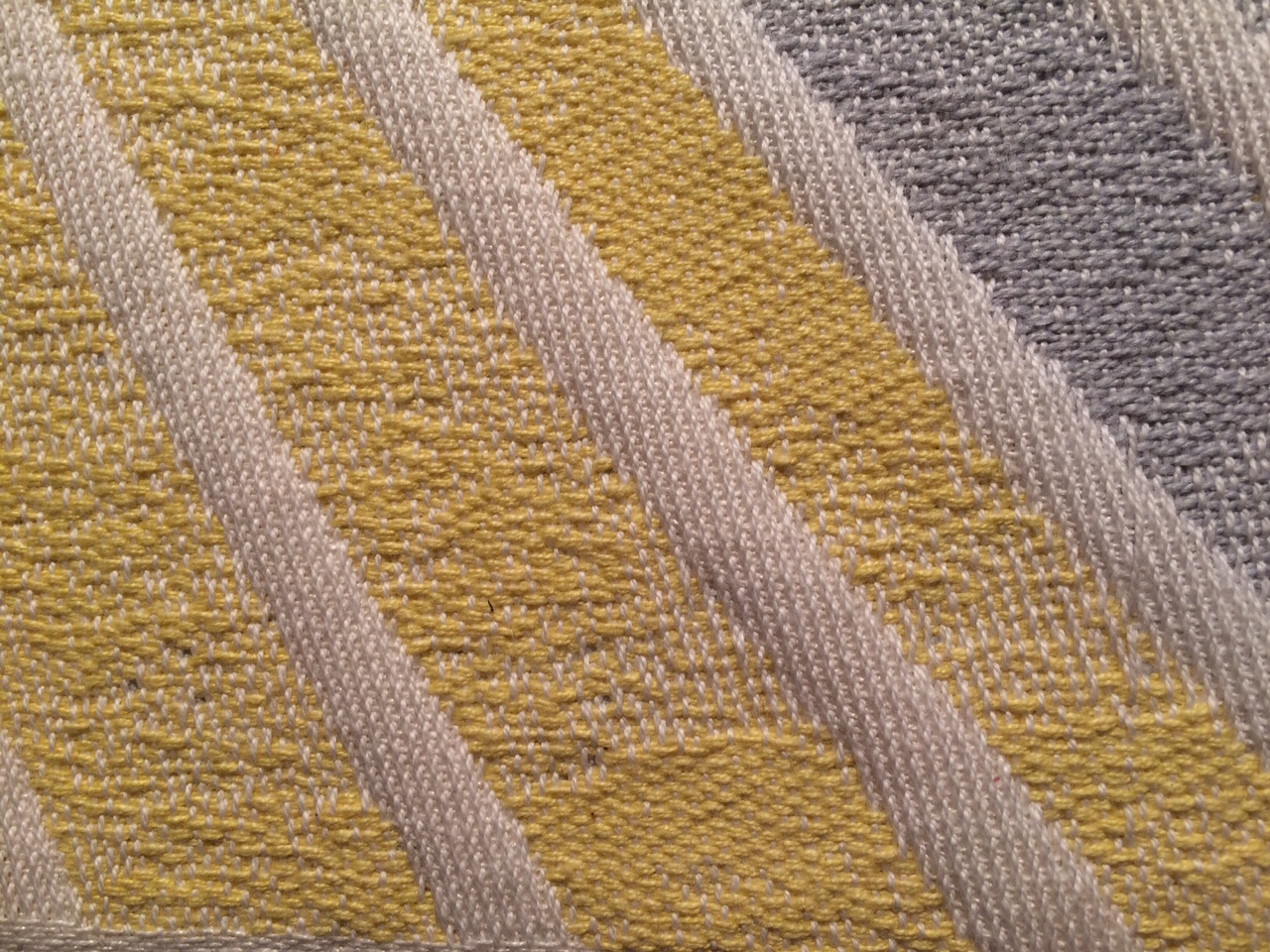 Detail: Christy Matson, Rays in Tan/Yellow, 2013, cotton, linen, tencil at Volume Gallery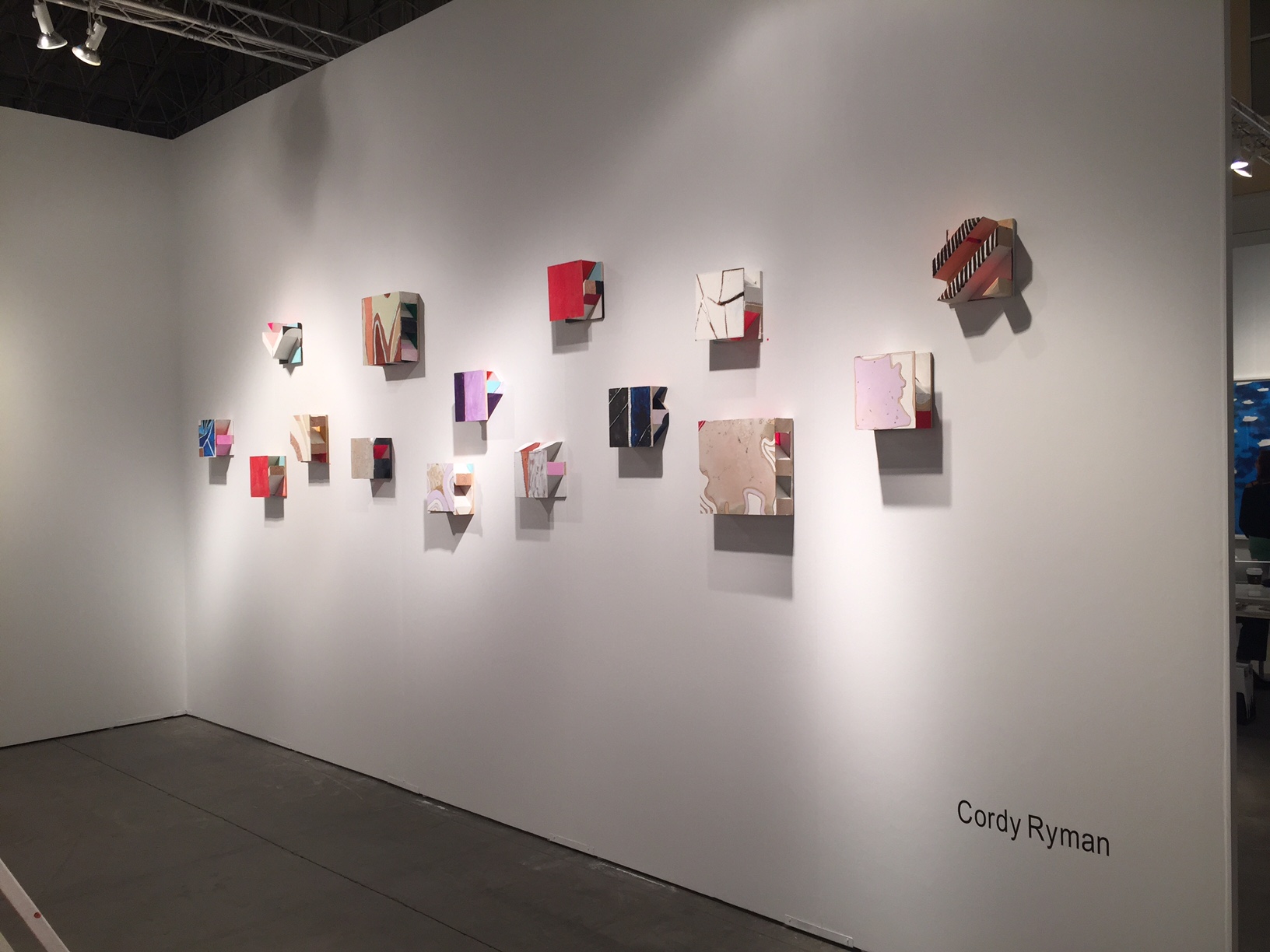 Cordy Ryman wall installation at Galerie Zürcher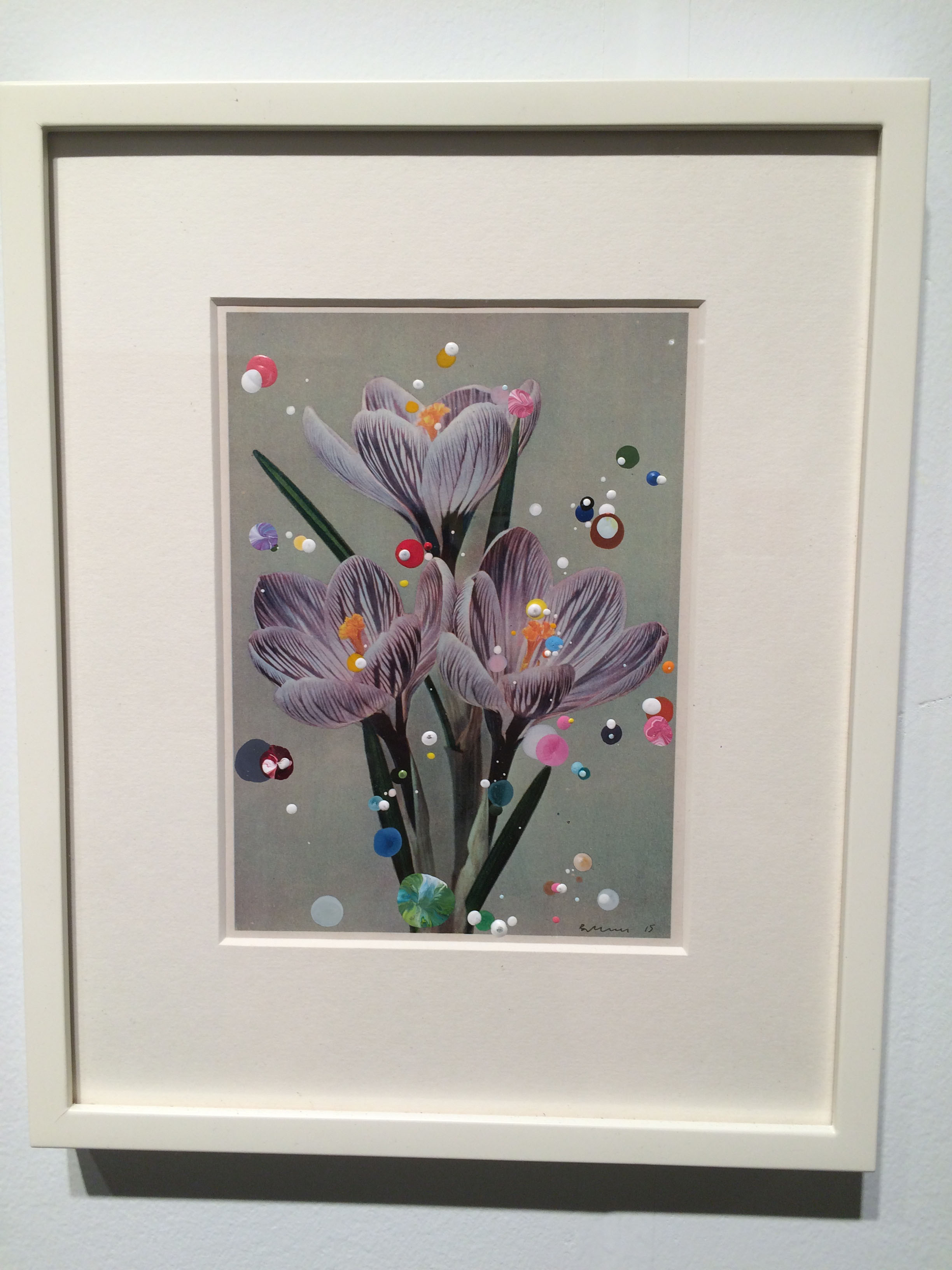 Sebastiaan Bremer, acrylic paint and ink on vintage lithograph at Hales Gallery
Monday, April 13, 2015 at 3:58 PM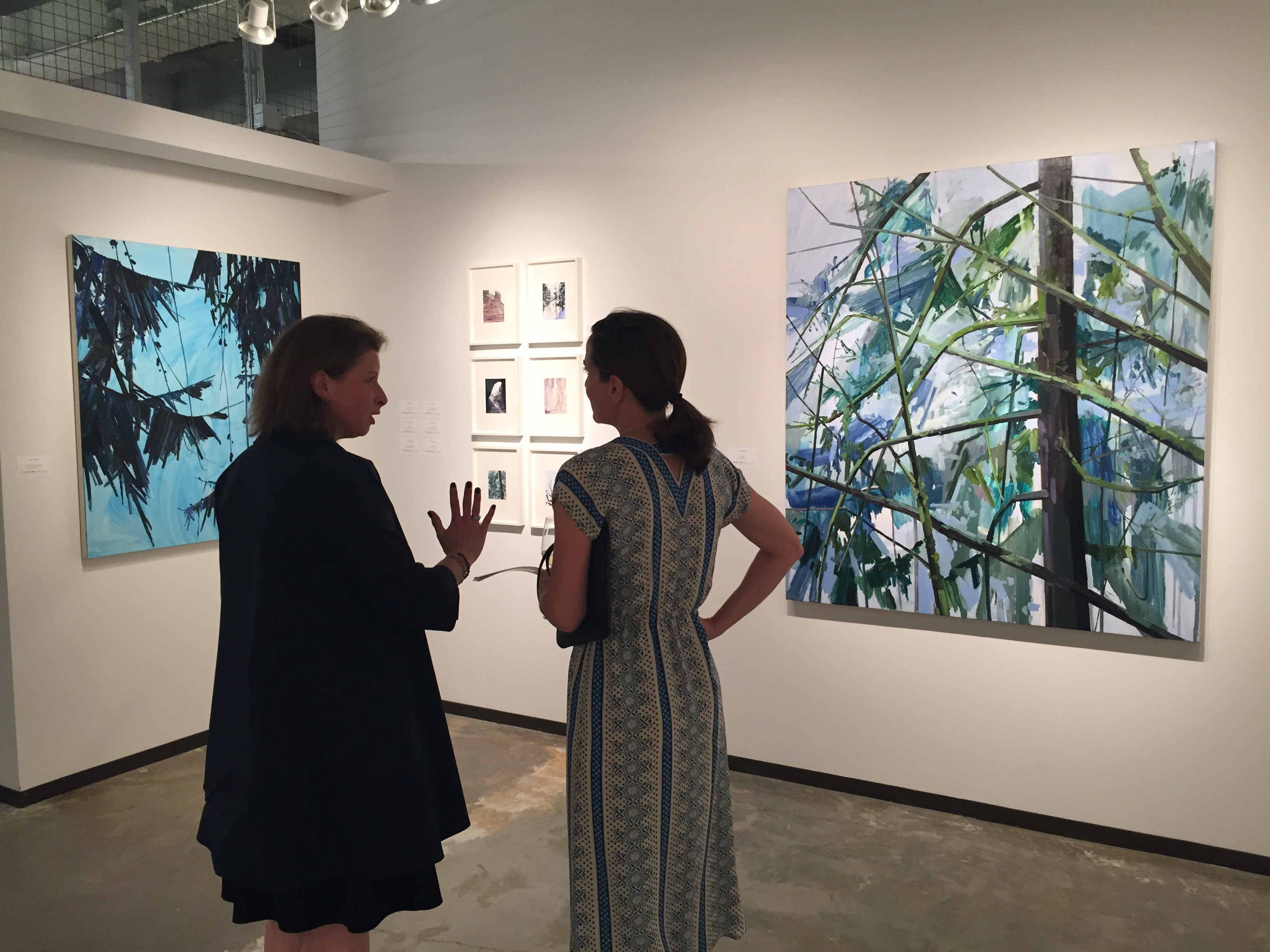 Julie speaking with Heidi of DC Moore Gallery about Claire Sherman's beautiful landscape paintings
This year, the Dallas Art Fair played host to nearly 100 galleries. We enjoyed exploring and admiring the breadth of top-notch art exhibited. After seeing it all, here is a shortlist of our most coveted works. Reach out to us if you are interested in more information about these or other artists we found.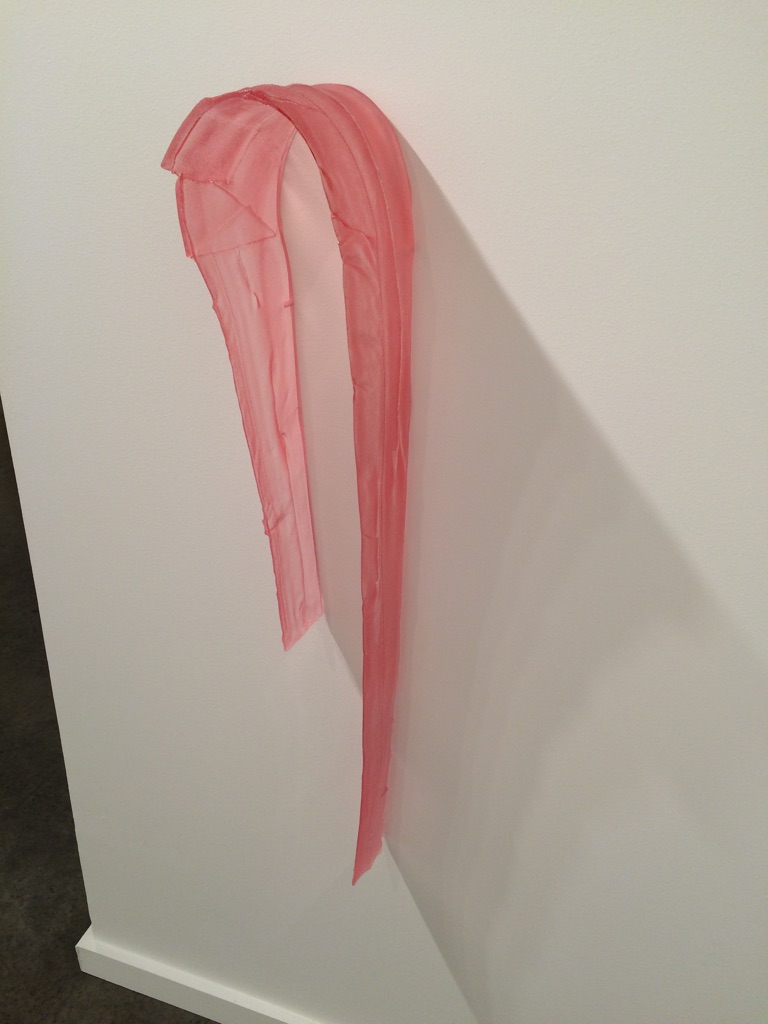 Alice Channer's gestural resin sculpture at Lisa Cooley Gallery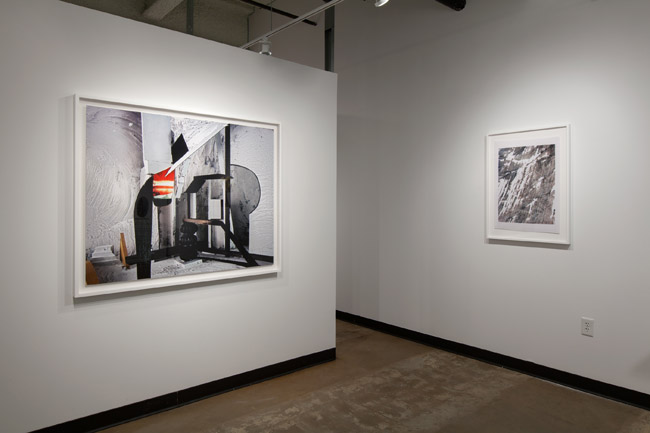 Yamini Nayar's and Chloe Sells' captivating photographs at Gallery Wendi Norris. Photo courtesy of Gallery Wendi Norris.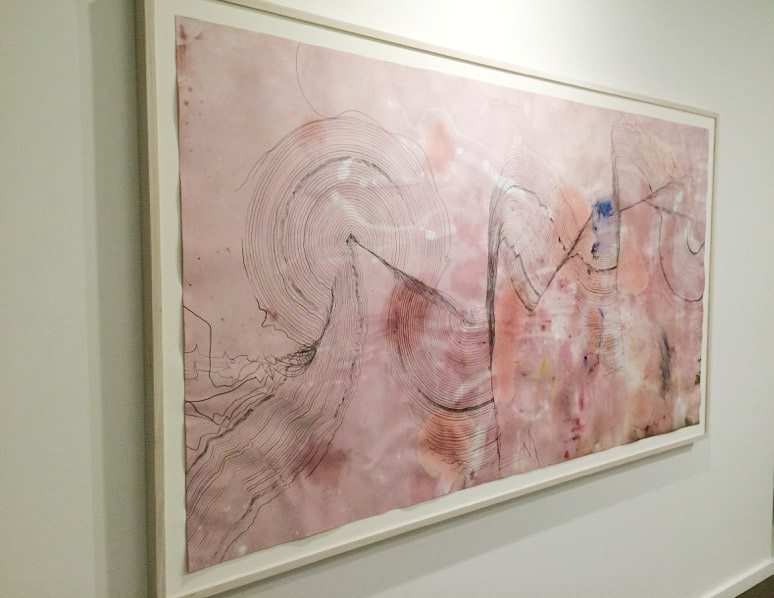 Jay Heikes, Music for Minor Planets (Ekberg), 2015 at Federica Schiavo Gallery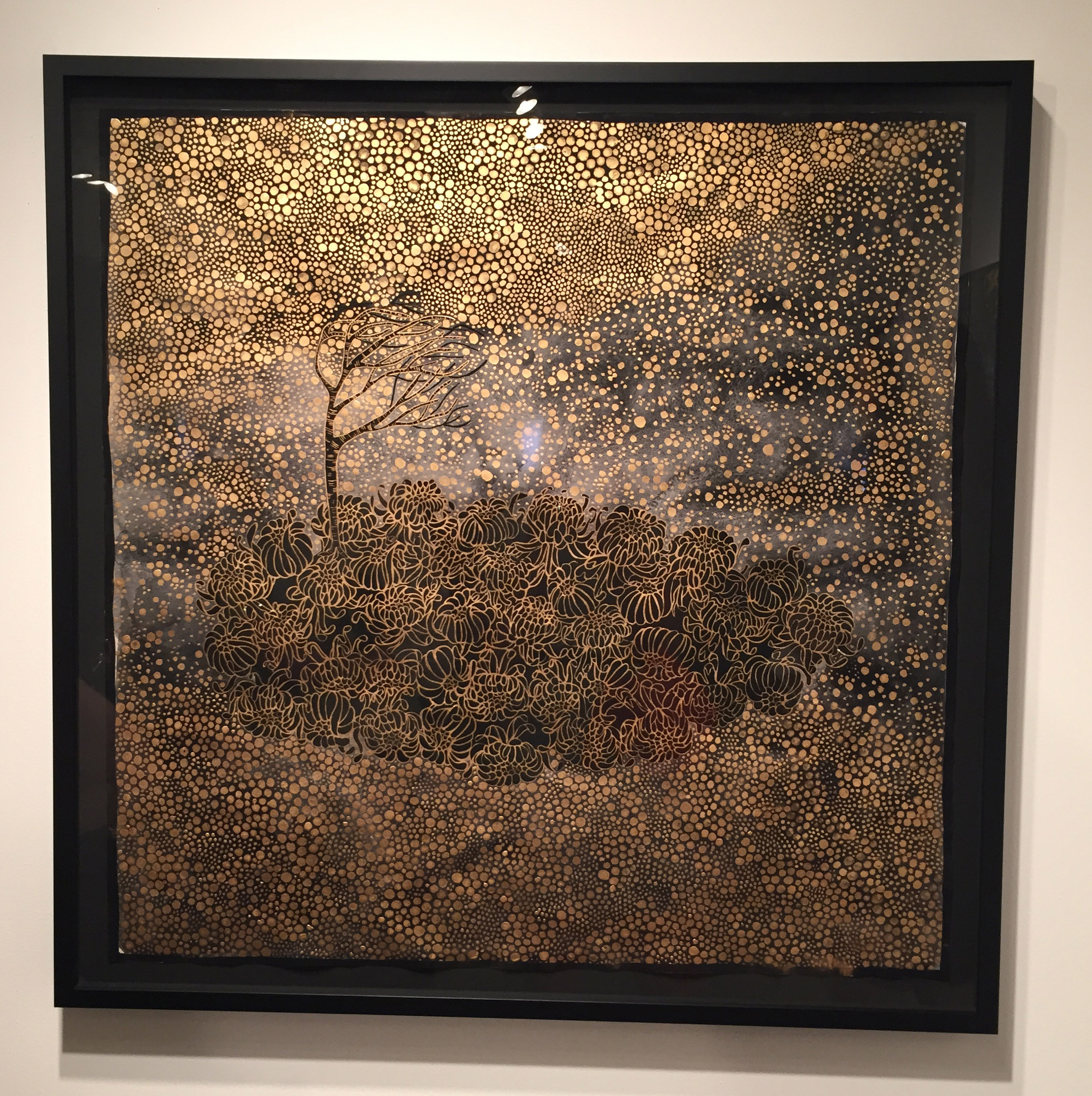 Crystal Liu, the sky, "I wonder", 2015 at Hosfelt Gallery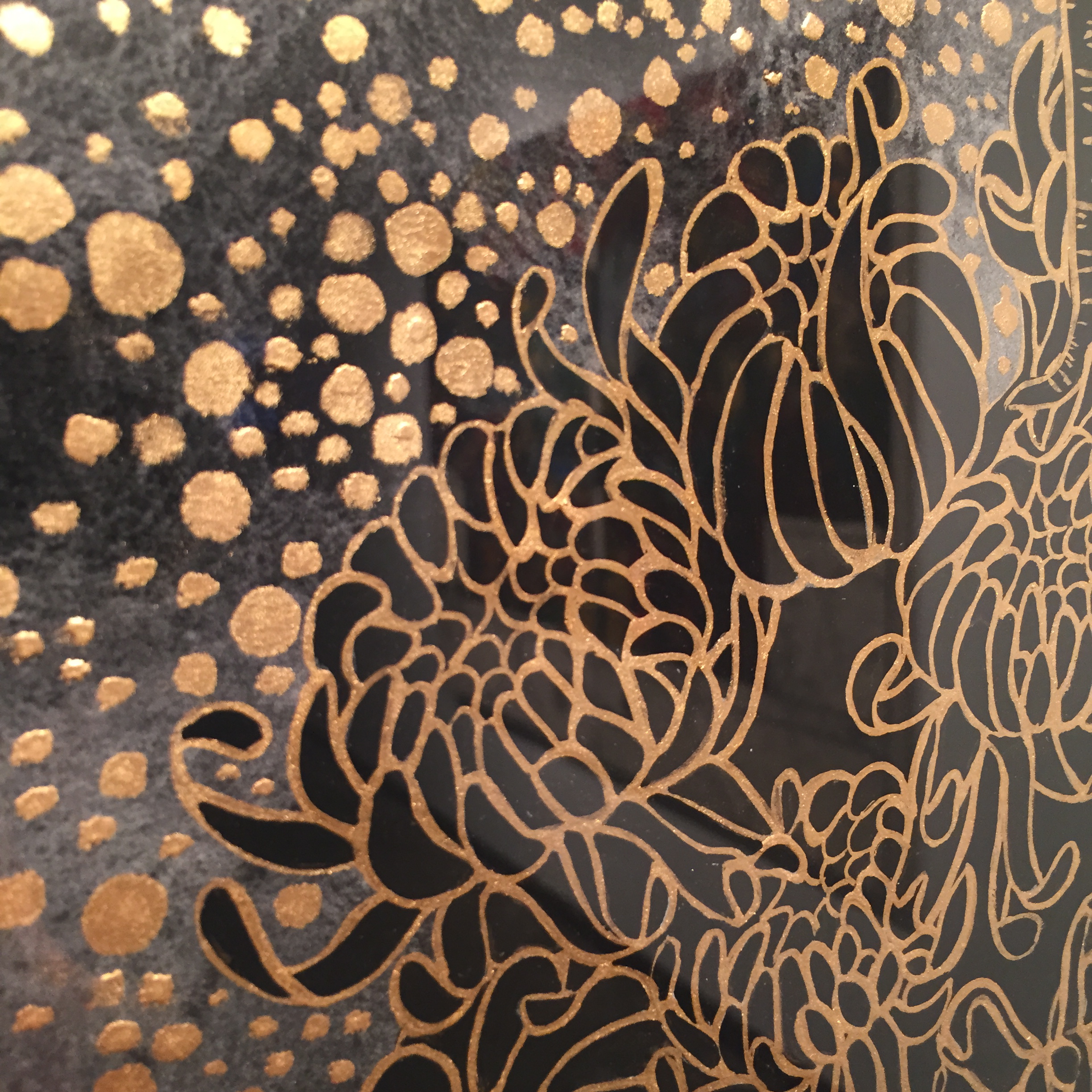 Detail of Crystal Liu, the sky, "I wonder", 2015 at Hosfelt Gallery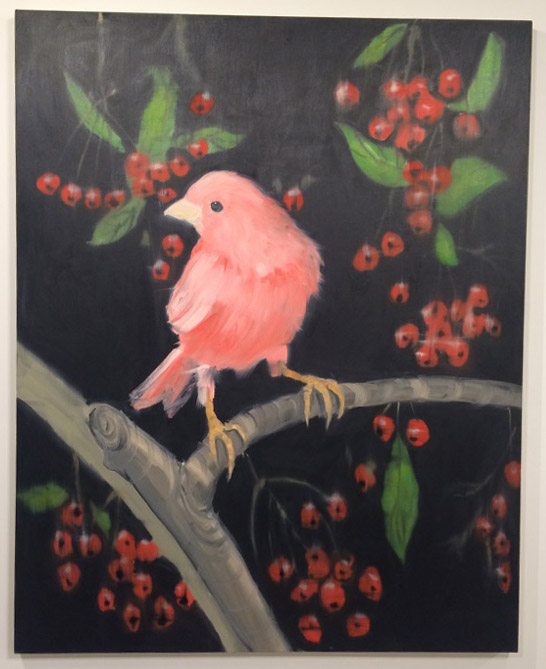 Ann Craven, Stepping Out With Cherries, 2011 at Maccarone Gallery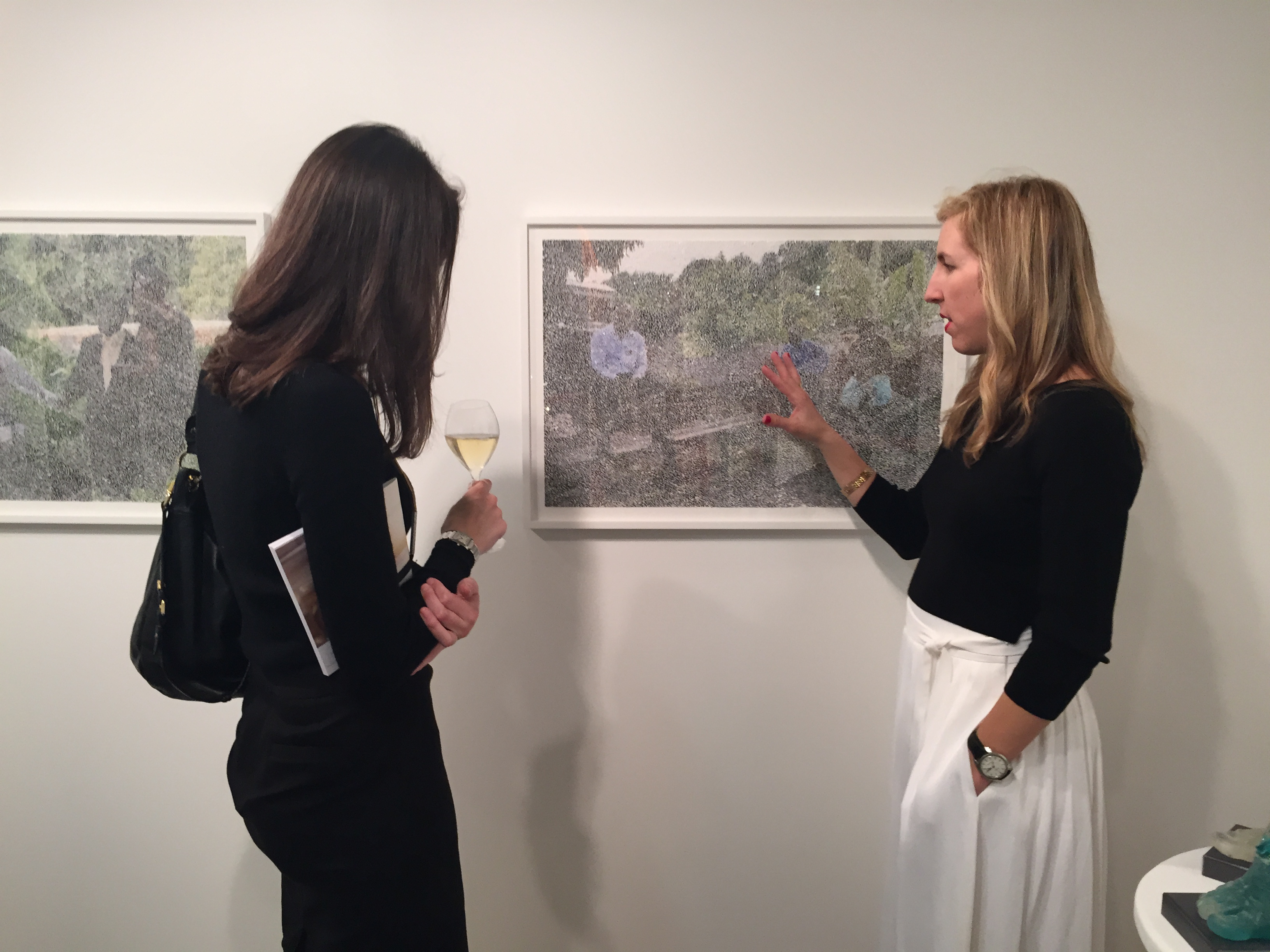 Julia discussing Paul Anthony Smith's work at Zieher Smith & Horton Gallery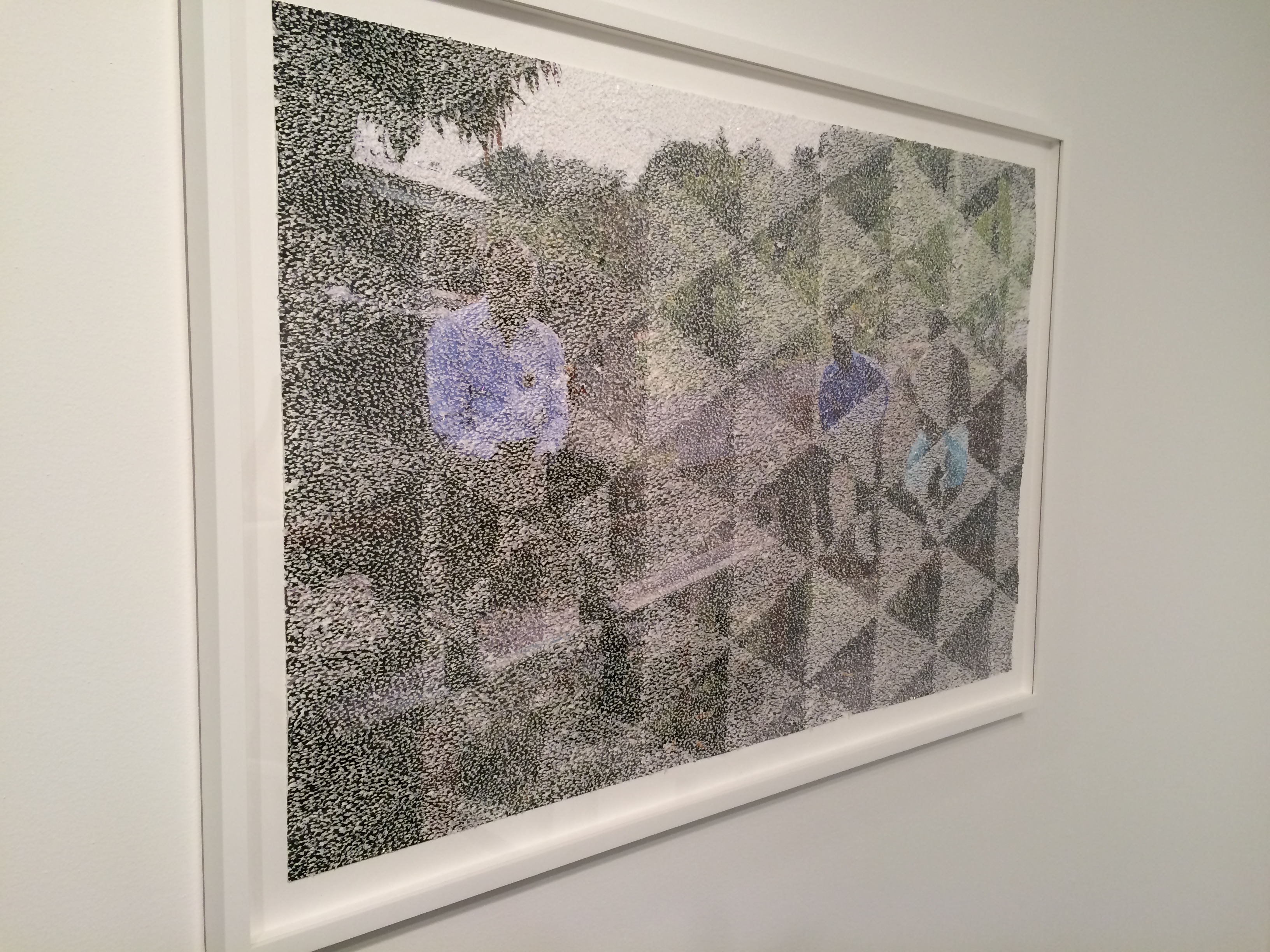 Paul Anthony Smith, Diamond Mango #1, 2015 at Zieher Smith & Horton Gallery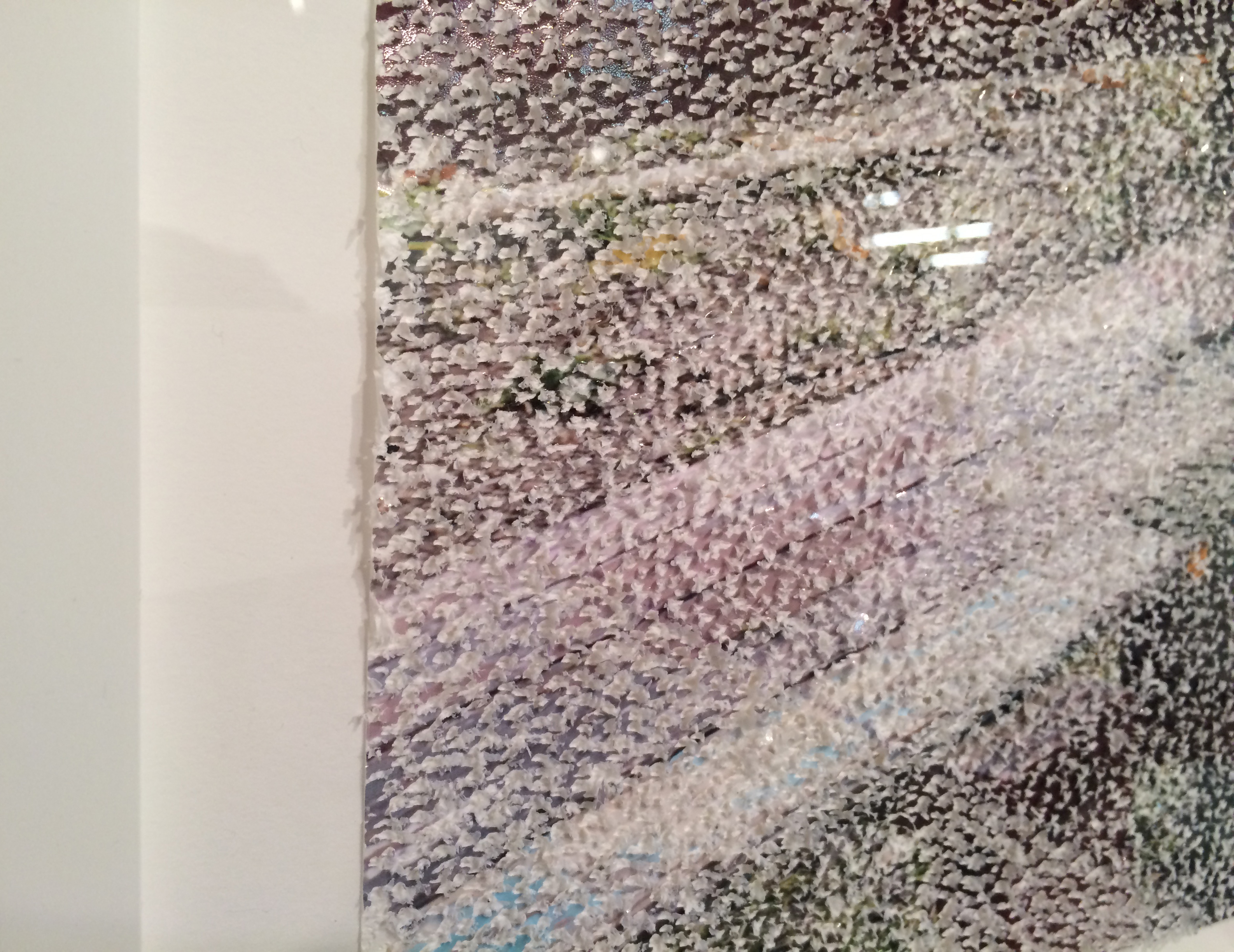 Detail of Paul Anthony Smith's work at Zieher Smith & Horton Gallery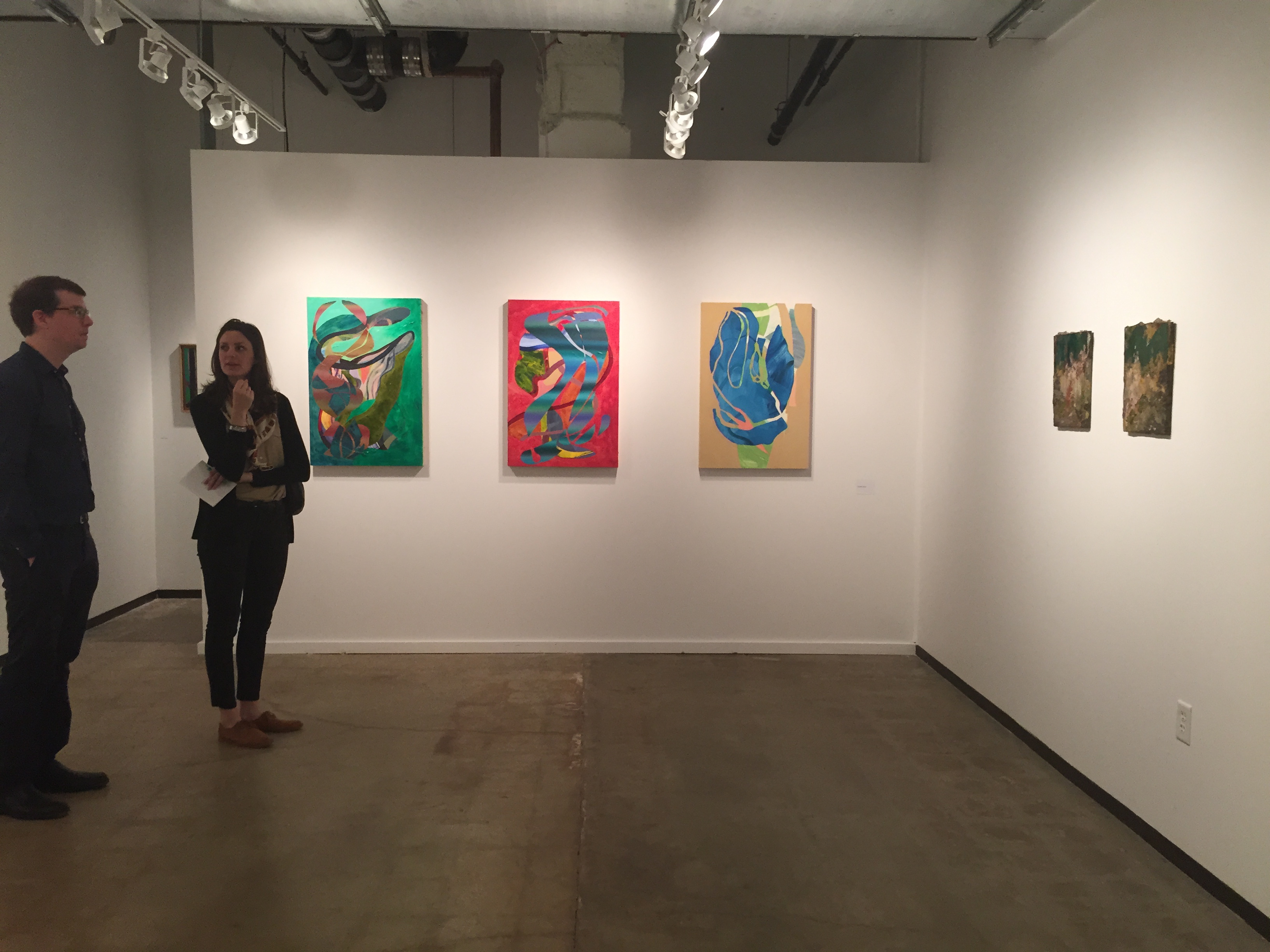 Julia at Jack Geary Gallery's booth discussing the work of Richard Jacobs (back wall) and Lina Puerta (right wall)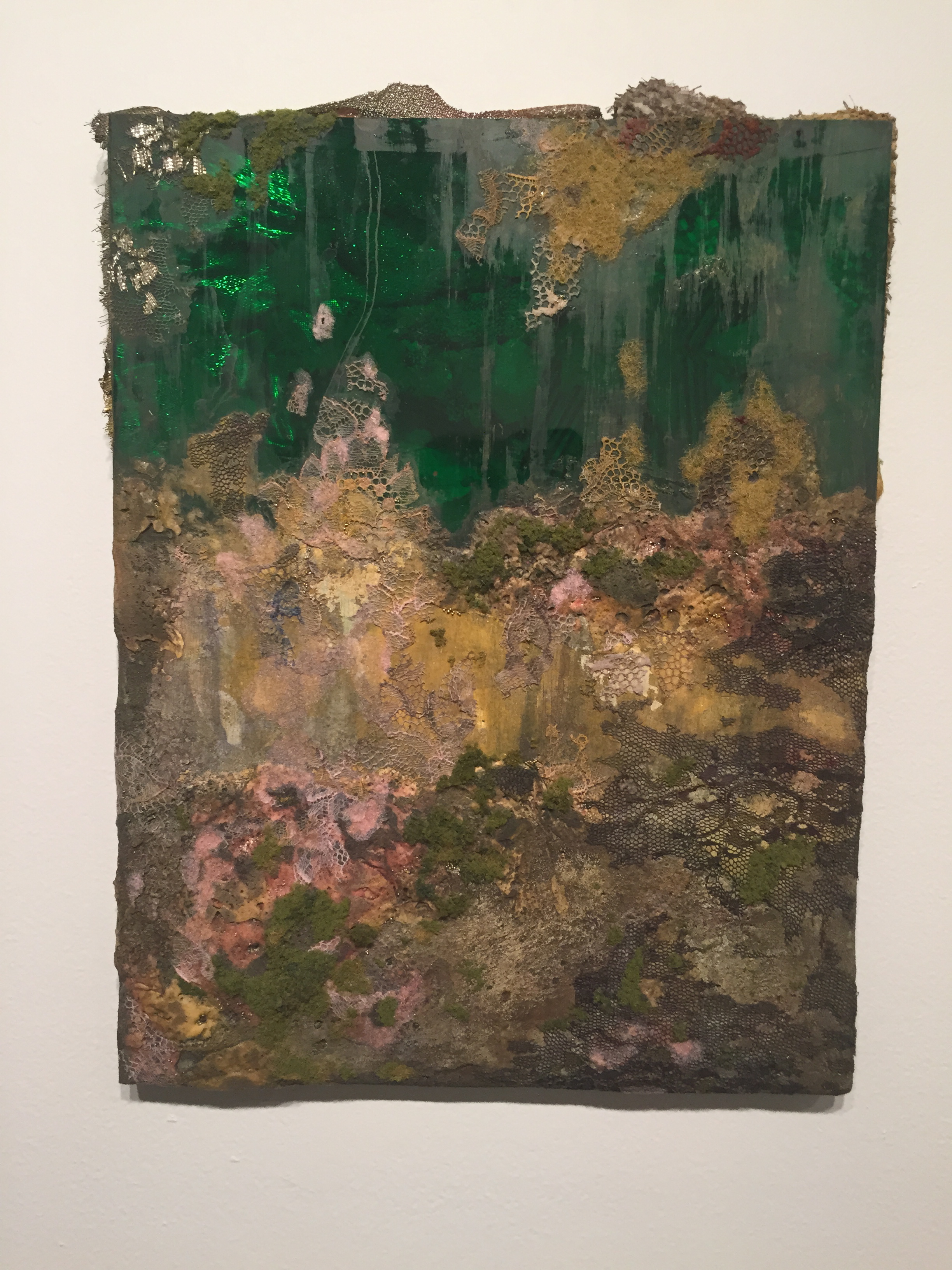 Lina Puerta, Untitled (Green 2), 2014 at Jack Geary Gallery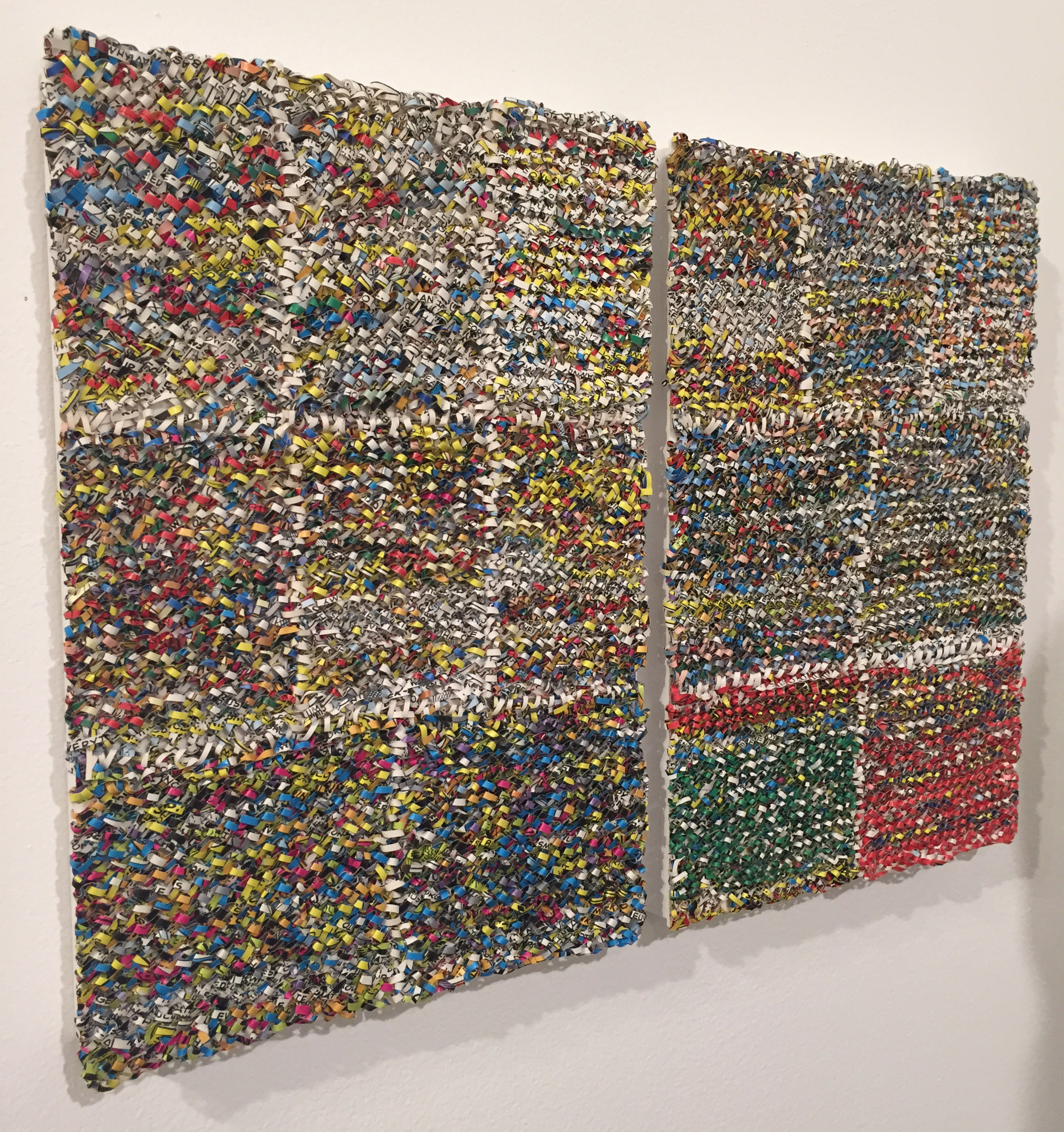 Stefana McClure, The Amazing Spiderman (How Green Was My Goblin!), 2015, knitted comics at Josée Bienvenu Gallery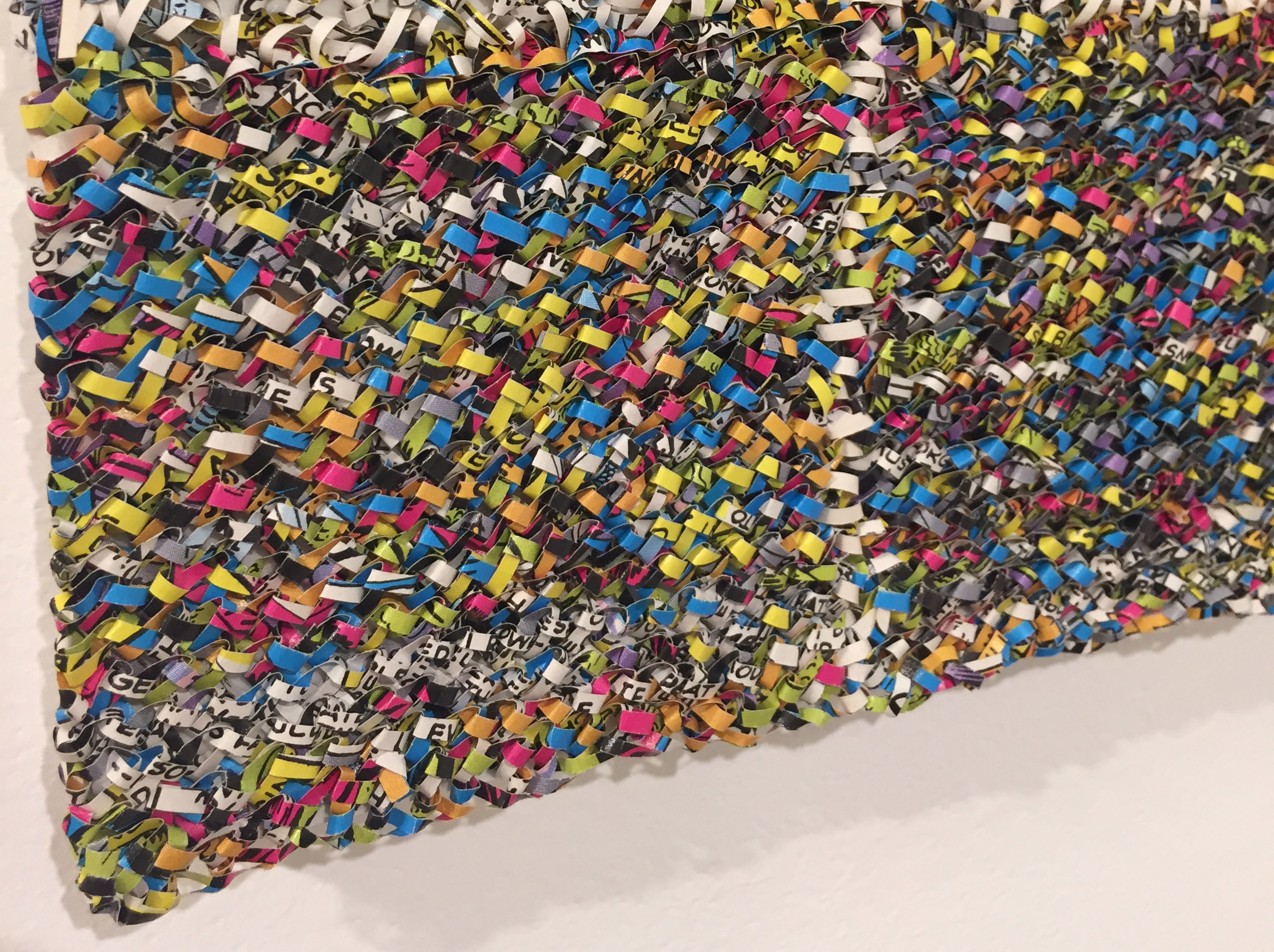 Detail of Stefana McClure, The Amazing Spiderman (How Green Was My Goblin!), 2015, at Josée Bienvenu Gallery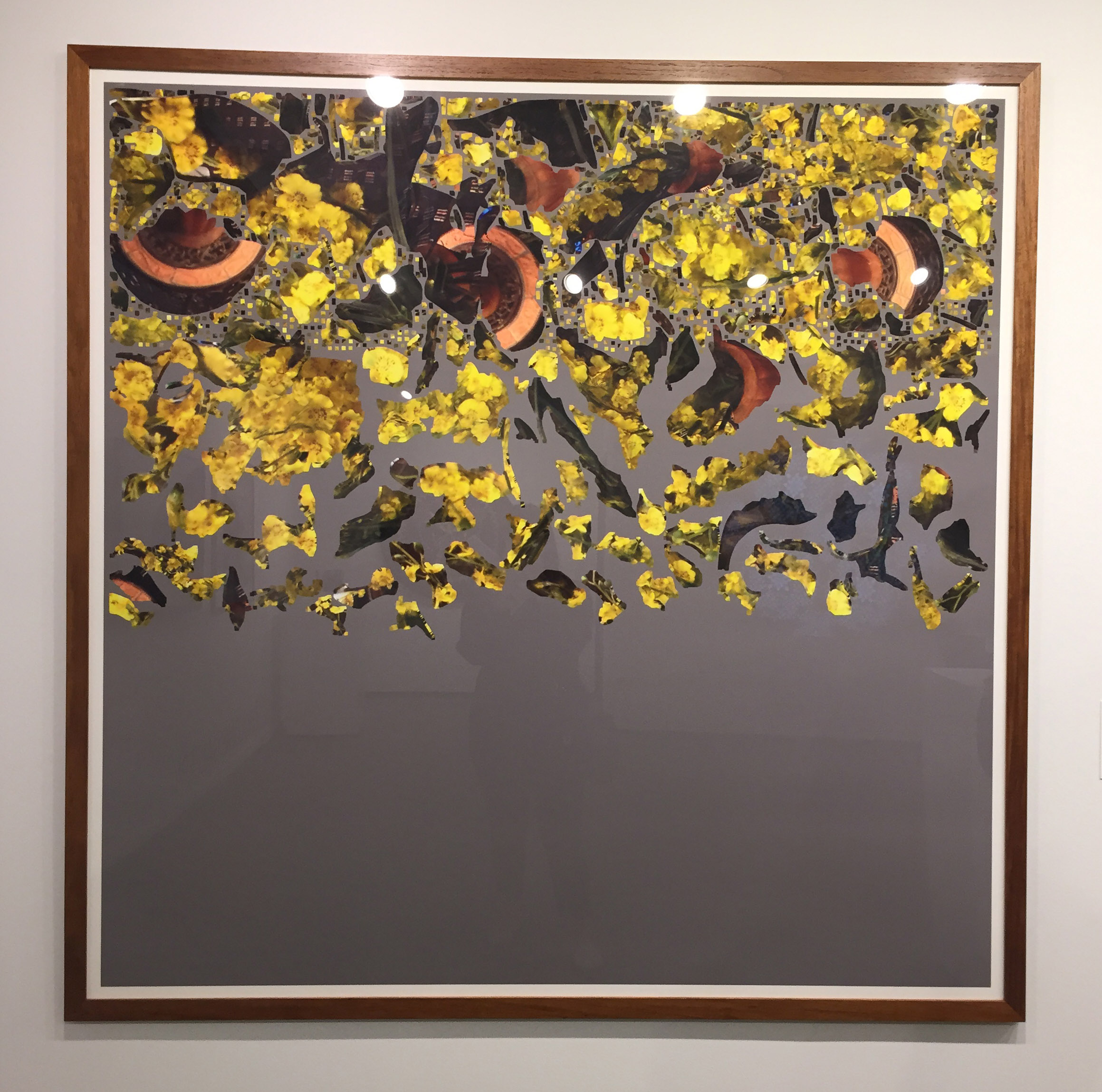 Clement Valla, Tex_archive 688272 0, 2015, digitally exploded objects at Zhulong Gallery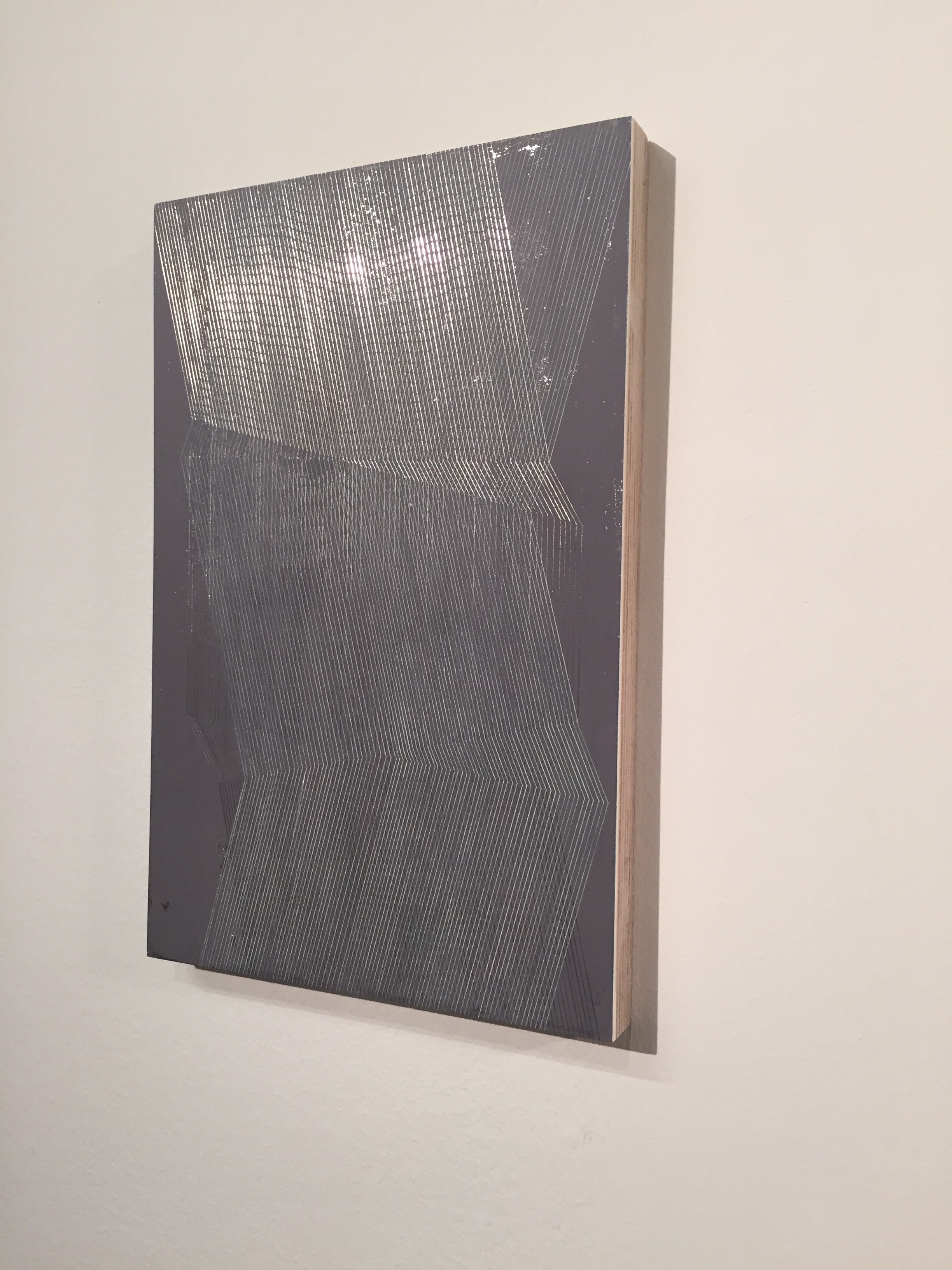 Yoshiaki Mochizuki, Untitled 9/20, 2013 at Marlborough Chelsea Gallery
Sunday, March 8, 2015 at 10:02 AM
We braved the frigid New York temperatures to explore what this spring's New York art fairs had to offer. Below are a few of our highlights from The Armory Show, SCOPE, art on paper, VOLTA, and Pulse. While we were in Chelsea, we also made a stop at Morgan Lehman Gallery to check out their current Aaron Wexler show.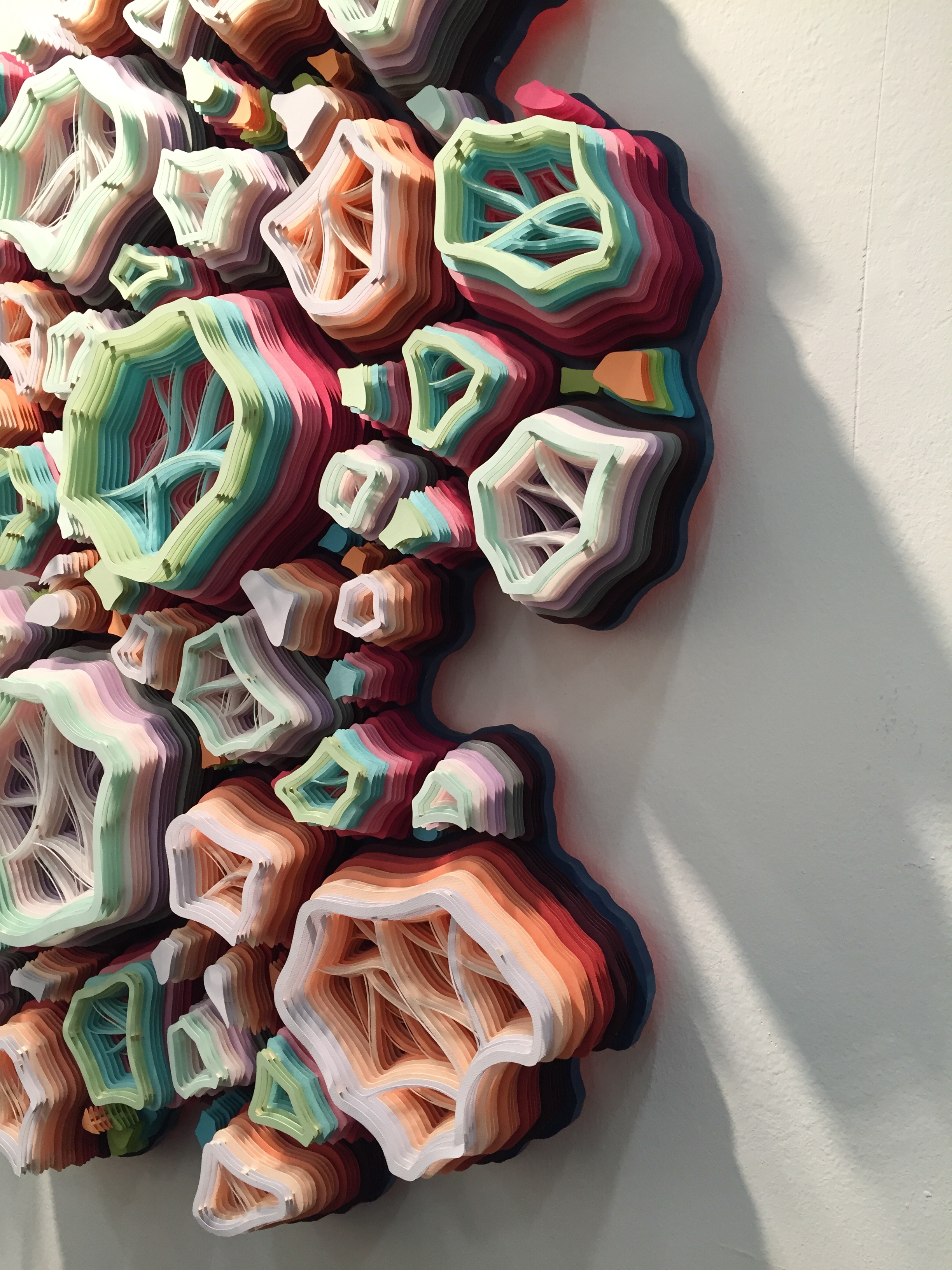 Charles Clary at Kenise Barnes Fine Art, found at the art on paper art fair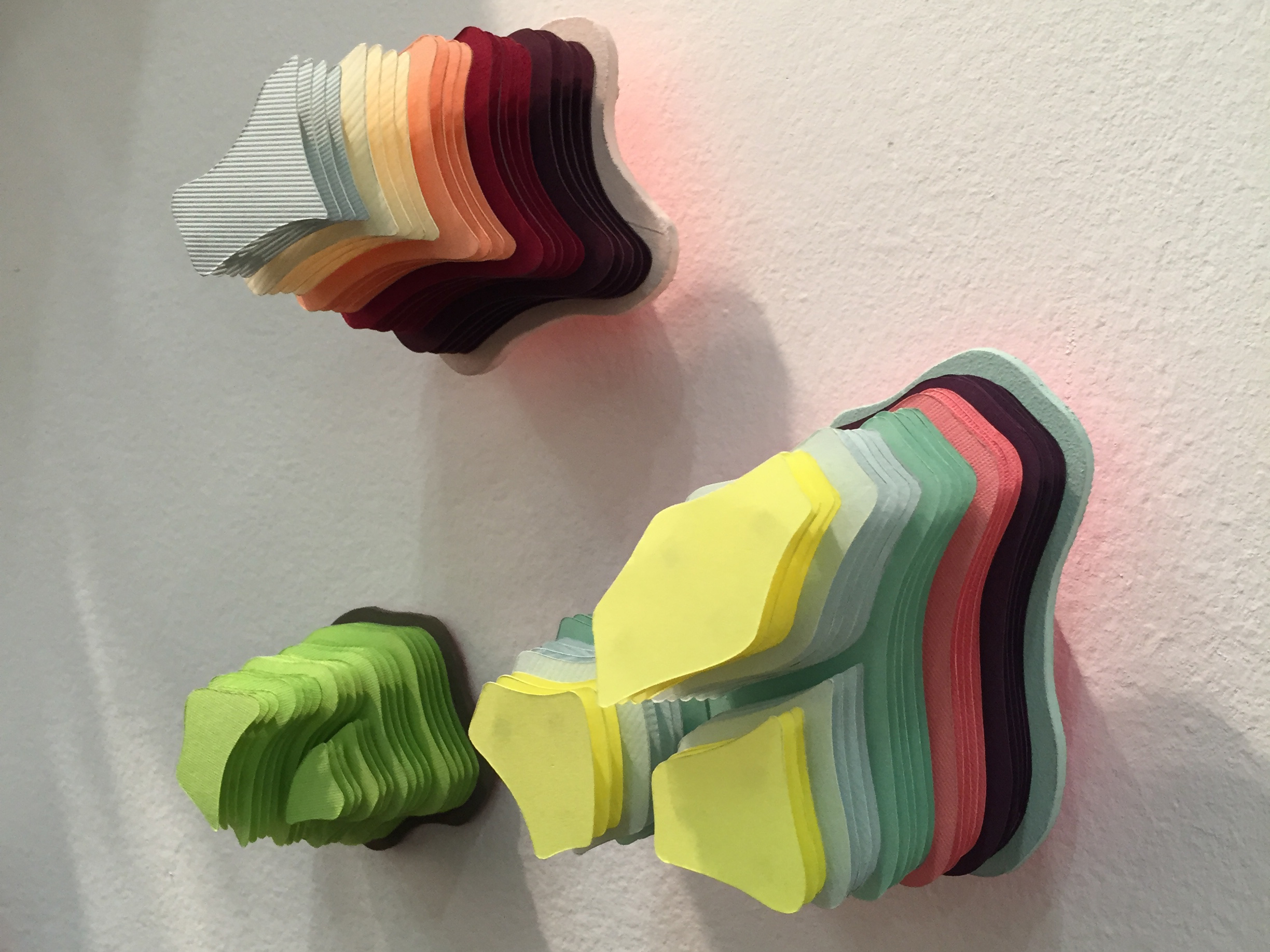 Detail of Charles Clary at Kenise Barnes Fine Art, found at the art on paper art fair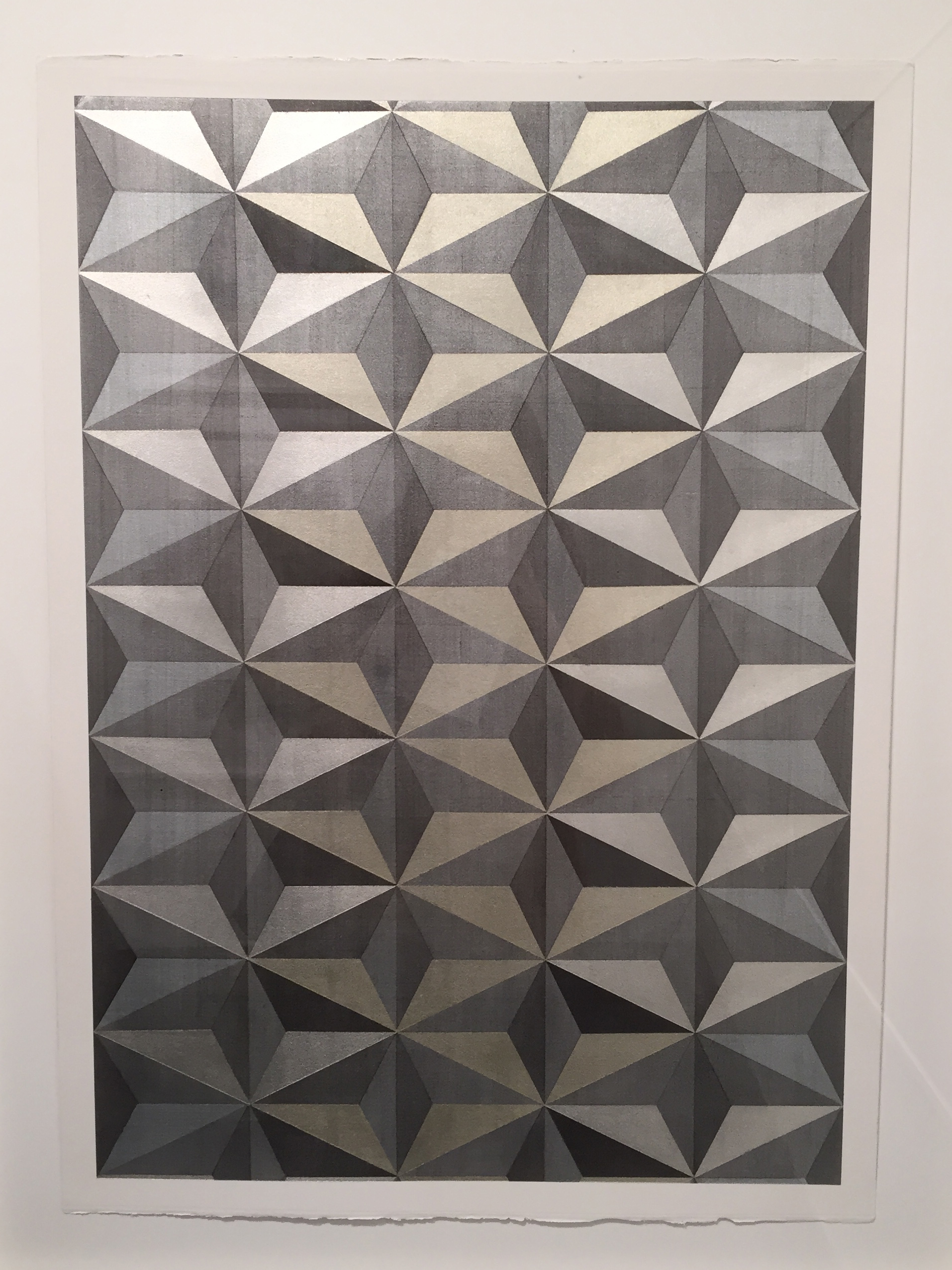 Gianluca Franzese at K. Imperial Fine Art, found at the art on paper art fair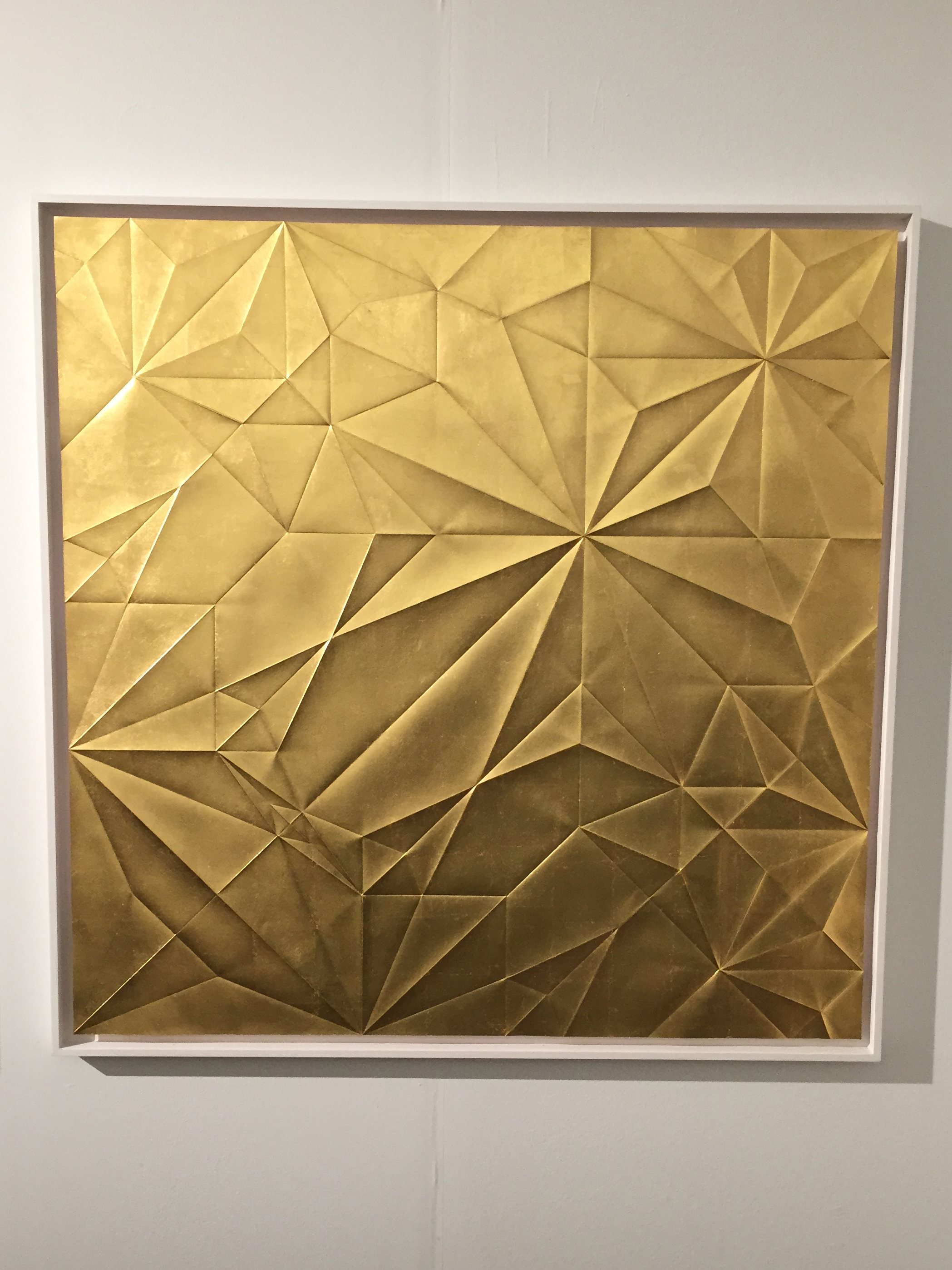 Sipho Mabona's origami series at AUREUS Contemporary, found at the SCOPE art fair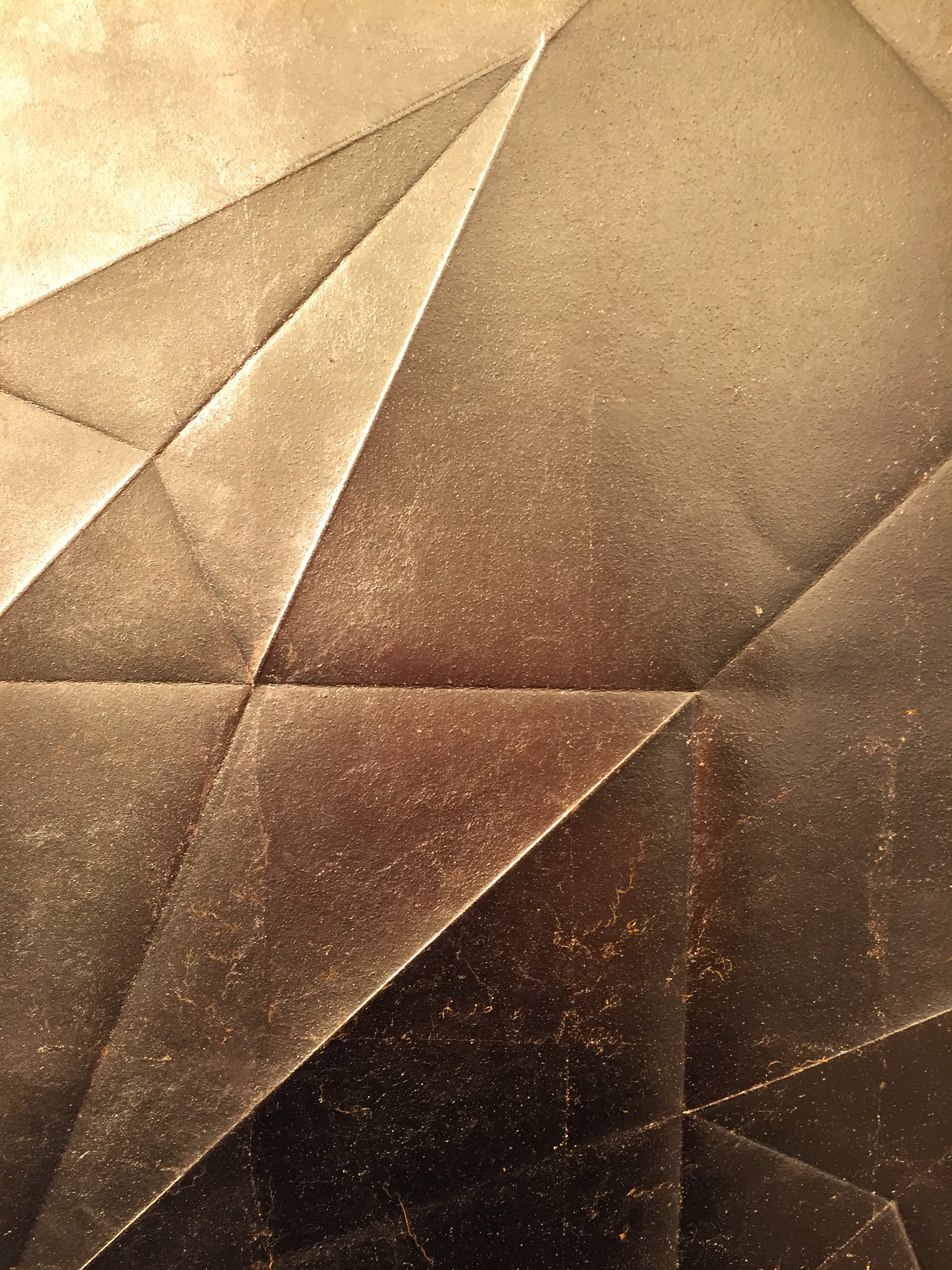 Detail of Sipho Mabona's origami series at AUREUS Contemporary, found at the SCOPE art fair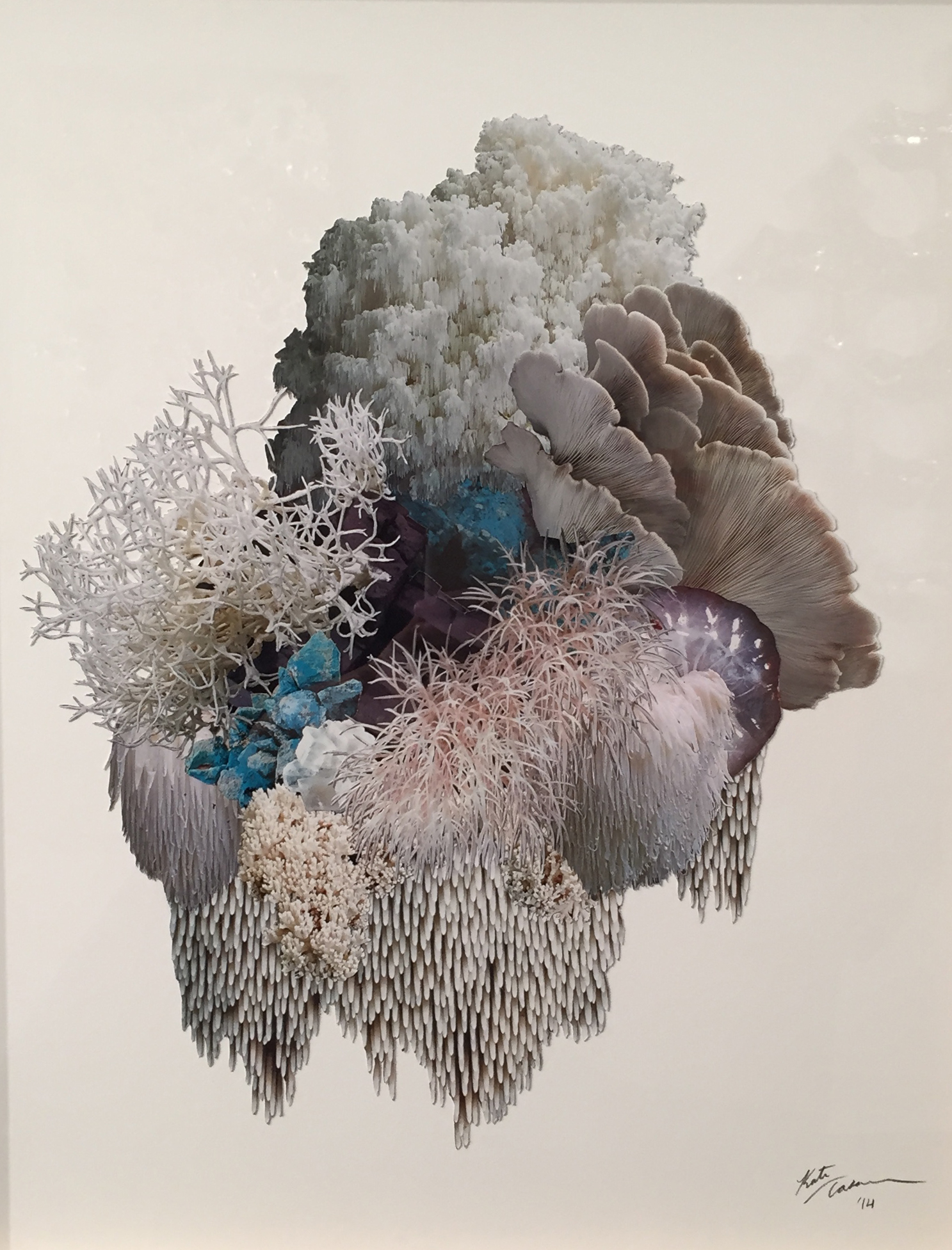 Kate Casanova at Instinct Art Gallery, found at the SCOPE art fair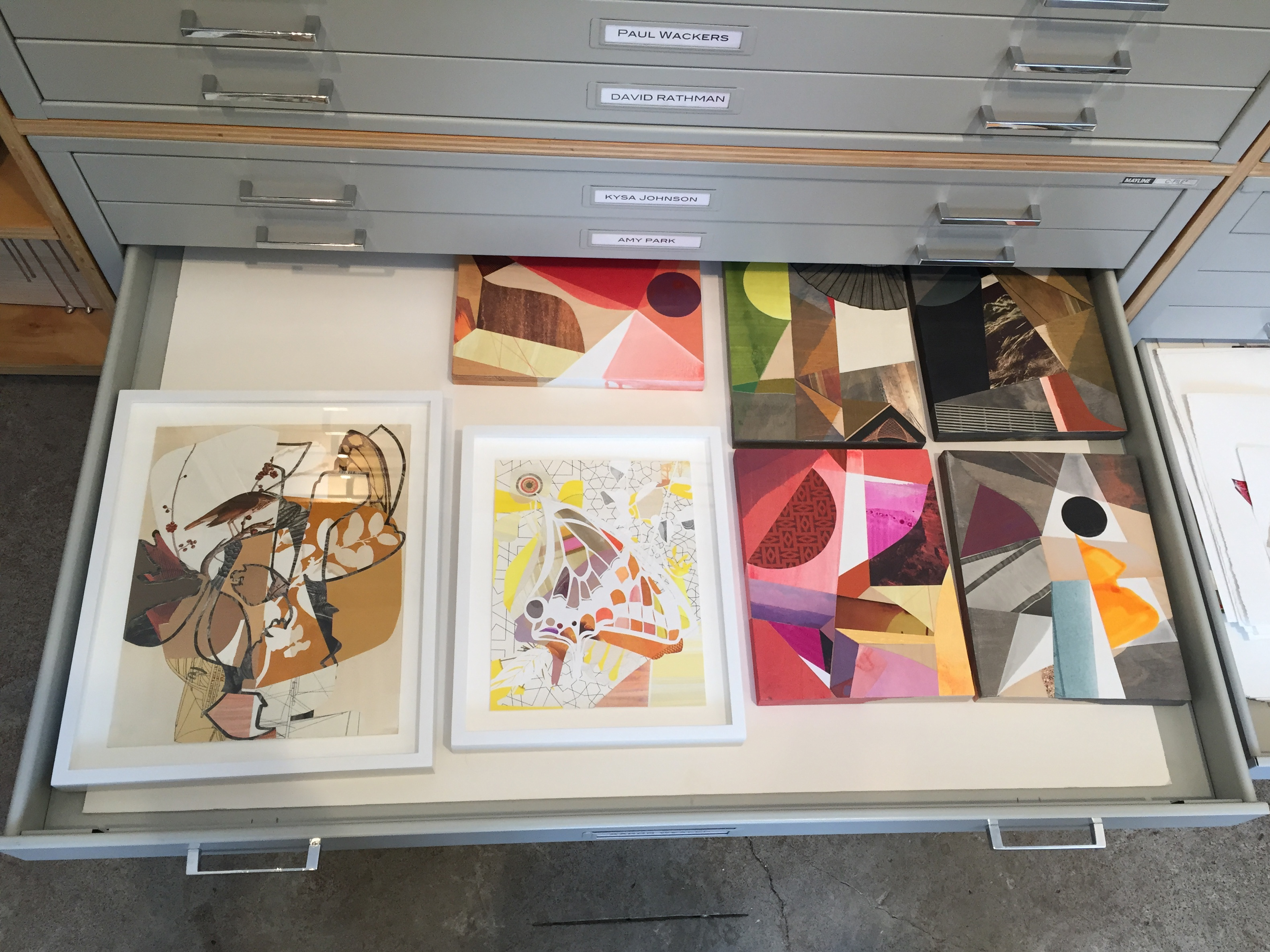 A drawer of Aaron Wexlers at Morgan Lehman Gallery
Friday, November 7, 2014 at 1:42 PM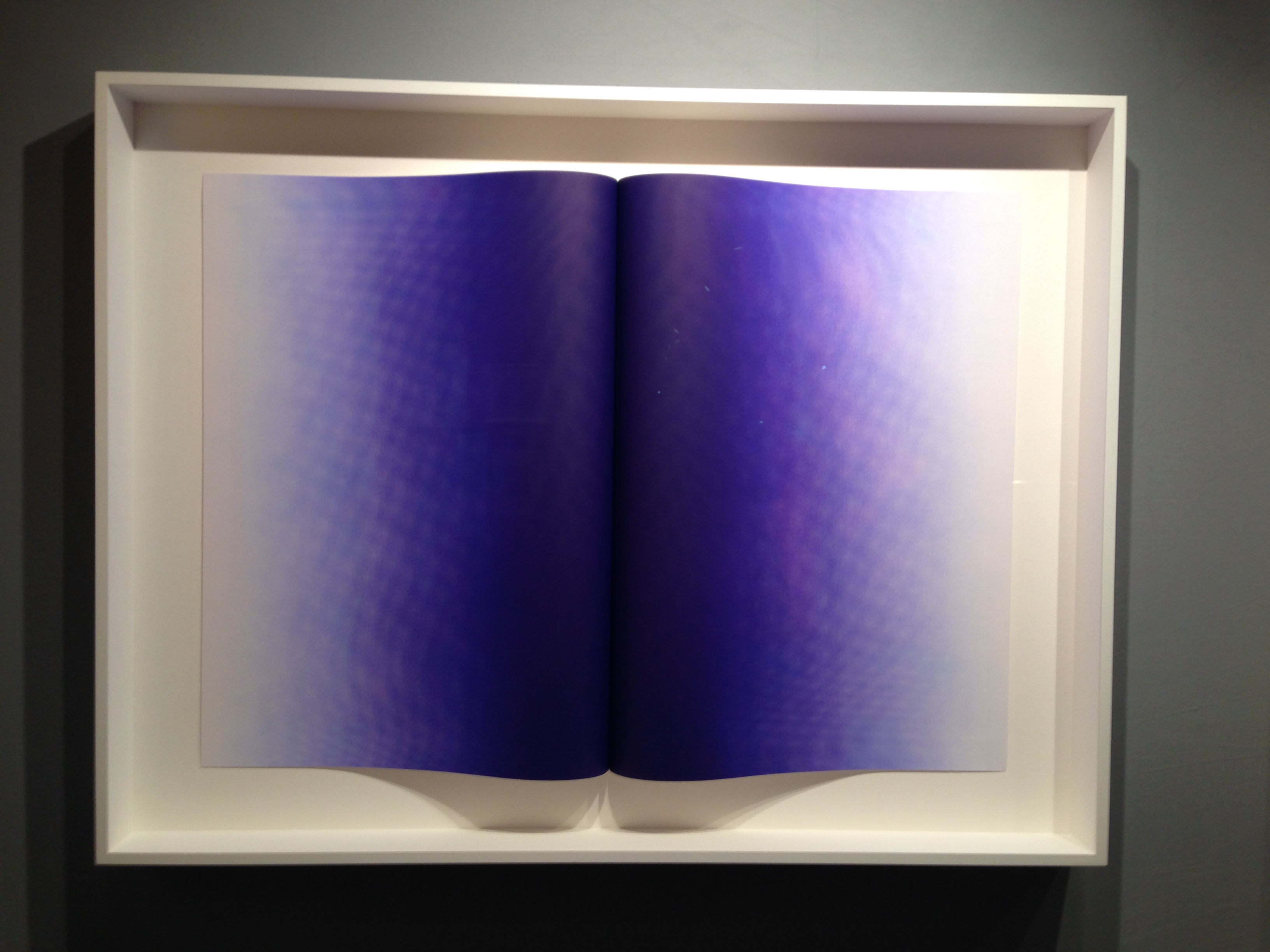 Anish Kapoor, Fold III, Paragon Press
KAC is in The Big Apple to check out what's on view at this year's IFPDA Print Fair. If you're in New York, this is a great opportunity to browse and buy prints of all styles. It is on now through Sunday, November 9th. Please enjoy this list of some of our favorite works.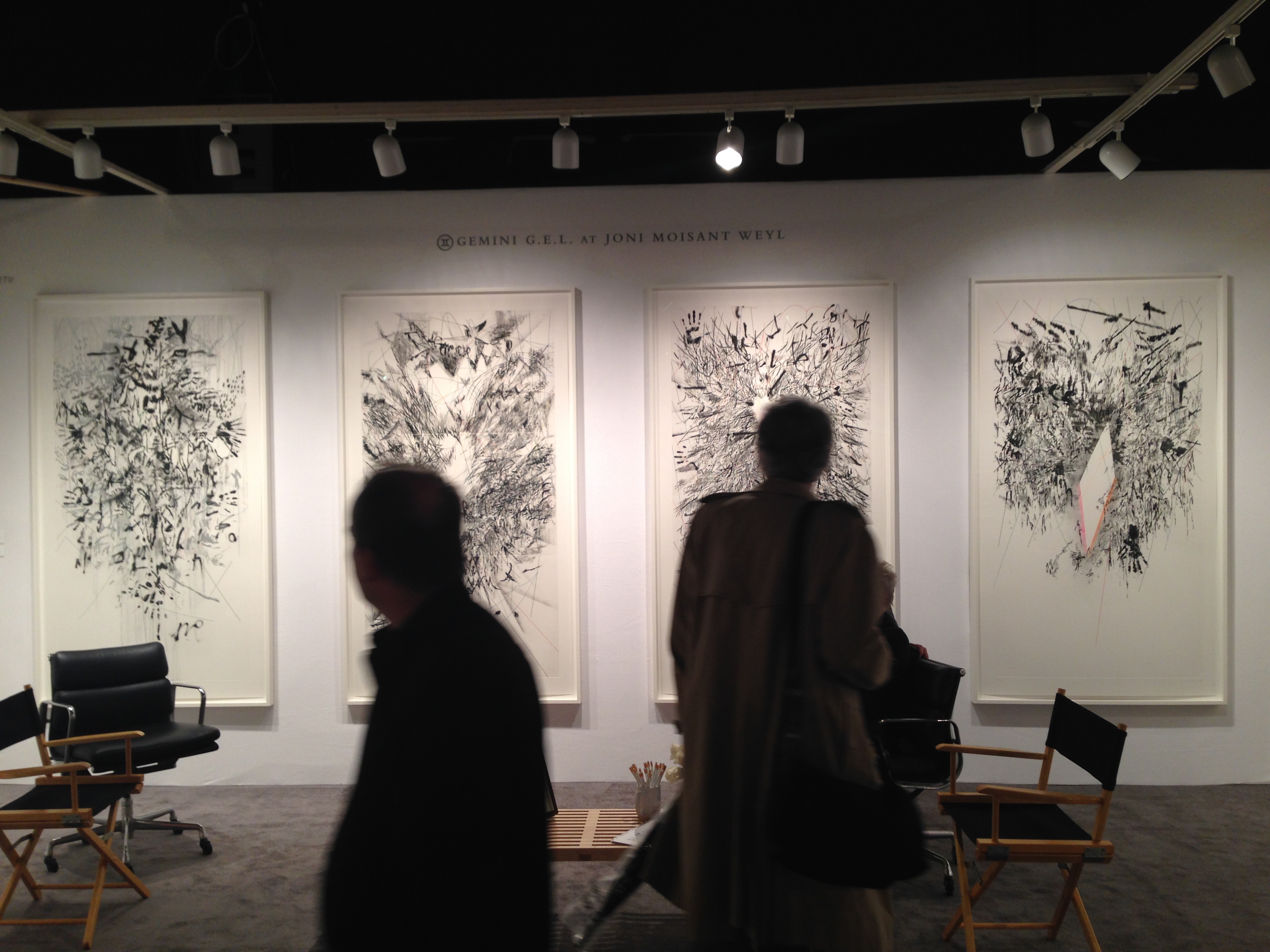 Julie Mehretu, Myriads, Only by Dark, 2014, Gemini G.E.L. at Joni Moisant Weyl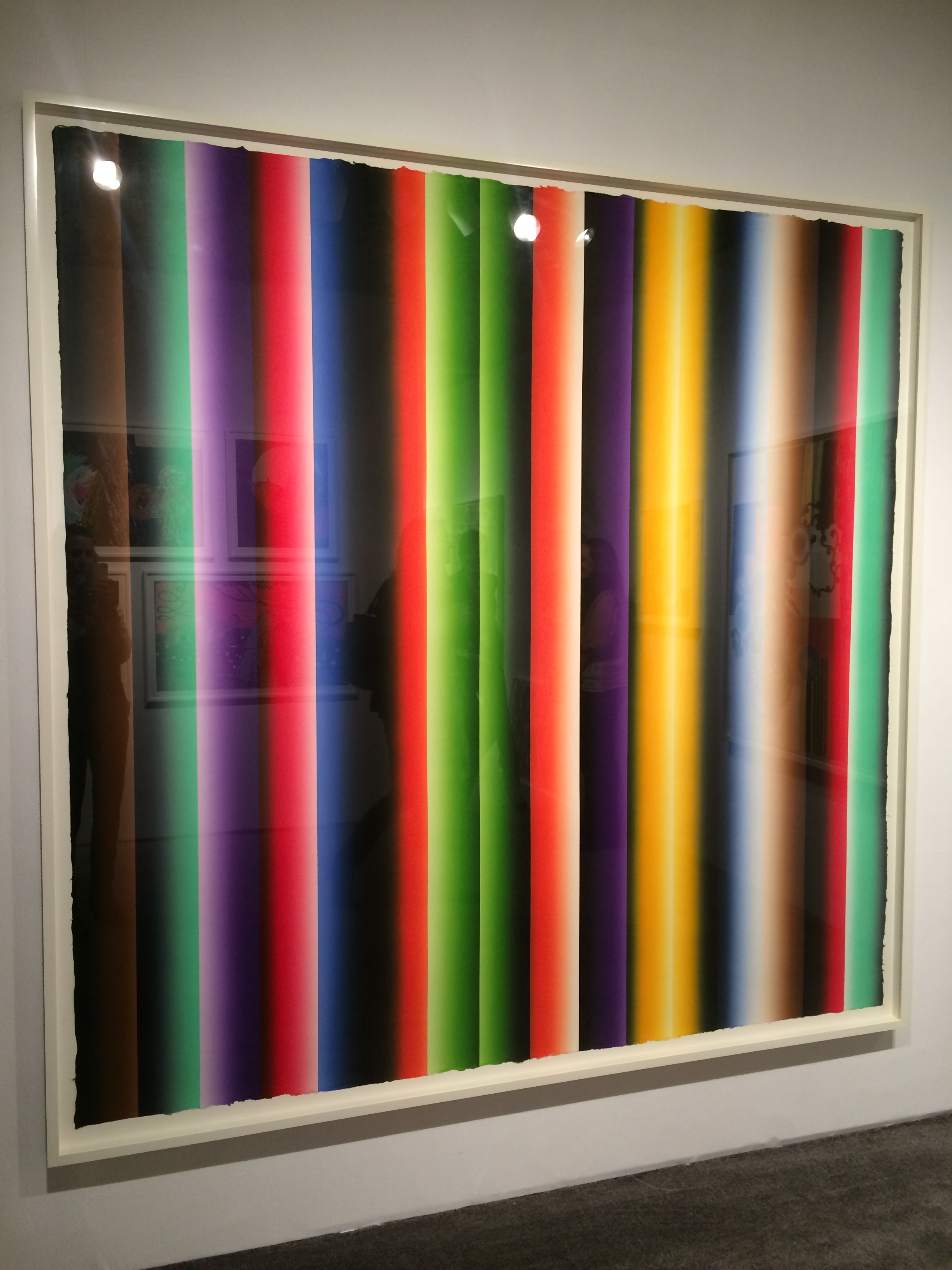 Polly Apfelbaum, Baroque Time Machine 4, 2014, Durham Press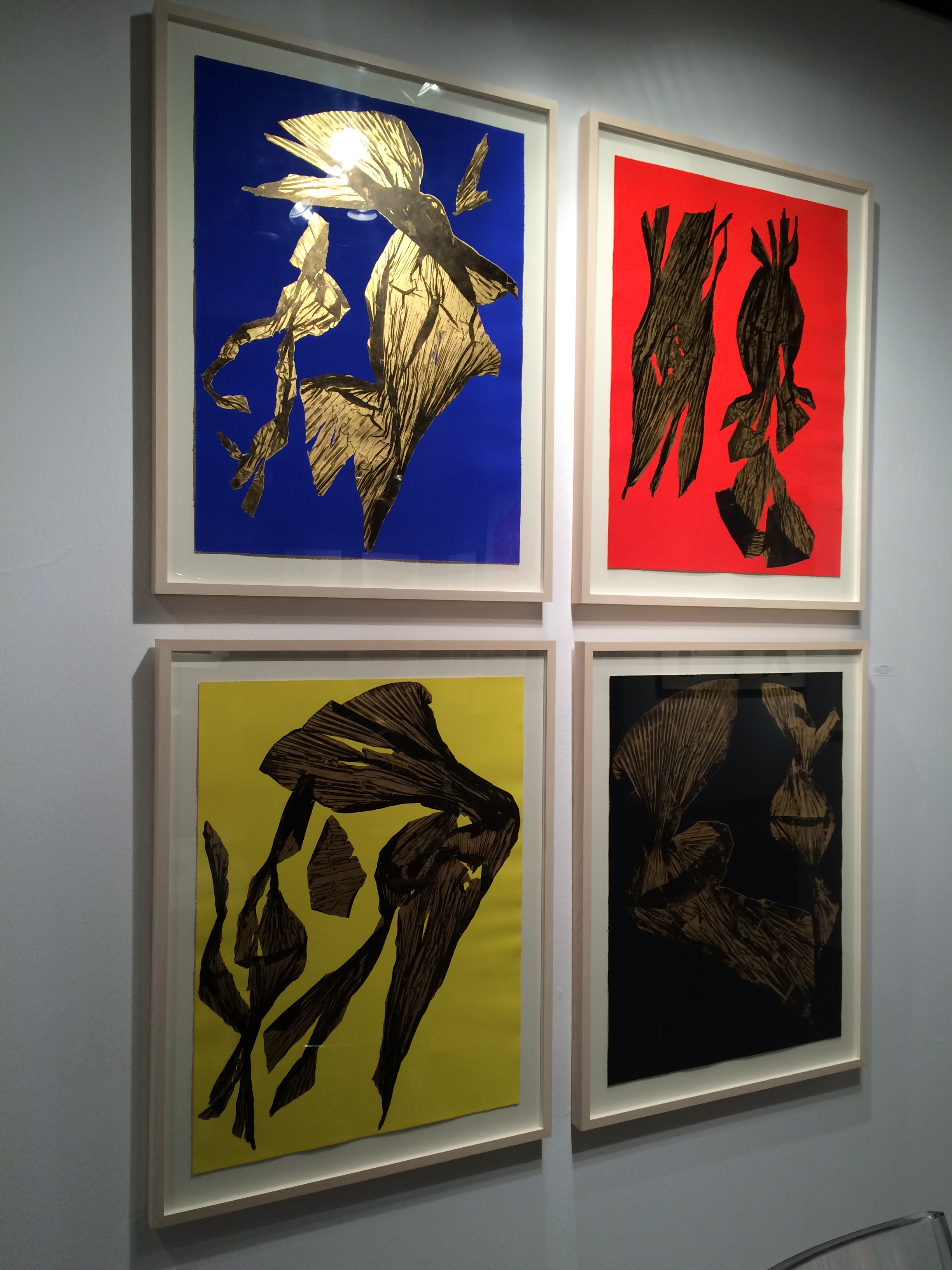 Lynda Benglis at Goya Contemporary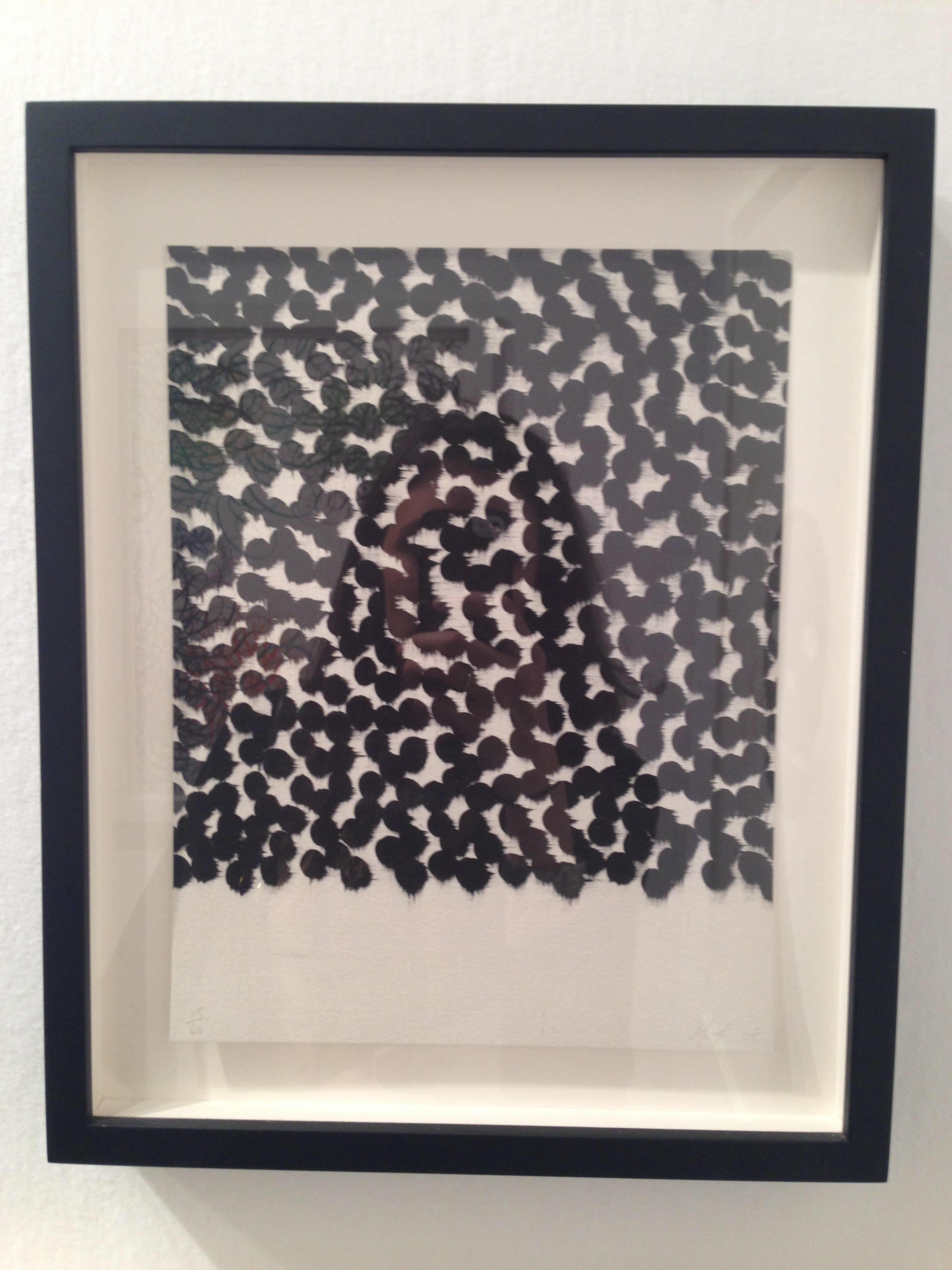 Mark Fancis, Untitled #7, 2008, World House Editions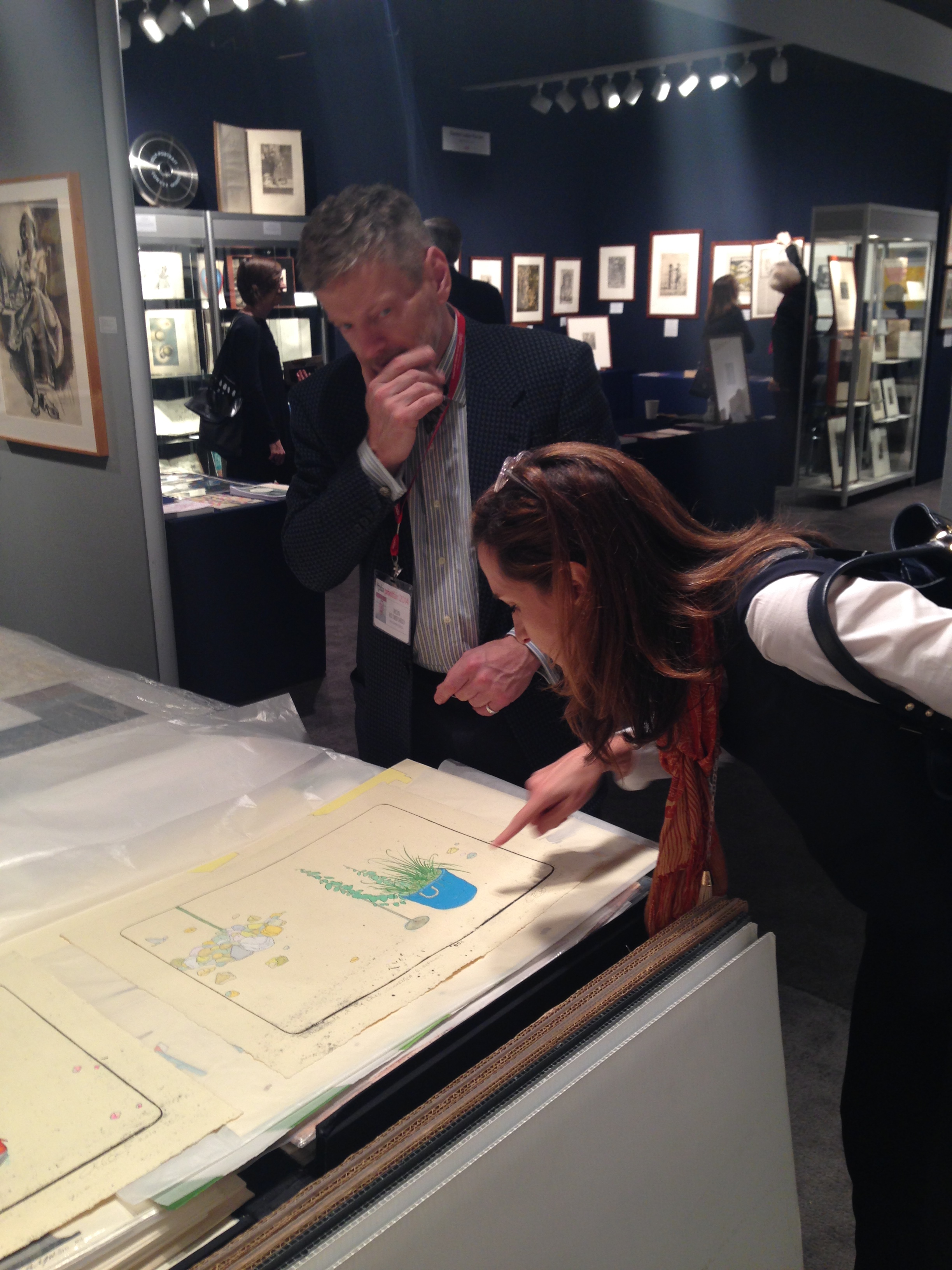 Julie Kinzelman at Dolan/Maxwell discussing the work of Amze Emmons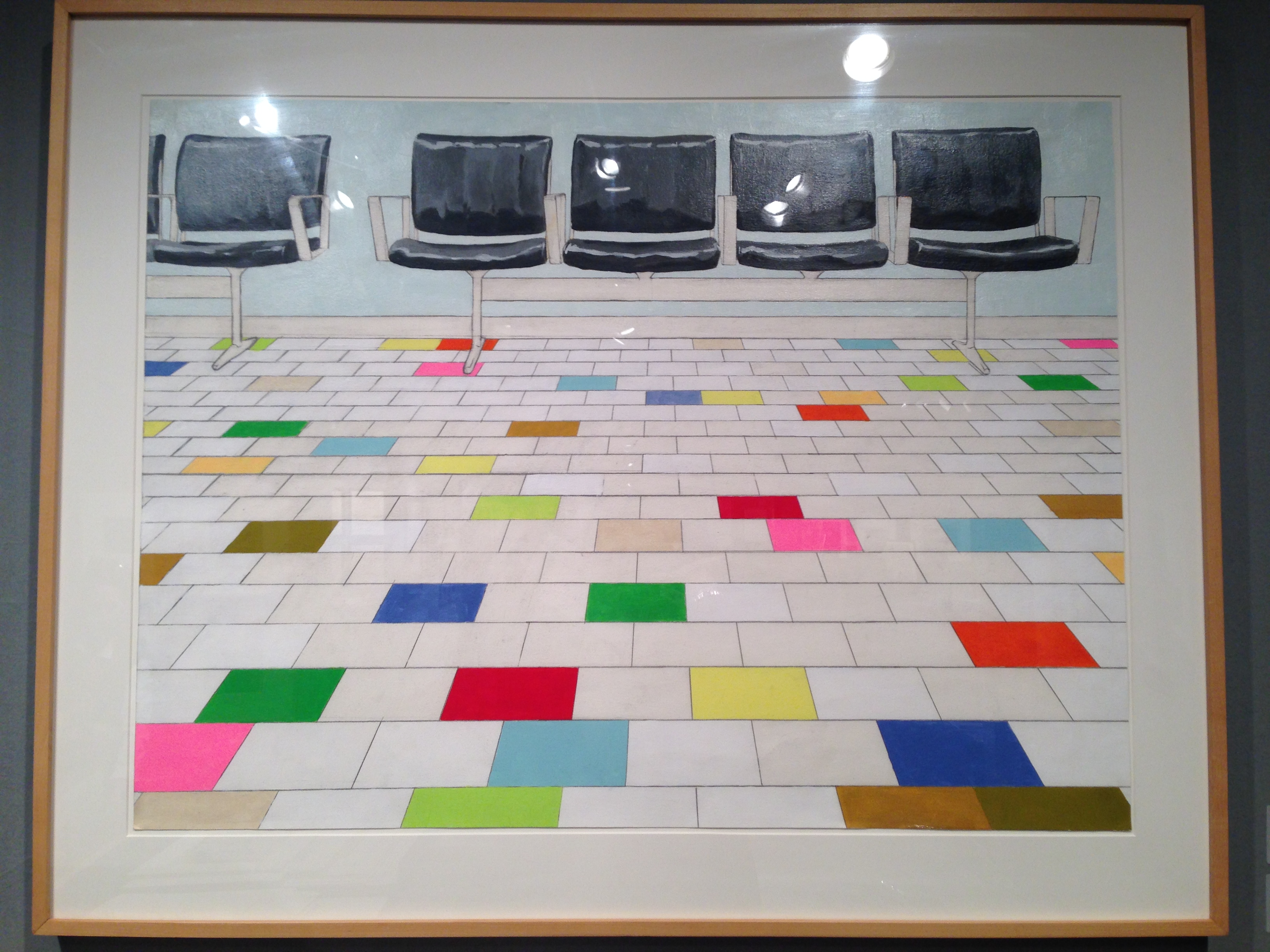 Amze Emmons, Dysfunctional Real Estate, 2004, Dolan/Maxwell
Friday, September 19, 2014 at 4:21 PM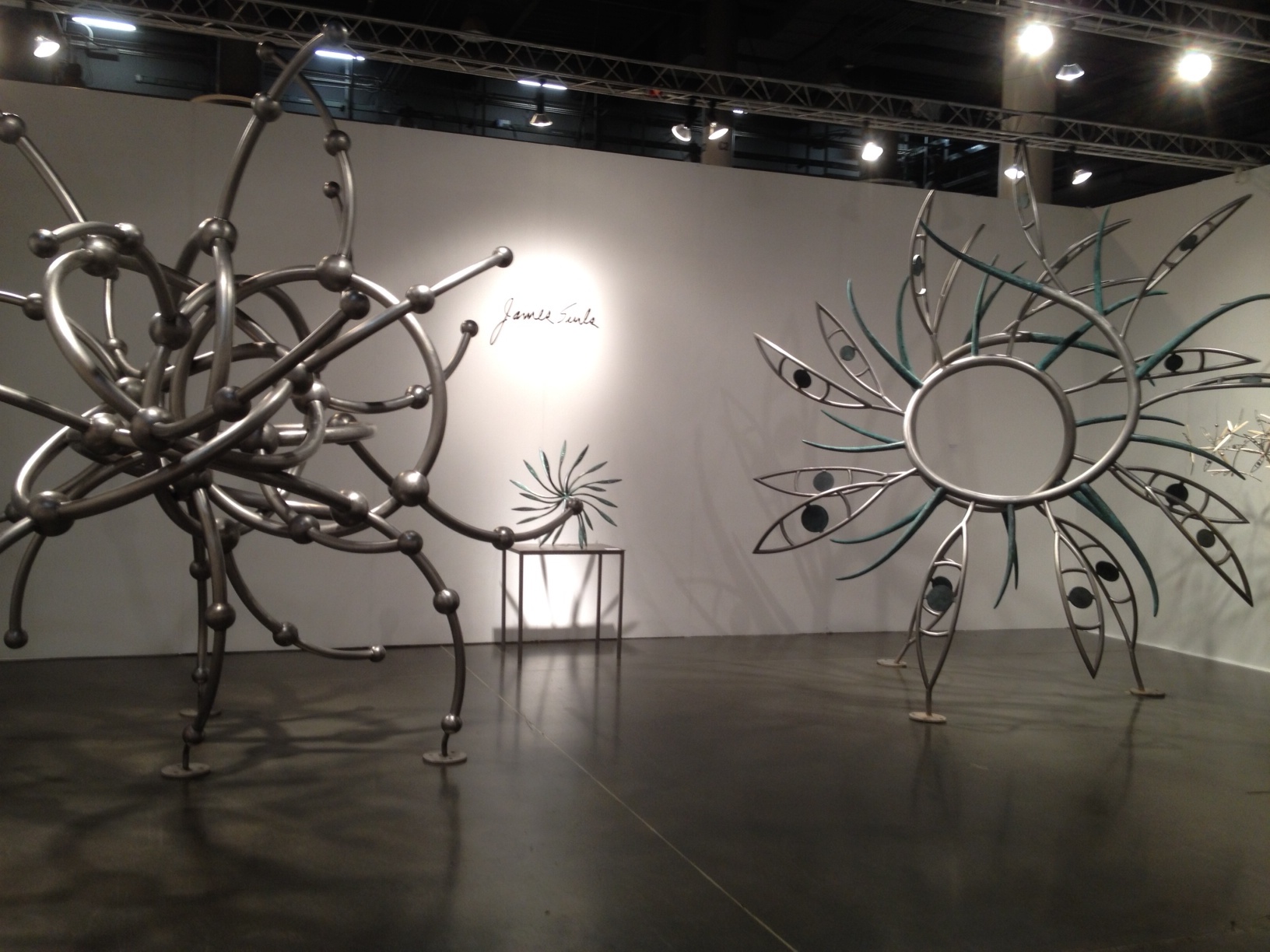 James Surls at Linda Clarke Art - Wade Wilson Art
The swooping and spiraling James Surls sculptures stole the show at HFAF this year, and of the many other beautiful programs on view, we especially enjoyed Art Nouveau Gallery and Shoshana Wayne Gallery. Below are some of our most coveted finds at this year's fair.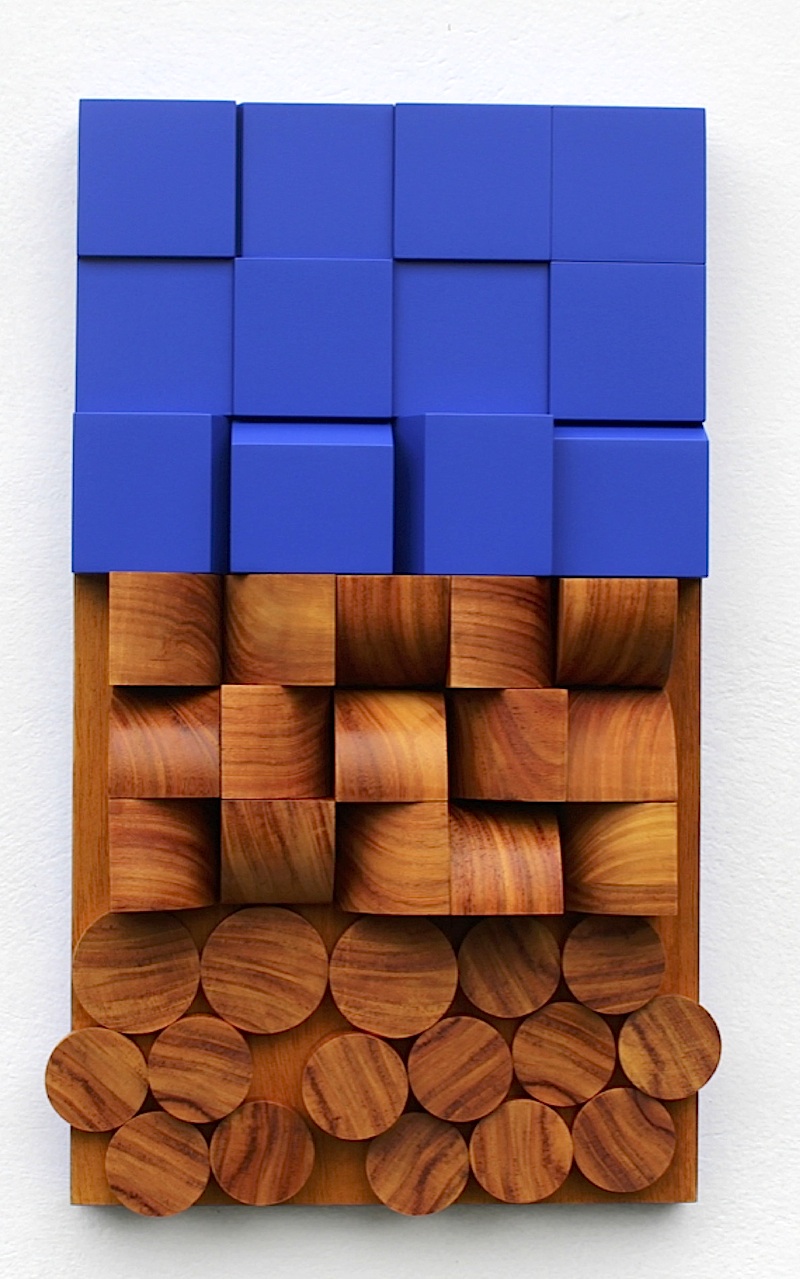 João Carlos Galváo at Art Nouveau Gallery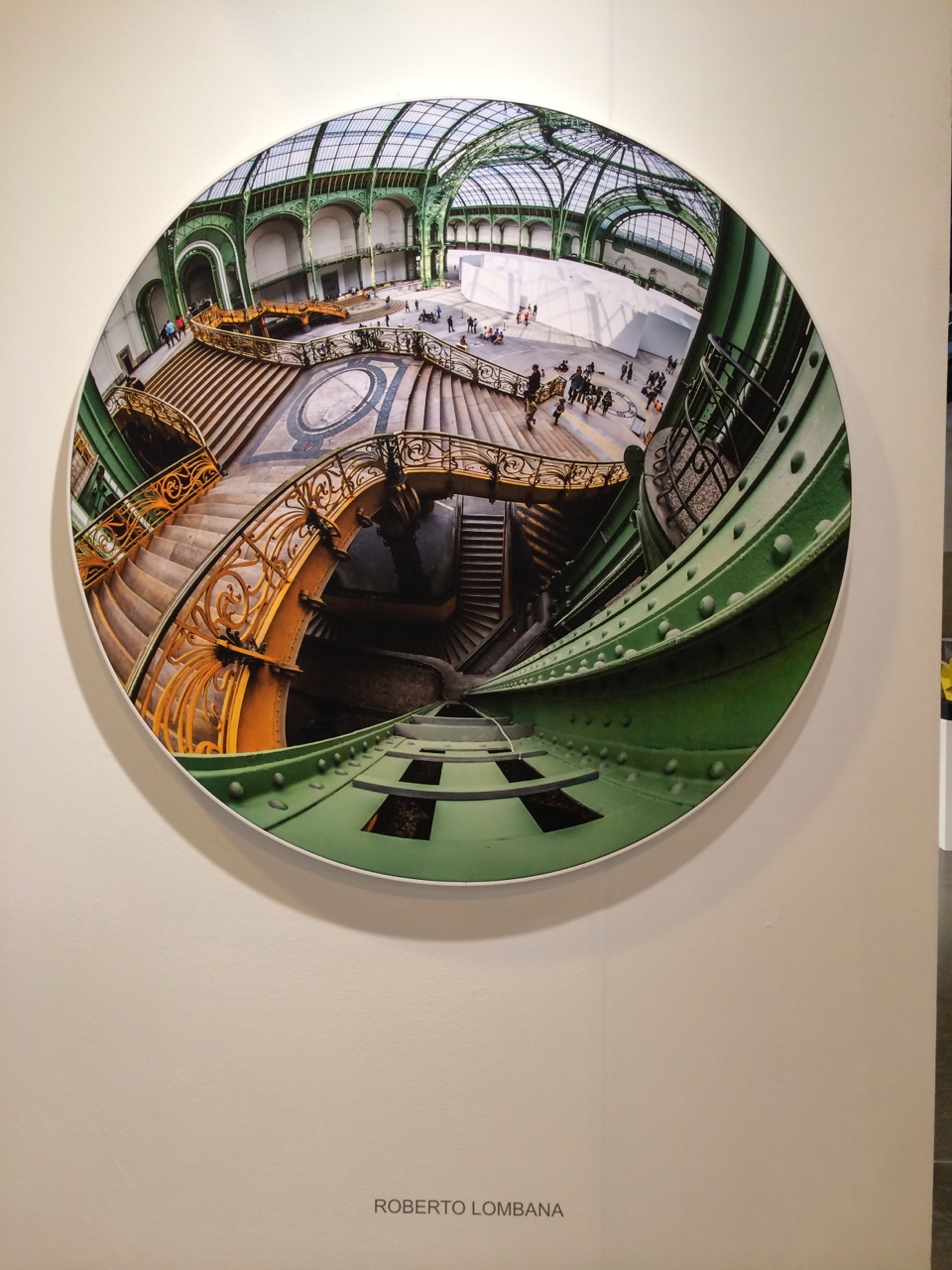 Roberto Lombana at Art Nouveau Gallery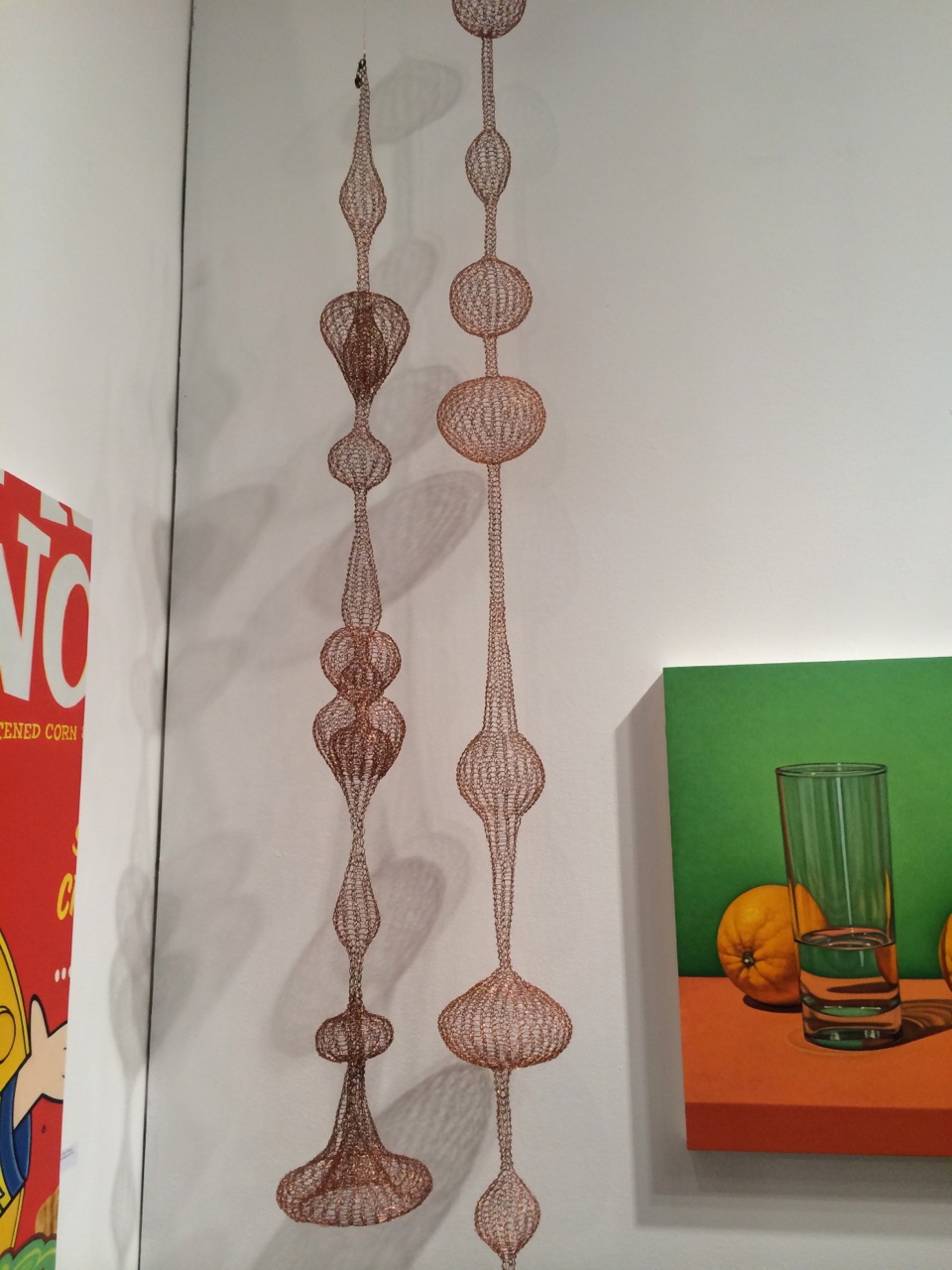 D'lisa Creager at George Billis Gallery - LA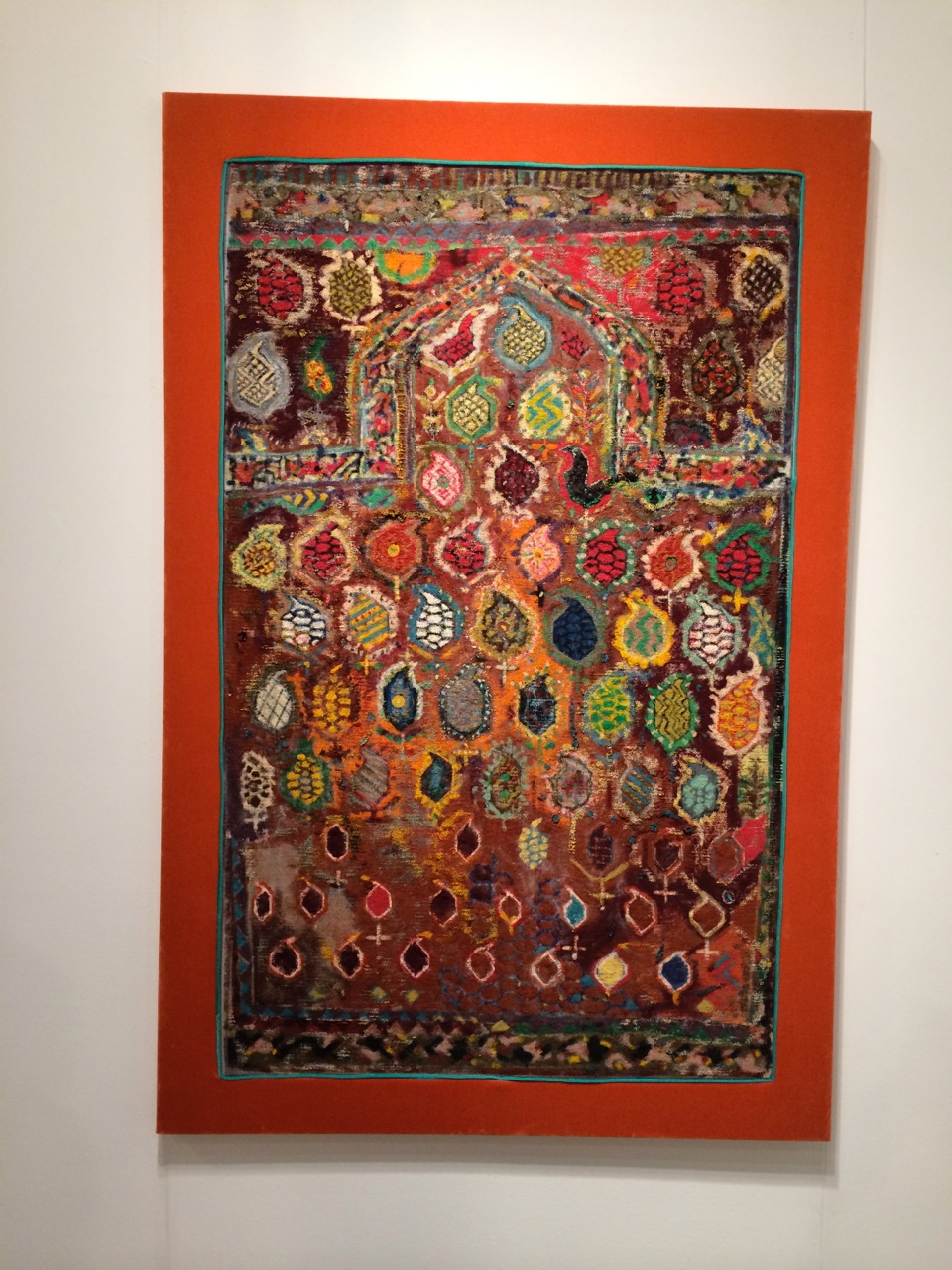 Izhar Patkin at Shoshana Wayne Gallery
Friday, July 25, 2014 at 4:23 PM
Thursday, July 24, 2014 at 3:33 PM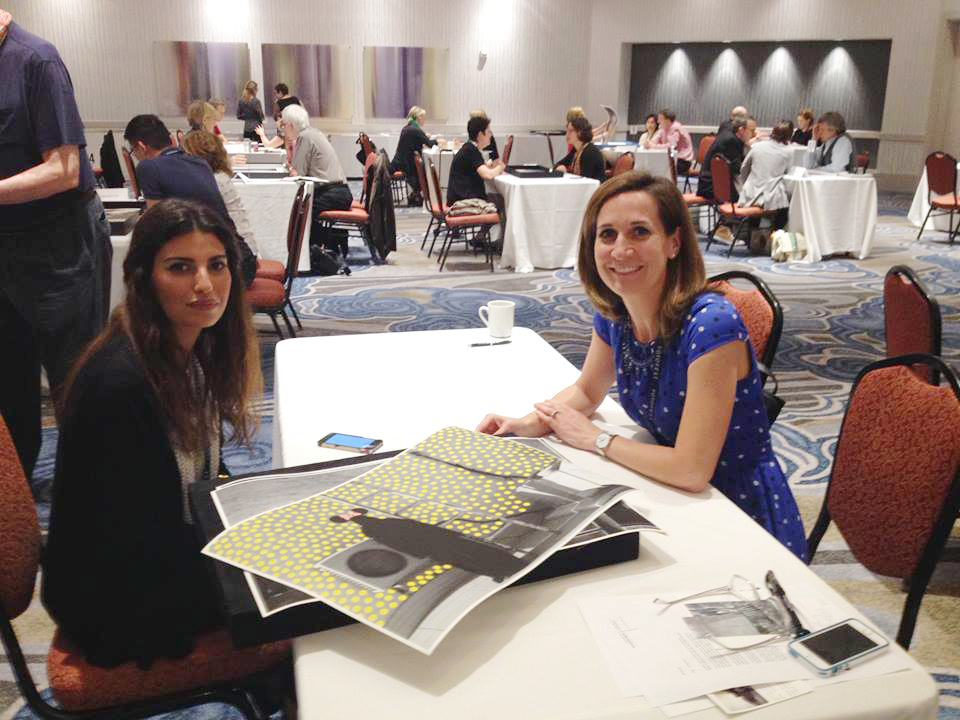 Reviewing Huda Beydoun's portfolio
We have been reviewing portfolios at the Fotofest Biennial too long to remember but our experiences are always memorable and distinct. Once again, this year we left inspired by the ever-expanding exploration of the photographic media. Among the 6 of us reviewing, we walked away especially impressed by the works of: Huda Beydoun, Zelda Zinn, Marcus Lyon, Sandi Haber Fifield, and Jun Itoi.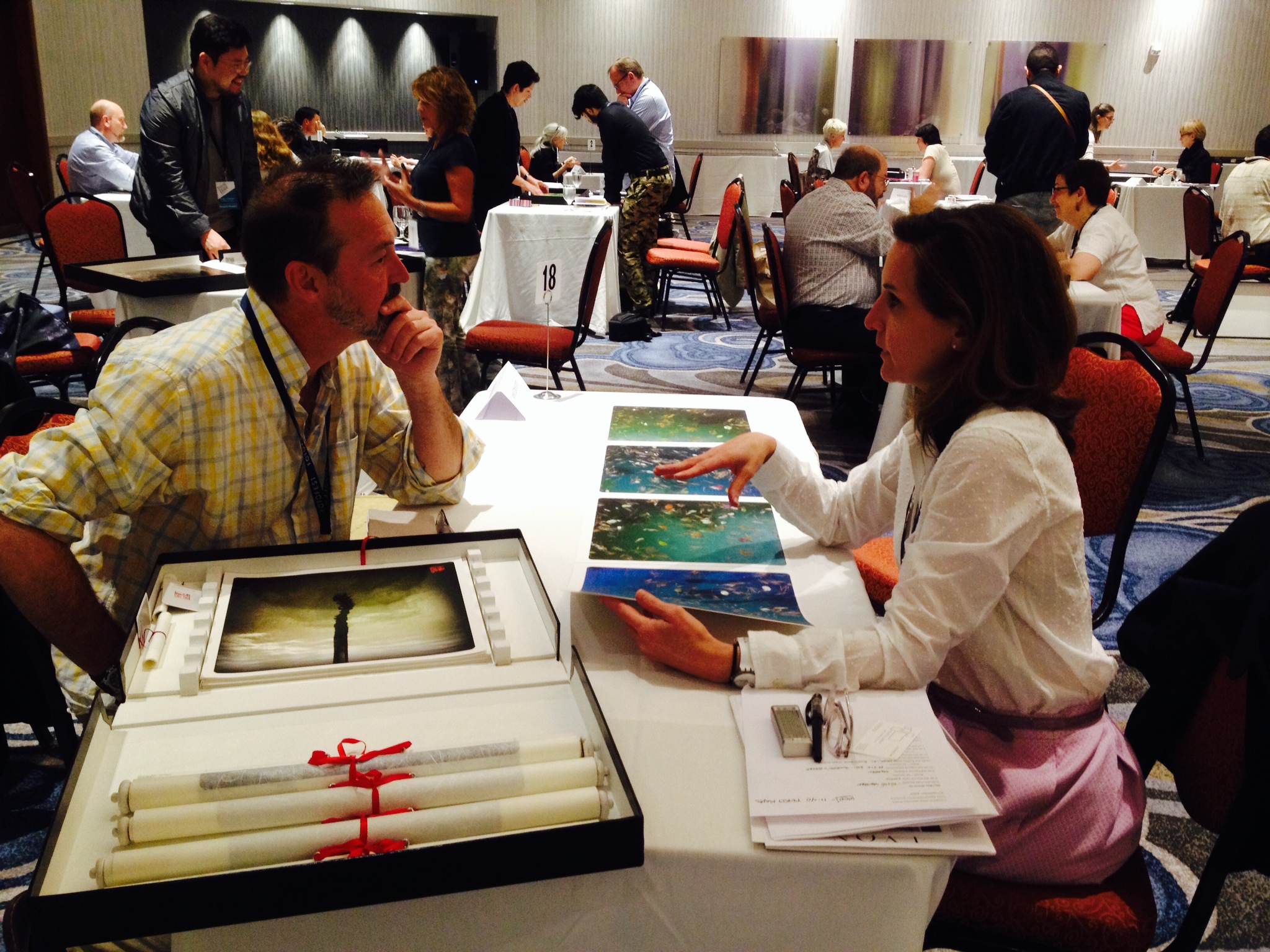 Reviewing Bryce Lankard's portfolio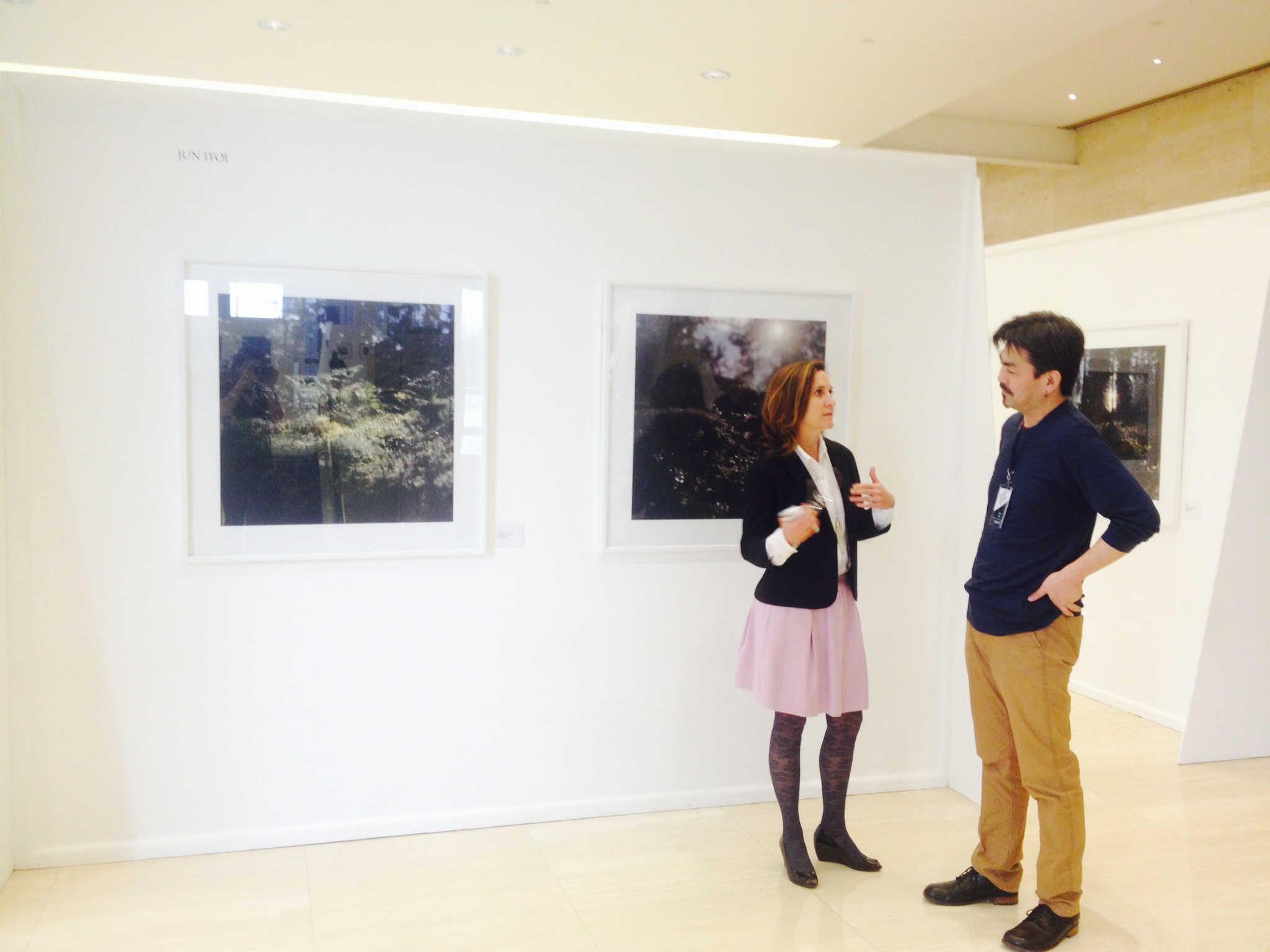 Julie and Jun Itoi discussing his honorary exhibition at FotoFest, Discoveries of the Meeting Place