Friday, November 30, 2018 at 1:22 PM
PARK DISTRICT DALLAS
At the heart of the Dallas Arts District, a new mixed-use development recently unveiled their art collection at a public event last month. In collaboration with Trammell Crow Company, Kinzelman Art Consulting acquired 4 works of art for the lobby of their 900,000+ square foot office tower. Among these pieces are a wall-based sculpture by Olafur Eliasson, two site-specific commissions by Billy Childish and a 16 foot painting by Jennifer Bartlett.

Olafur Eliasson wall-based sculpture at Park District, Dallas.
The lobby's sleek open space is punctuated with a pristine Eliasson sculpture titled "The Breathing Moon." Eliasson's work examines consciousness and cultural conditions, and how they define human interaction and perception of the world around us. Nearby is Jennifer Bartlett's dynamic sky painting, consisting of a dense crosshatching that creates texture amid vibrant colors that illuminate the clouds in the composition.

Jennifer Bartlett painting at Park District, Dallas.
Two paintings commissioned by British artist Billy Childish are also included in the collection. In his emotive oil and charcoal paintings, Childish skillfully illustrates his signature fluid and gestural painting technique.

Billy Childish painting at Park District, Dallas.
ORRICK, HOUSTON
KAC recently completed a collection for LA-based law firm, Orrick's new Downtown, Houston office space. The space houses a diverse list of artists, both national and internationally represented, and includes works on paper, paintings and wall-based sculptural works.

Graham Caldwell installation and detail images at Orrick.
Among Orrick's collection are works by Matt Kleberg, Alex Katz, Katy Stone, Evan Robarts, Linda Martinello and others.

Evan Robarts and Matt Kleberg pieces at Orrick.​
Tuesday, August 14, 2018 at 10:31 AM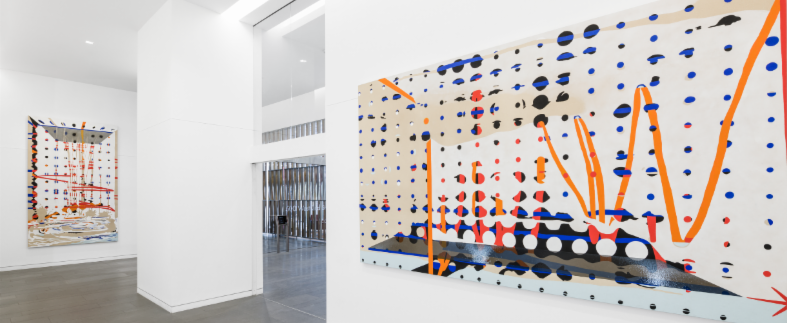 Ruello's commissions installed at 500 w 2nd.
Kinzelman Art Consulting partnered with Trammell Crow Company and CBRE on their new skyscraper located in Downtown, Austin. In close proximity to Austin's beloved Lady Bird Lake, the striking 500 West 2nd Street space, designed by Gensler, holds an impressive collection of tenants. The project goal was to activate the lobby with boldly infused color, and reflect Austin's iconic flare.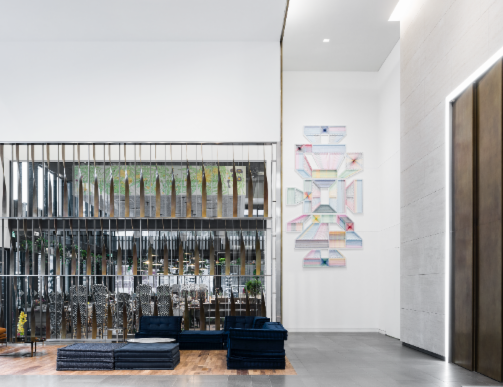 Esparza's wall-based sculpture in the lobby space.
"Art brings a new set of rules and compositions that juxtapose with architecture in ways that are unexpected and can be serendipitous. This building and lobby were conceived as hierarchic, one leading to the other and vice versa where momentary interruptions in the order allow for the individual to contemplate and enjoy being transported by the art."

- Tom Marsden, Associate, Gensler
El Paso-based artist Adrian Esparza, represented in Dallas by Cris Worley Fine Art, was selected to address the largest wall with his signature sarape artwork. This impressively sized piece, scaled specifically for the vertical wall, offers a visual push-pull effect with bold contrasting colors. The unique material usage in Esparza's work forms a natural dialogue across the lobby, where Erin Curtis's equally active cut and layered painting is installed. Although indicative of Curtis's body of work, this piece in particular is intended to mimic the rapid growth and vibrant spirit of Austin, TX, where Curtis also resides.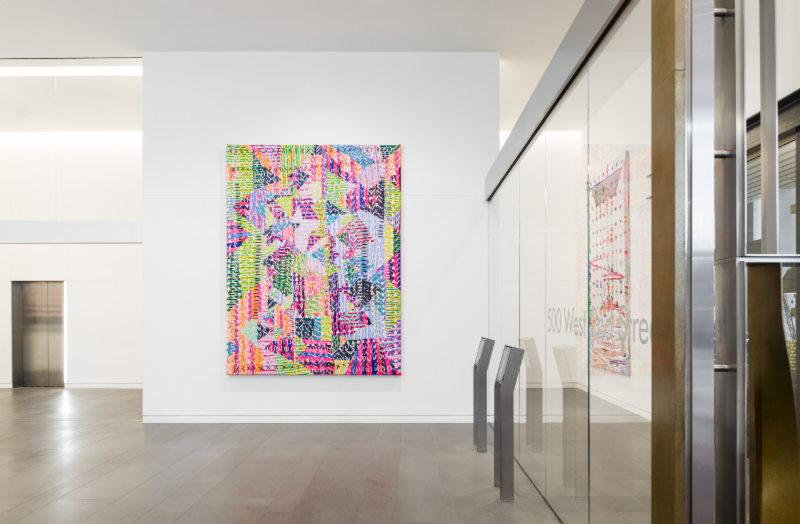 Curtis's cut and layered painting in the lobby space.
The collection continues around the corner with two large-scale paintings by Houston-based artist Robert Ruello, represented by Inman Gallery. These are Ruello's largest works to date, functioning as murals to tenants entering the building through the garage elevators. Ruello digitally renders his compositions, then carefully transfers them onto canvas using tracing paper and various densities of paint and flashe. This technique informs a unique visual language transitioning between moments of bold expression and negative space. The building's collection upstairs includes works on paper by Nicola Lopez and Ross Bleckner, and a site-specific installation by Paul Fleming.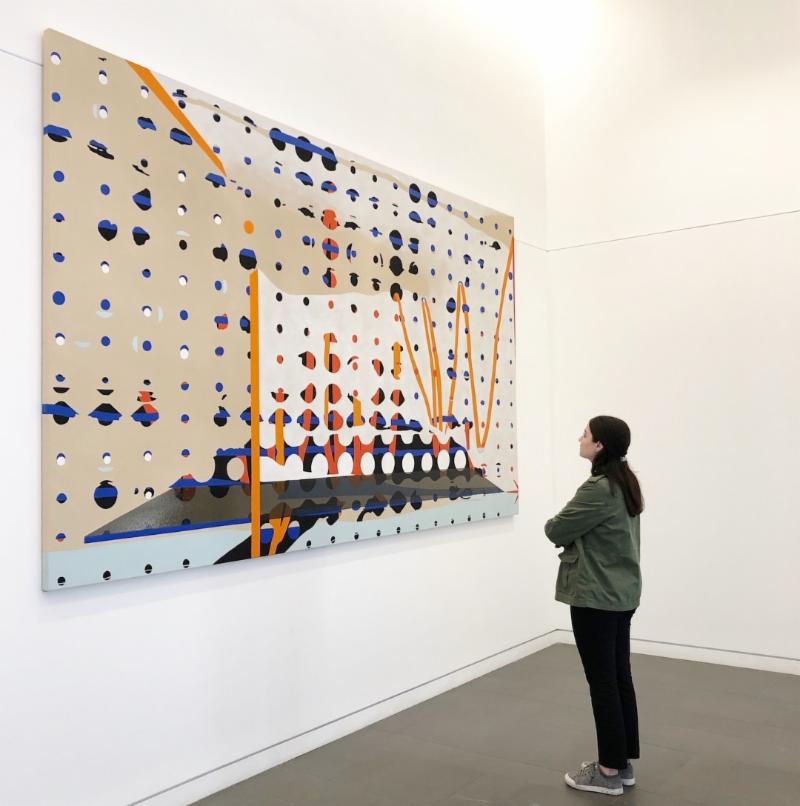 KAC admiring Ruello's painting.
" KAC was wonderful to work with and made the entire process of selecting, commissioning and installing each piece at 500 W 2nd Street stress free for the ownership team. The art has completed our lobby and activated the borders of the space while staying true with the original design intent. Our tenants enjoy the pop of color and the energy it brings to their daily life. "

-Kristi English, Development Manager, Trammell Crow Company
Tuesday, April 25, 2017 at 2:31 PM
Strikingly articulate and exceedingly experimental, artist Gabriel Dawe is breaking down barriers of a traditional male Mexican artist as he constructs geometric and fantastical illusions through the use of textile and thread. KAC had the pleasure to meet with Dawe in Dallas during his residency at Fairmont Hotel. Located in the bustling art district of downtown Dallas, Dawe innovatively transformed his temporary studio space into a colorful and dynamic solo exhibition.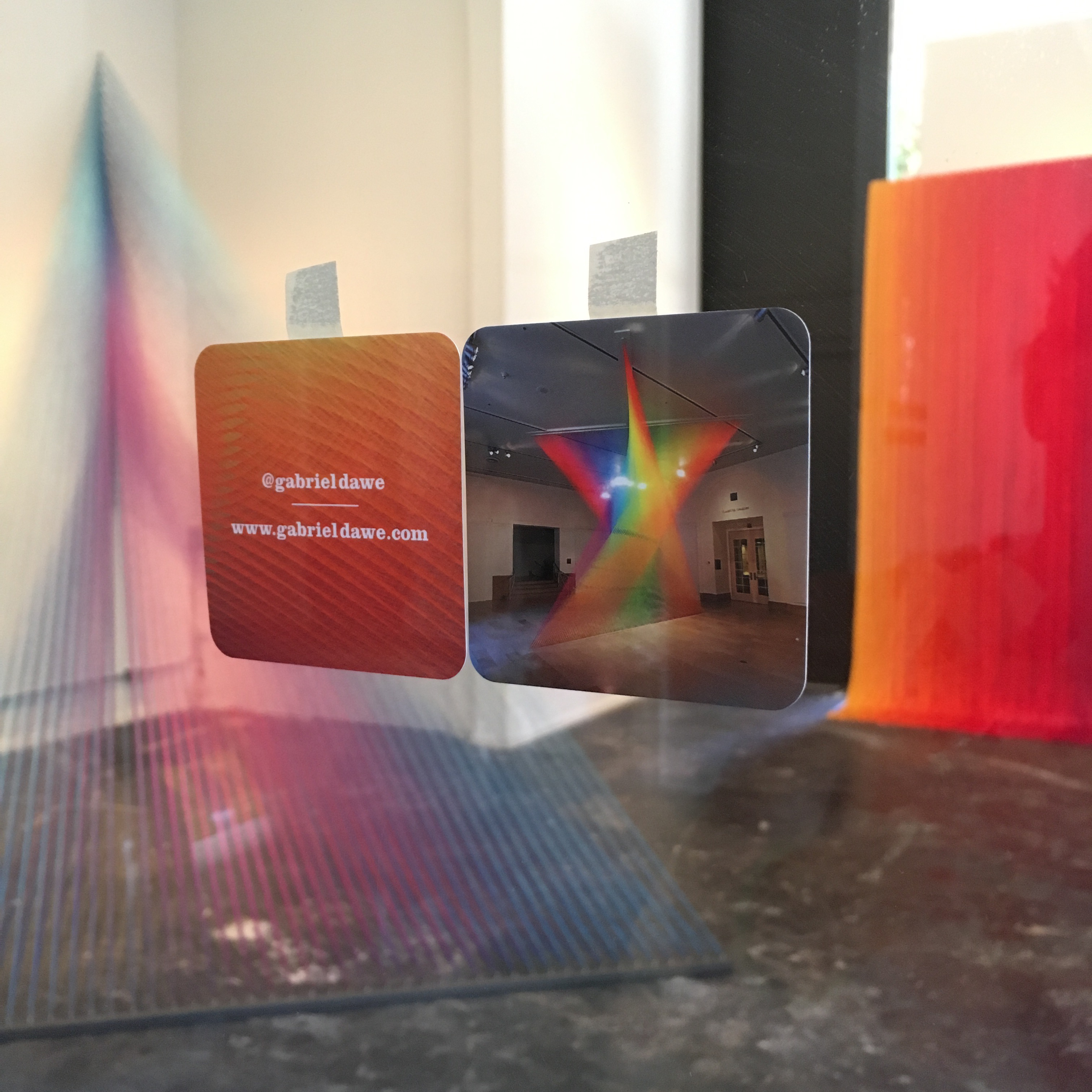 Dawe's studio at Fairmont Hotel in Dallas, Texas
Responding to the architecture and environment, Dawe's installations become an open dialogue between art and space. While this process creates unique, site-specific works of art, there is a found unity throughout his collection. Every installation is developed from the full color spectrum, resembling light rays. Only experimented once before, the installation presented in Dallas, explores the cooler side of the spectrum, staying exclusively with blues, violets, and shades of pink. Here Dawe begins to omit part of the color spectrum, a preliminary investigation into the absence of color. This new departure is one he addresses further in his current exhibition "Plexus 37" at Conduit Gallery.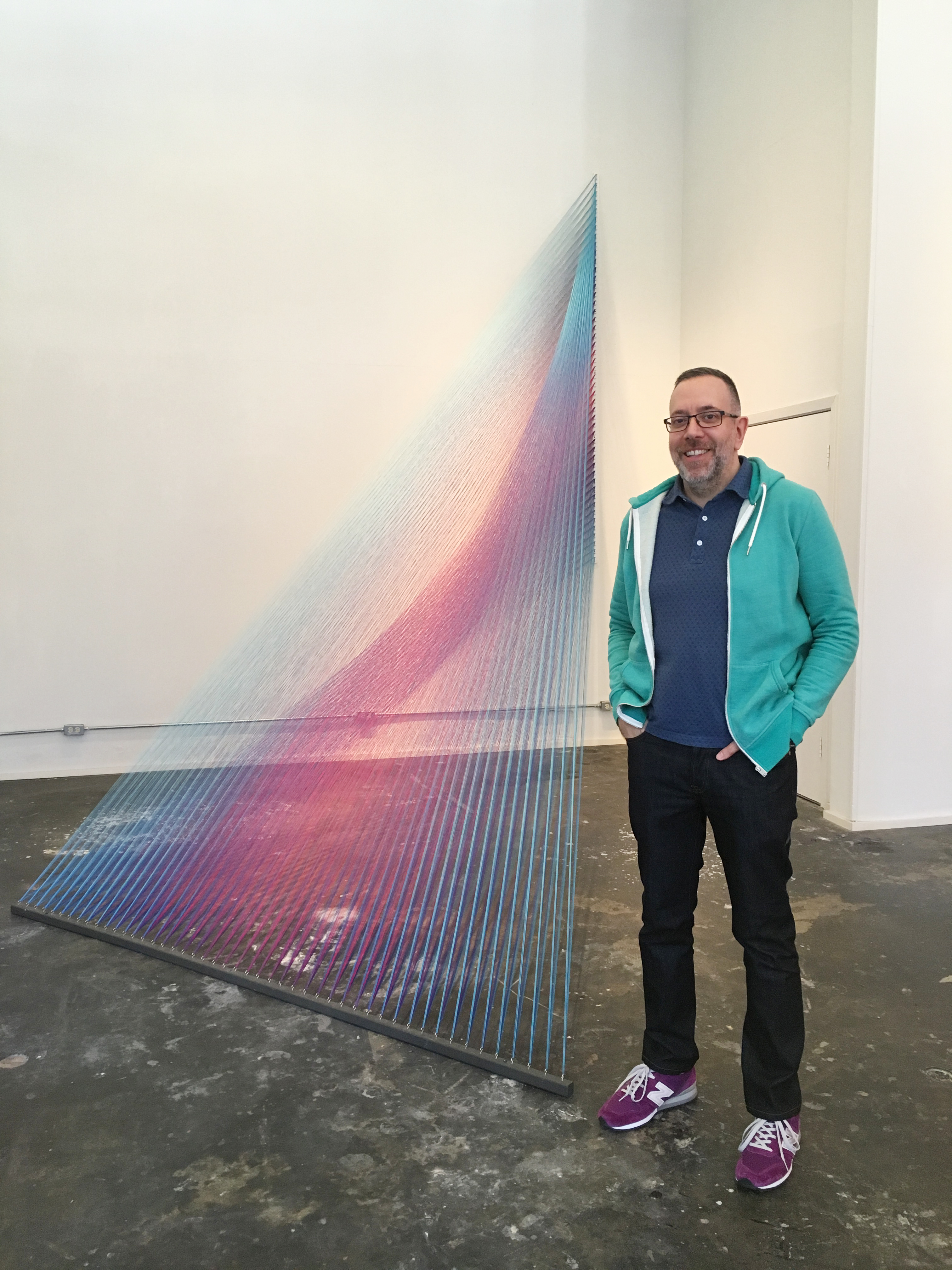 Dawe in front of his site-specific installation
Living and working in Dallas, locals have come to familiarize themselves with Dawe's brightly colored thread installations. Therefore he decidedly turned a 180 in his recent endeavor by masterfully abandoning color through the use of gray, silver, and black threads. The viewer is forced to see beyond the spectrum, cerebrating this omission to be not an act of defiance against that traditionally associated with color, but perhaps as a "silver lining" on what is next for the renowned artist and his forthcoming work.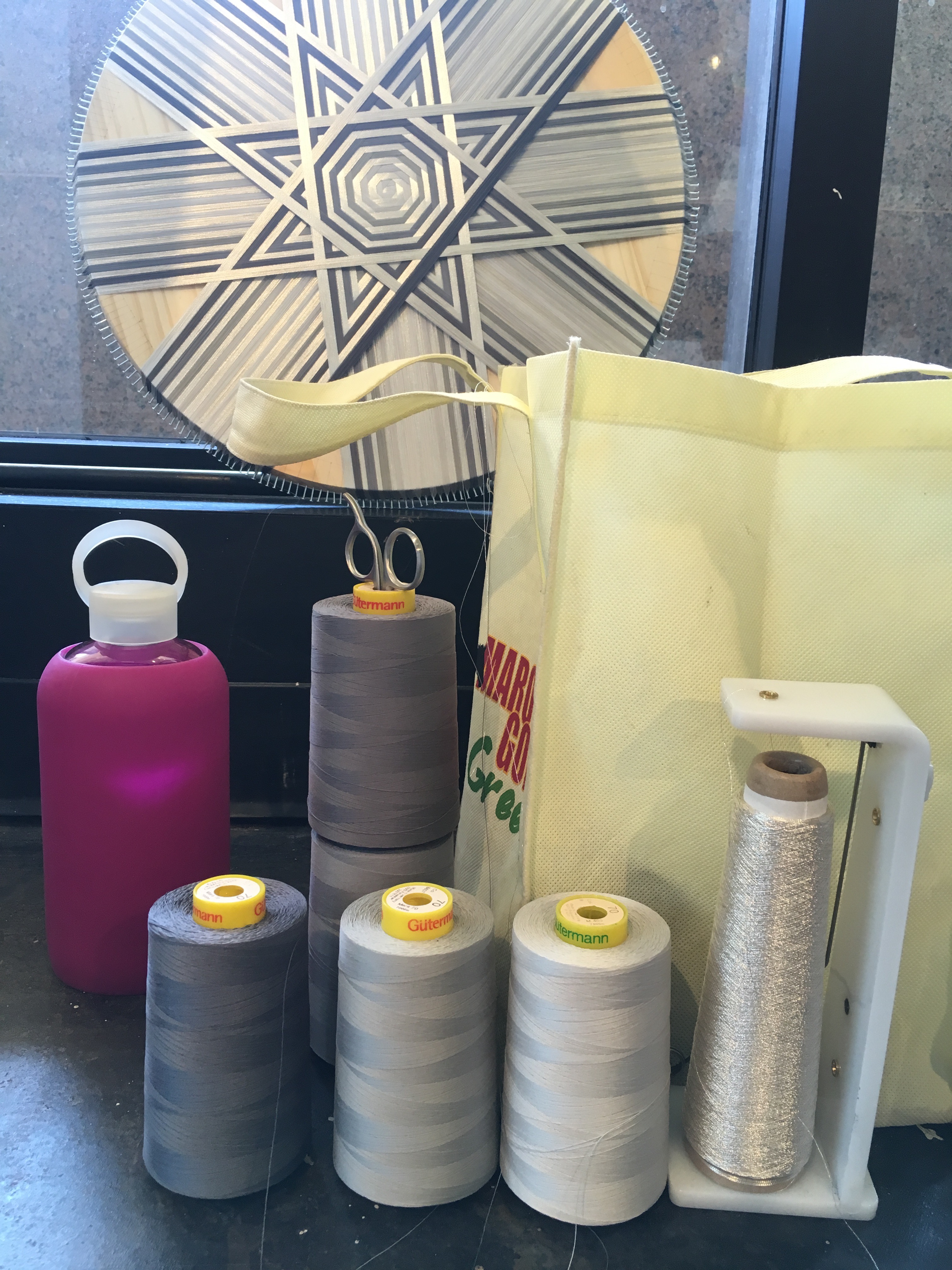 Spools of silver thread in front of a work in progress
Gabriel Dawe is represented in Dallas, Texas by Conduit Gallery. Dawe is on view now with Conduit Gallery through May 13, 2017.
Friday, June 24, 2016 at 10:23 AM
KAC got an exclusive look at our newest neighbor, Capsule Gallery. True to it's name, the tucked away space on Main Street is quaint yet open and full of fresh and innovative ideas.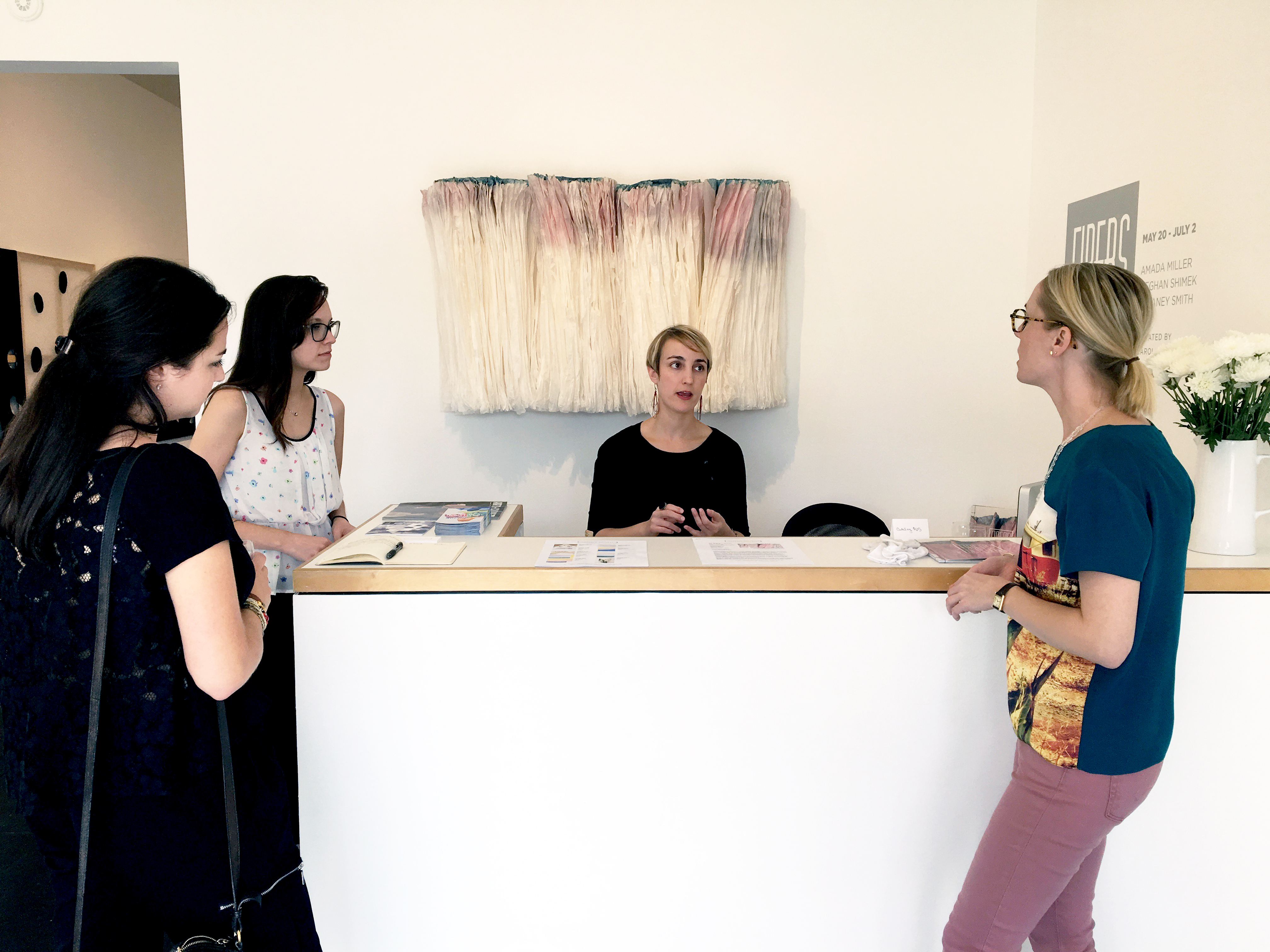 KAC discussing Fibers of Design with director of Capsule Gallery, Sarah Sudhoff, and gallery assistant, Taylor Cox
We had the pleasure of chatting with Capsule's owner and director, Sarah Sudhoff. Sarah's dynamic background reflects the gallery's whimsical and refined array of works. The innovative progarm combines contemporary photography and craft, representing emerging to established artists.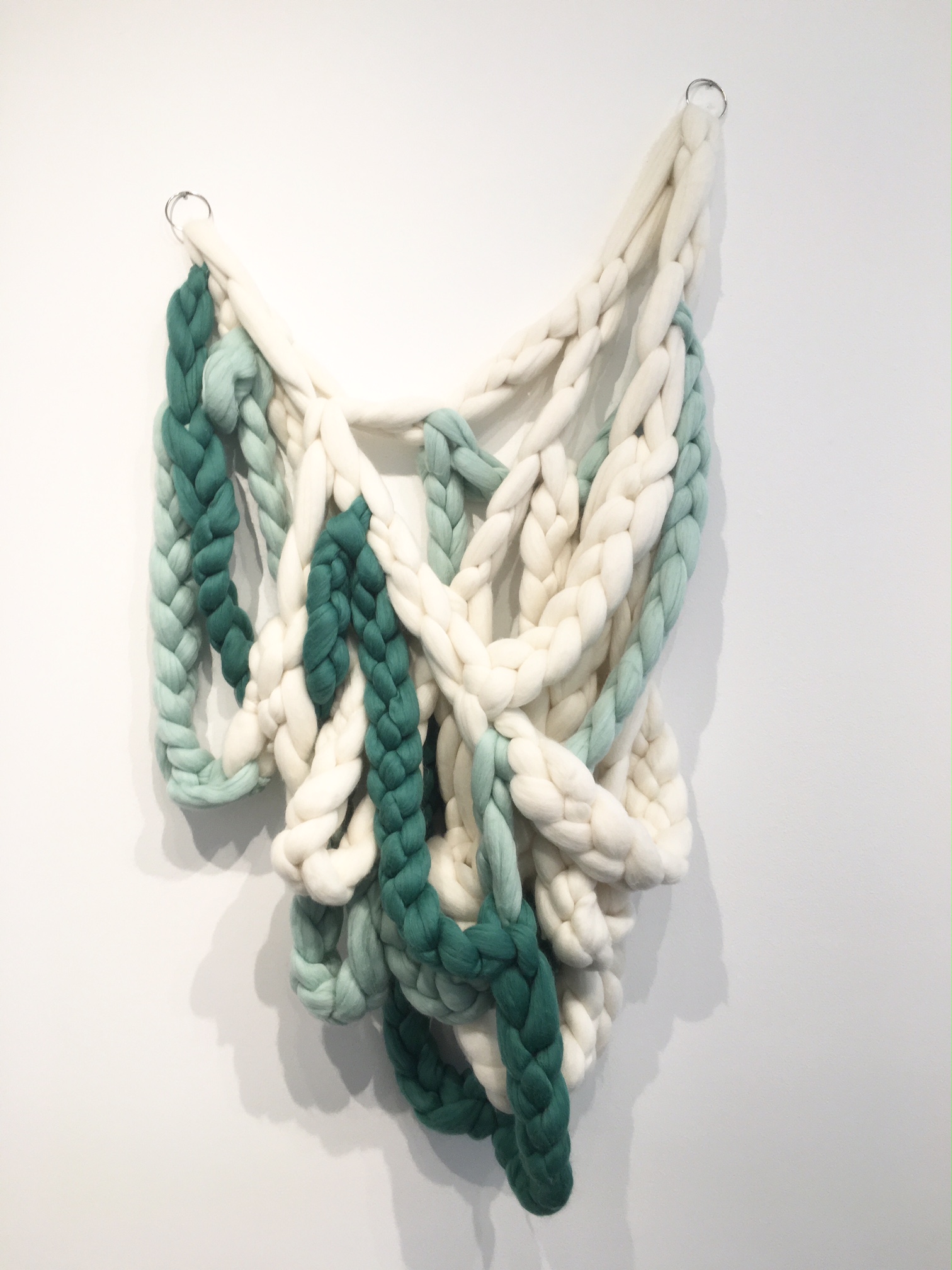 Ouray , Meghan Bogden Shimek in Fibers of Design
Capsule Gallery kicked off the summer with exhibition, Fibers of Design, featuring three craft artists, Amada Miller, Meghan Shimek, and Delaney Smith, who work in various textured mediums.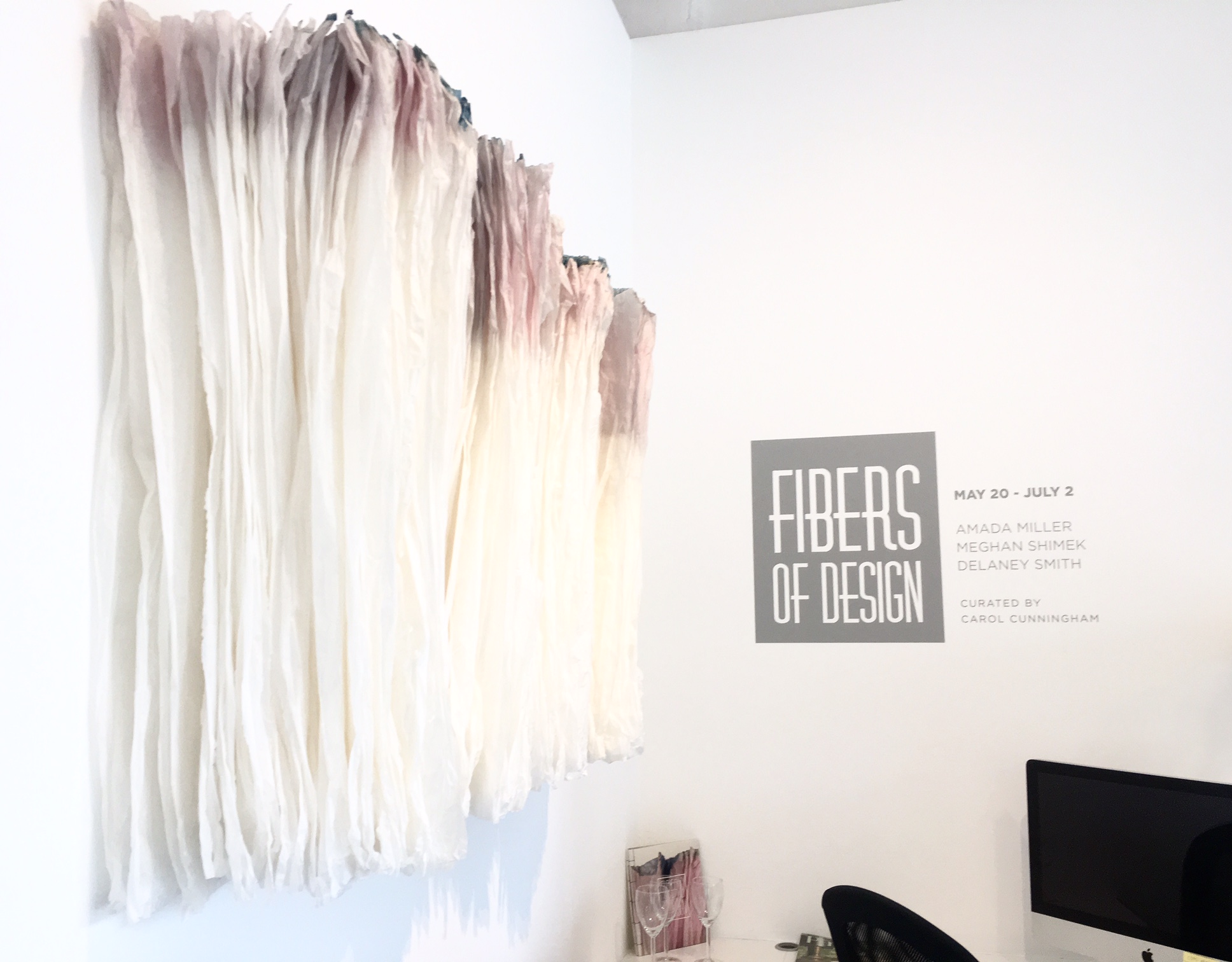 Signatures #17, Delaney Smith in Fibers of Design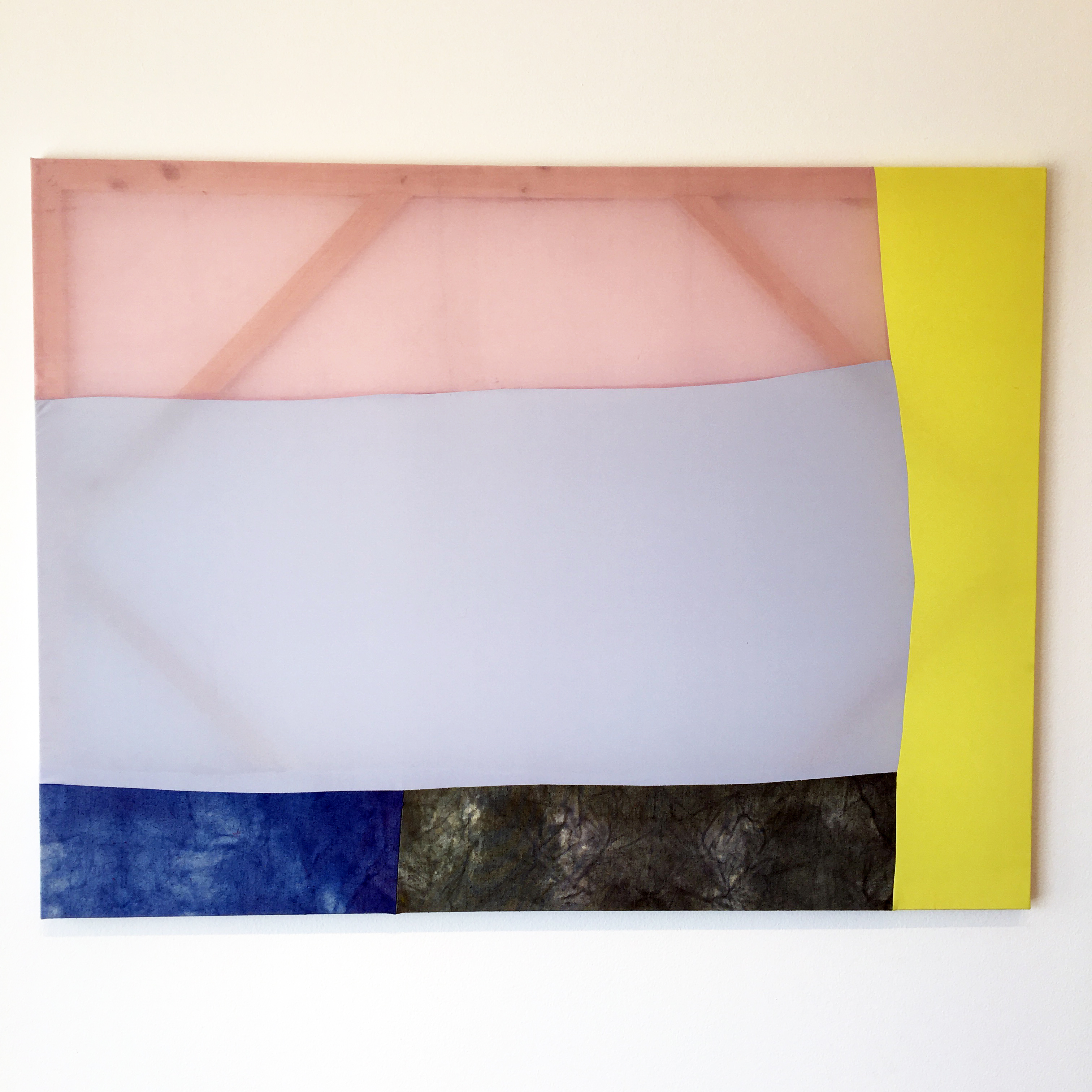 Untitled, Amada Miller in Fibers of Design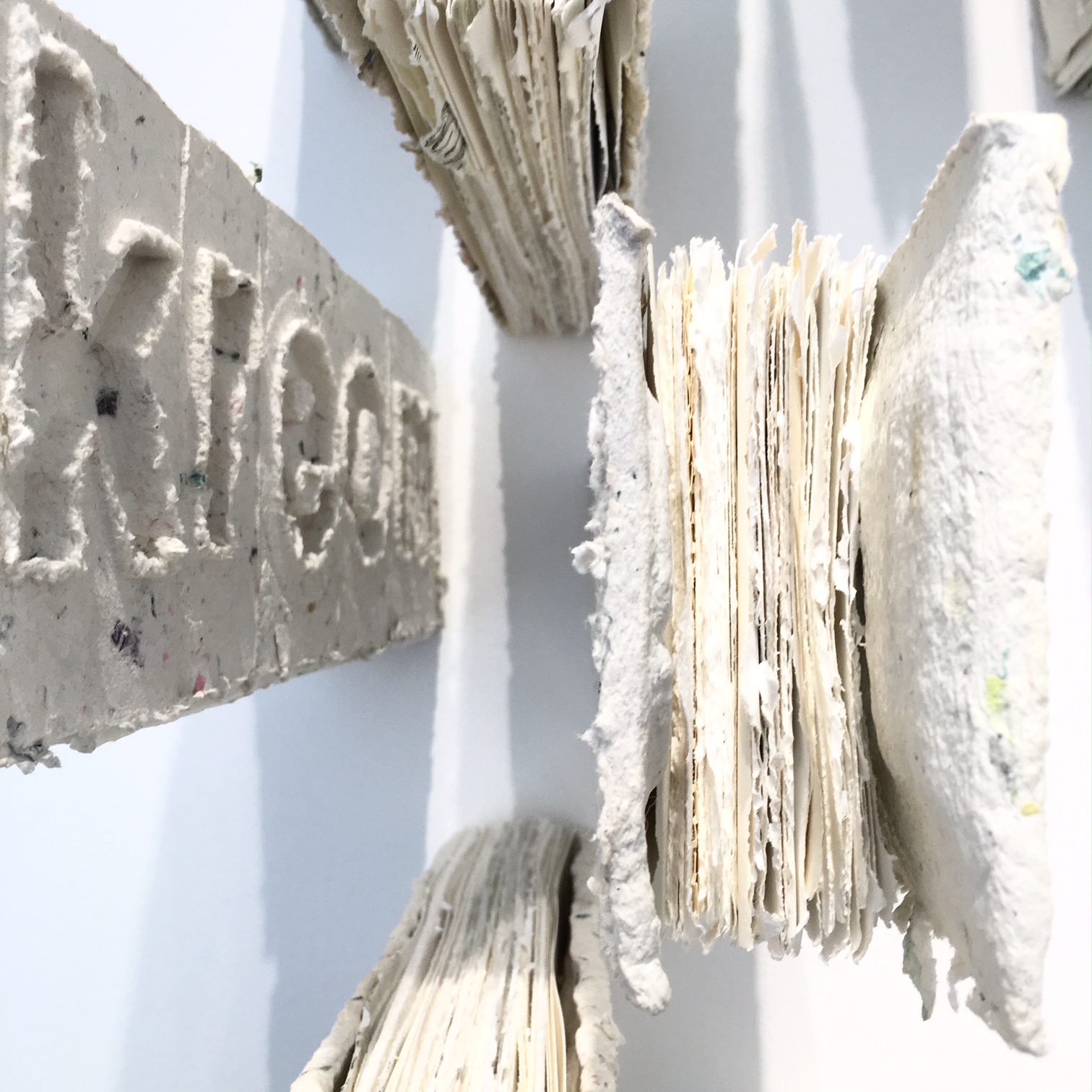 Knebix, Delaney Smith in Fibers of Design
Friday, December 4, 2015 at 12 PM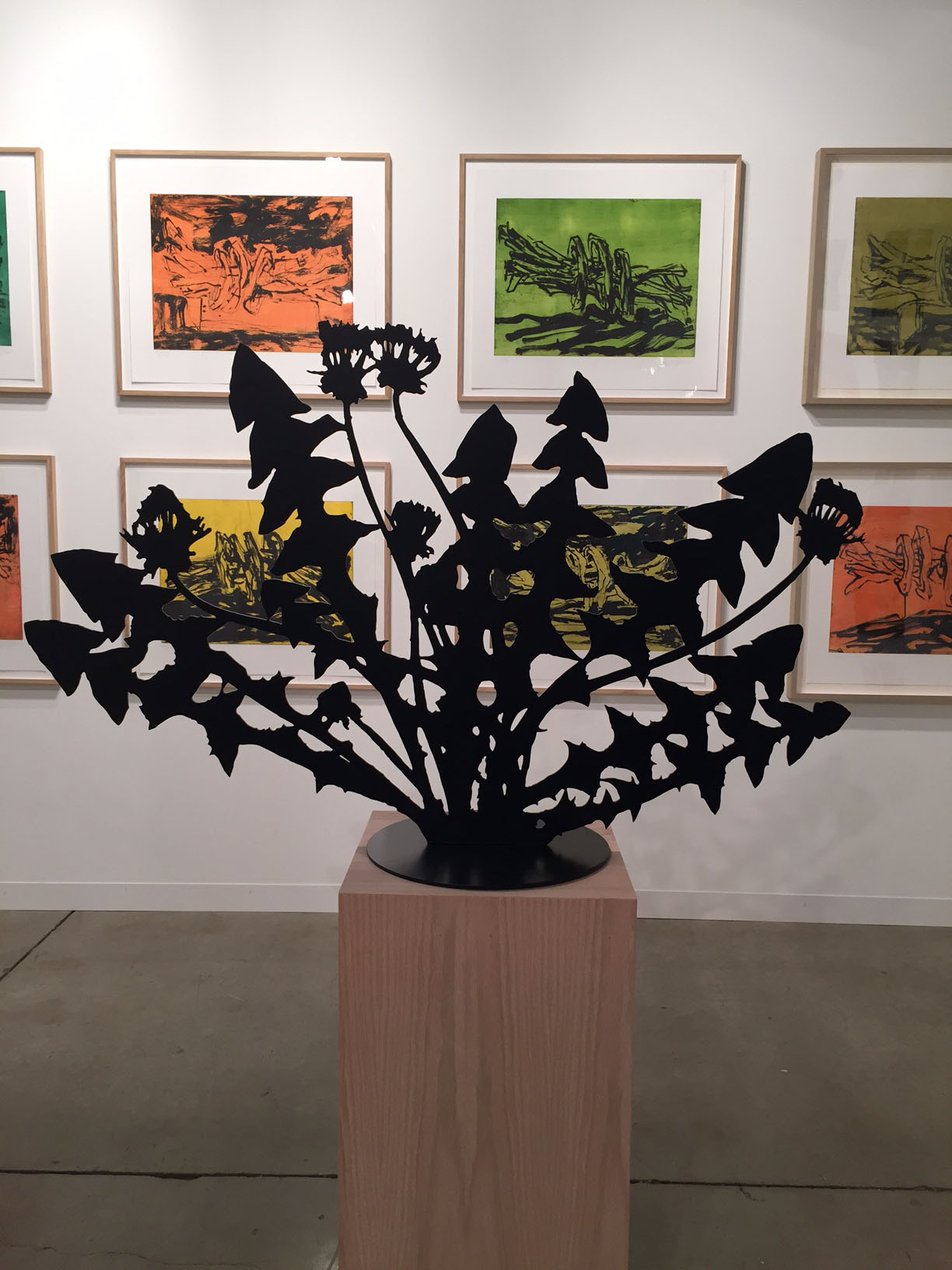 A clever installation of works by Paul Morrison at Galerie Sabine Knust's booth at Art Basel. Sculpture: Dandelion, powder coated steel. Prints: Hesperidium, 2007, woodcuts, Edition of 15.
After 4 days, 8 art fairs, and nearly 700 gallery booths, we are eager to report a selection of the many impressive artworks on view in Miami this week. Reflecting back, we picked up on a recurring theme that we see as a sign of the times: many artists are creating work that evidences the ubiquitous presence of technology in society, while others are returning to handmade traditional craft media such as ceramic and textile. Here is selection of our favorite finds from Art Basel, Untitled, Pulse, NADA, and Miami Project.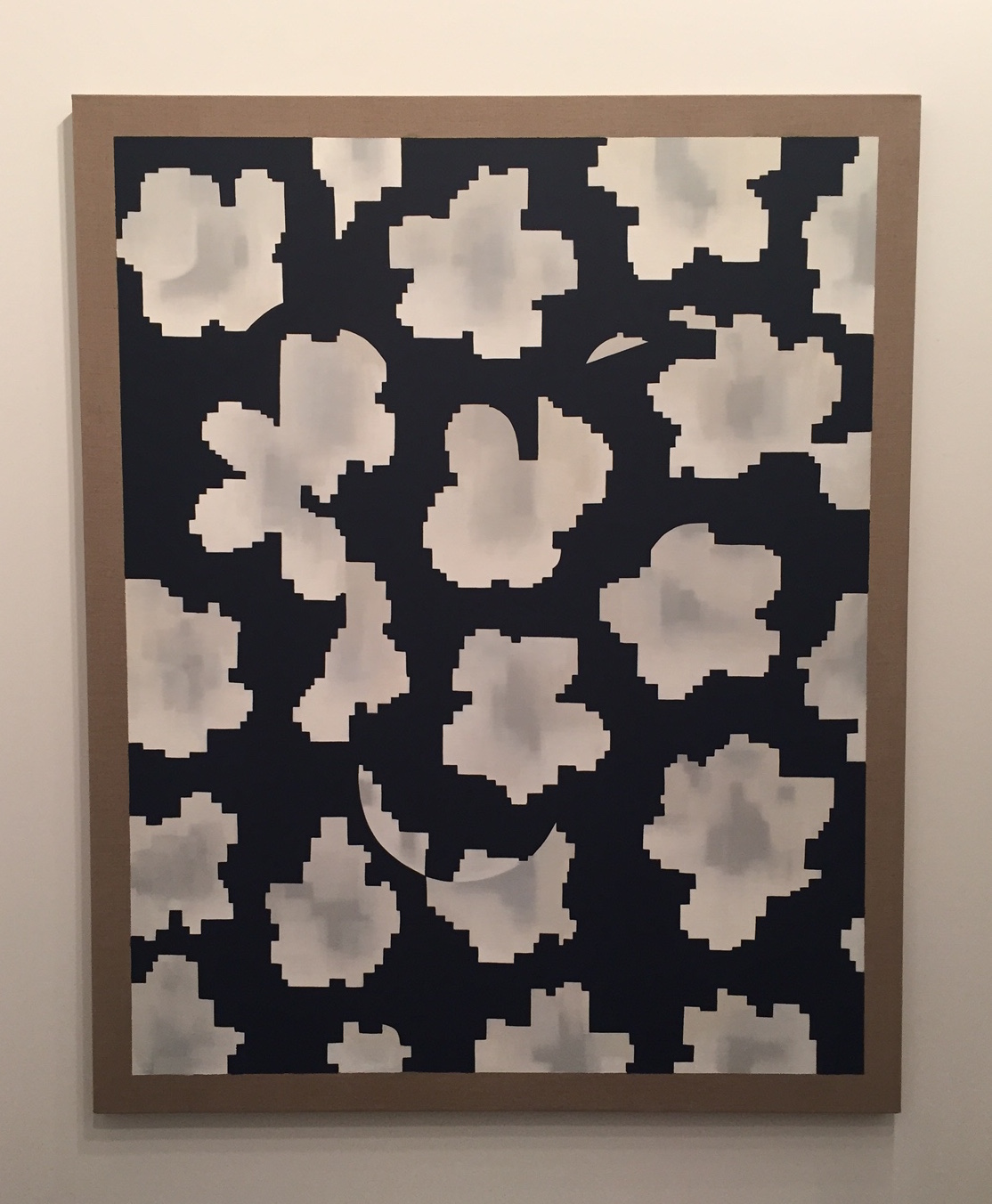 Digitally inspired work by Laeh Glenn on view in Altman Siegel's booth at NADA. Flowers, 2015, acrylic on linen.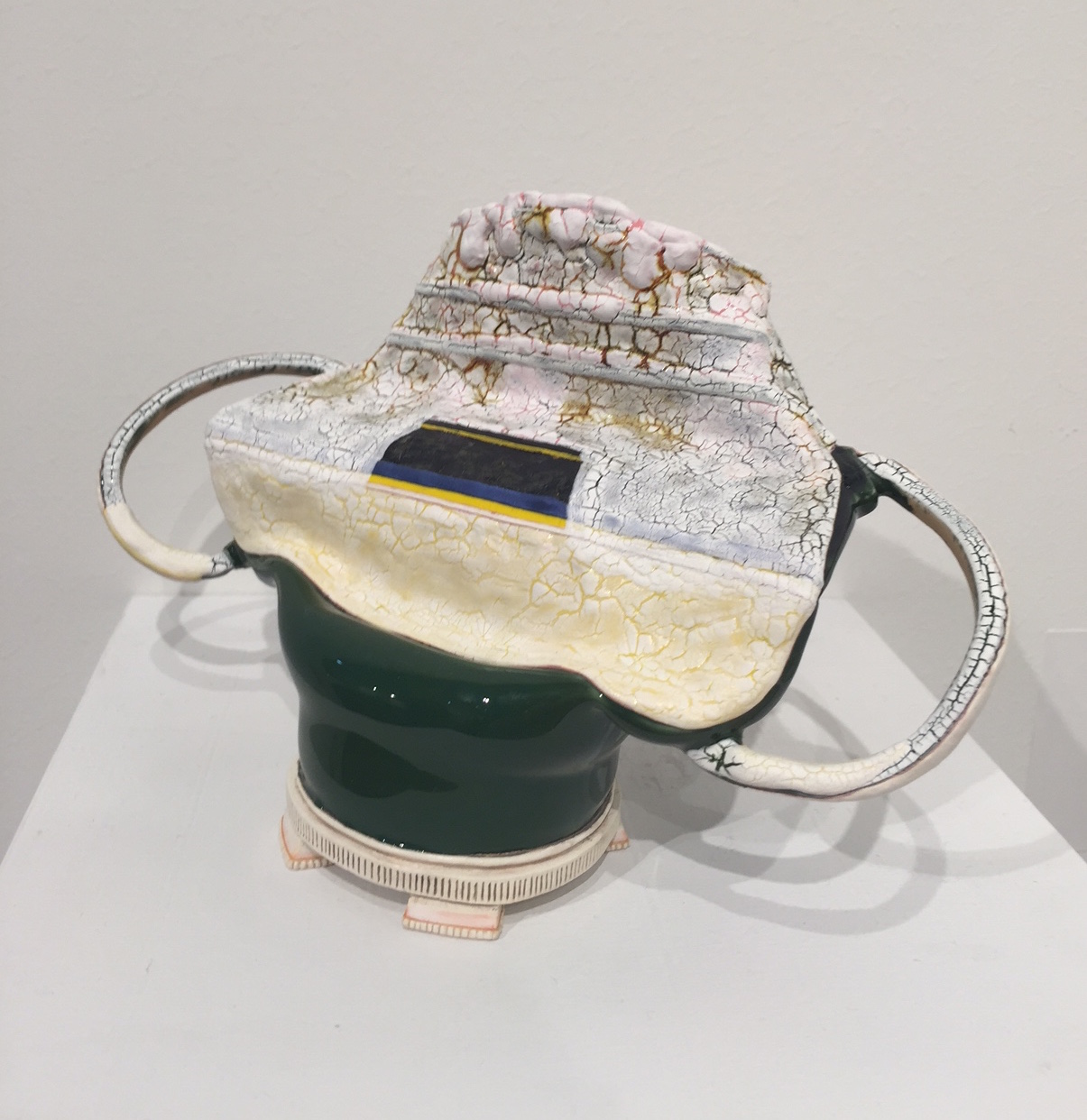 Kathy Butterly, Tangsome, 2015, clay, glaze. Exhibited at Tibor de Nagy Gallery at Pulse.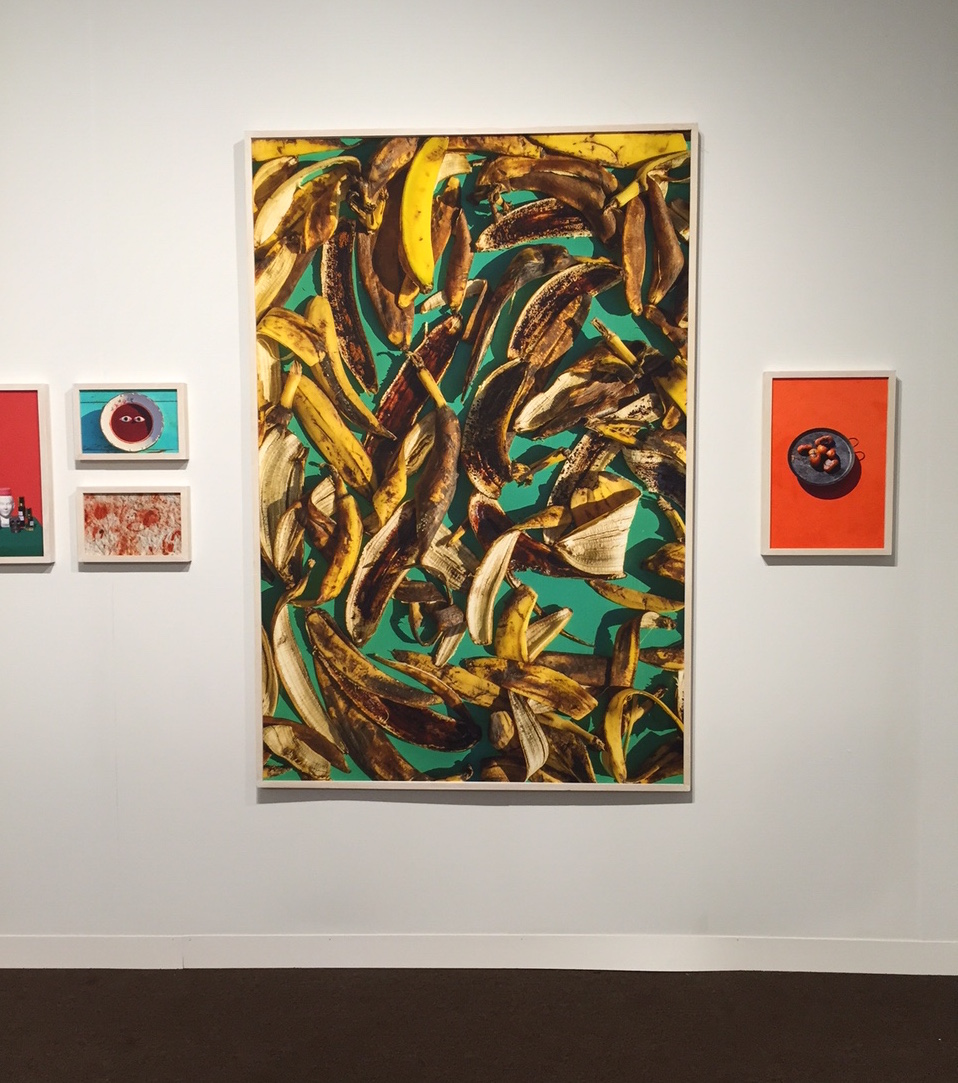 Quirky and mesmerizing photos by Joaquin Trujillo at De Soto Gallery on view at Pulse. Center: Platanos y Café (Mexico), 2015 archival pigment print.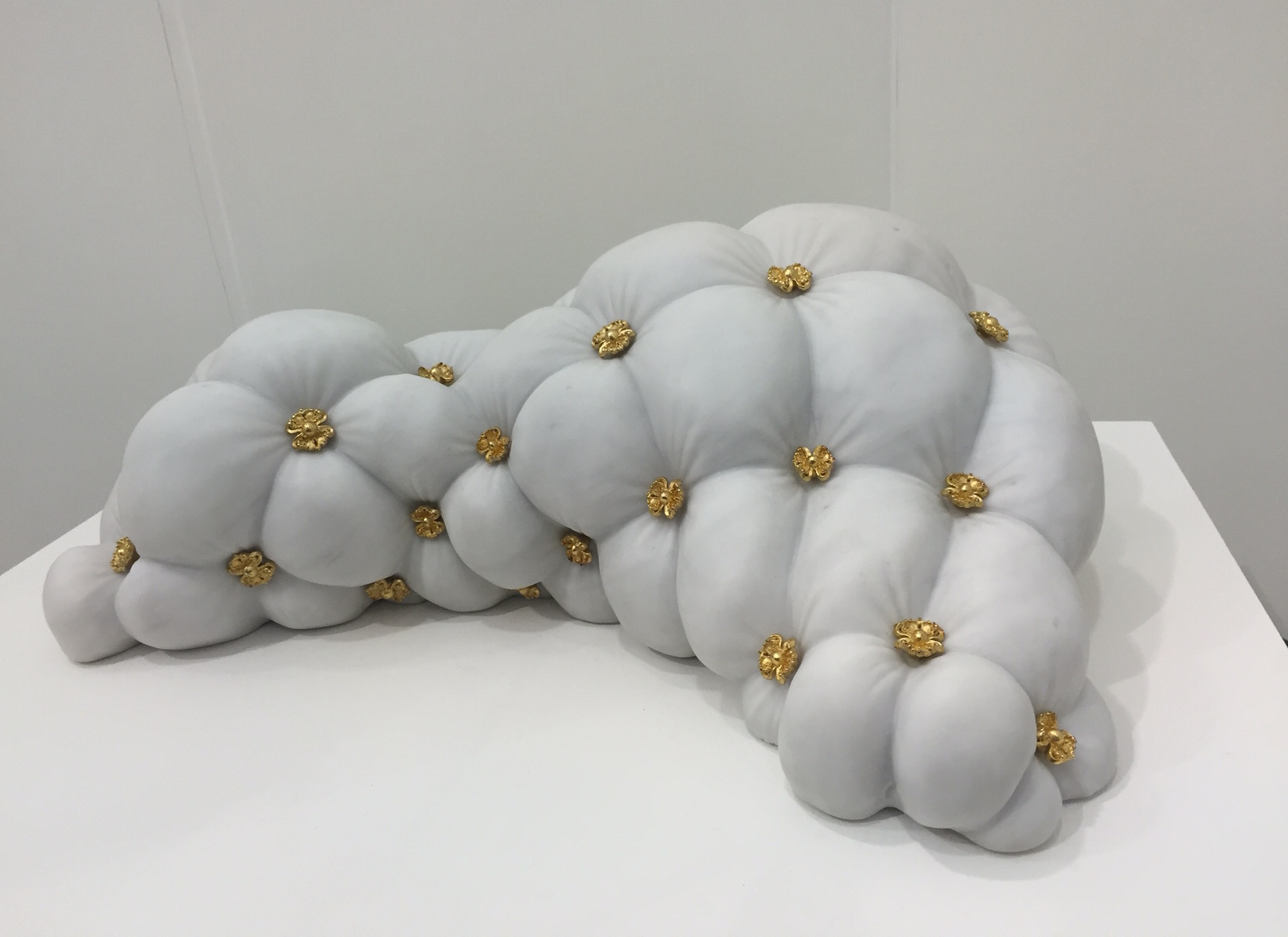 Jonathan Monaghan, Agnus Dei (After Zurbarán), 2015, Carrara marble and 3D printed steel. Bitforms Gallery at Untitled.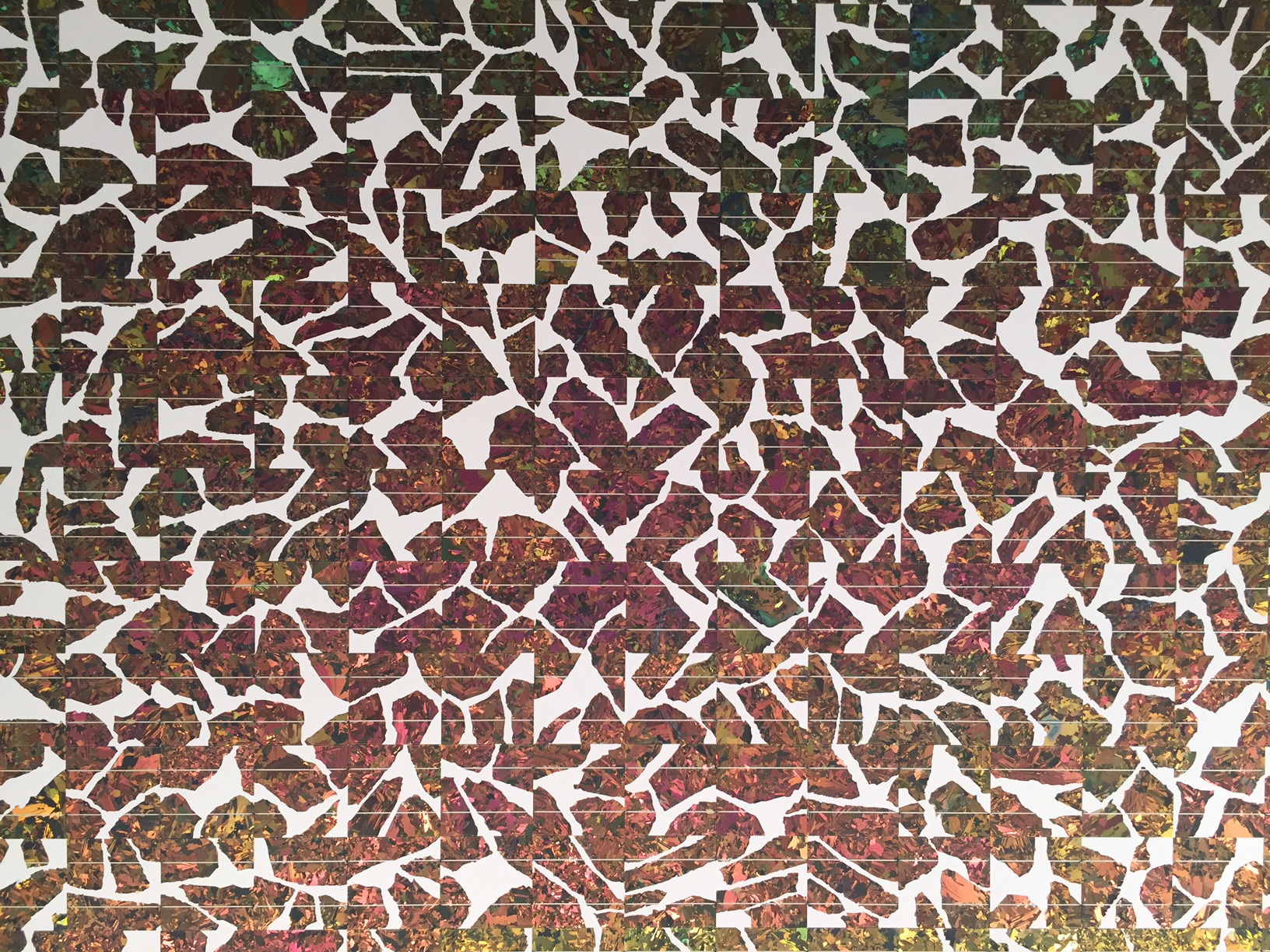 Technology inspired, mixed media work by Allora & Calzadilla in Lisson Gallery's booth at Art Basel. Solar Catastrophe, 2015, broken solar cells on canvas.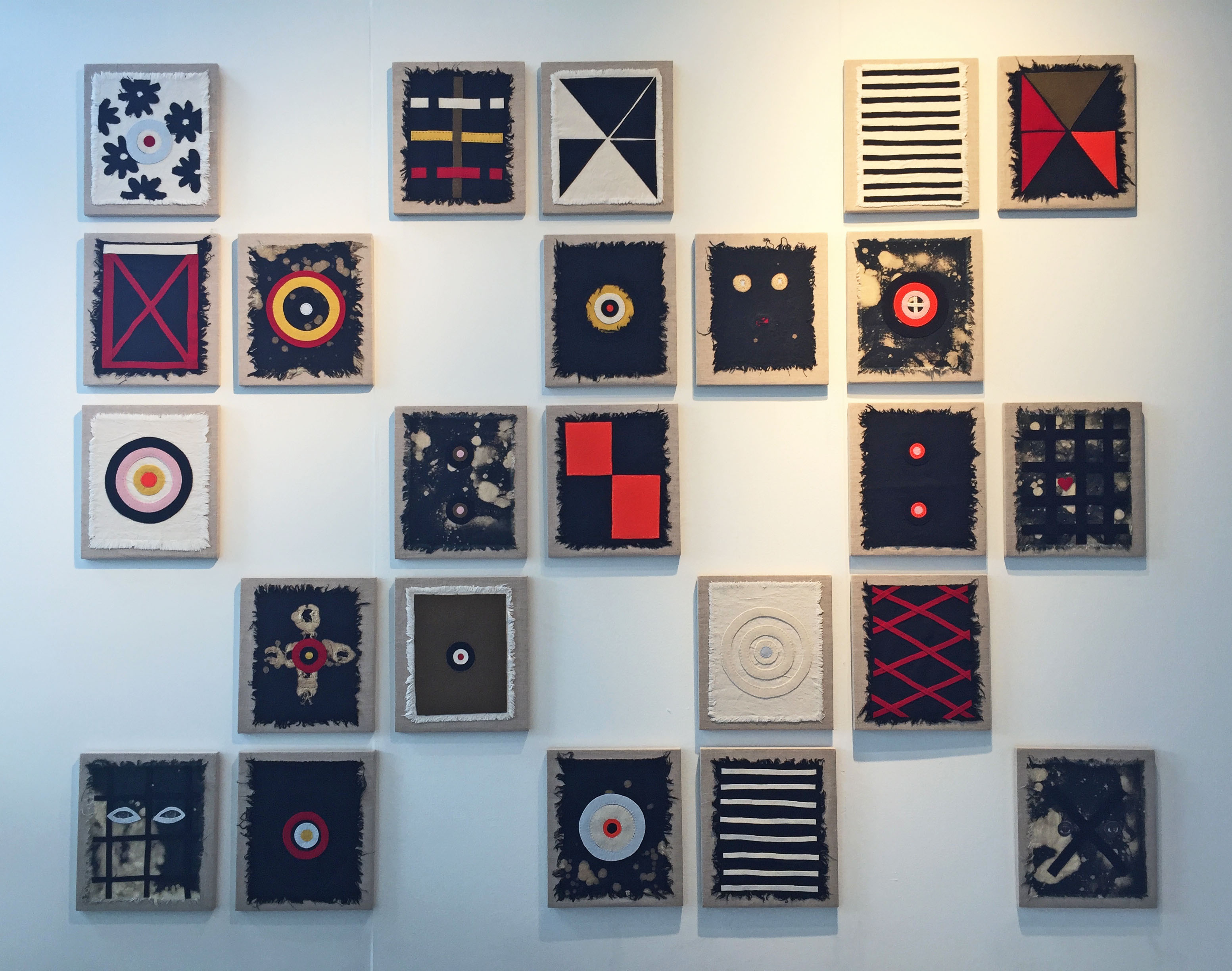 Assorted textile collages by Diana Guerrero-Maciá at Traywick on view at Miami Project. Siblings of the Sun, 2015, wool, cotton, thread on Belgian linen.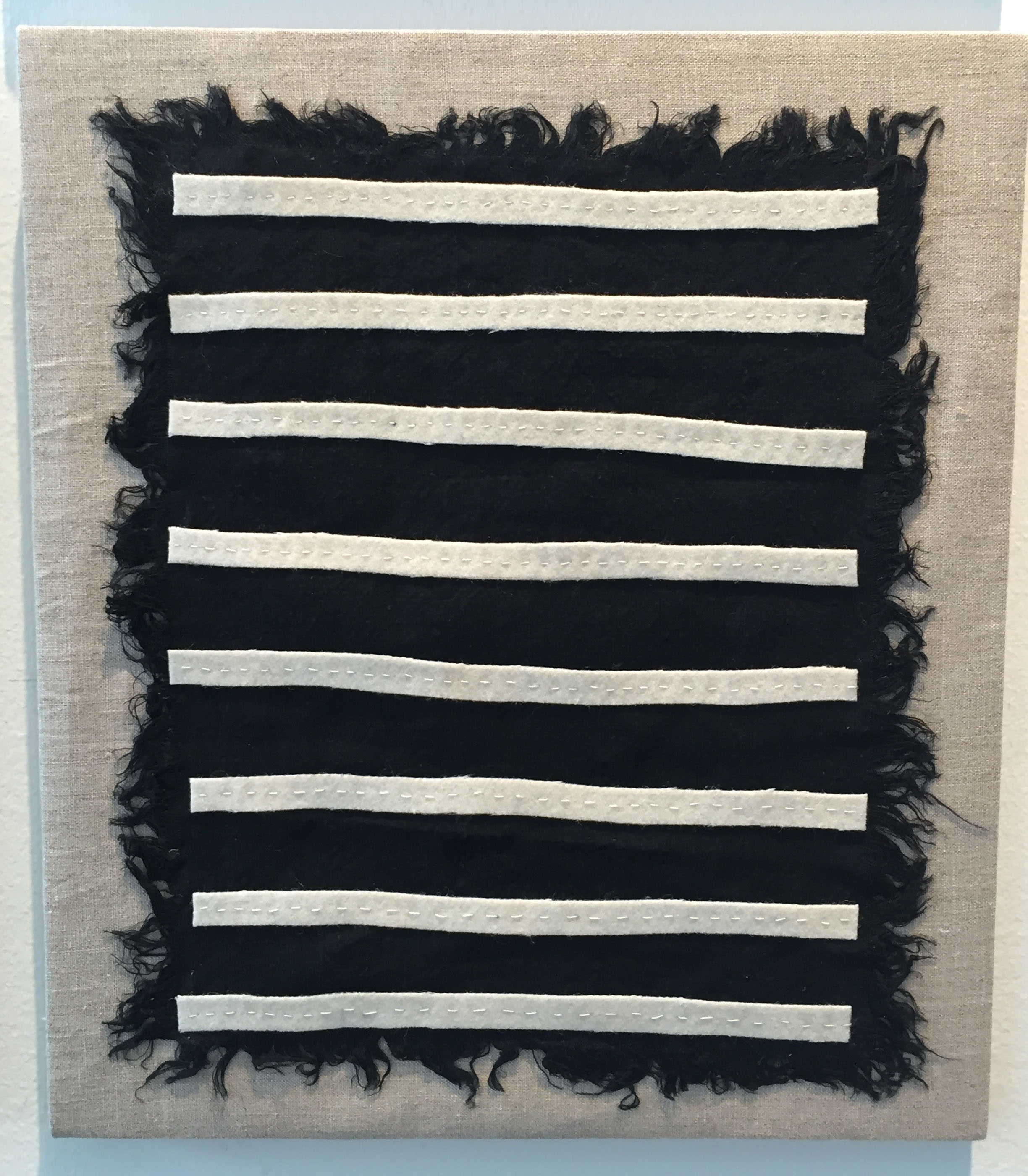 Detail: Diana Guerrero-Maciá, Siblings of the Sun, 2015, wool, cotton, thread on Belgian linen.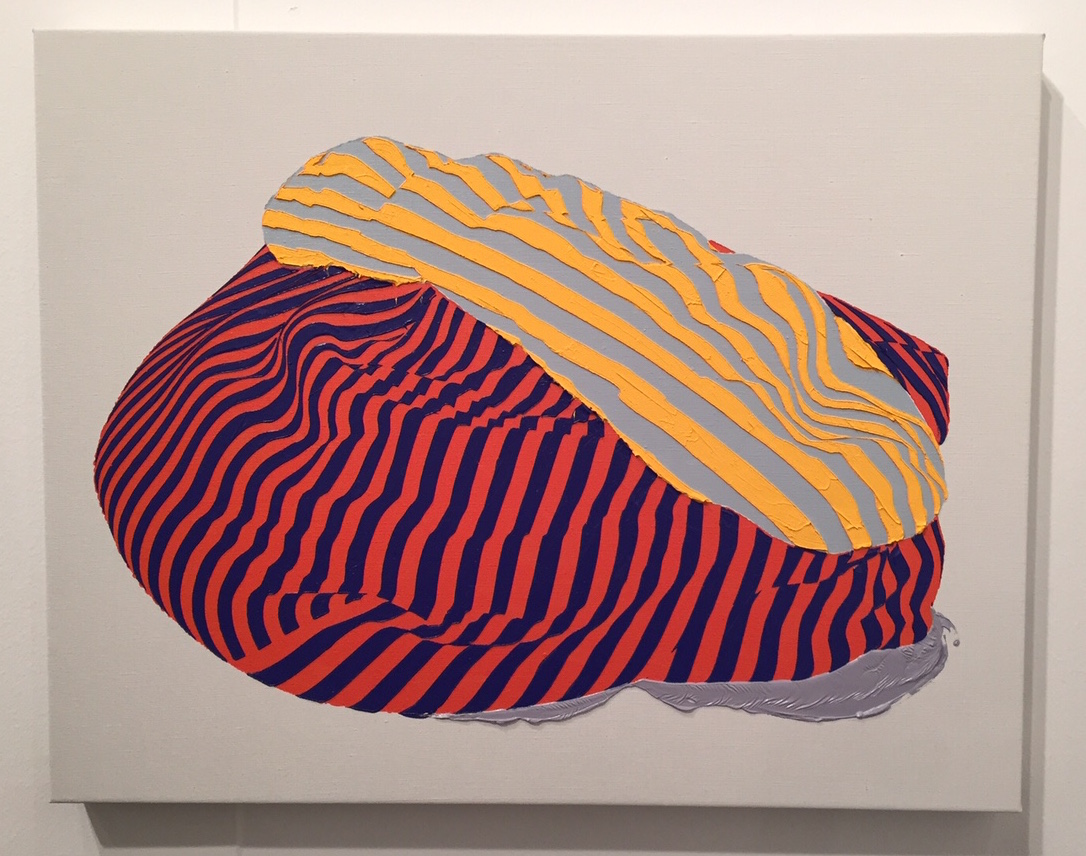 Alex Dodge uses computer generated patterns to create his paintings. Belfast, 2015, oil on canvas. On view at Klaus von Nichtssagend Gallery at NADA.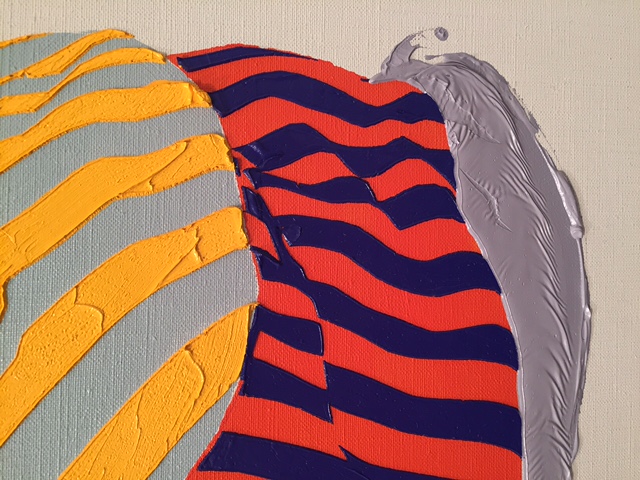 Detail: Alex Dodge, Belfast, 2015, oil on canvas.