Wednesday, October 21, 2020 at 1:50 PM
VISIT US IN NEW YORK!
KAC has boots on the ground in the big apple! Bet you didn't know that our very own, Kimberly Landa has been operating in New York for almost two years covering projects for Kinzelman Art Consulting? We thought it would be fun to catch up with her about officing in the city, navigating NY during COVID and how she's managing to access incredible art for our clients.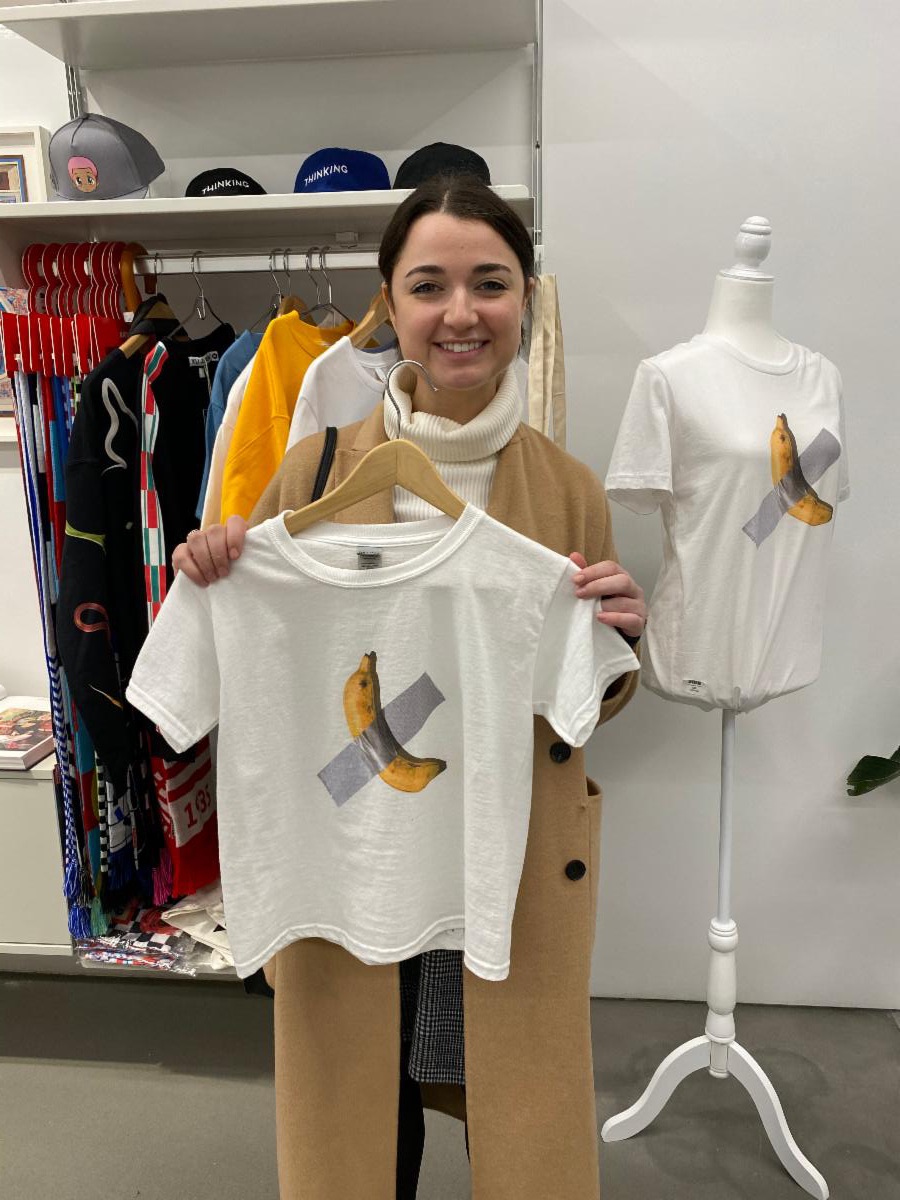 Kimberly @ Perrotin Gallery Gift Shop
Q&A:
Q: You relocated to NYC prior to the pandemic, how has your experience in the city changed during this time and how do you manage to keep work going?
A: Watching the pandemic work its way through the city was a wild experience. Witnessing nightly 7pm applause, a dead empty Broadway Street, protests and riots, then boarded up windows covered in fresh street art made me appreciate the resilience of New Yorkers. Despite the circumstances, it was cool to experience the city in a different, quieter way without the buzz of my busy schedule. Now it feels like NY is getting its groove back, and as hard as some days were, I think I've earned some street cred by toughing out the majority of 2020 here!
The key to my tiny apartment-office lifestyle is spending as much time as possible outside, even if it's for 10 minutes to drink my coffee or between calls. Also, infusing life into my space with my tiny art collection makes my "home office" way more bearable. Lastly, I make a conscious effort to move around my apartment frequently to change it up. Big things happen for KAC when I move from my kitchen table to the couch!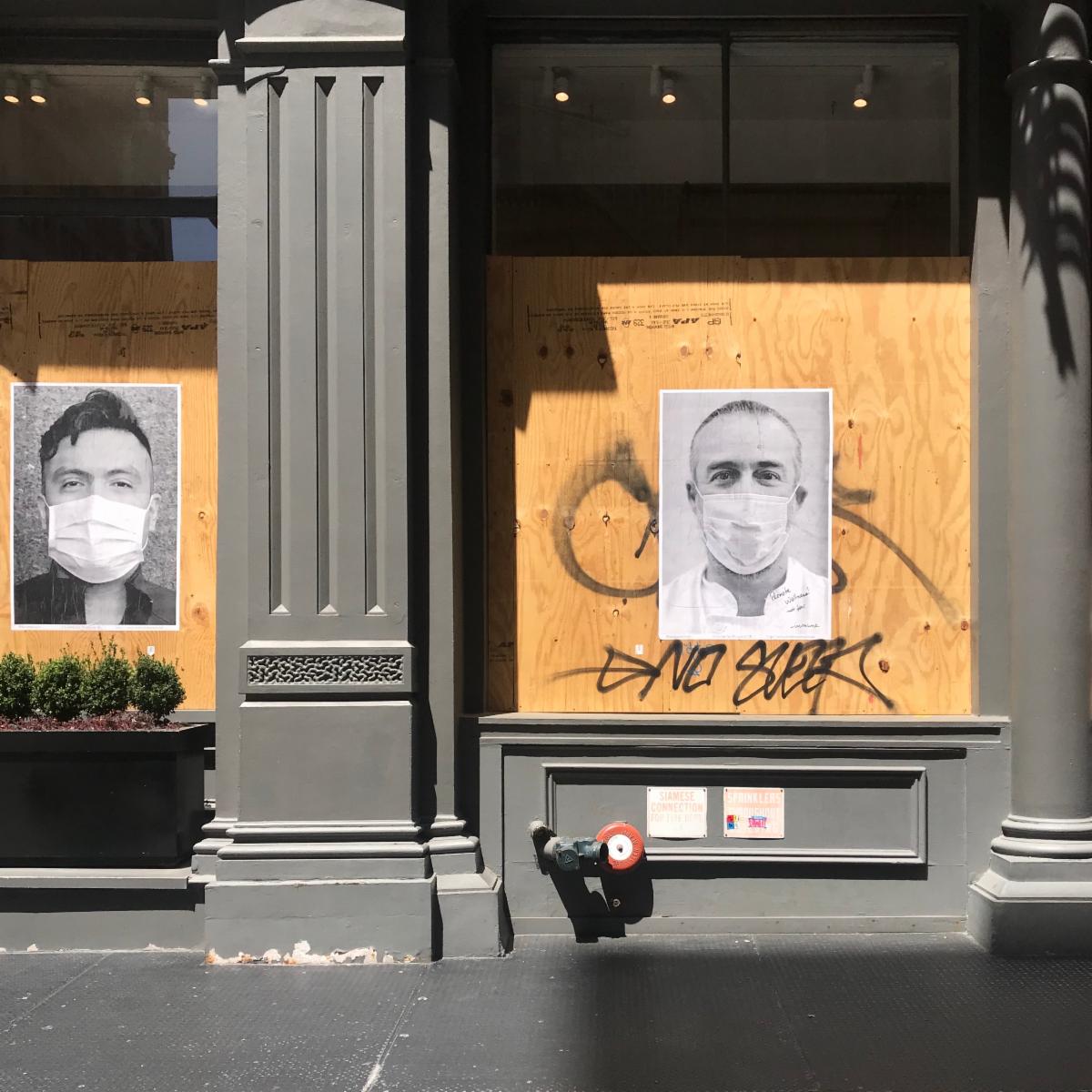 Bloomingdales windows mid-pandemic
Q: Now that galleries and museums are slowly opening, accessing art exhibitions first hand must be a welcome respite. How are you feeling about seeing art in person again after being separated from the gallery scene for so long?
A: I swear I didn't feel human again until I reentered The Whitney last month! Previously, my weeks were packed with openings and gallery appointments. There was never a dull moment and my mental art inventory and iPhone camera roll were always growing at an exponential rate. When the world screeched to a halt in March it was definitely a transition.
I recently attended Tribeca art night and saw a handful of shows in Chelsea. Now I'm far less concerned with my schedule, and spend more time engaging in conversation and really being present with the work. I used to try to pack it all in, and now I am okay with seeing less in a day but having a more meaningful experience. It's hard to top the convenience of speed dating with artwork via online viewing rooms in my slippers, but I really missed the human element, and the irreplaceable experience of stepping into a bright airy gallery and having an instinctual first reaction to a show.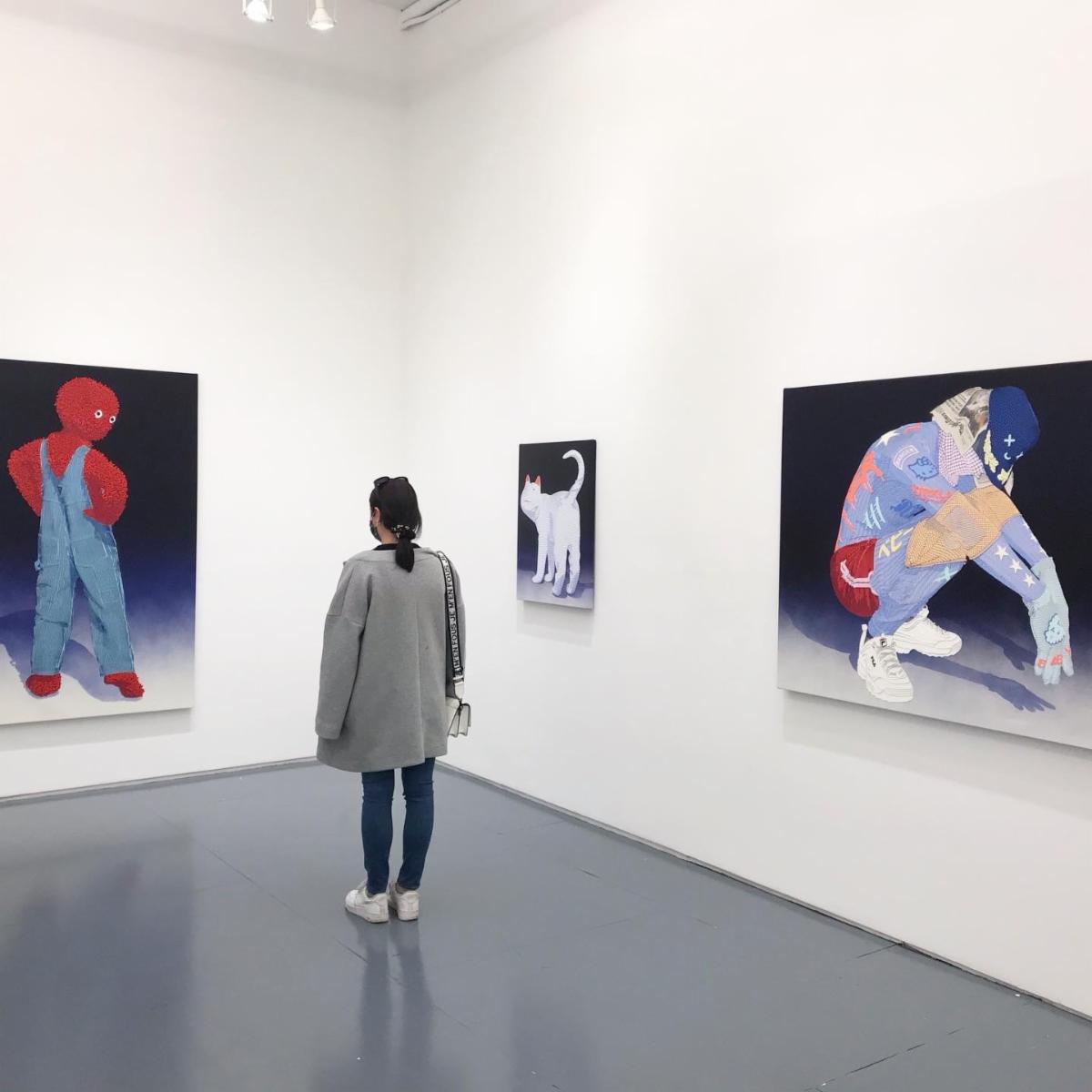 Kimberly at Alex Dodge exhibition at Klaus Gallery, LES
Q: How has living in NY shaped the way you service our projects?
A: I like to say I used to have a long distance relationship with the NY art scene, and now I do with our Texas-based clients. Aside from the obvious answer that I live in the center of endless art opportunities for our projects, moving here pre-pandemic definitely gave me a jump start to working remotely and relying on technology and zoom to manage projects, a way of working we didn't know would soon be universal!
Q: Can you describe a project that has directly benefitted from you being in NY?
A: Recently, a client of ours had trouble deciding between two artworks that were at a show in Chelsea. It was so convenient (and fun) to have the luxury of hopping over to the gallery in minute's notice to study them further and help our client make a final call. I sent videos in the space to our client so she could understand the scale and texture better, then we had a discussion while I was at the show to make a quick decision based on my first hand experience with both artworks. A decision that can take numerous phone calls and email exchanges was made in just a few minutes, and enriched my work day! We also have a handful of clients with global collections, which result in much easier management of the the New York collections now that I am here and ready to go when something comes up.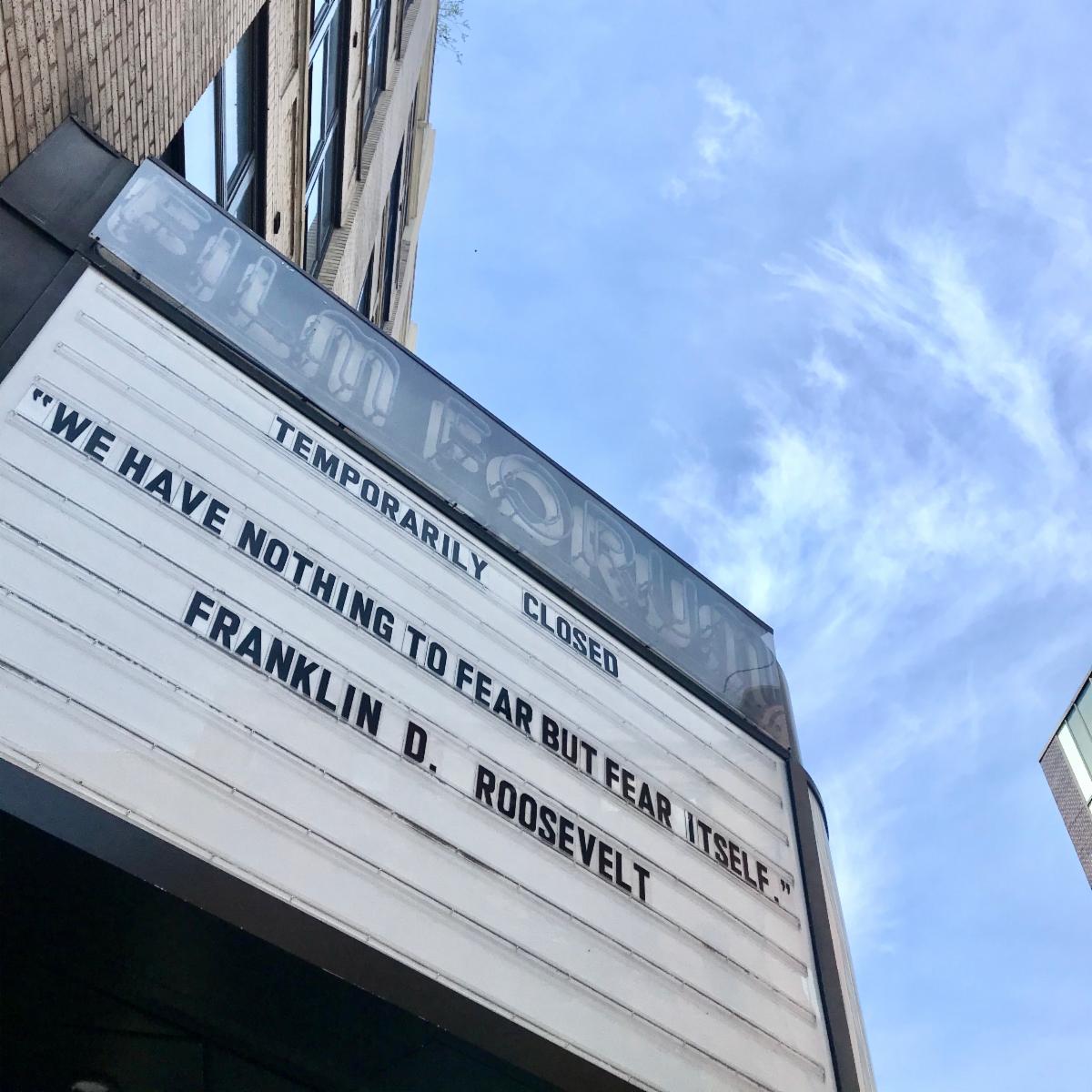 Film Forum in Chelsea, mid-pandemic
Q: Got any funny or peculiar stories about life in NY?
A: There are so many I could truly write a book. I tend to be a magnet for peculiar stories, which is only amplified living in the ultimate city of unpredictability. Most recently, I had to hire a "couch surgeon" in order to fit my beloved pink couch into my new apartment because the entrance to my building was too narrow. I drove his car around so he could avoid parking expenses while he deconstructed my poor couch on the sidewalk to it's bare bones, and completely rebuilt it inside of my living room within an hour. I've since learned that couch surgeons are not uncommon here.
The real kicker was the close proximity of my building entrance to the neighboring, very nice restaurant. I'm sure it really glorified the NYC outdoor dining experience to enjoy a lovely sushi meal alongside an invasive couch surgery!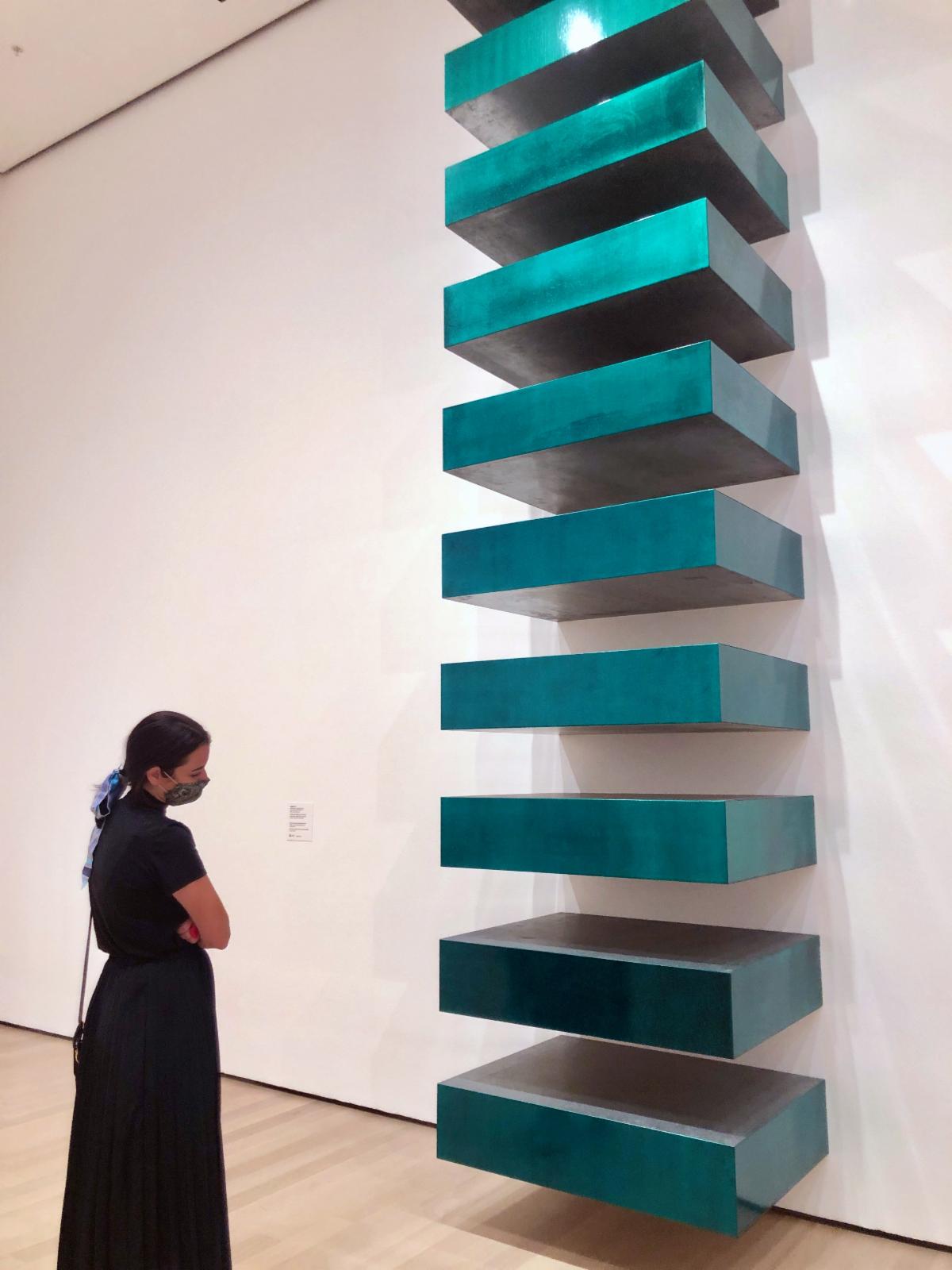 Kimbelry at Donald Judd show, MoMa
Tuesday, April 25, 2017 at 2:31 PM
Strikingly articulate and exceedingly experimental, artist Gabriel Dawe is breaking down barriers of a traditional male Mexican artist as he constructs geometric and fantastical illusions through the use of textile and thread. KAC had the pleasure to meet with Dawe in Dallas during his residency at Fairmont Hotel. Located in the bustling art district of downtown Dallas, Dawe innovatively transformed his temporary studio space into a colorful and dynamic solo exhibition.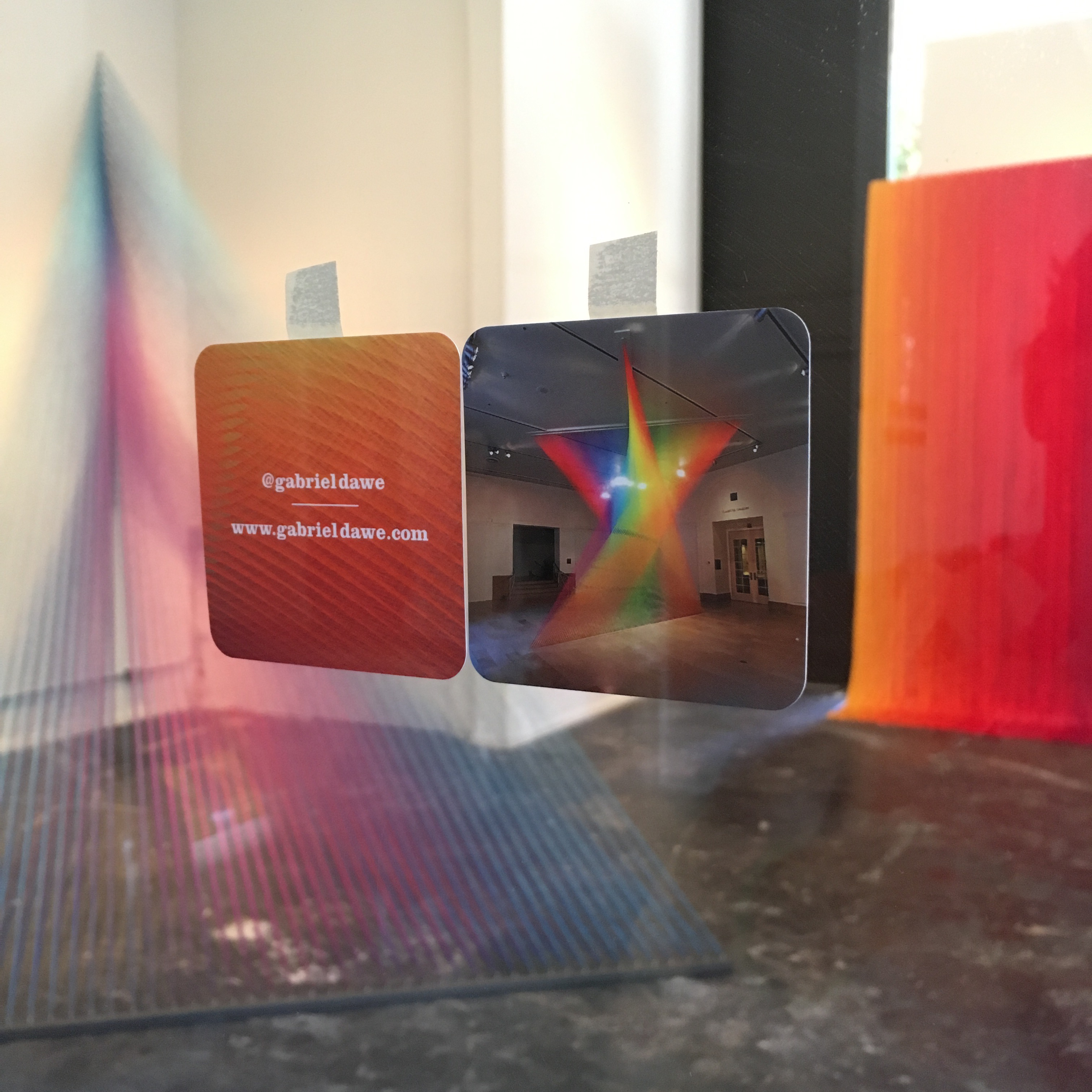 Dawe's studio at Fairmont Hotel in Dallas, Texas
Responding to the architecture and environment, Dawe's installations become an open dialogue between art and space. While this process creates unique, site-specific works of art, there is a found unity throughout his collection. Every installation is developed from the full color spectrum, resembling light rays. Only experimented once before, the installation presented in Dallas, explores the cooler side of the spectrum, staying exclusively with blues, violets, and shades of pink. Here Dawe begins to omit part of the color spectrum, a preliminary investigation into the absence of color. This new departure is one he addresses further in his current exhibition "Plexus 37" at Conduit Gallery.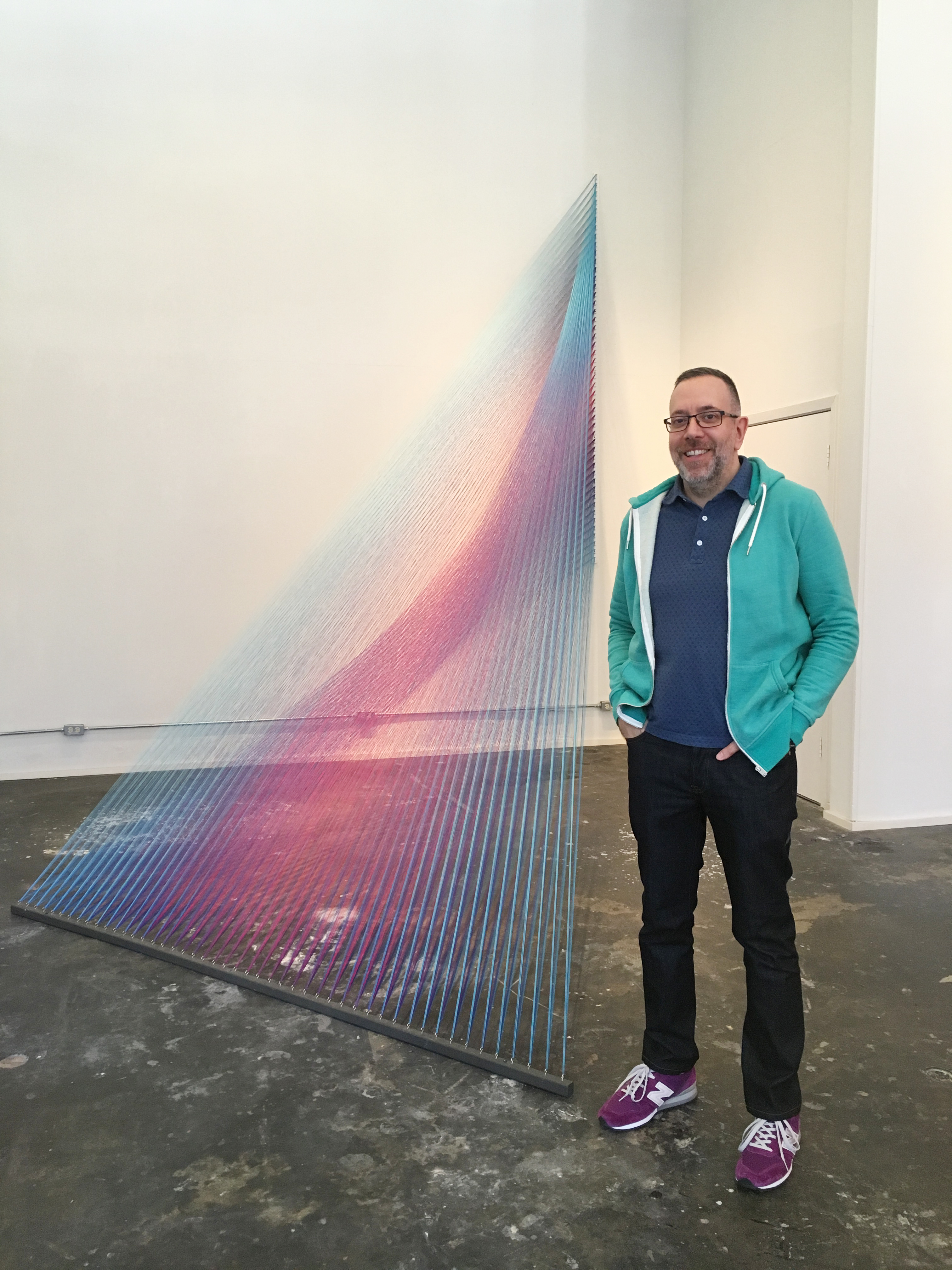 Dawe in front of his site-specific installation
Living and working in Dallas, locals have come to familiarize themselves with Dawe's brightly colored thread installations. Therefore he decidedly turned a 180 in his recent endeavor by masterfully abandoning color through the use of gray, silver, and black threads. The viewer is forced to see beyond the spectrum, cerebrating this omission to be not an act of defiance against that traditionally associated with color, but perhaps as a "silver lining" on what is next for the renowned artist and his forthcoming work.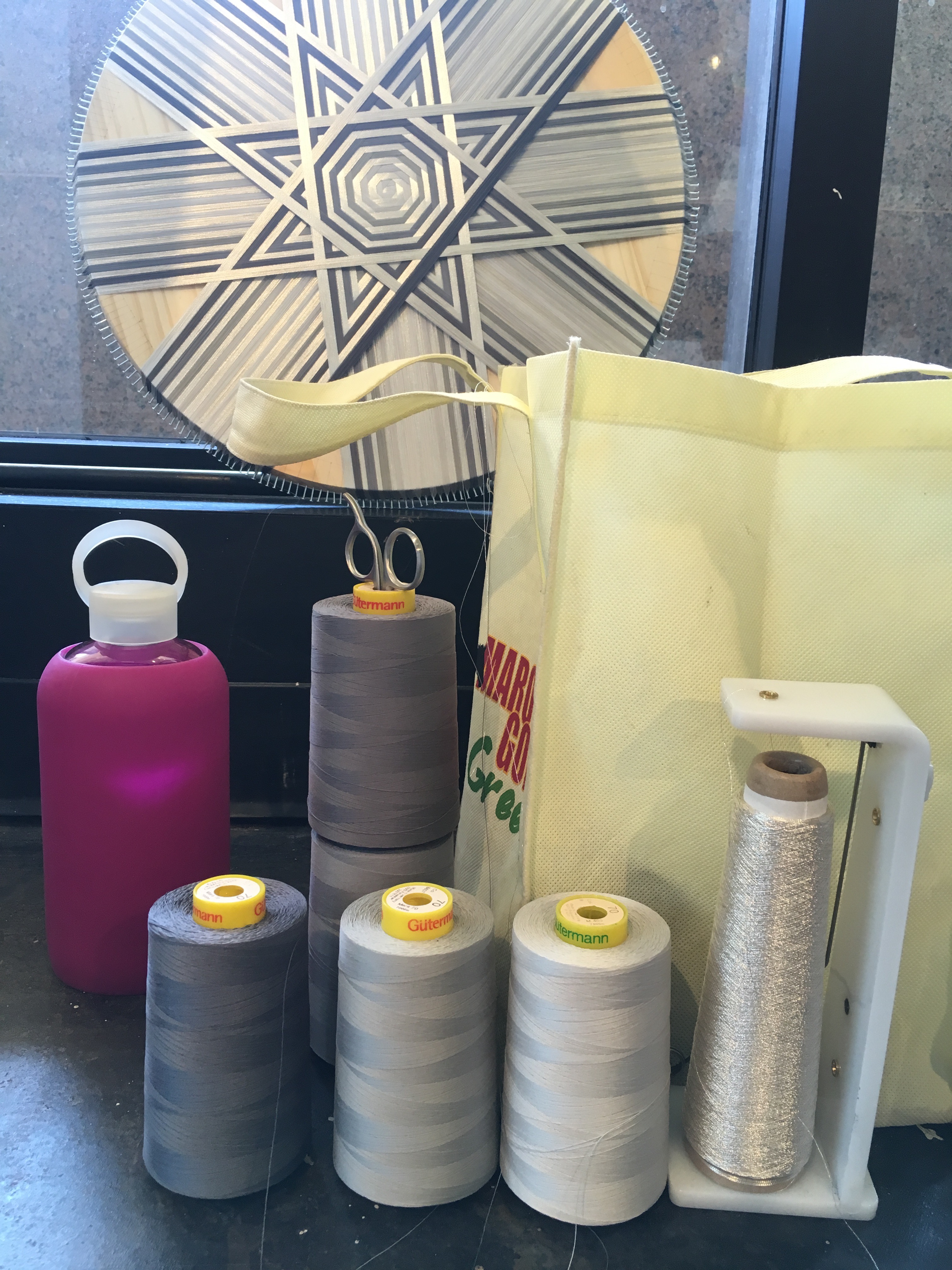 Spools of silver thread in front of a work in progress
Gabriel Dawe is represented in Dallas, Texas by Conduit Gallery. Dawe is on view now with Conduit Gallery through May 13, 2017.
Friday, February 3, 2017 at 9:21 AM
Portland based artist Elizabeth Atterbury talks art, inspiration, and the transition of being a new mother with KAC in our latest Interview Interview.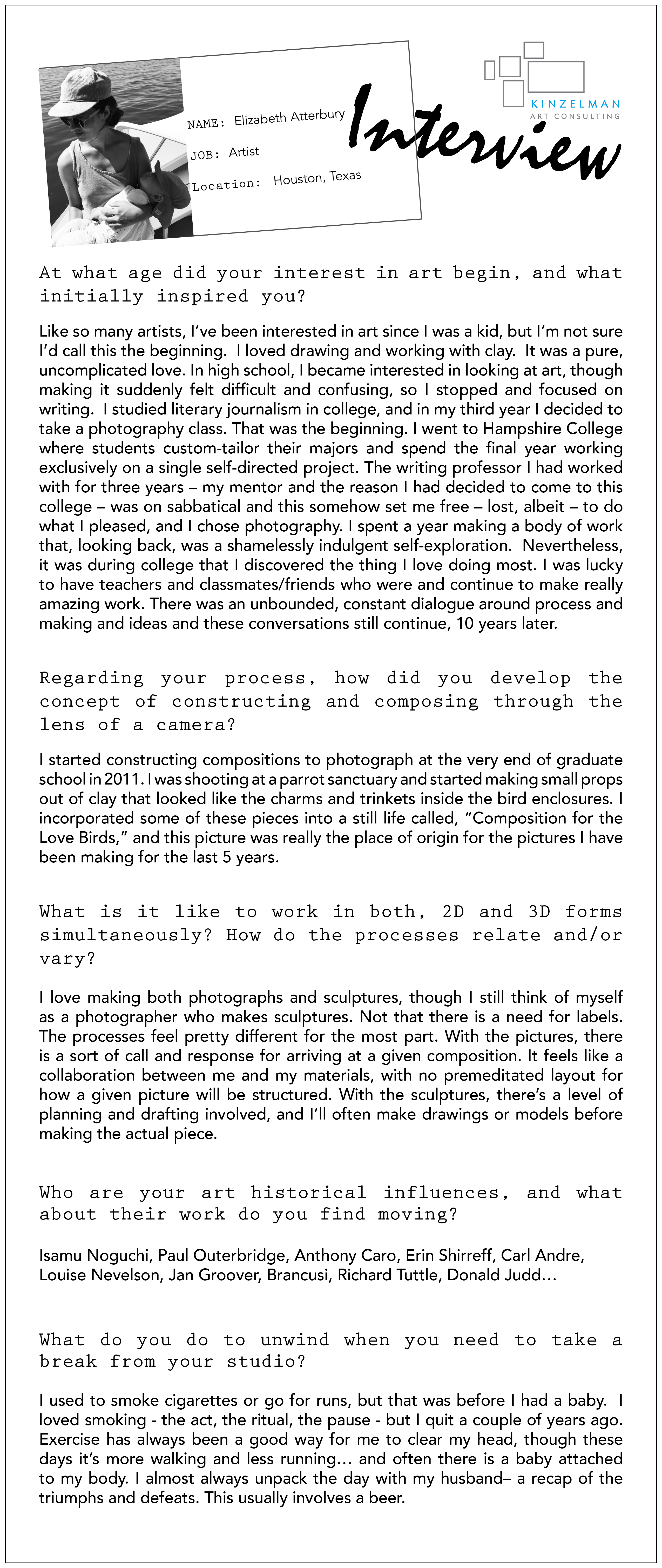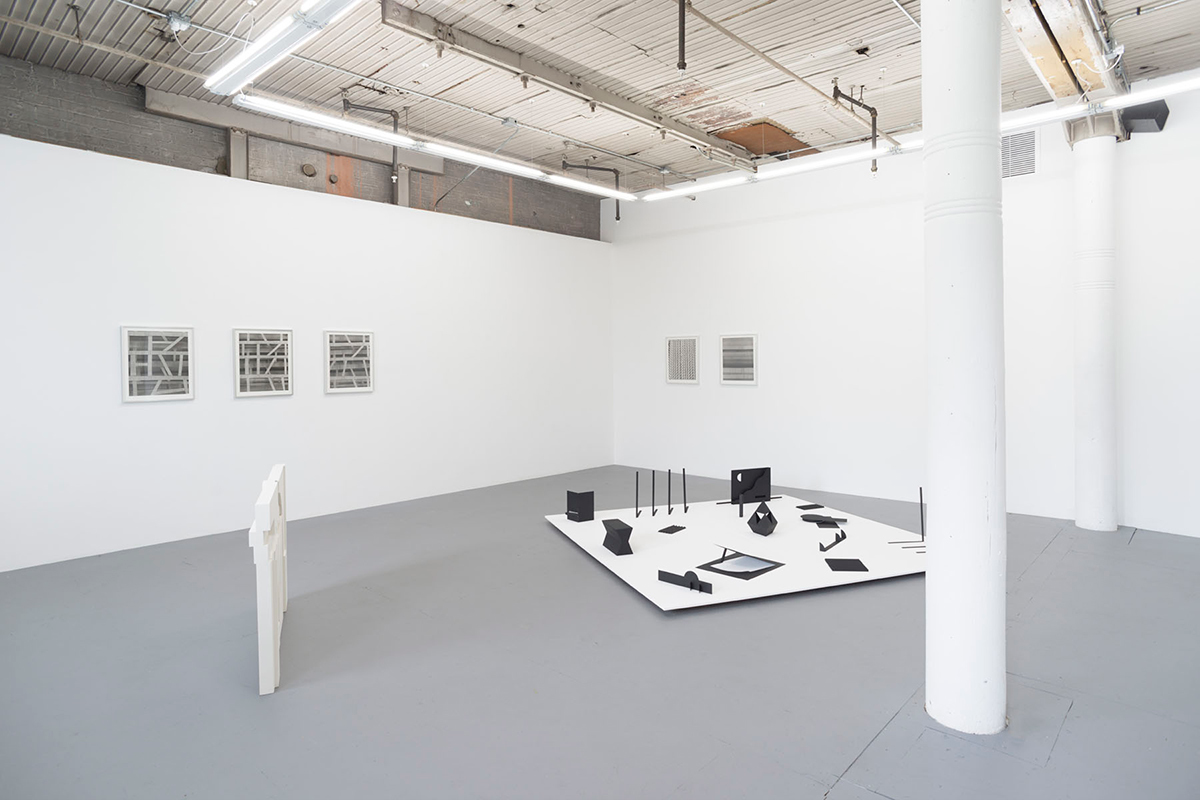 Elizabeth Atterbury, "Happy Sunny Jade" 2016, installation view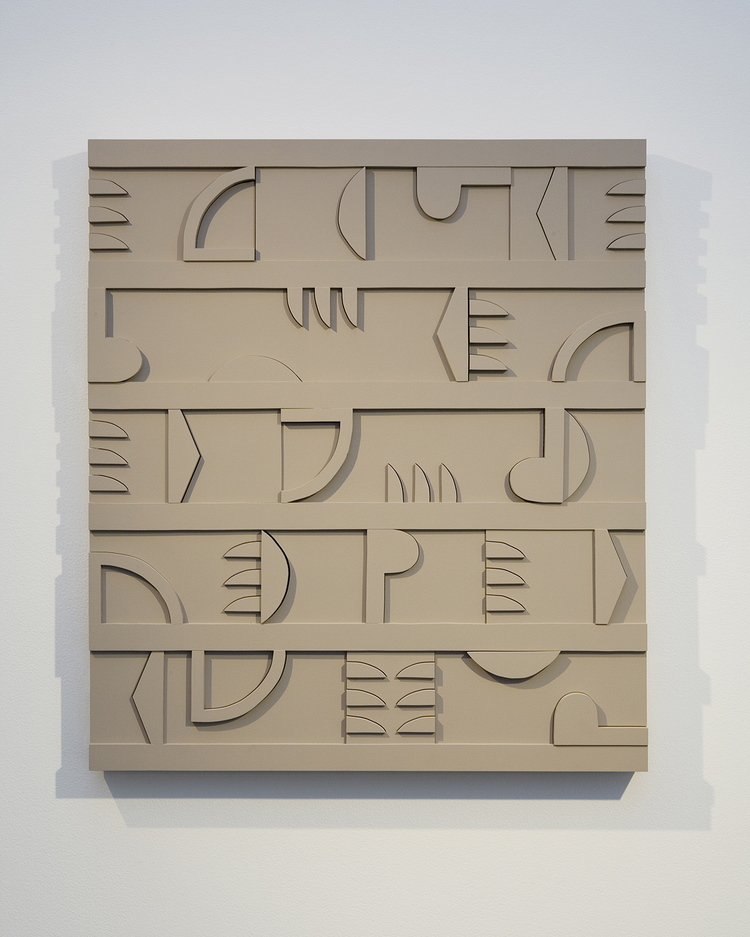 Elizabeth Atterbury, "Relief (Studio Taupe)," 2015, MDF, paint
Friday, January 13, 2017 at 10:59 AM
Myke Venable's work investigates the infinite potential and purity in shape indicating a visual representation of his own paired-down universe. From detailed sketches in an open notebook on the worktable to mathematical drawings tacked to the wall, Venable's studio is a perfect diagram of his working and theoretical process. During our visit, KAC viewed Venable's newest body of work and saw how his paintings have evolved into what they are today.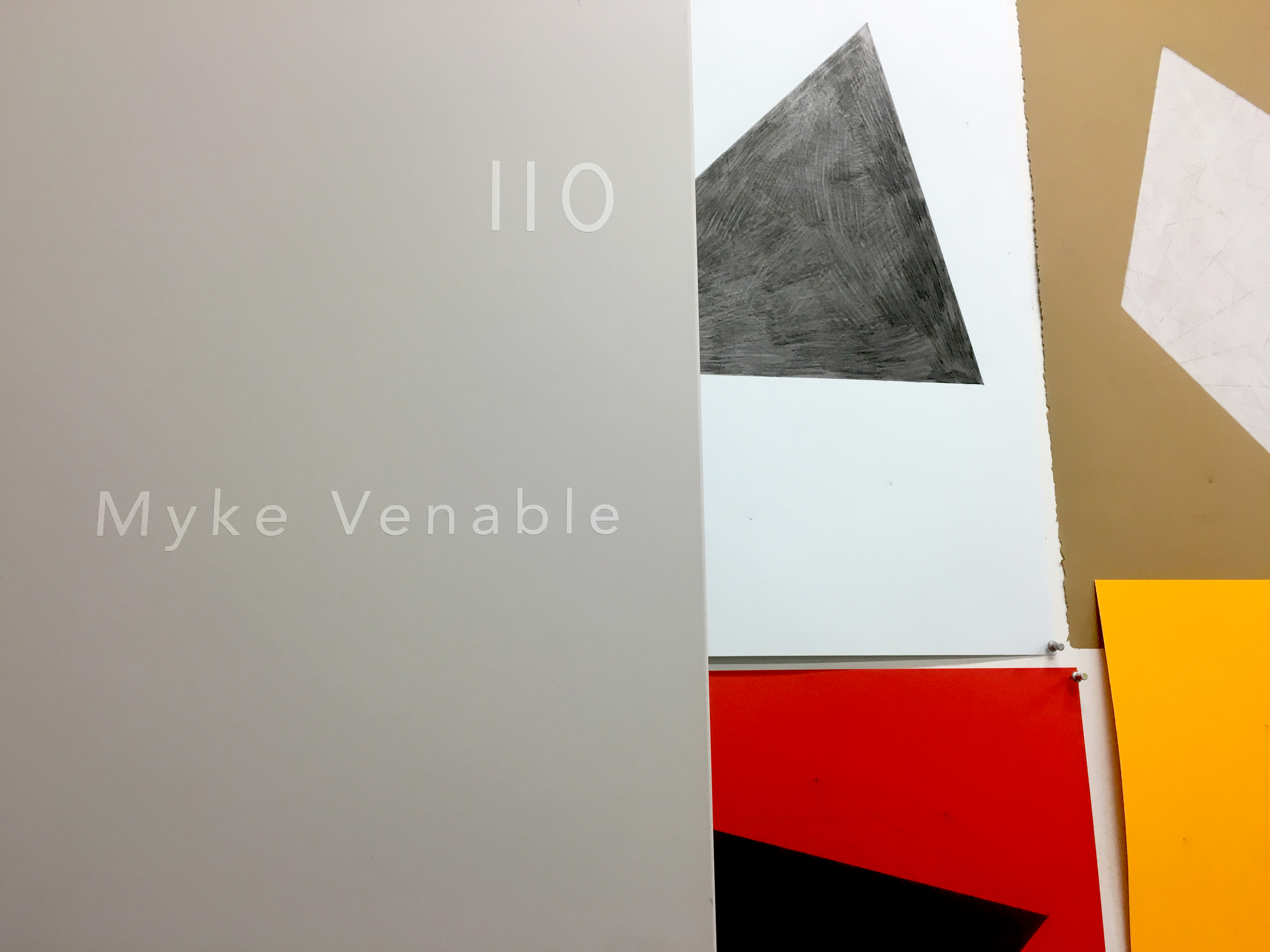 Door to Myke Venable's studio space
While teaching at The Art League in Houston, Venable rediscovered his love of drawing. He has since dedicated one of the largest walls in his small studio to colorful geometric explorations, mapping out on paper his ongoing study of the complex relationship between shape and color. While he views his drawings as independent works, they also serve as inspiration for shaping his large canvas and panel paintings.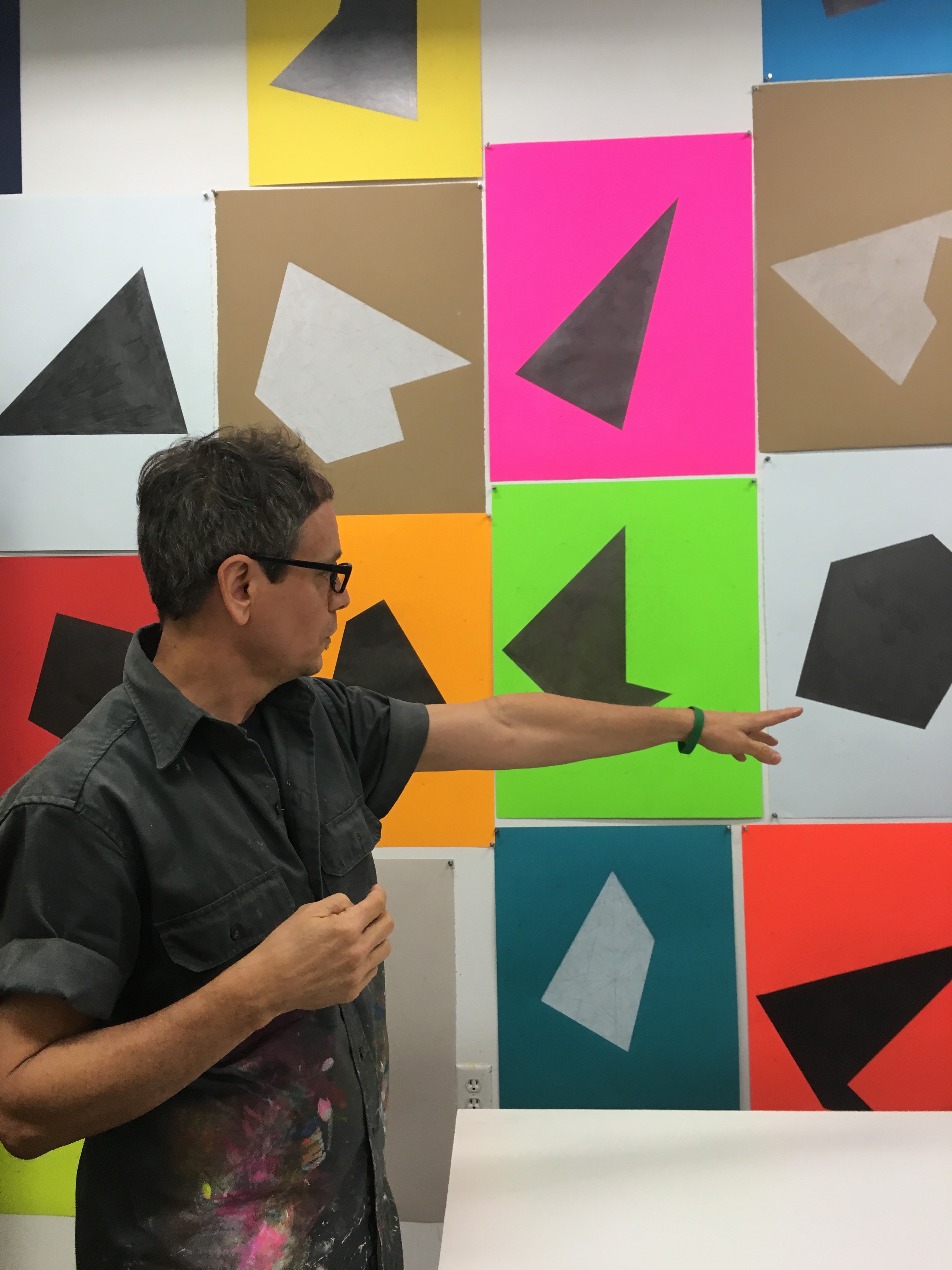 Venable with his geometric studies on paper
The drawings come to life on wood panels covered with pristine layers of acrylic paint squeezed straight from the tube. Mixing colors, he explains, would complicate his process of instinctually matching color and shape. Venable then focuses on creating thought provoking relationships through the particular arrangement of each element on the wall.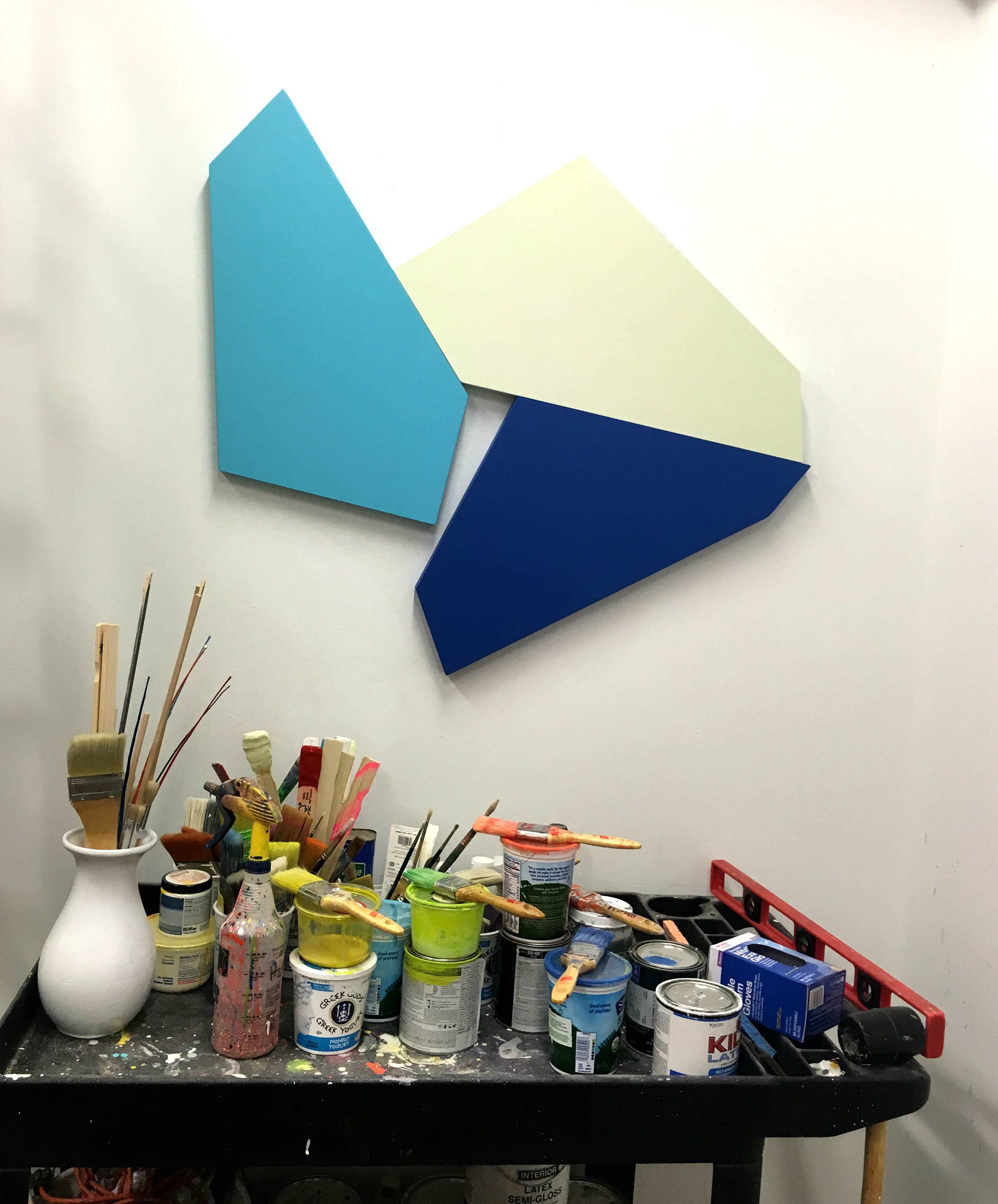 Cluster of Venable's paintings in his studio
Venable's newest paintings cleverly juxtapose not quite symmetrical shapes with slightly irregular placements and parings. Tension builds within the negative space between the paintings as they barely touch, leaving the viewer to question whether the forms are merging together, floating apart or statically coexisting. Every combination creates a new dynamic that alters the energy of the cluster itself, therefore impacting the space in which it resides.
Looking ahead, Myke seeks to push boundaries of depth, scale and color. Myke Venable is represented in Houston by Gallery Sonja Roesch where his next exhibition opens on January 21, 2017.
Monday, August 29, 2016 at 10:46 AM
Hidden at the end of a beautiful lot densely populated by lush Houston greenery, Libbie Masterson's studio feels like her own personal oasis. The high ceilings and large windows yield a flood of soft natural light ideal for viewing her vast array of work including photographs, paintings, watercolors, glass mosaics and even stage set maquettes.
Masterson's lively persona is a striking counterpart to her tranquil, contemplative work. Our studio visit began with a look at her new glass mosaics, an extended exploration of her large-scale installation at the Houston Hobby Airport. These works are heavily influenced not only by Masterson's affinity for nature, but also music. Masterson shared her life-long fantasy of composing a symphony, and explained to KAC how she incorporates this hidden passion into her work by listening to songs on repeat and allowing the music to dictate the emotional direction of each mosaic.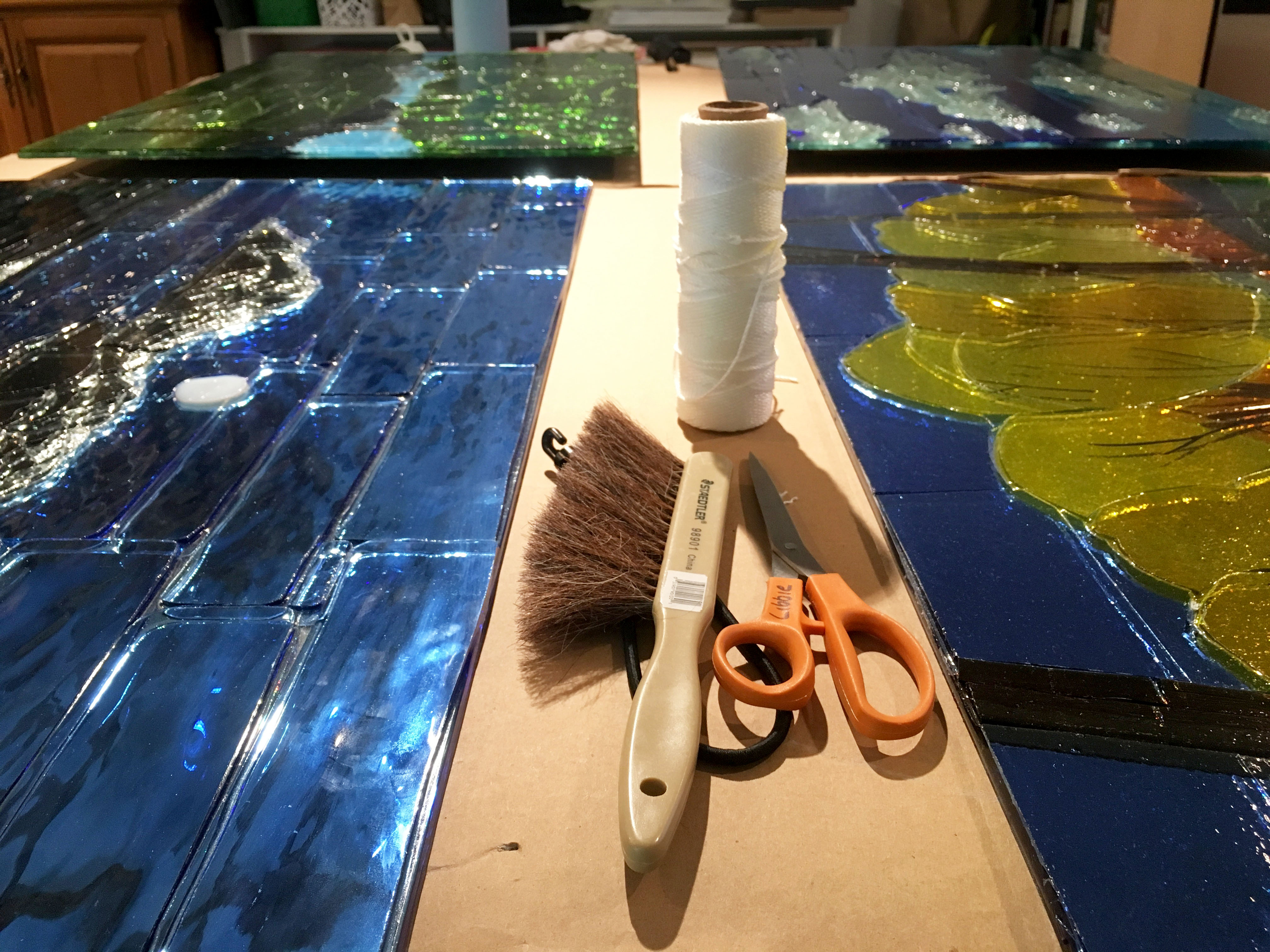 Close up of Masterson's glass mosaics
The imaginative glass compositions provide a splash of color to Masterson's otherwise monochromatic studio, filled with icy landscape photographs of deep grays, blues, and whites. These mesmerizing and meditative photos are back-lit and displayed as illuminated light boxes. Masterson walked us through the rewarding process of working with the light boxes, and calculating the perfect hue and strength of light to properly enhance the imagery without overpowering it.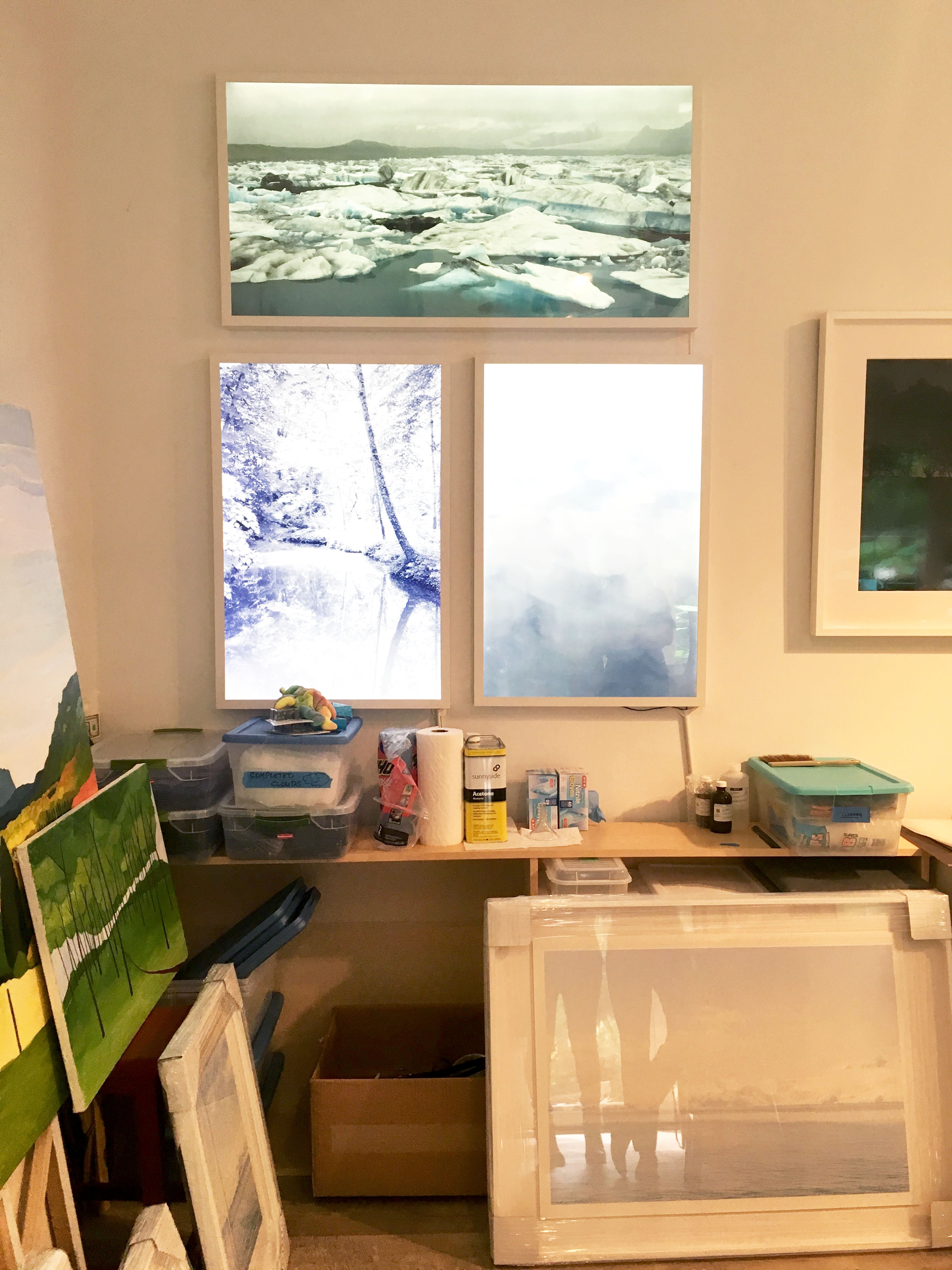 Masterson's light box photographs
Masterson's dream project: set design for an entire opera! Her infinite sources of inspiration and matching talent pose a promising future of endless possibilities and exploration. Be sure to attend her upcoming exhibition, opening September 10th 2016 at Catherine Couturier Gallery, who represents Masterson in Houston.
Tuesday, July 12, 2016 at 2:35 PM
On our latest studio visit, KAC got an inside look at Sharon Engelstein's eclectic studio, settled in the core of Houston's Museum District. Engelstein's studio is a breath of creative fresh air, fully equipped with a professional-grade kiln, her collection of colorful children's toys and all other essential elements to her creative process.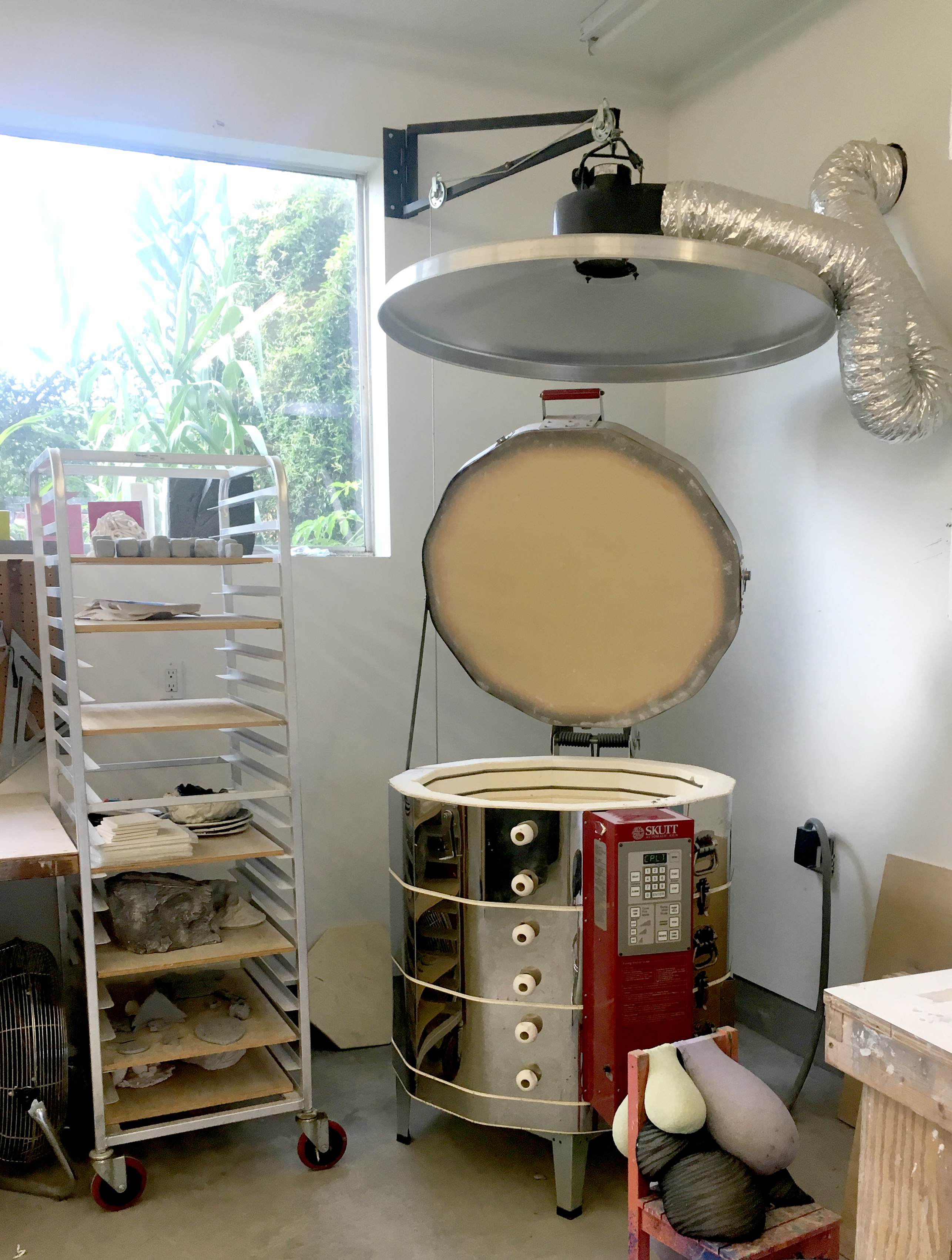 Sharon Engelstein's kiln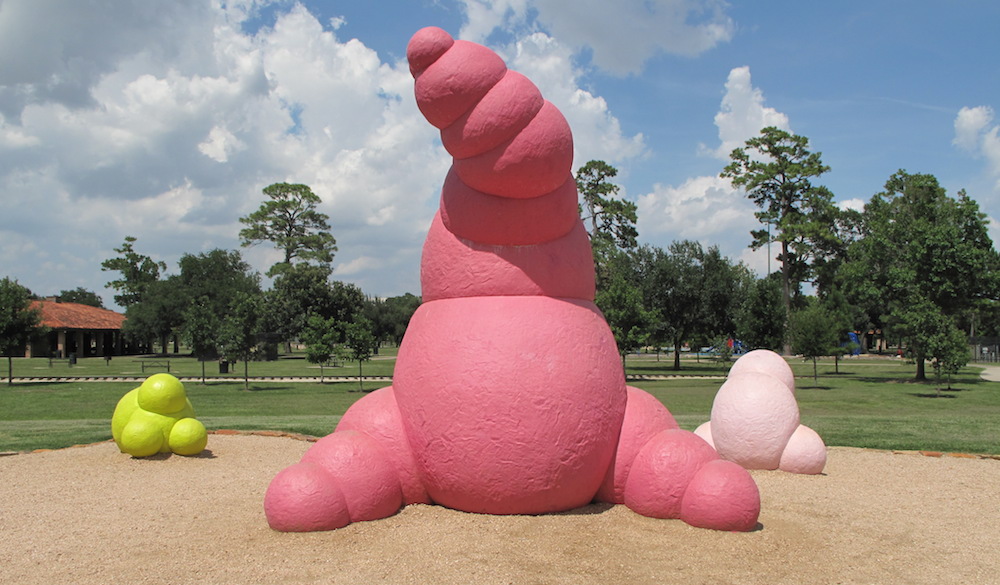 Engelstein's "Dillidiidae" at Hermann Park

Engelstein is commonly known for her sculpture "Dillidiidae" that is currently on view in Hermann Park. This exuberant piece has served the community as a public art landmark for the past two years. Her imaginative and anthropomorphic forms range in scale, material, and purpose, and KAC was eager to see what's currently cooking in her studio.

​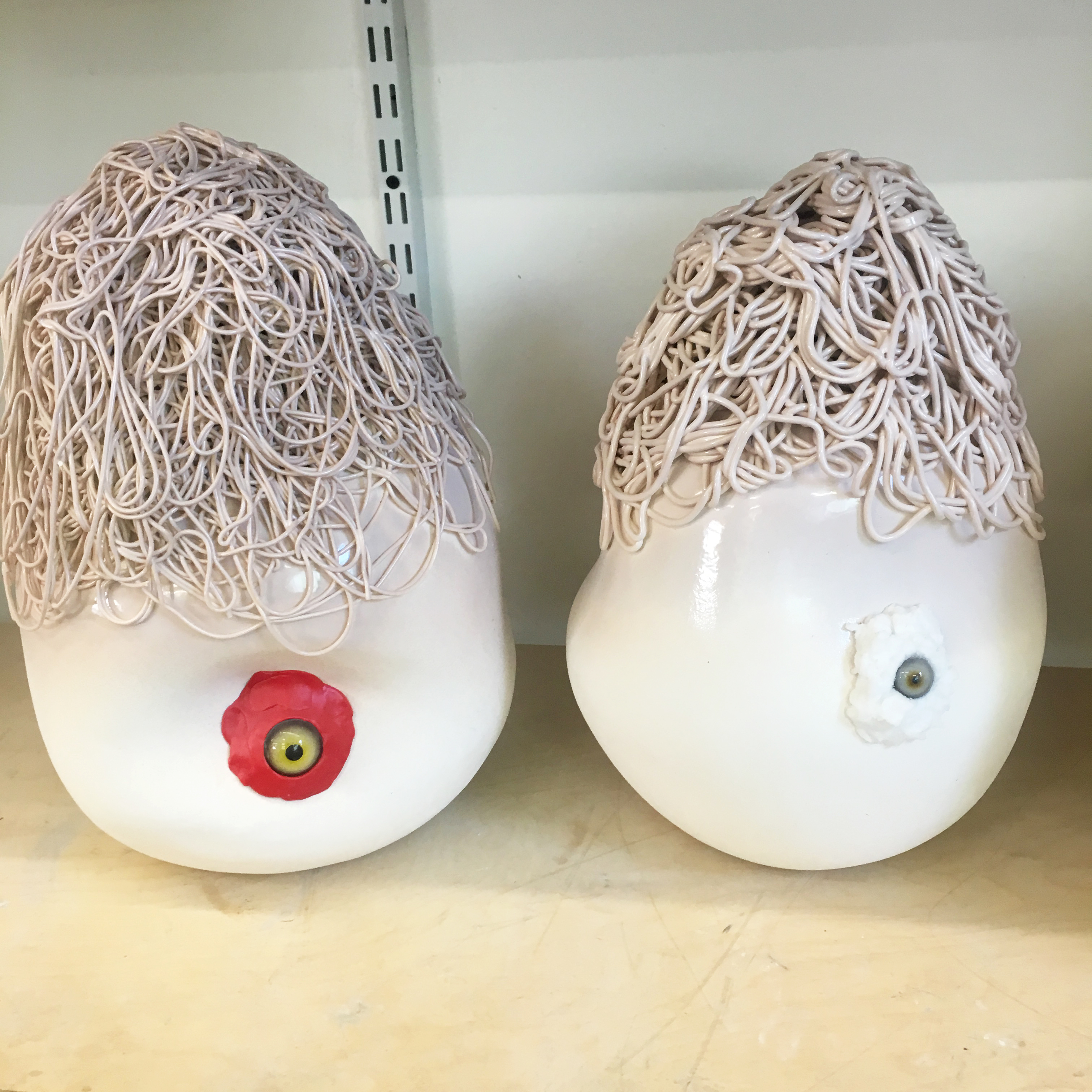 Ceramic sculptures, "Feel Fine I" and "Feel Fine II"
Upon expressing our curiosity, Engelstein proudly revealed her growing collection of small organic clay sculptures. While staying true to her barnacle-like forms, she has temporarily stepped away from her meticulous planning process that traditionally plays a significant role in her work. This shift encourages Engelstein to work more intimately within her studio, allowing her sculptures to evolve into their own individual identities.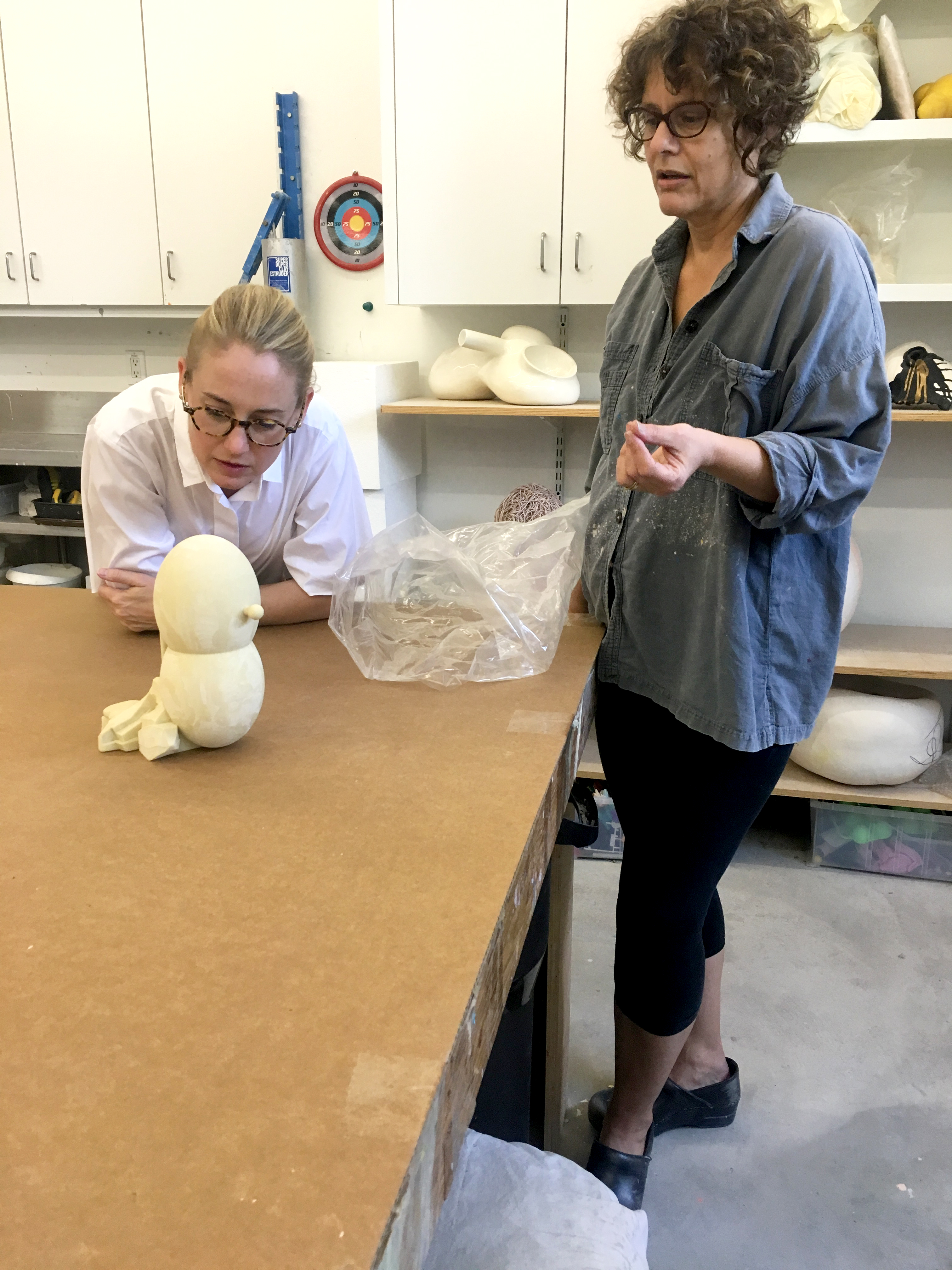 Adrienne taking a closer look at one of Engelstein's 3-D printed works
We can expect to see great things from Engelstein, who says her best work has yet to come. Sharon is represented in Houston by Devin Borden Gallery and will have her next exhibition in 2017.



Engelstein's work in progress clay sculpture
Thursday, February 25, 2016 at 4 AM
While we were in Mexico City, we had the pleasure of doing a studio visit with Tomás Díaz Cedeño. We were initally introducted to Cedeño at the Texas Contemporary Art Fair in 2015 at Yautepec Gallery, so we were eager to meet him and learn more about his intruguing process. Take a look at our Let's Talk Art Interview with Cedeño for more on his inspiration and reflections on being an artist in Mexico City.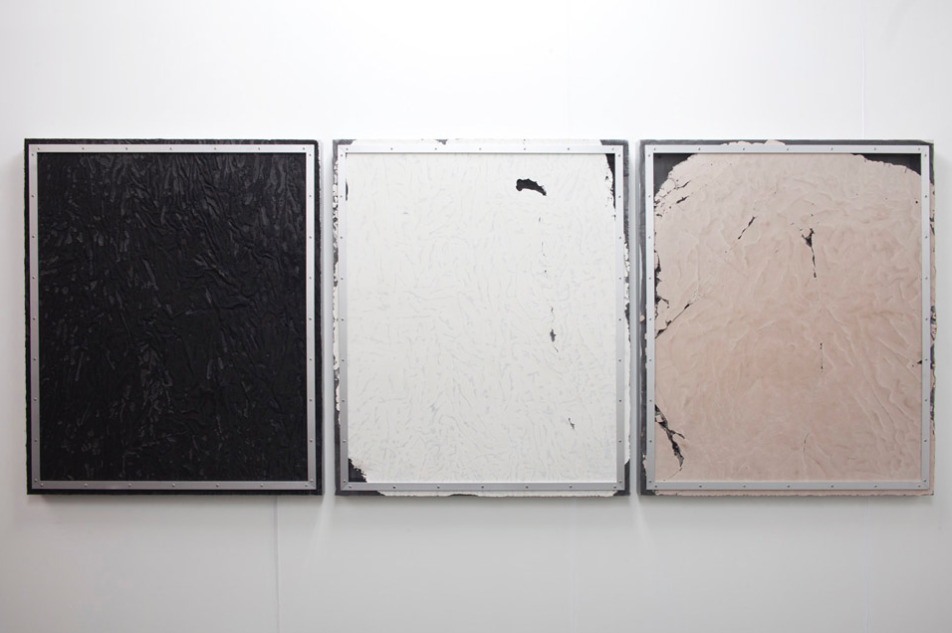 Tomás Díaz Cedeño, Untitled (Black, White, Flesh), 2015, Vel-mix, pigment, plastic mesh, aluminum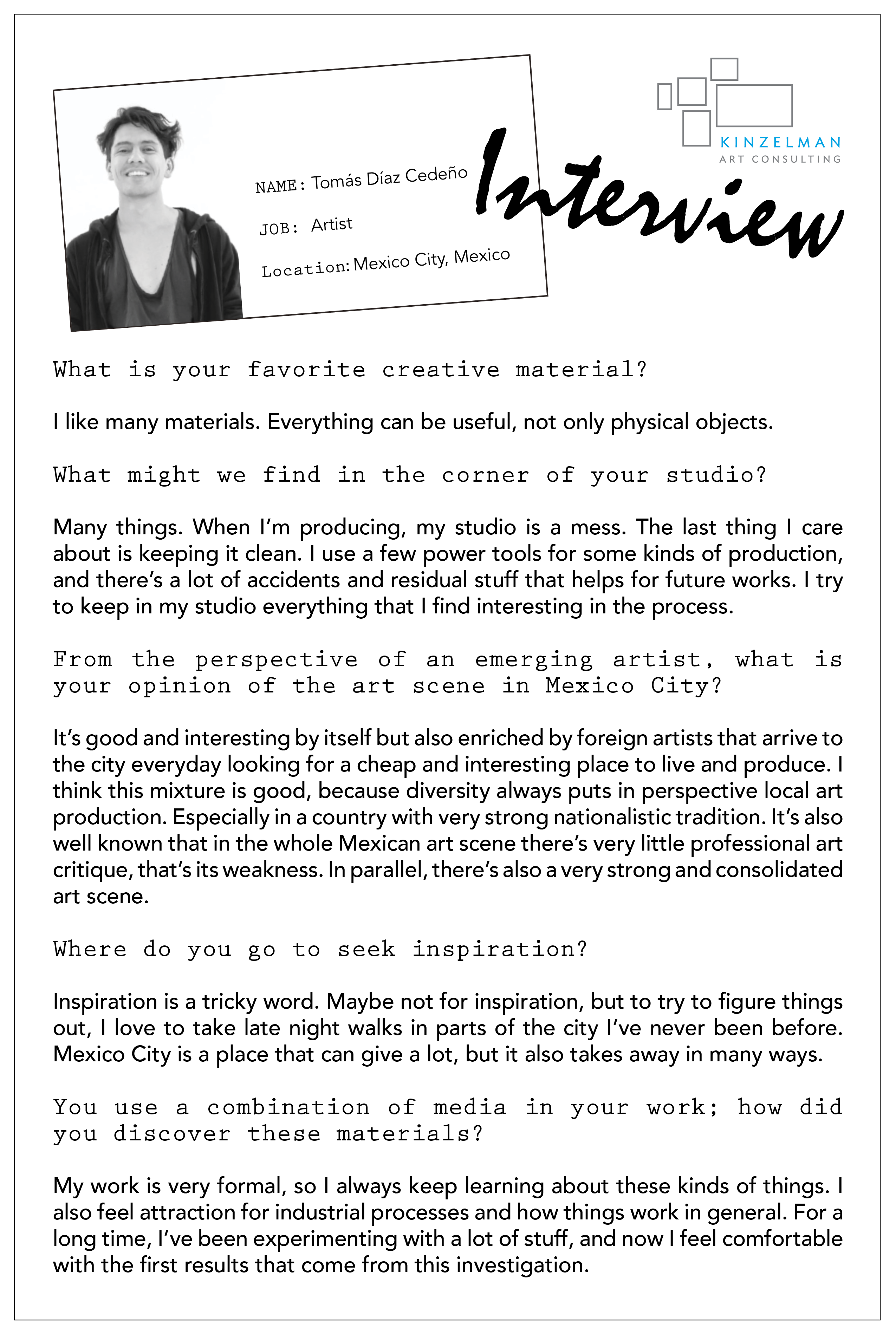 Thursday, October 16, 2014 at 5 AM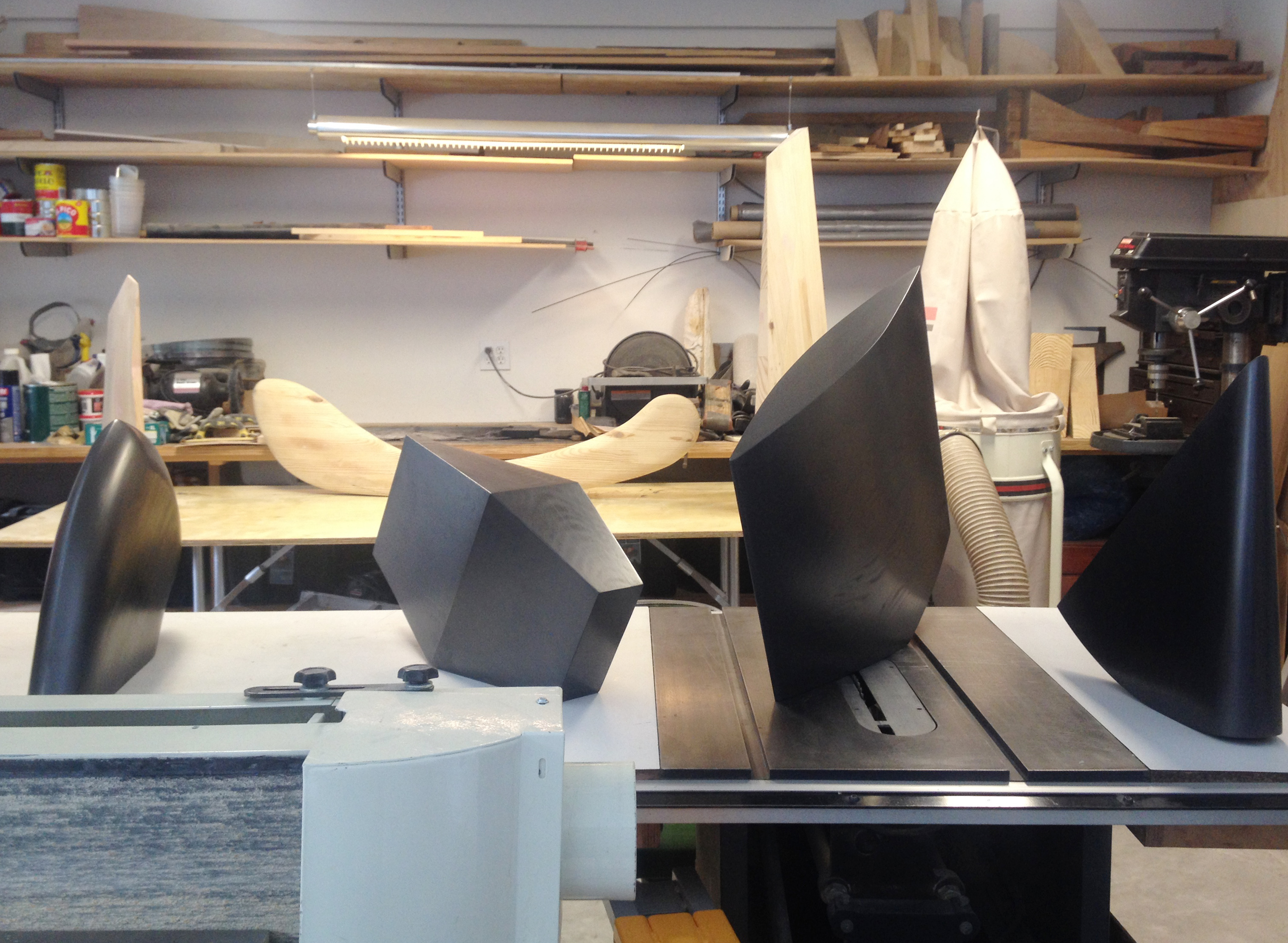 We loved our recent visit to Steve and Paula Murphy's home where we got a glimpse into their carefully selected art collection of artist friends and great finds. Equally as enticing was our time spent in Steve's bright, lofted studio. There we admired his classic towering steel forms, as well as a group of newly-milled wooden pieces perched on his work bench. Other new forms were in varying states of completion where Steve was painstakingly applying countless layers of silky graphite to achieve the perfect luster. We left with a clear understanding of how Steve's work has progressed over the years, reaching a point of refinement that is simultaneously fluid and permanent and achieves a satisfying dichotomy between surface and form.